Ok friends… time for some real talk. How's the Christmas shopping going? Don't you find that every time you think you're finished, you remember just one more gift you need to get? I think (fingers crossed) that I'm done but…you never know with Scott. It's not unusual for him to come in a day or two before Christmas and plop a package down on the counter for one of the kids. My panicked response is always "Noooooo…now I have to go get the other 2 kids something. It has to be even!!" haha! Anyone else know what I'm talking about? It's a problem.
Speaking of problems, how many of you are struggling with filling the stockings for your teen boys? It's a bit of a tough age in a way..a bit too old for toys but kinda still young enough?! I'm also one of those people that refuses to buy gifts that will never get used..such a waste! So…I've tried to do some of the research for you and I actually gave myself a little help for Link's stocking by finding some cool stuff!
Many of these items can be picked up locally in-store OR ordered through Amazon (who's got Prime? It's amaze!). Let's make this as easy as possible, right?
STOCKING STUFFERS FOR TEEN BOYS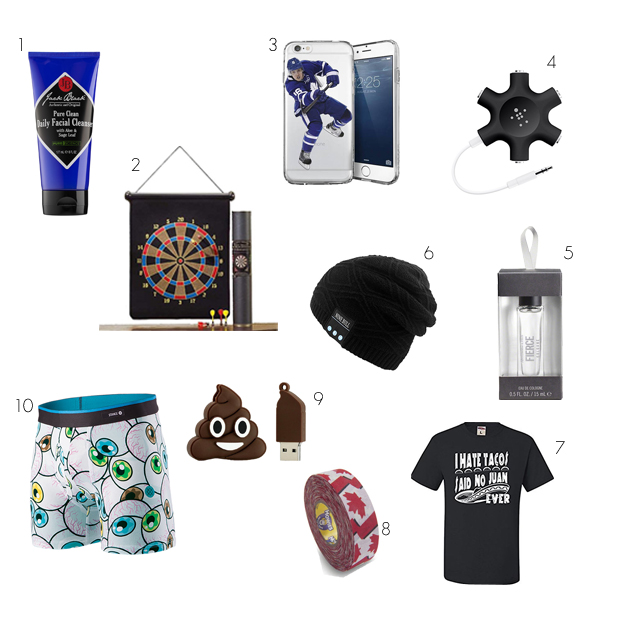 Face Cleanser $23, also avail at Sephora locations | 2. Magnetic Dartboard $15.99 | 3. Hockey Team iPhone Case $20 | 4. Headphone Splitter $12.36 | 5. Cologne Ornament $26 | 6. Bluetooth Beanie $23.99 | 7. T-shirt $12 | 8. Hockey Tape $6 | 9. Flash Drive $14, also avail at Staples | 10. Boxer Briefs $24.29 or these Boxer Briefs $15
Some notes for you:
Dartboard: Do I ever wish we would have gotten a magnetic dartboard versus the old school version that has made thousands of holes in our basement door (I'm not even exaggerating). Such a smart idea!
Face cleanser: Let's teach our young guns to take care of their skin. They WILL thank us for it later. And it really is warranted. Link plays hockey and his sweat game is no joke…grooming skills are life skills, right?
Headphone splitter: Such a great idea for when they're on the road, travelling, with friends. Super handy.
Let's not forget about the girls…though I think they're so much easier to buy for! Why is that? The stocking stuffers below are items that are pretty AND functional.. and I had to include something related to Stranger Things. Guys, I keep hearing about it! I've only watched two episodes but I didn't get addicted like the rest of y'all! I think I'm going to have to give it another whirl…if for no other reason than to be able to get in on all the convos about it!
STOCKING STUFFERS FOR TEEN GIRLS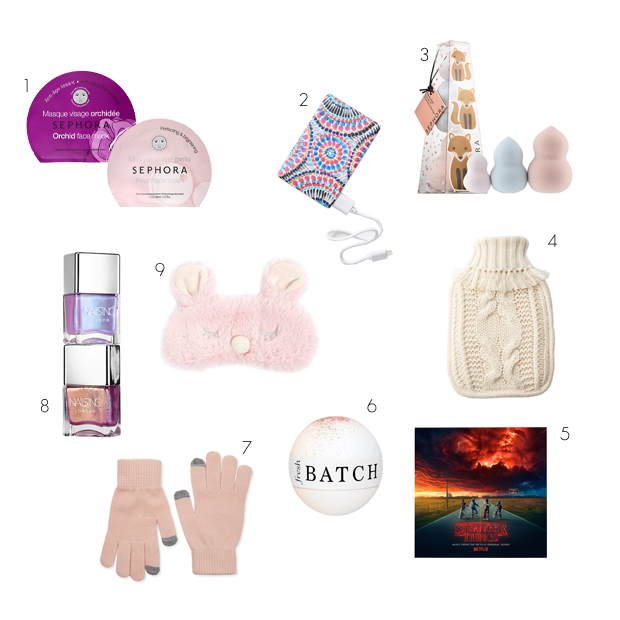 Face Mask $8, avail in-store at Sephora | 2. Power Charger $30 | 3. Blending Sponges $23 | 4. Hot Water Bottle $22.12, also avail in select Chapters stores | 5. Stranger Things Vinyl $34.98 | 6. Bath Bomb $6, also avail in select Chapters stores | 7. Texting Gloves $6.90 | 8. Unicorn Nail Polish $16 | 9. Sleep Mask $8.90
Many of these gifts are available in-store at Sephora, Chapters and Forever21! There is still time to order them online as well (depending on how much you want to pay for shipping) so you can choose what works best for you.  If I had to pick my absolute favourite on this list it would have to be the face masks from Sephora. My girls love them…make sure you buy yourself one too and have a little relaxation sesh with your girls during the Christmas holidays!
That's it! This closes out our gift guides for Christmas 2017…hope you've had a chance to get inspired with our guides for  HER , for the PERSON WHO HAS EVERYTHING, and the HIS/HERS STOCKING GUIDE.
It feels kinda weird to have posted so many "thing" posts as of late..because Christmas is about so much more than the gifts. Our hope is that you can find joy in choosing gifts for your loved ones…rather than feel stressed or burdened by it. And so the purpose of our gift guides is to help do some of the groundwork for you! I hope you can get your lists accomplished with plenty of time to spare… that was my goal personally this year. So that I could just enjoy this season and scrap the frenetic running around. I'm over that!
Thanks so much for reading everyone…and have an awesome week! xo Laurel