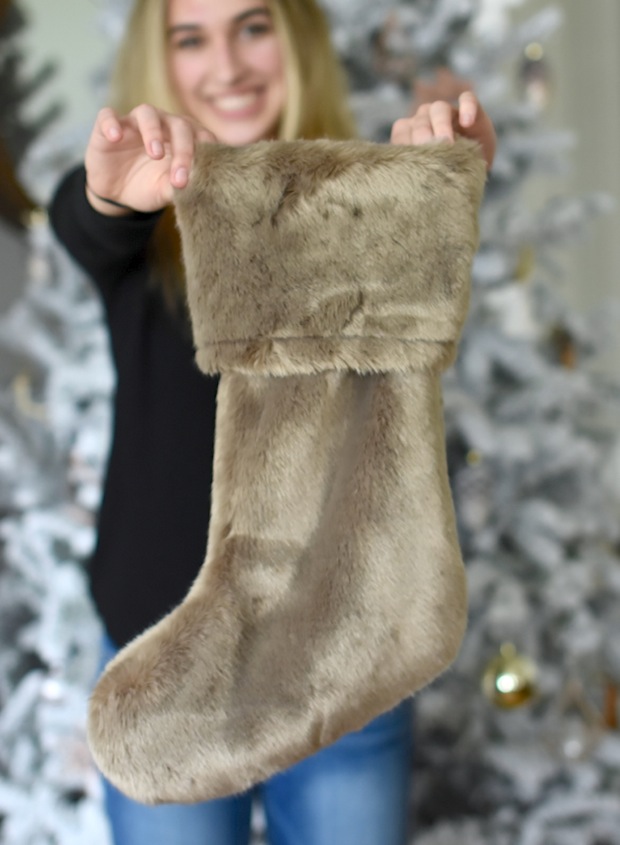 Stocking Stuffers! Anyone else agree with me that they might be more favoured than the big presents under the tree? Interestingly, as kids we didn't grow up having stockings…my mom started the tradition when we were in our teens. But once the stockings went up that first time, there was no way that they would be left out of Christmas morning celebrations ever again.
As Scott and I began our own traditions once we got married, we found ourselves letting the stocking thing get outta hand. We would wrap up gifts that were WAY too big to fit into anything hanging above our fireplace and would have to label them "SS" under the tree…ha! That was a bit much and we've changed our ways, once again making sure the smaller treats are…well..smaller! It's so much fun looking for little items that will delight the kids…and for Scott too. Treats that are individual to each of them…ones that are some times more functional and others times just fun!
Today's stocking guide is for the women in your life. And I couldn't leave the guys out completely so I've curated a smaller guide for them too! Thanks so much for reading, hope this helps make your shopping a little bit easier: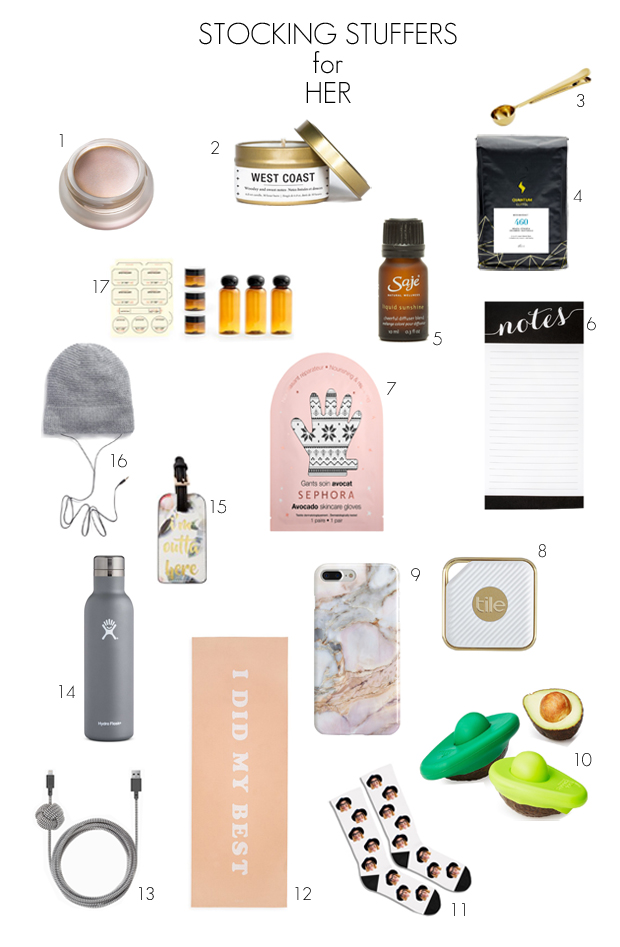 Luminizer $38 | 2. Travel Tin Candle $20 | 3. Coffee Bag Clip & Spoon $10 | 4. Quantum Coffee Beans $20 | 5. Diffuser Oil $13.56 | 6. Notepad $9 | 7. Hand Mask $8 | 8. the Tile $34.99 | 9. Phone Case $20 | 10. Avocado hugger $7.95 | 11. Pup/Cat/Human Socks $29.99 | 12. Workout Mat $25 | 13. Charging Cable $38.49 | 14. Hydroflask Wine Bottle $39.99 | 15. Luggage Tag $15.00 | 16. Slouchy Beanie with Headphones $38 | 17. Travel bottles $14.50 |
Ok, couple of notes for y'all…
~ Coffee Scoop/Clip…so brilliant. Keep your beans fresh while using this double duty clip.
~ Liquid Sunshine just happens to be the favourite oil blend in our household. Saje has a huge selection with many different scents…but if I could suggest? Hands down. Liquid Sunshine.
~ The Tile. Have you heard of it? If you know someone who is continually losing their phone/keys/wallet (ahem…I'm not making eye contact with anyone at this moment because..ya…this is me!) this might be THE answer! Pretty much the best tracking device out there.
~ The socks. How weird do you think I am at this moment? But honestly, how cute to be able to put your family pooch on a pair of socks?
~ The hydroflask above holds a full bottle of wine and promises to keep your whites chilled and your reds at room temp. Vino on the go! Perfect for a picnic, camping, road tripping..you name it.
~ The workout mat might just be too big for your stocking, so consider that an epic fail on my part. But I think we've made up for it on the cute, cheeky factor!
And my picks for stuffing his stocking. I called in some reinforcements and Scott was quick to tell me some of his favourite smallish items that would be perfect for Christmas morning. Here we go: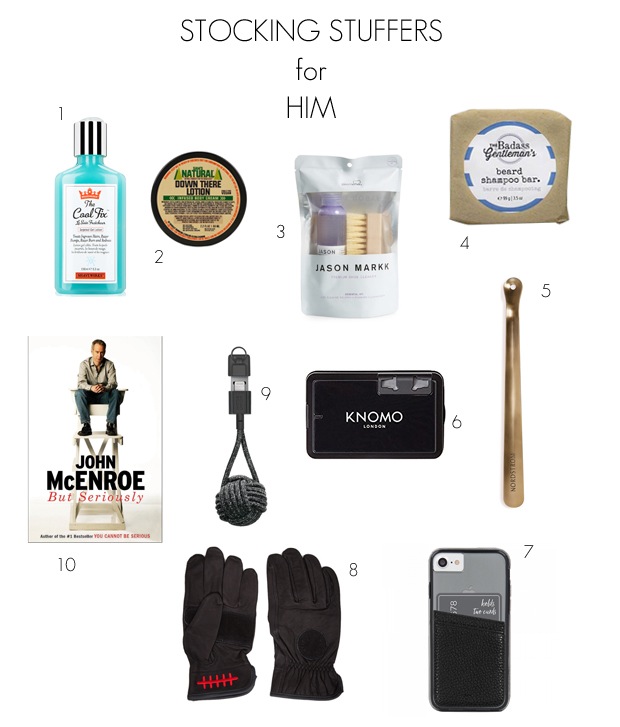 The Cool Fix Shaving Lotion $30 | 2. Anti Chafe Lotion $12.95 | 3. Shoe Cleaning Kit $16 | 4. Beard Shampoo Bar $9.50 also available at Fort & Co. | 5. Shoe Horn $14.95 | 6. World Travel Power Adapter $79 *splurge* | 7. Credit Card Pocket for iPhone $7 | 8. Leather Gloves $31.95 | 9. Key Cable $29.95, available at Starbucks | 10. But, Seriously. John McEnroe $36.63
Some add-ons:
~ The Cool Fix Shaving Lotion is a necessity for Scott. It is perfect for finishing the shaving routine, combatting in-growns and bumps and giving a cool smooth feel.
~Leather Gloves. So I hear that grip is important with gloves? Or so I'm told. These guys do it and do it well. The perfect pair of gloves.
~The key cable..this is one of those functional stuffers that will make your day to day a little easier. Charge on the go with this handy little tool. Love that Starbucks is carrying this and other gifts to make holiday shopping super easy…I mean, grab an Americano and check someone off your list, right? Click here for their holiday gift guide…there's tons of little treats that would fit in a stocking!
~ John McEnroe's book, But, Seriously, is not my choice but totally Scott's. I haven't even read the book but the hubster (who literally does.not.read.) thought it was such good read that he's recommending it to others. What? Scott recommending a book to someone else? My heart might just be exploding…
There it is…my guides to Stocking Stuffers for Her & Him. Here's hoping you can have fun with this tradition:) Thanks so much for following along, everyone! Laurel xo