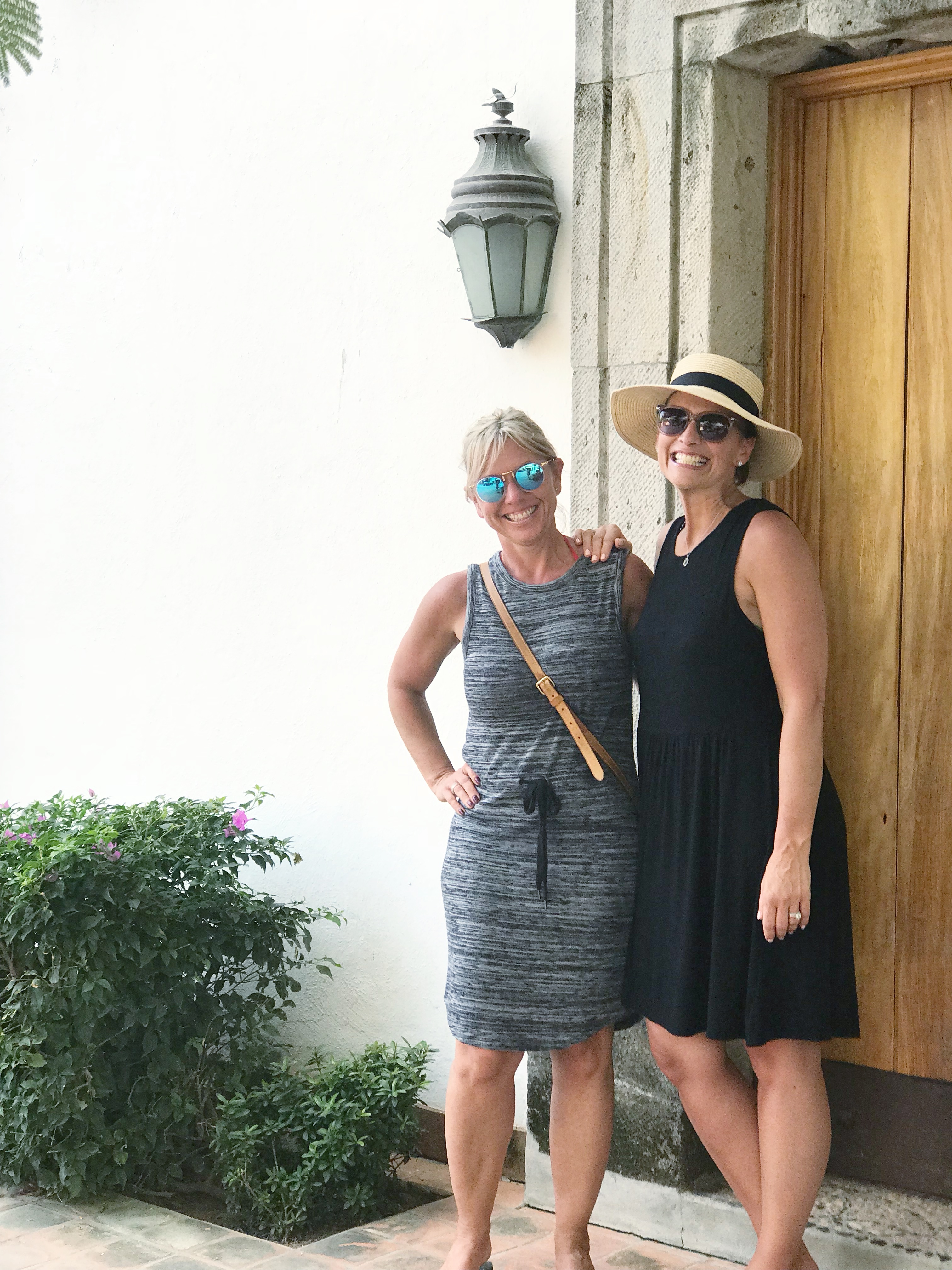 If you have been following along on Instagram, you may have noticed that Laurel and I have been away in Bucerias, Mexico.  It has been WAY too long since Laurel and I have been away together, and our amazing friend Taya asked us to visit her at her retreat and how could we not say yes!?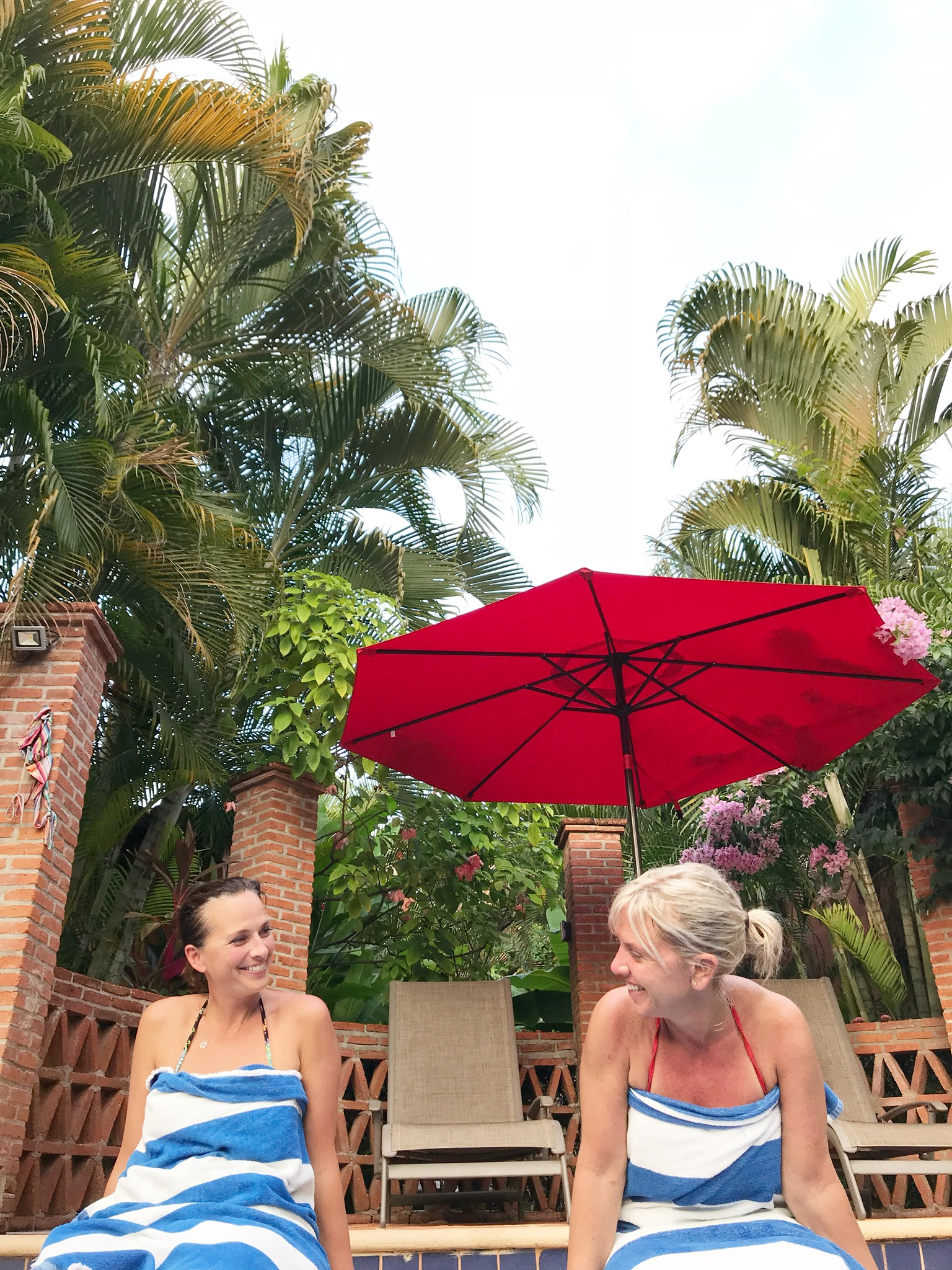 A bit of background…Taya is a friend that we connected with over a blog shoot and then reconnected over Instagram.  I know that there are downsides to social media, but this was a major positive!  It's not all bad!  Just over 3 years ago Taya tagged us on the @theparistours account on Instagram.  Taya is like, we should go.  Laurel and I were like, let's do it.  Then it grew into a trip to Paris to be inspiration for a Paris Pop-Up Shop that all three of us would host.  We always knew that Taya had a very creative marketing mind, but in working with Taya, we learned that she has an incredible eye for detail, impeccable style and a discerning ability to curate.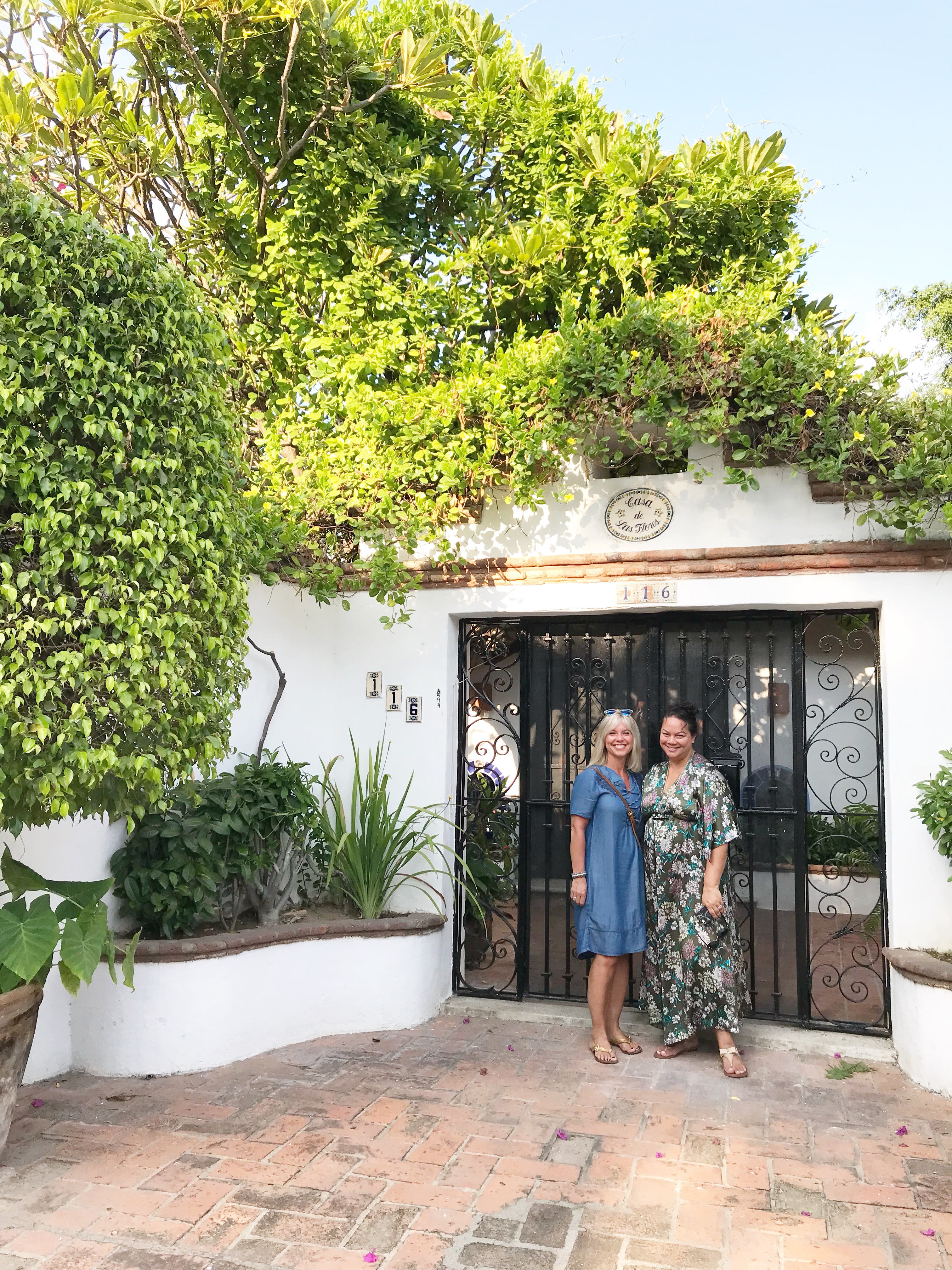 I had not been to Mexico in about 19 years.  Crazy, right? I jumped at the chance to visit Bucerias with Taya as she knows the area so well and loves to seek out the local and authentic things as much as we do!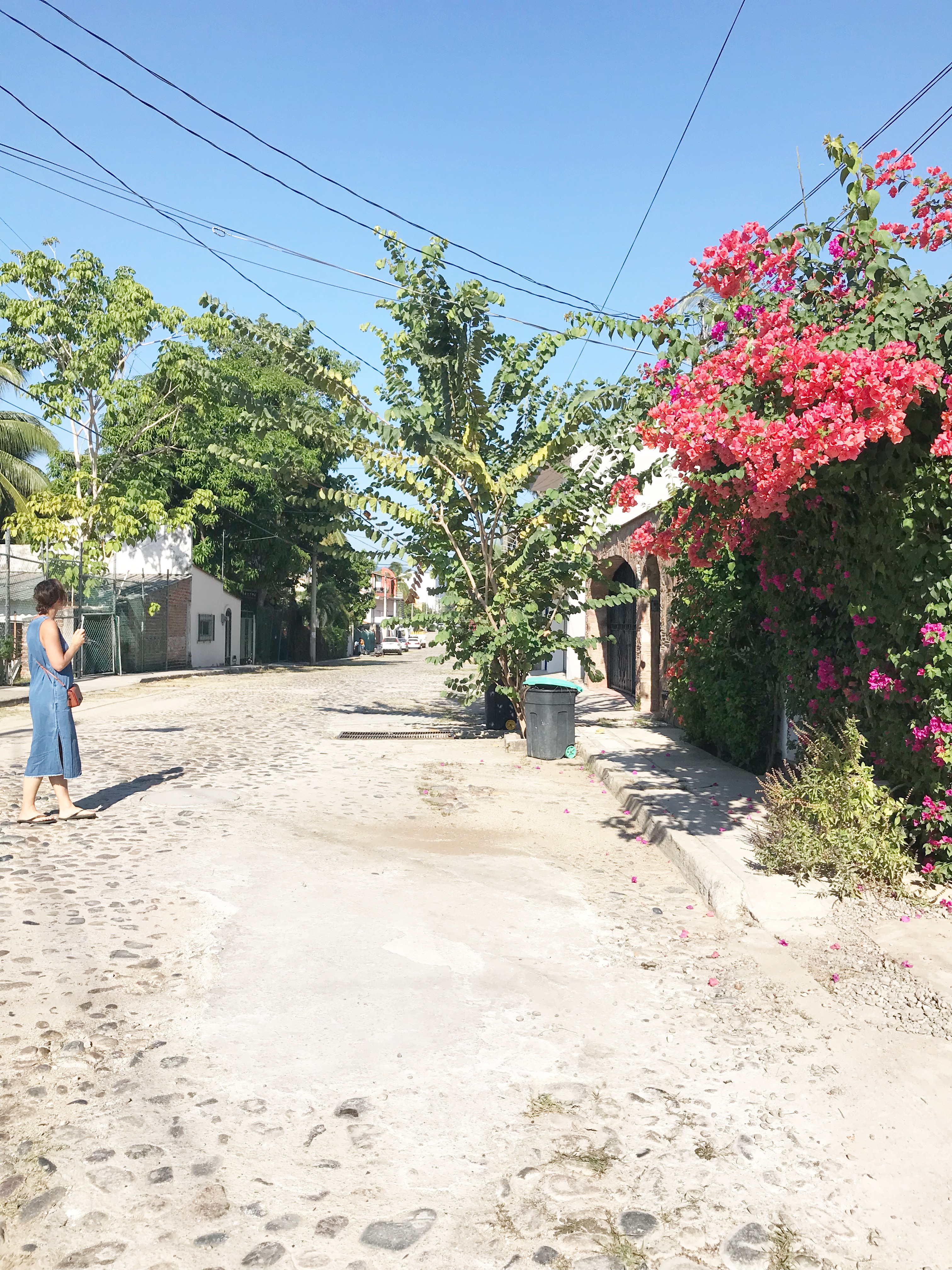 I love how Taya describes, Casa de las Flores…Flanked on the main street one block from the beach in this small fishing village, experience the stylish life of authentic Mexico in this barefoot-luxe version of "beach-bum" meets "colonial contessa".  Ummm…yes please to all of that!  Bucerias is located about a 20 minute drive northwest of the Puerto Vallarta airport.  Bucerias retains the charm of Puerto Vallarta with its unspoiled beaches, cobble-stoned streets, lovely homes, amazing restaurants and friendly locals. It is located on the northern portion of the Banderas Bay, which is the largest bay in Mexico and the third largest in the world, and it's known as one of the most beautiful beaches in all of Mexico.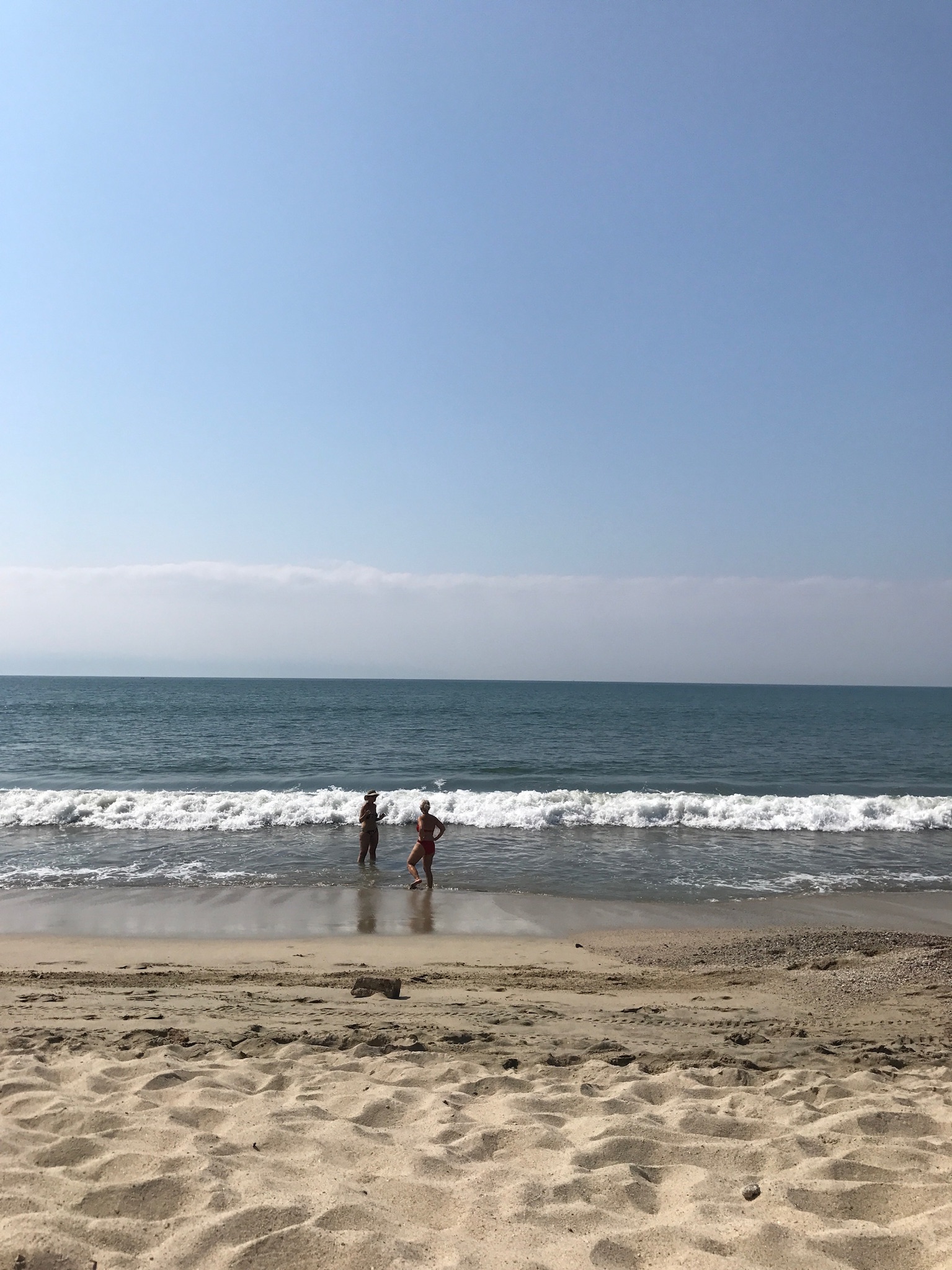 I fell in love with this place and everything about it blew any preconceived notions I had about Mexico.
Here are the bullet points of our itinerary…
SUNDAY | We took a direct flight via Air Canada from Vancouver to Puerto Vallarta.  I had prearranged a ride through Vallarta Transfers.  We had a huge van to ourselves and were welcomed with Corona.  And they were super friendly and helpful.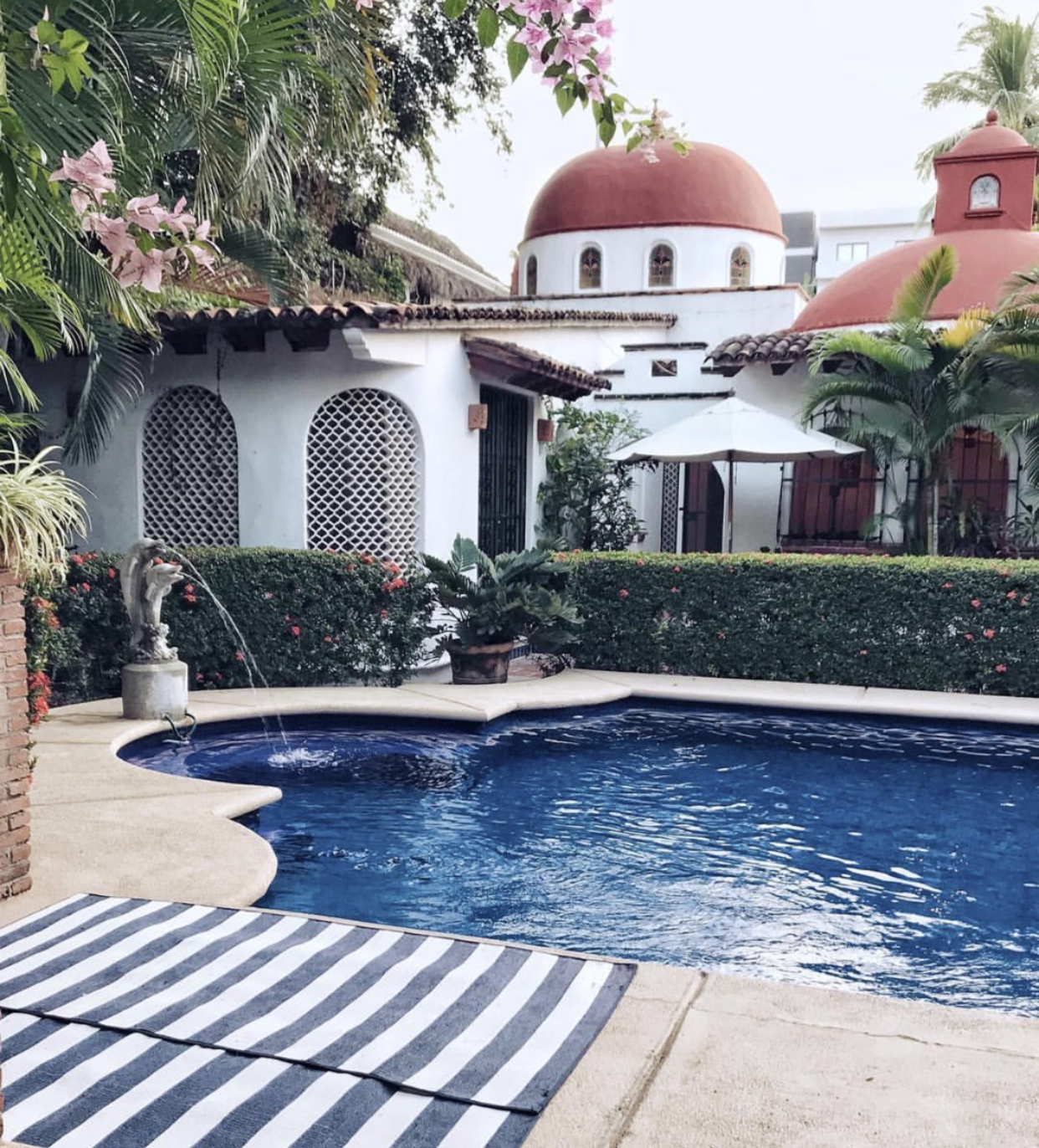 After settling in at Casa de las Flores, we walked  along beach to get to Karen's Place, a restaurant right on the beach.  We enjoyed avocado shrimp salads and coconut prawns.
MONDAY | We walked down the Main Street to Paninos, a French bakery for a chorizo breakfast burritos and coffee.  We decided to chill on the incredibly expansive beach just a block for Taya's place.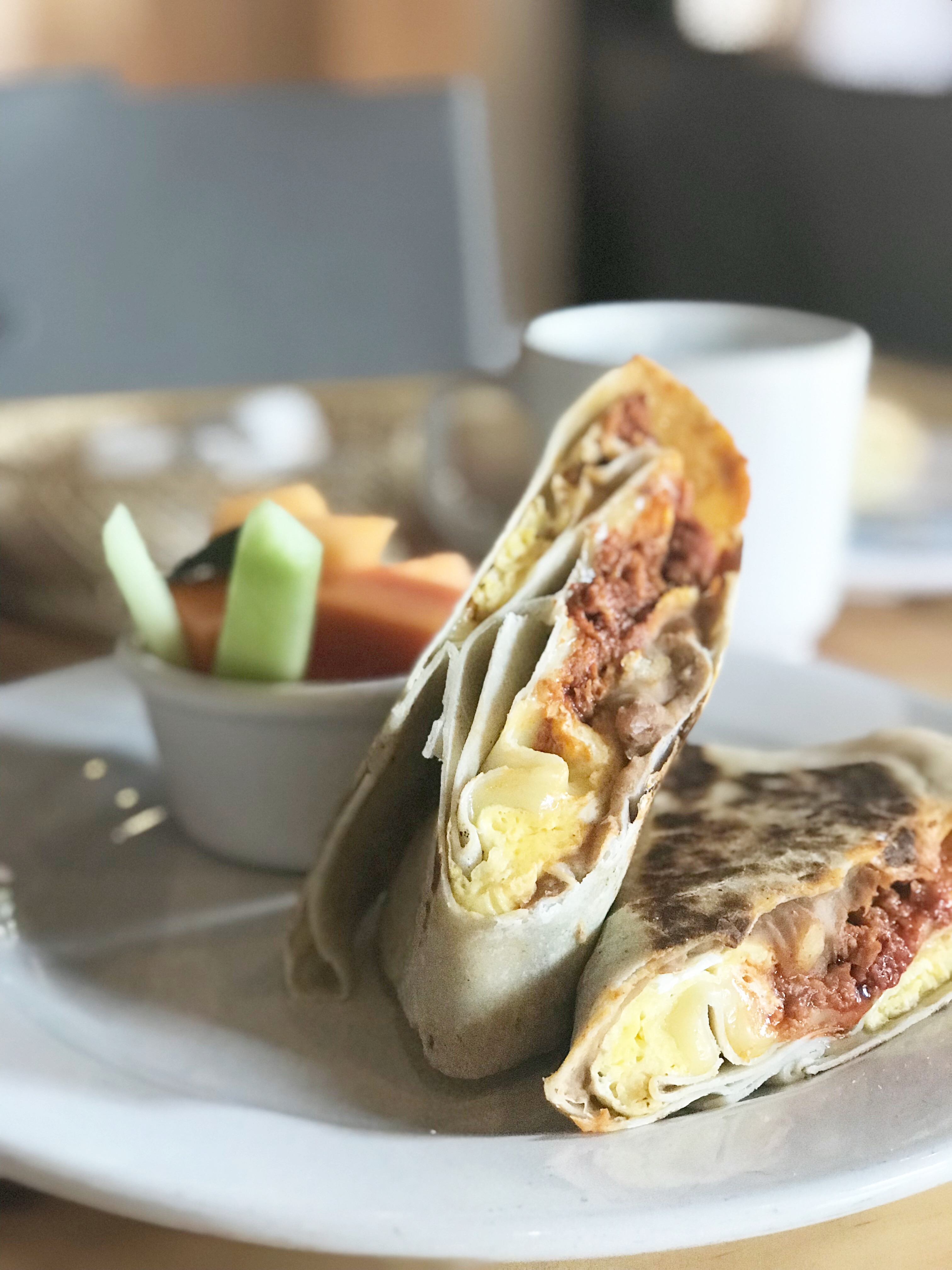 We returned to Karen's Place on the beach for Baja style fish tacos and margaritas for happy hour.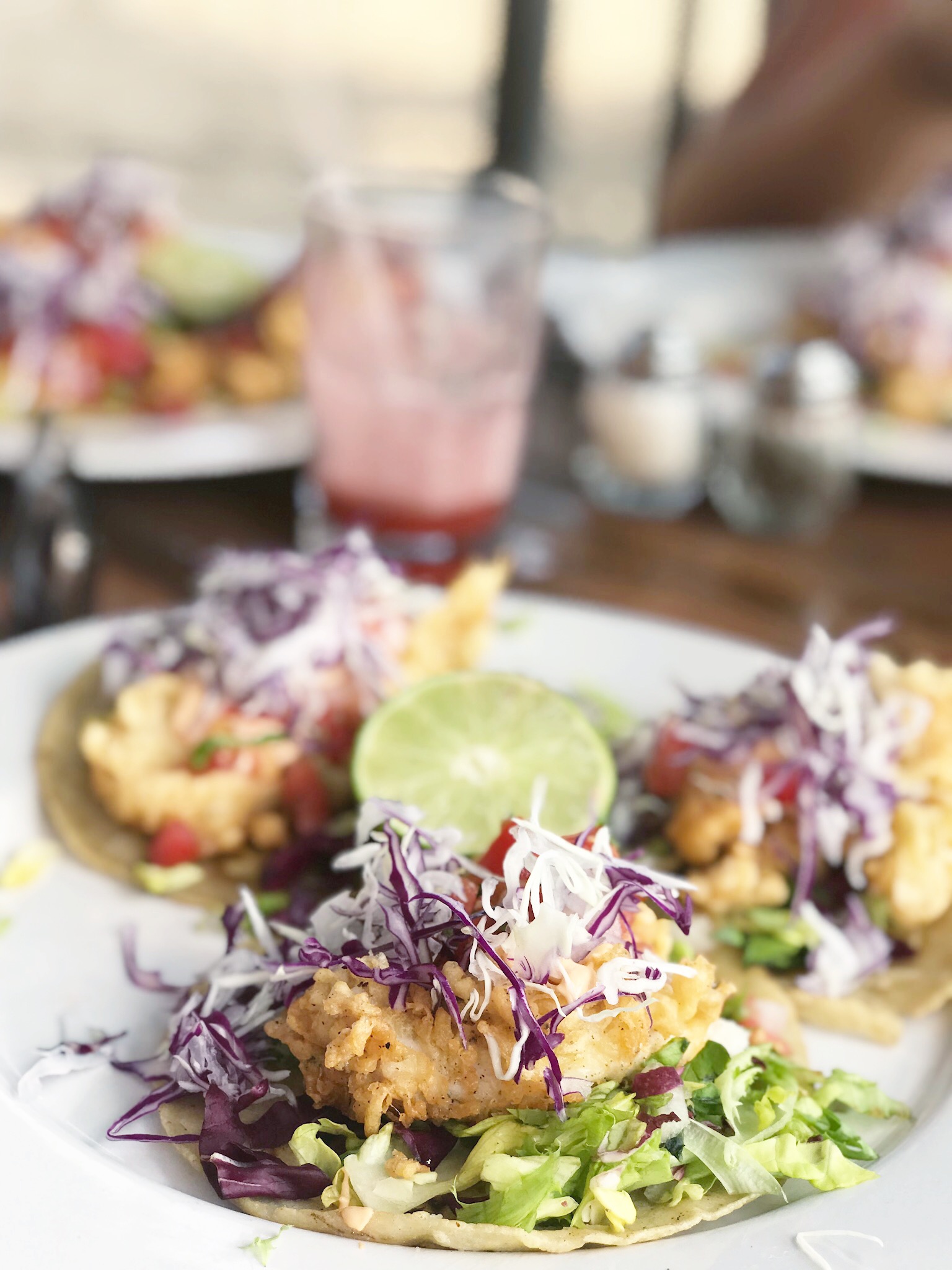 Taya had booked a reso at Sandrina's for later that evening. It's a back patio restaurant that you would never know existed from the street.  The highlight was the live flamenco music by  Latcho and Andrea.  We danced with fellow diners and the staff.  The music was amazing and the atmosphere was so fun!  Check out their schedule as Latcho and Andrea play every other Monday.  And this is the place for Spanish coffee…they top it with chocolate whipped cream!
TUESDAY | We got up and took a cab to Sayulita, which is about 30 minutes away on the next bay to the north.  This surf town has a super fun vibe with healthy food everywhere!  You can find acai bowls, smoothies and fresh juices almost on every corner.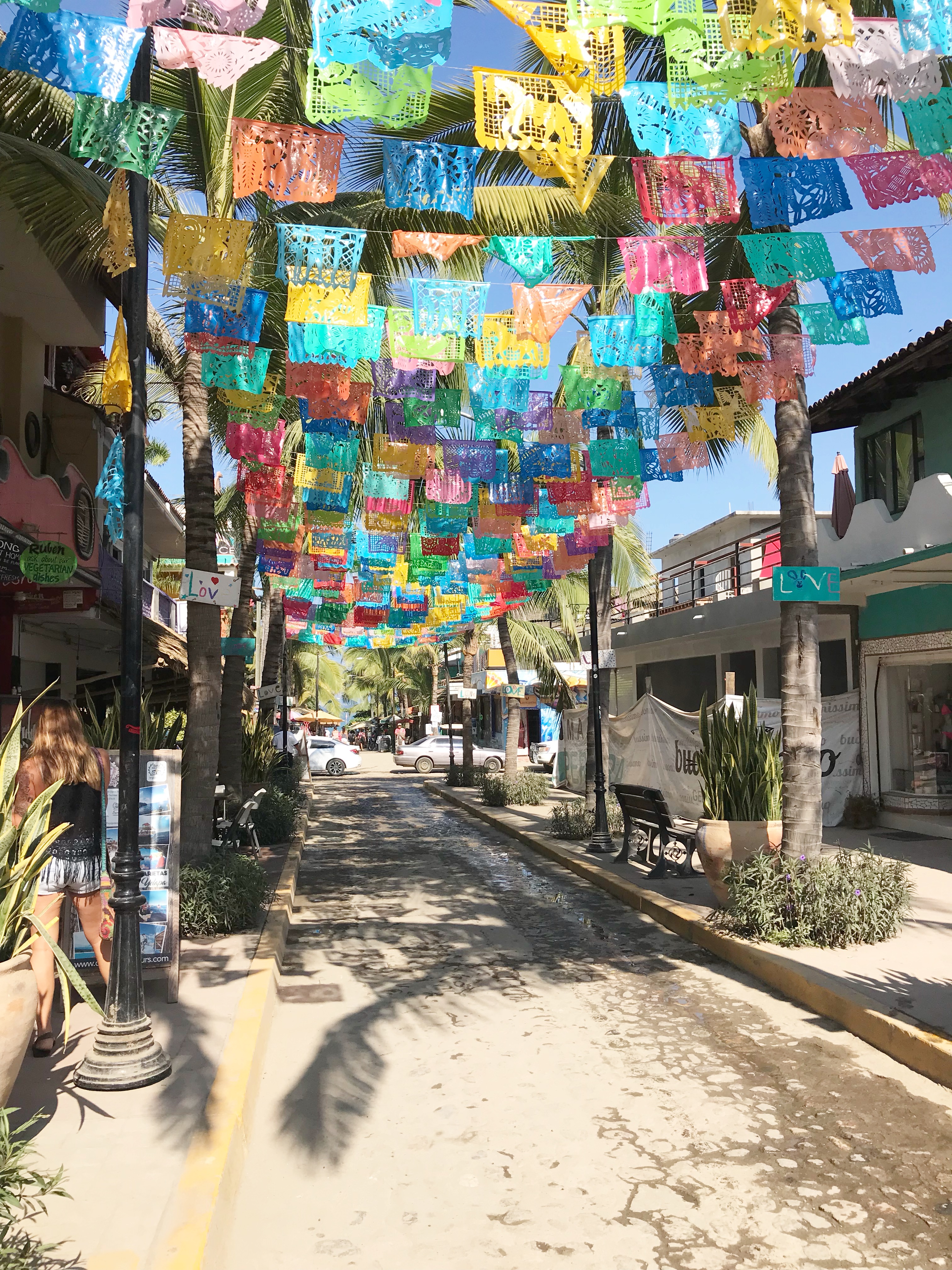 We went to La Esperanza for breakfast and tried their smoothie bowls, cacao smoothie, avocado toast, and almond milk lattes.  So good!  We liked it so much there that we headed back there when we were done our shopping for turmeric lattes.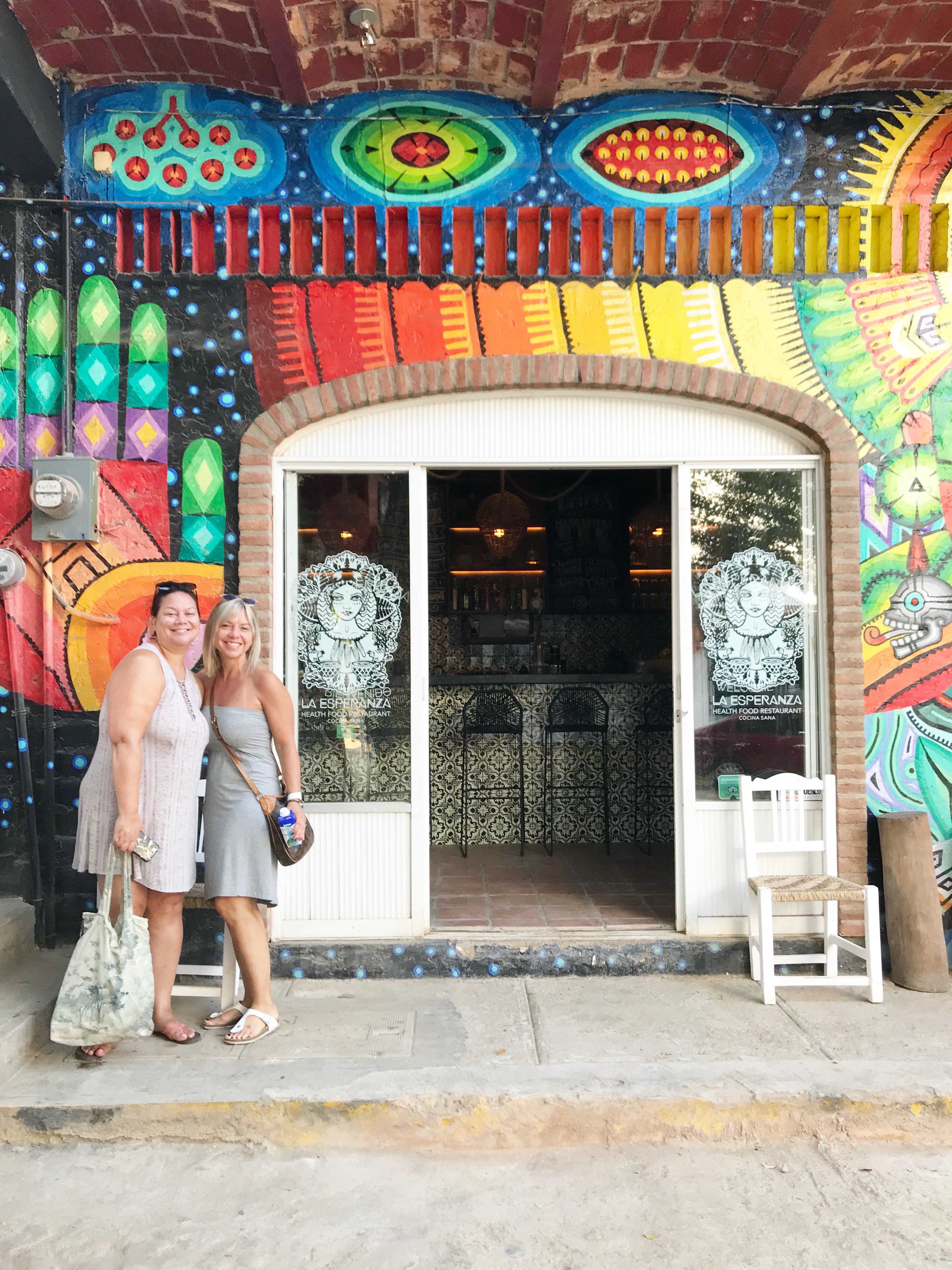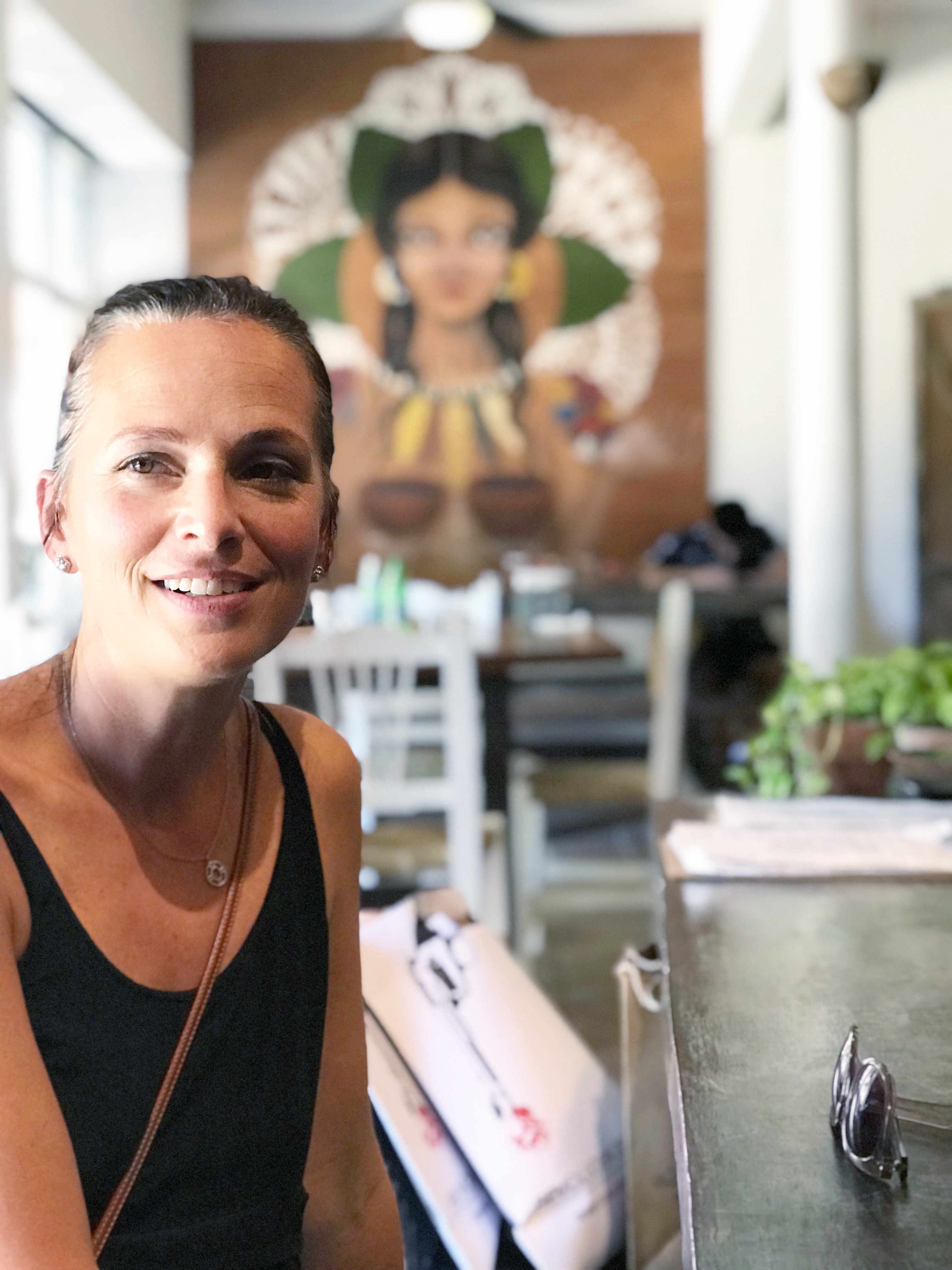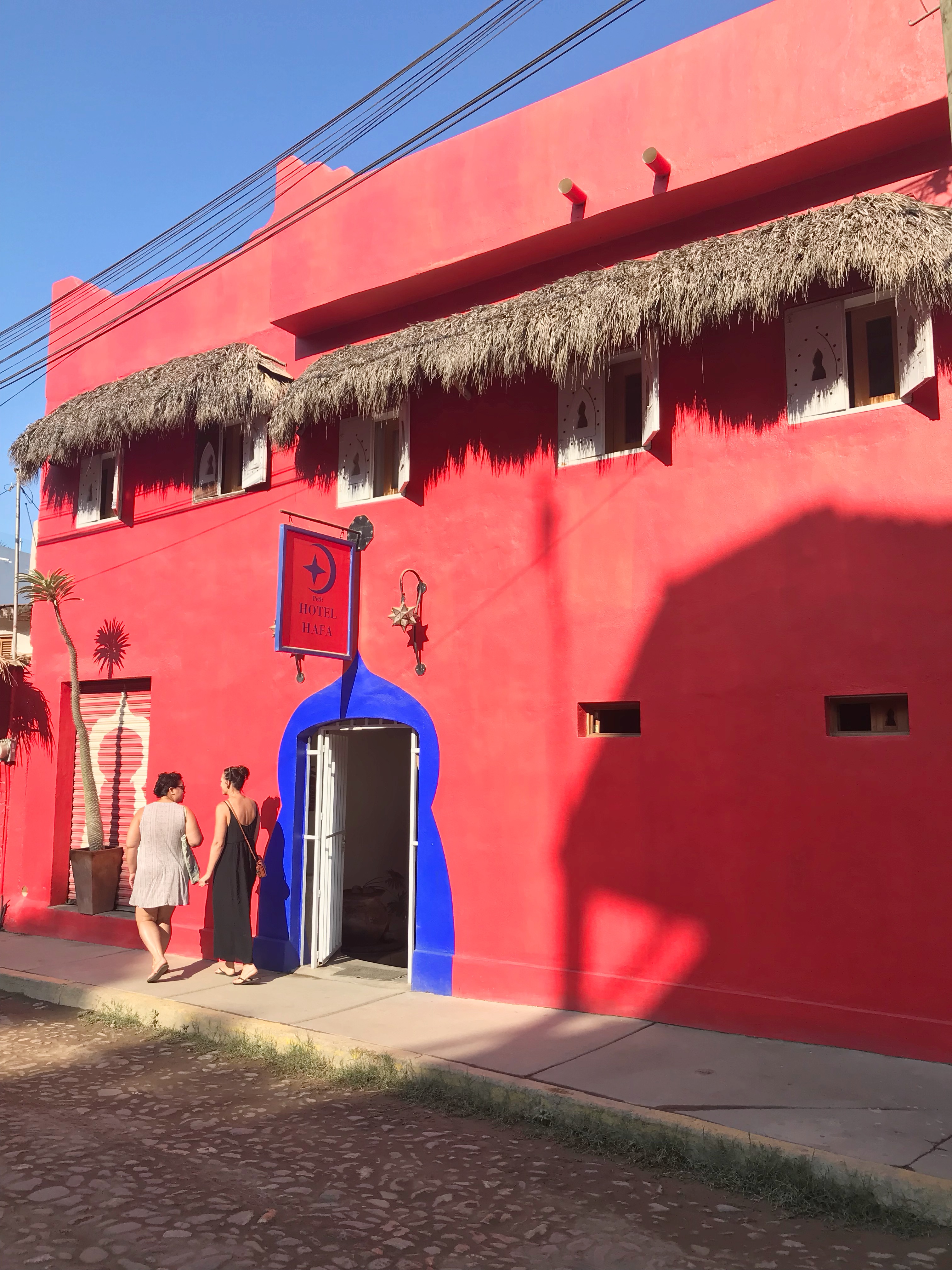 The cobblestone streets of Sayulita are lined with shops filled with goods created by local artisans.  A few of our faves were Evoke the Spirit, Pacha Mama, and Revolucion del Sueno.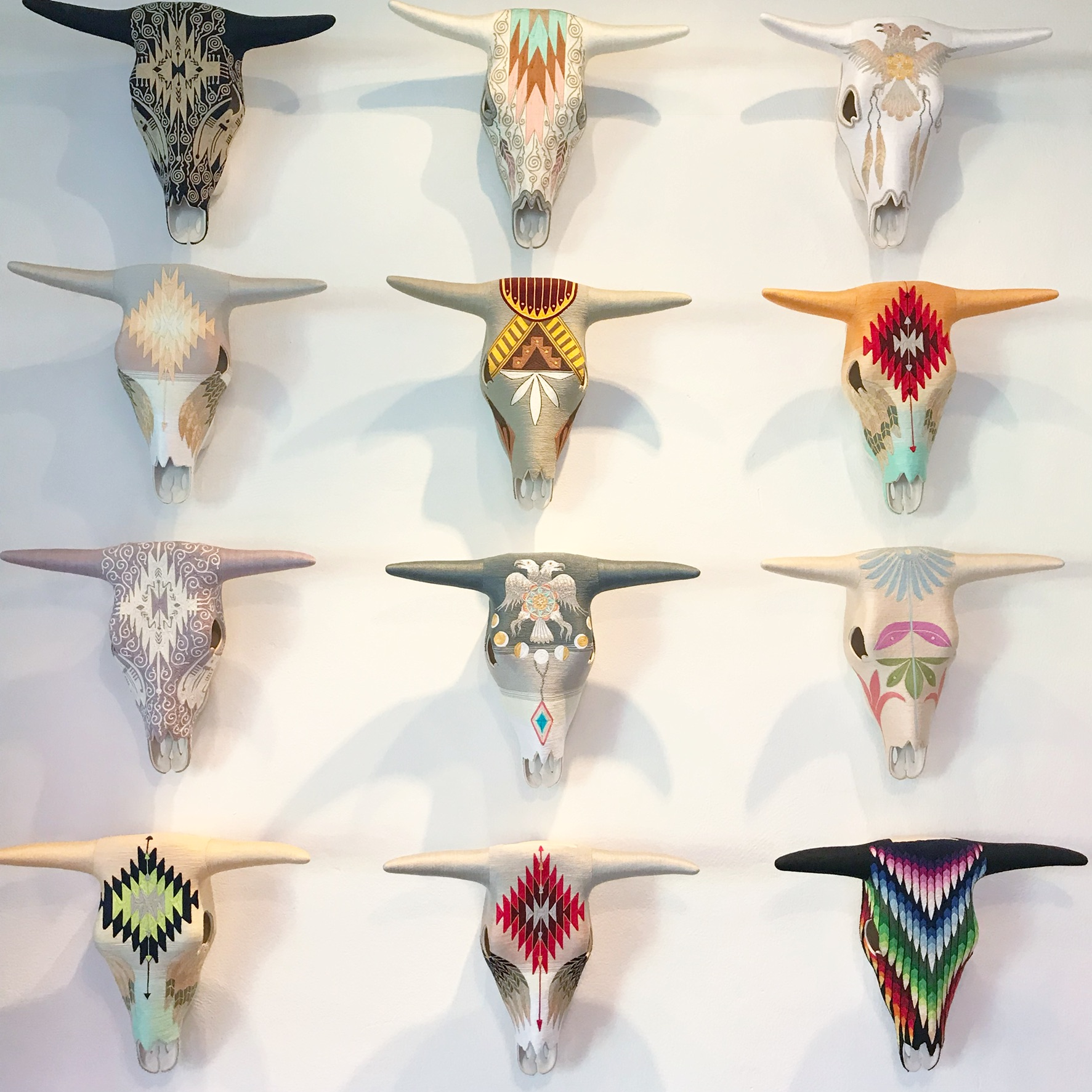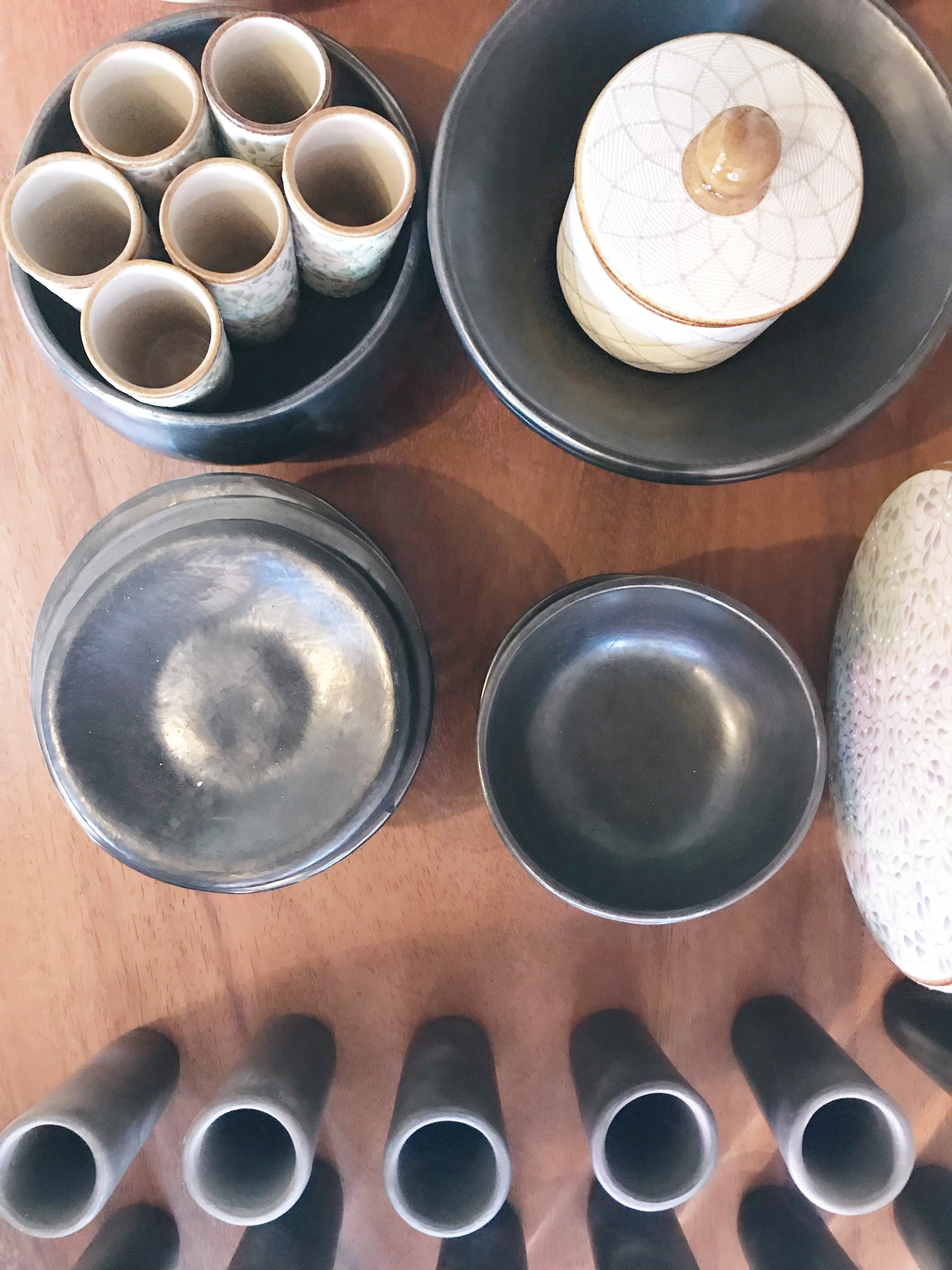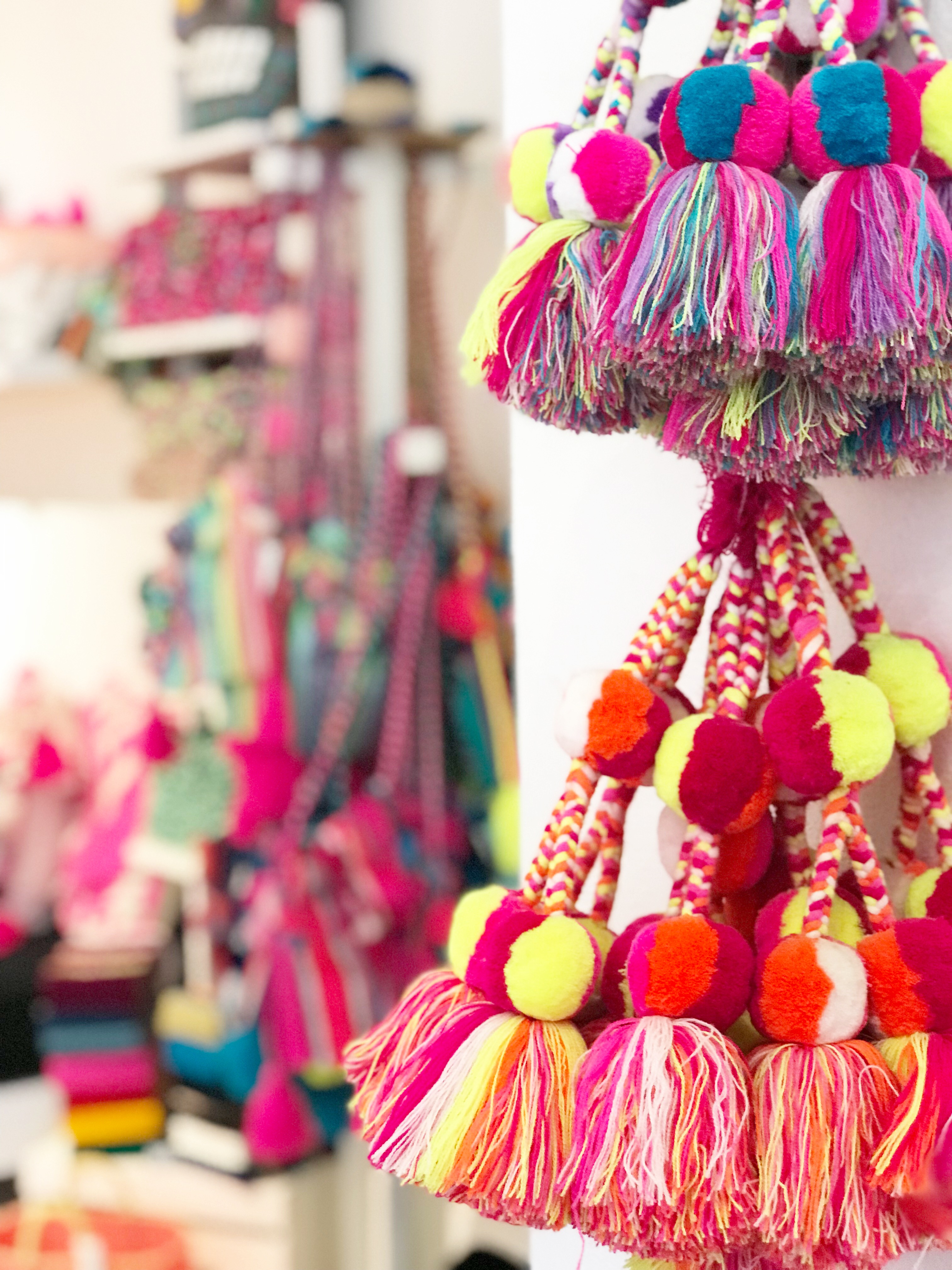 We headed back to Bucerias and relaxed at the pool at Casa de las Flores and then headed to Dugarels on the beach for the sunset.  It's a great place to enjoy fresh fish and their mango margarita is probably the best I've had!
WEDNESDAY | I got up and went for a walk along the Main Street and got myself an almond milk latte at El Cafe de Bucerias.
Taya recommended Jorge's for breakfast…it's super local and authentic, run by two hardworking families that serve breakfast in the morning and tacos at night. We enjoyed fresh squeezed orange juice, huevos rancheros, and chilaquiles con huevos for about $5 each.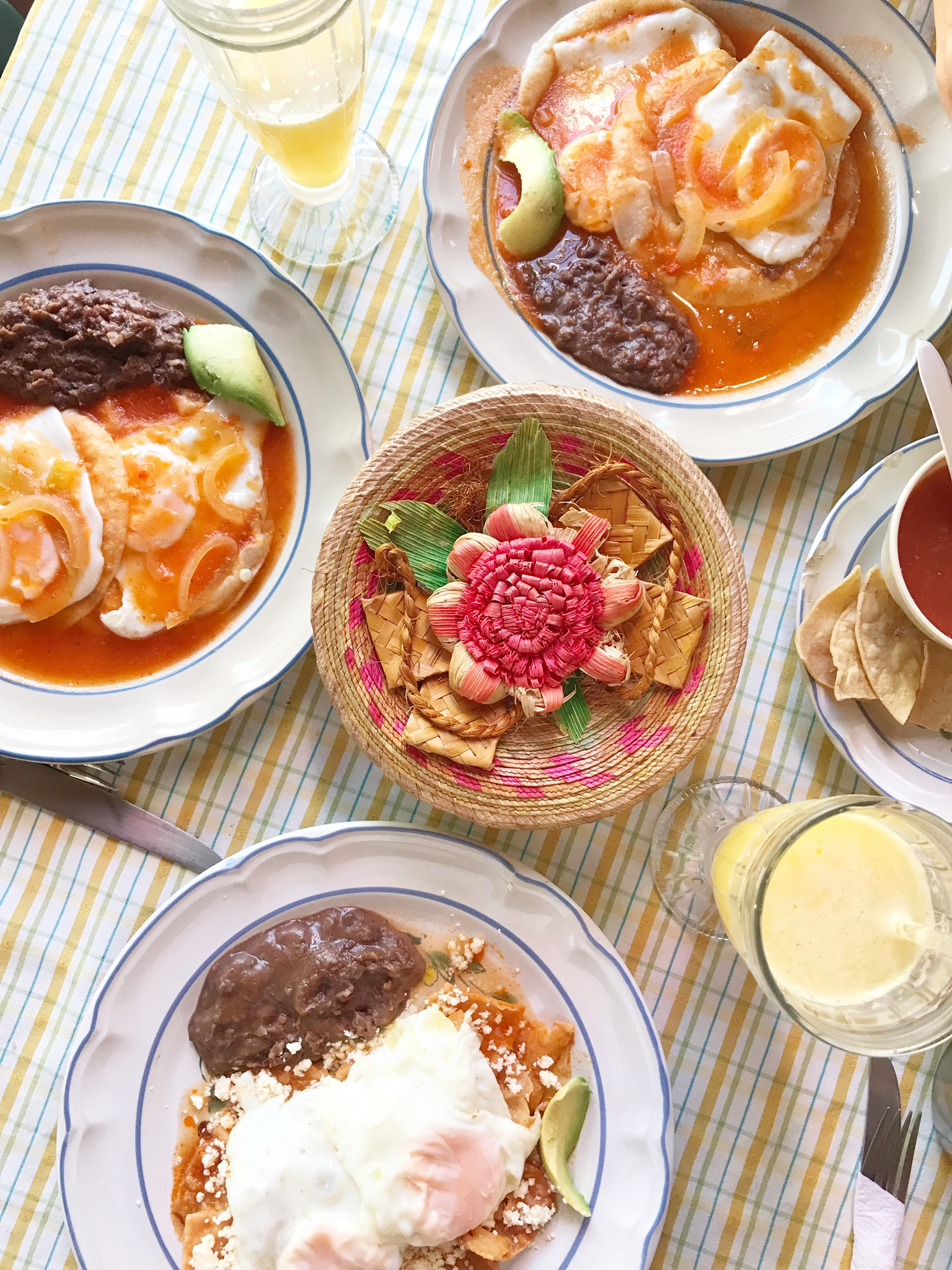 On our walk back we bought some fresh fruit from a truck driving around the neighbourhood with a loud speaker on his truck…kind of like our version of an ice cream truck.  We then headed to the beach, which by the way, was never crowded.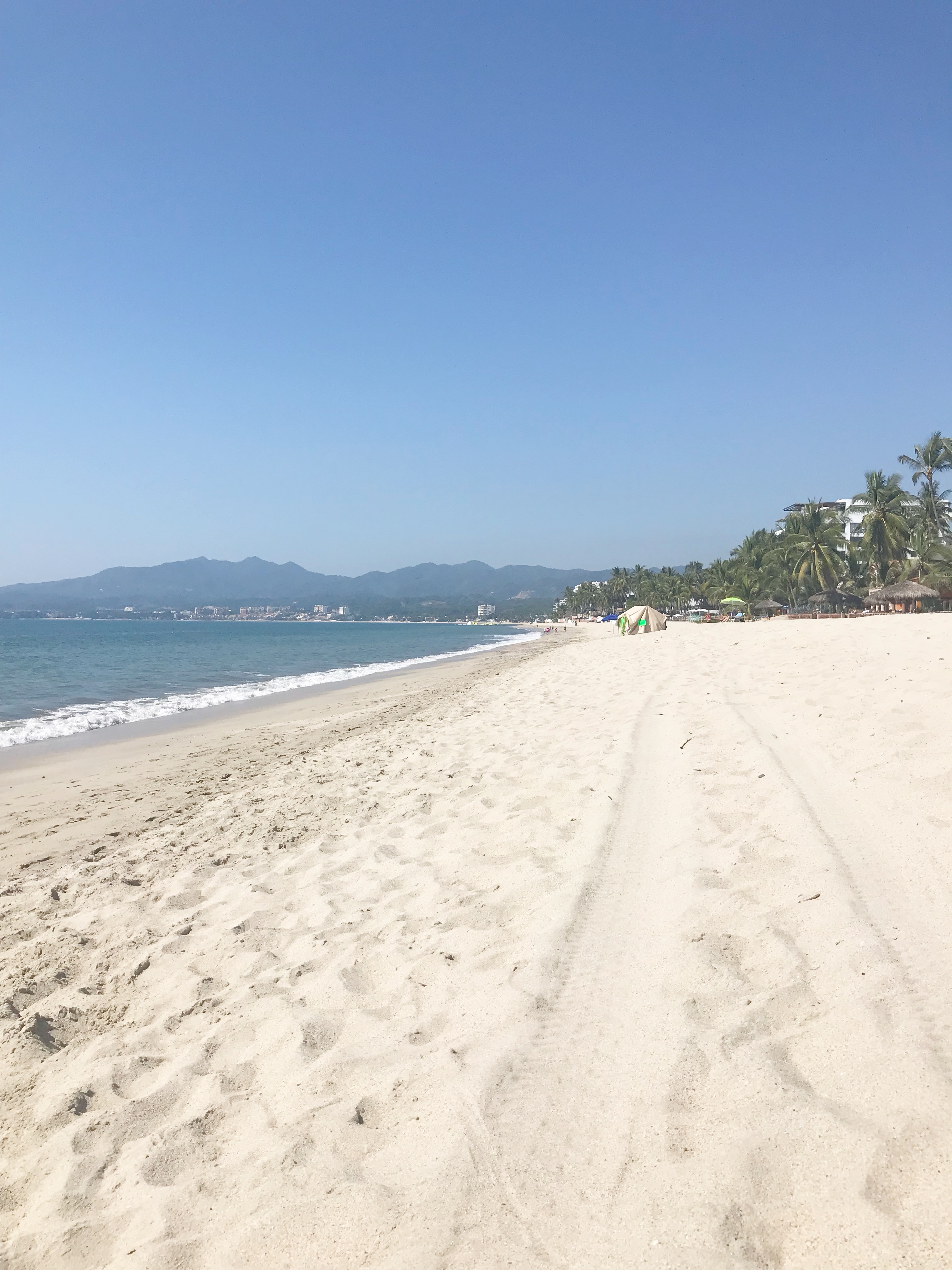 We walked to Chin Gon for jamaica, which is cold, brewed hibiscus flower tea. It's so refreshing.  They serve Southeast Asian style food, with take out available and it's super close to Taya's place.  We didn't eat there…next trip!
That evening we took a cab into Puerto Vallarta.  We started out at La Capella, which is a former chapel converted to restaurant.  It's probably the best place to watch the sunset in all of Puerto Vallarta with views of the bay and the famous Church of Our Lady of Guadalupe in the foreground.  Honestly stunning!  We enjoyed a blended basil cocktail as we watched the sunset…and took about a million pictures!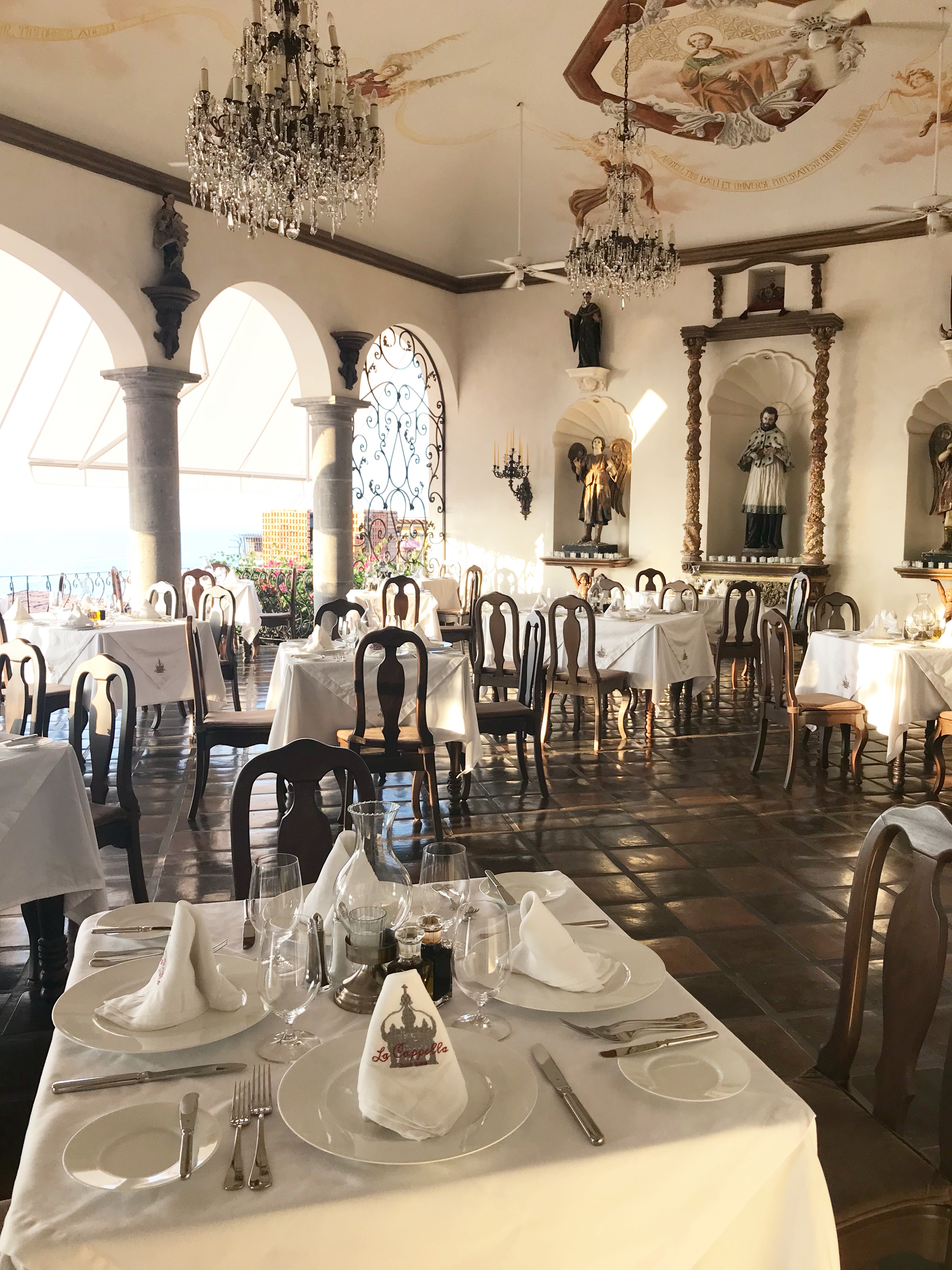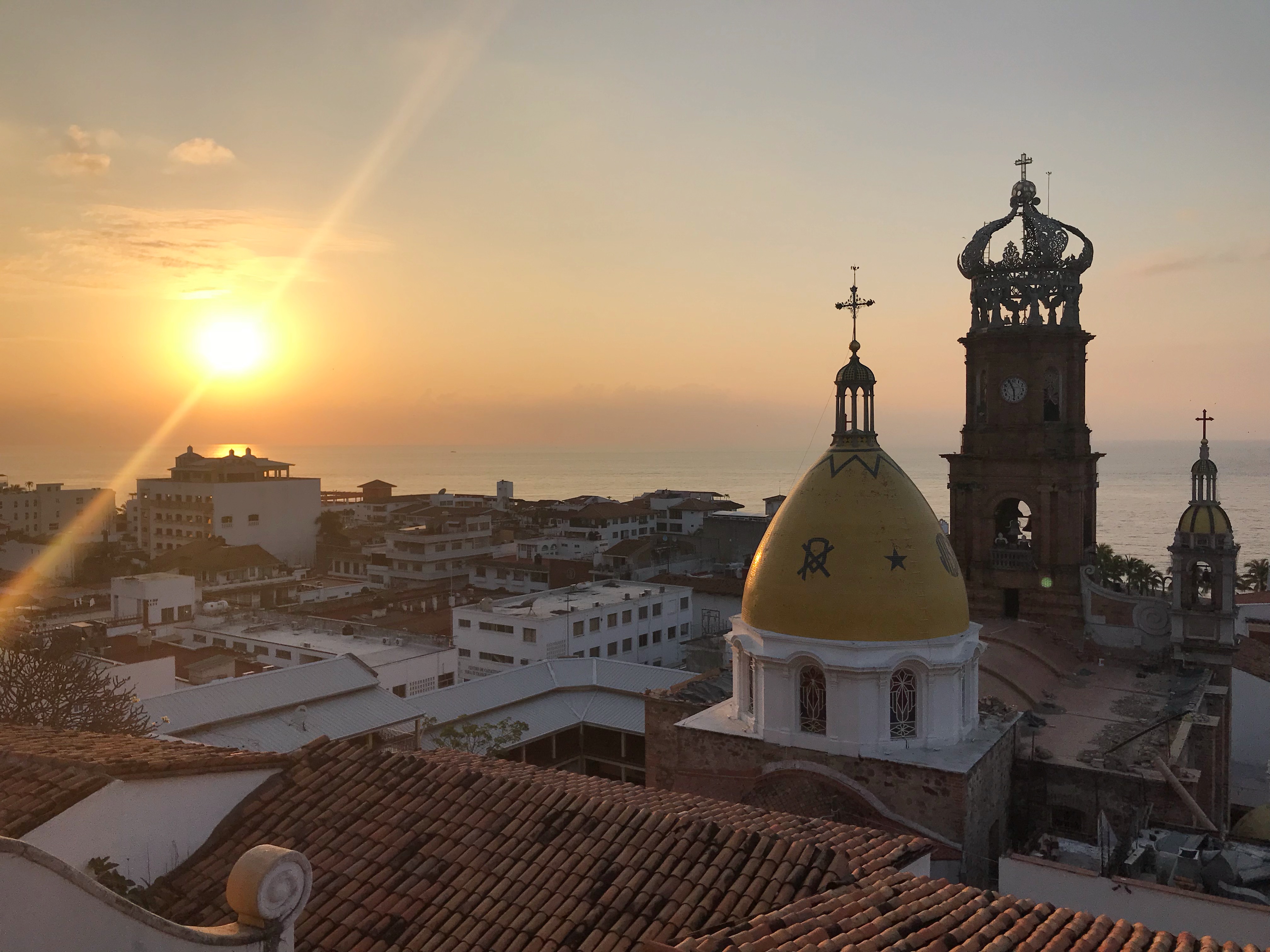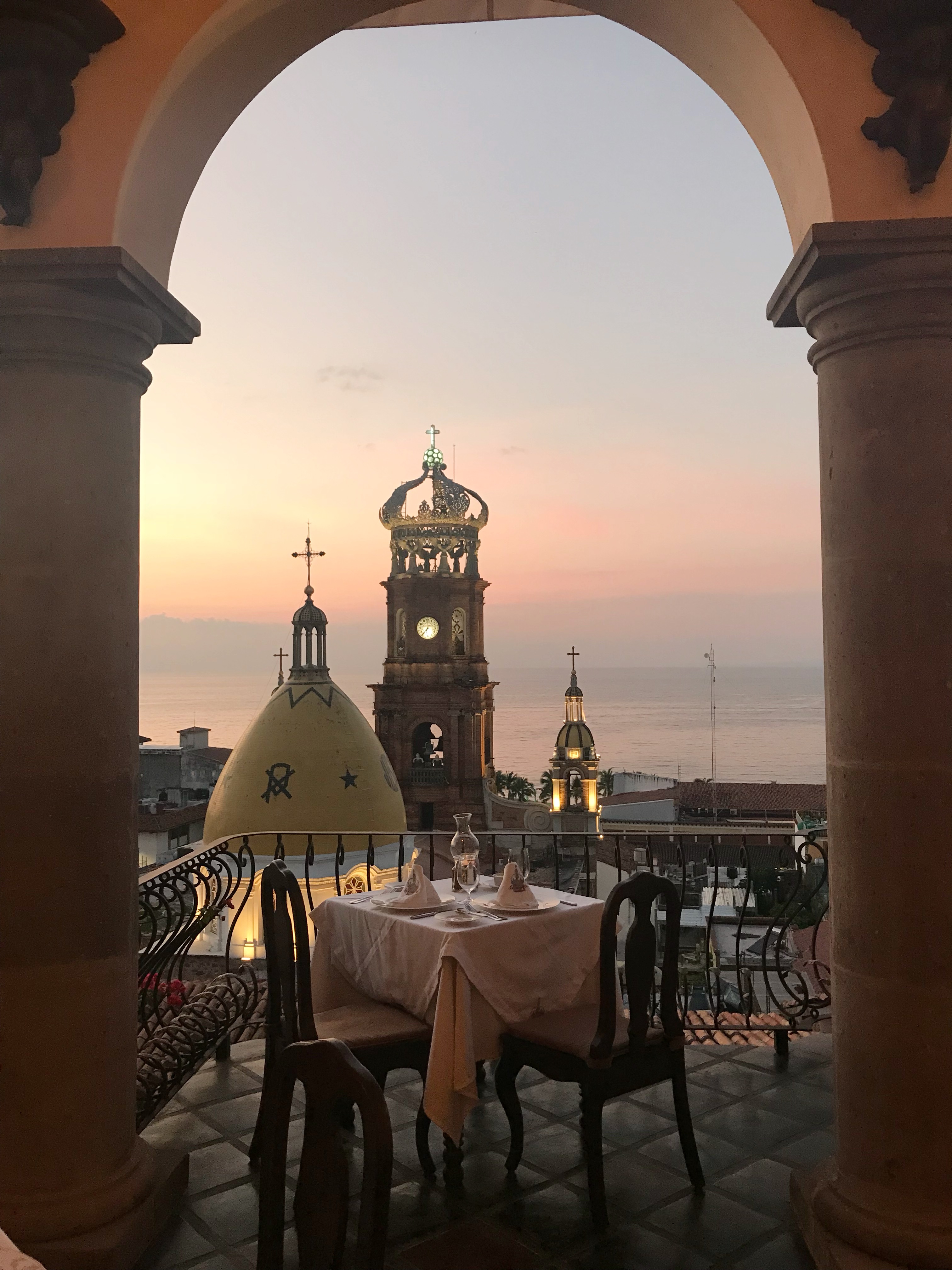 We then went across the street to sister boutique hotel that Taya stayed in for her honeymoon…Hacienda San Angel.  You do need to book a reservation to get into this fine dining restaurant. I had a shrimp coconut soup that now rivals the best soup I previously said that I ever had in Paris.  We were delightfully surprised by a live 11 member mariachi band that entertained us…they were incredibly talented!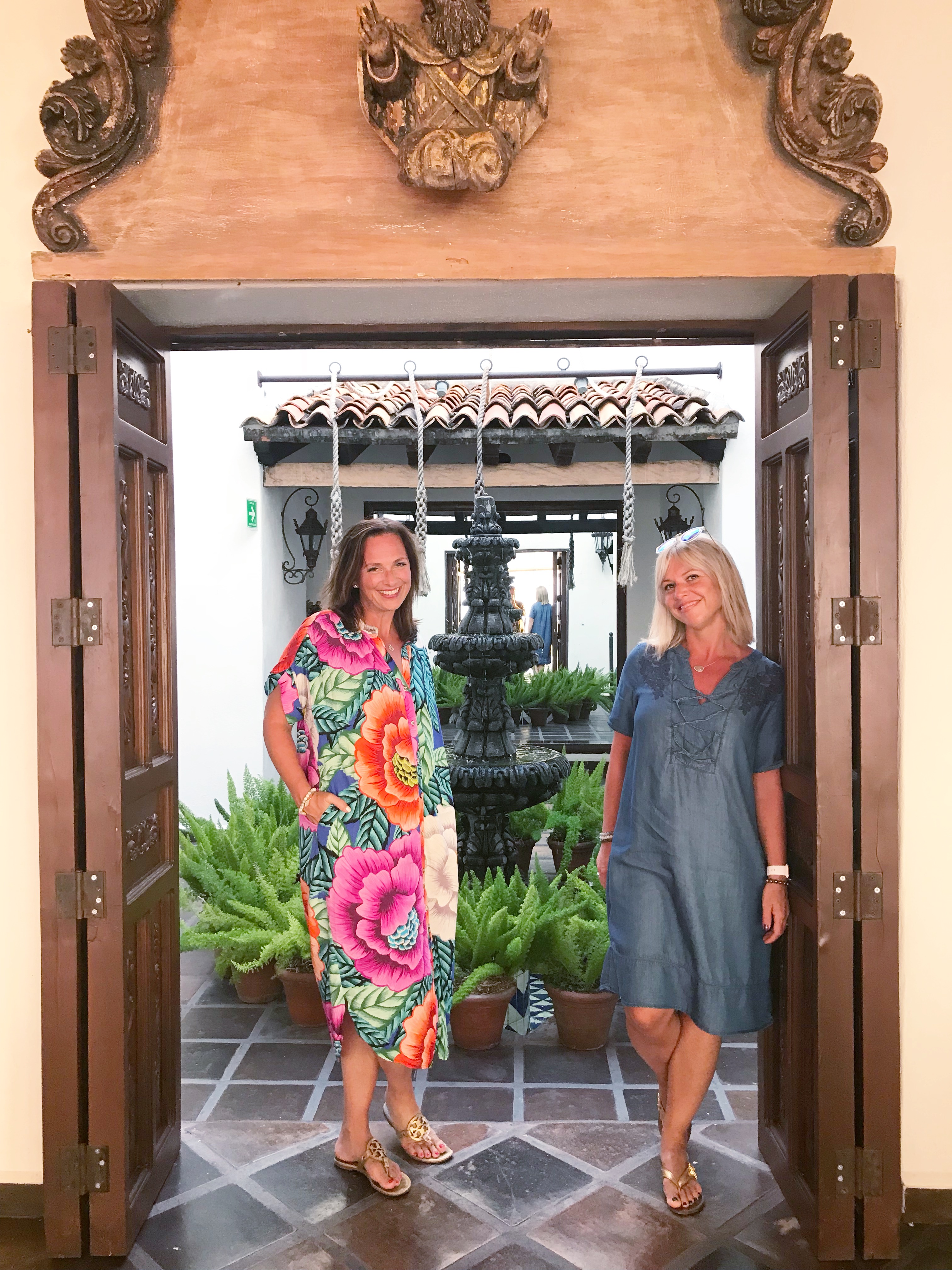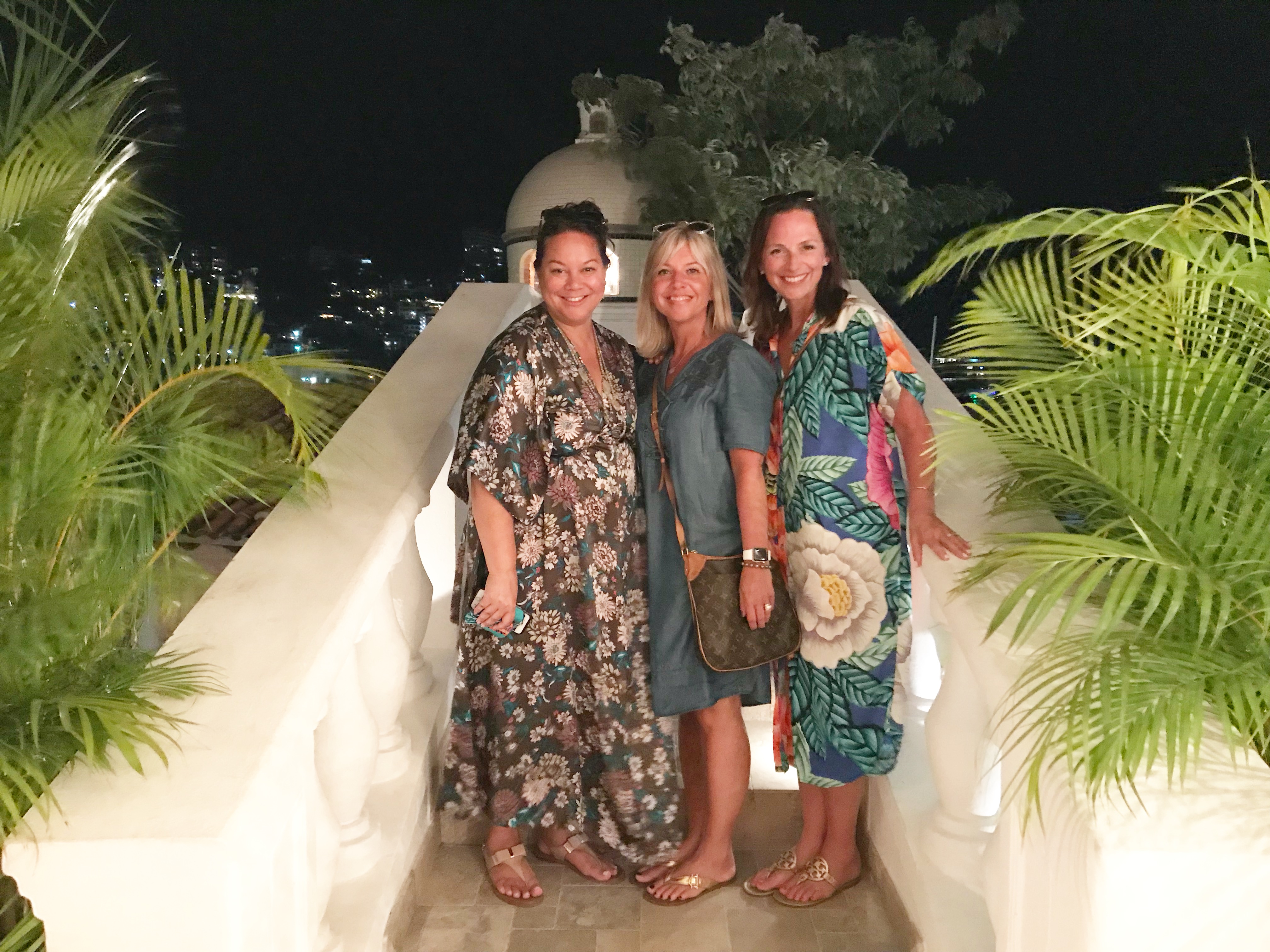 Lastly, we checked out Casa Kimberly around the corner.  It's the former home of Elizabeth Taylor which was purchased for her by Richard Burton.  It has been under renovation for the last 4 years and recently opened up as a boutique hotel and restaurant.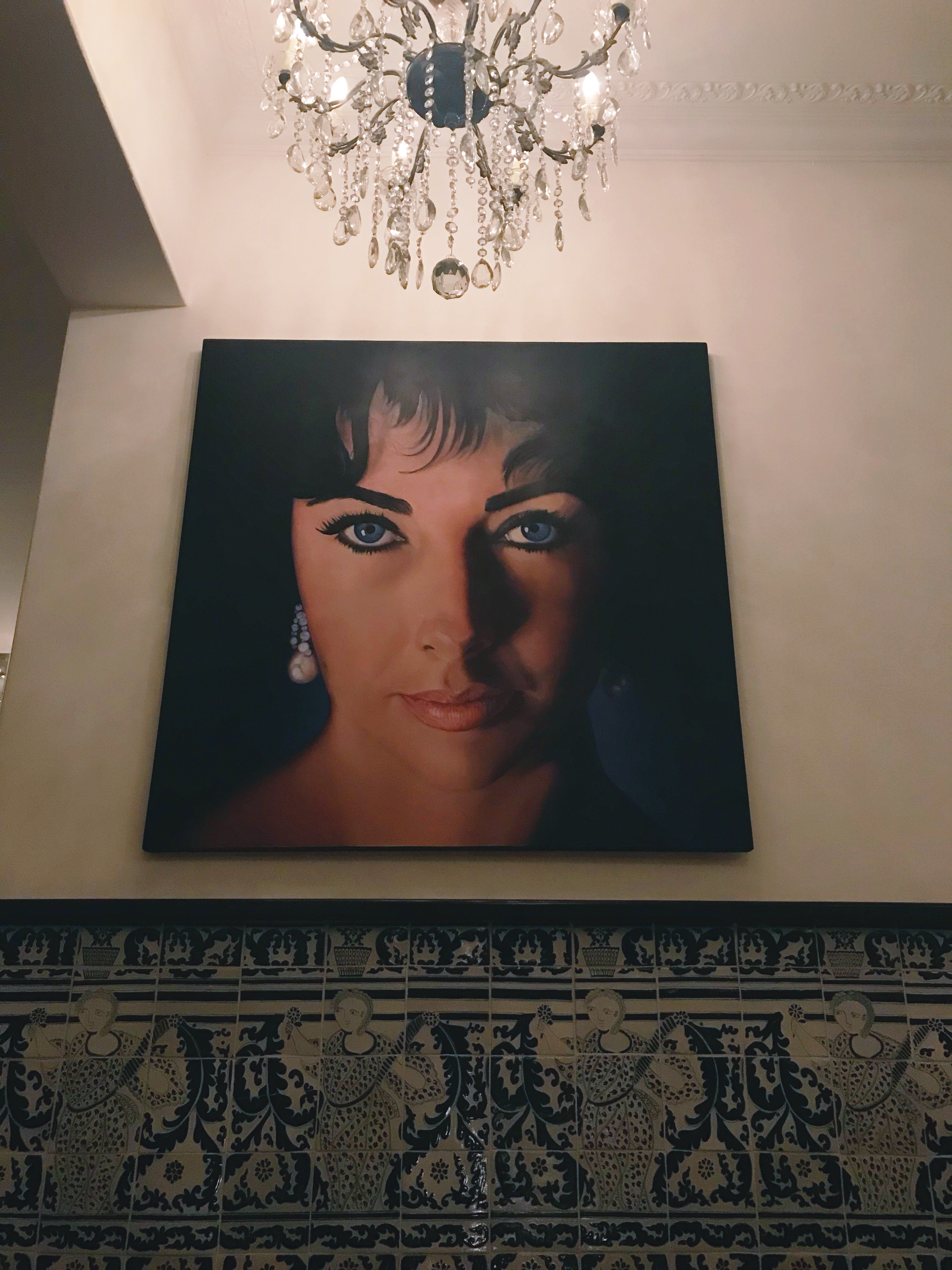 THURSDAY | This was a busy day just based on tour availability, but we were up for it!  We had seen Taya's Instastories in the spring when she went on a walking foodie tour and this was on our list.  We headed out in the morning to Pitillal, an off the beaten path working class community filled with authentic food.  This is not a typical tour…it is an extremely authentic experience as you visit and eat at places that you would never find yourself.  The tour focused on different varieties of tacos.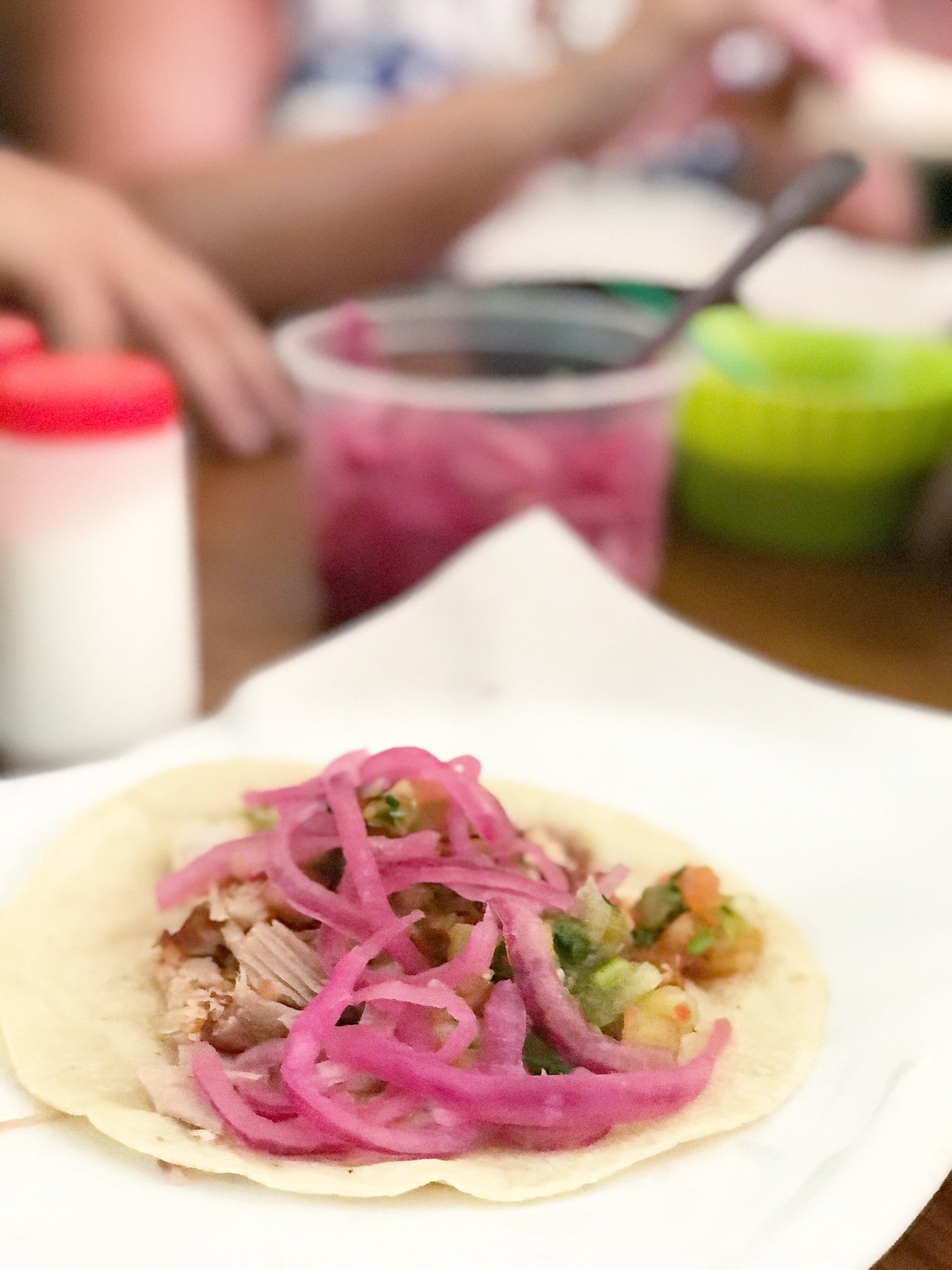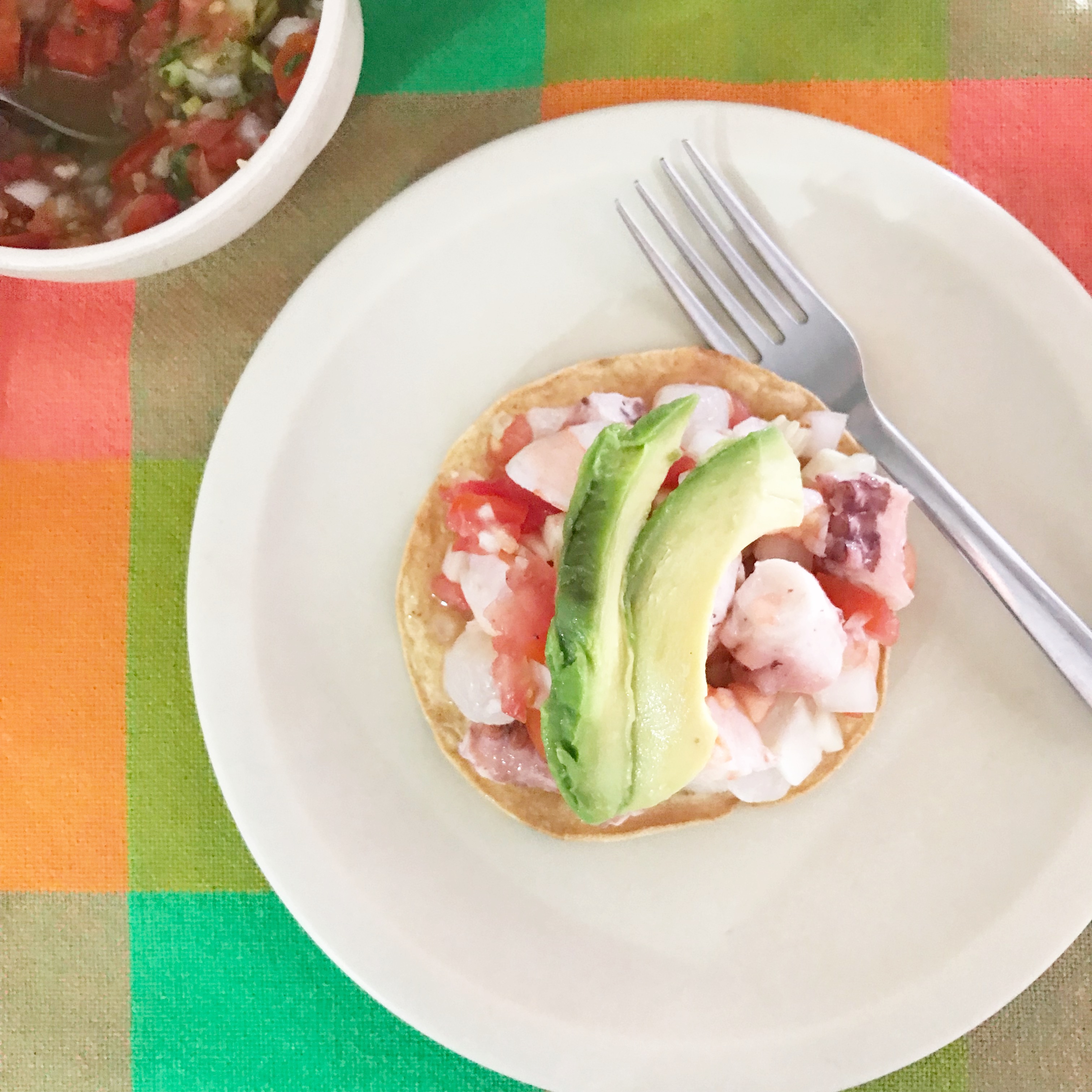 My personal favorite was the goat taco birria style…you spoon consommé over the goat and top with picked onions, cabbage and cilantro. And the outside is crunchy…the perfect contrast.   The family that runs the restaurant raises the goats…now that's farm to table!  We also checked out produce stands and tried fruits that I've never seen before.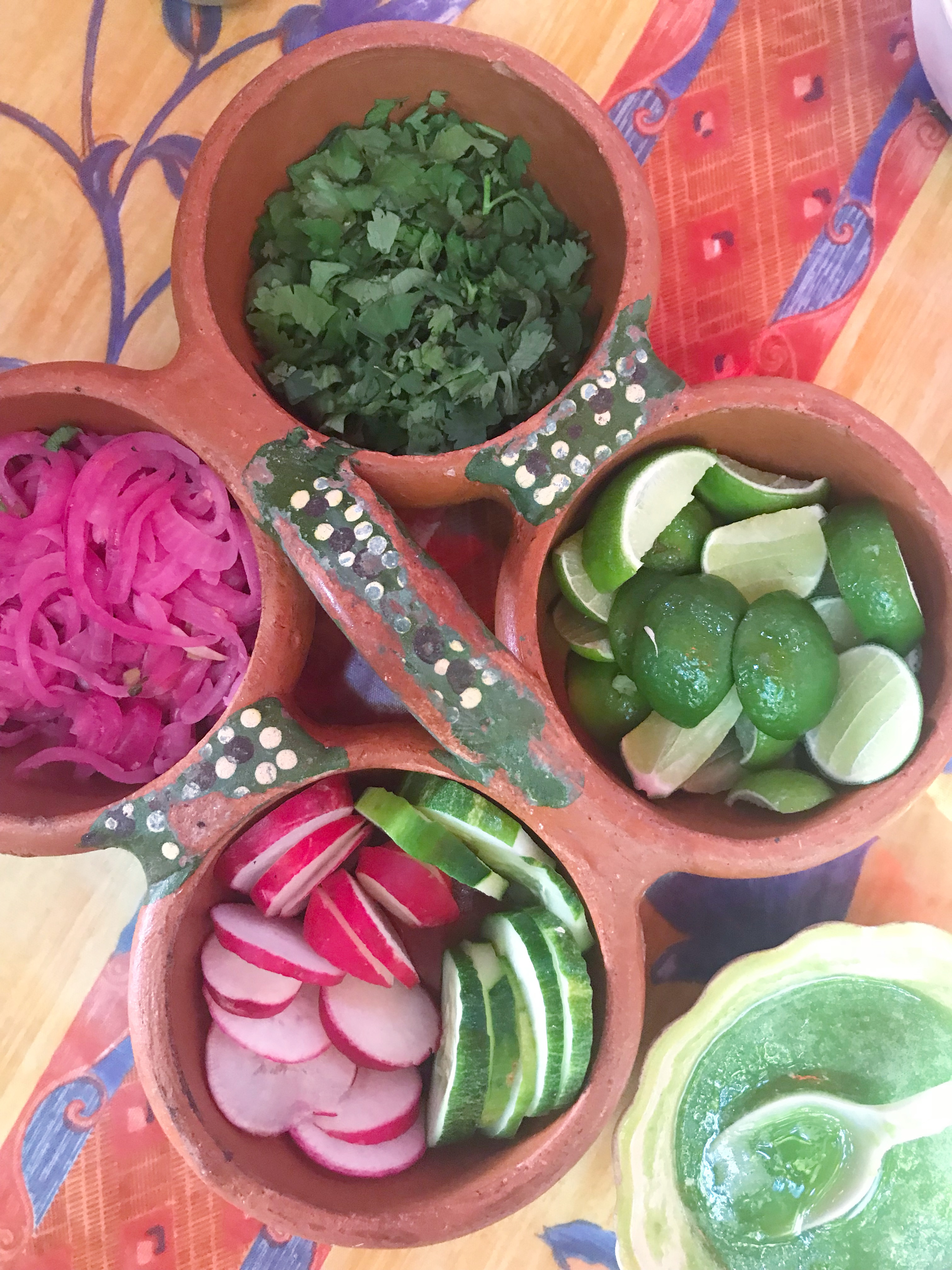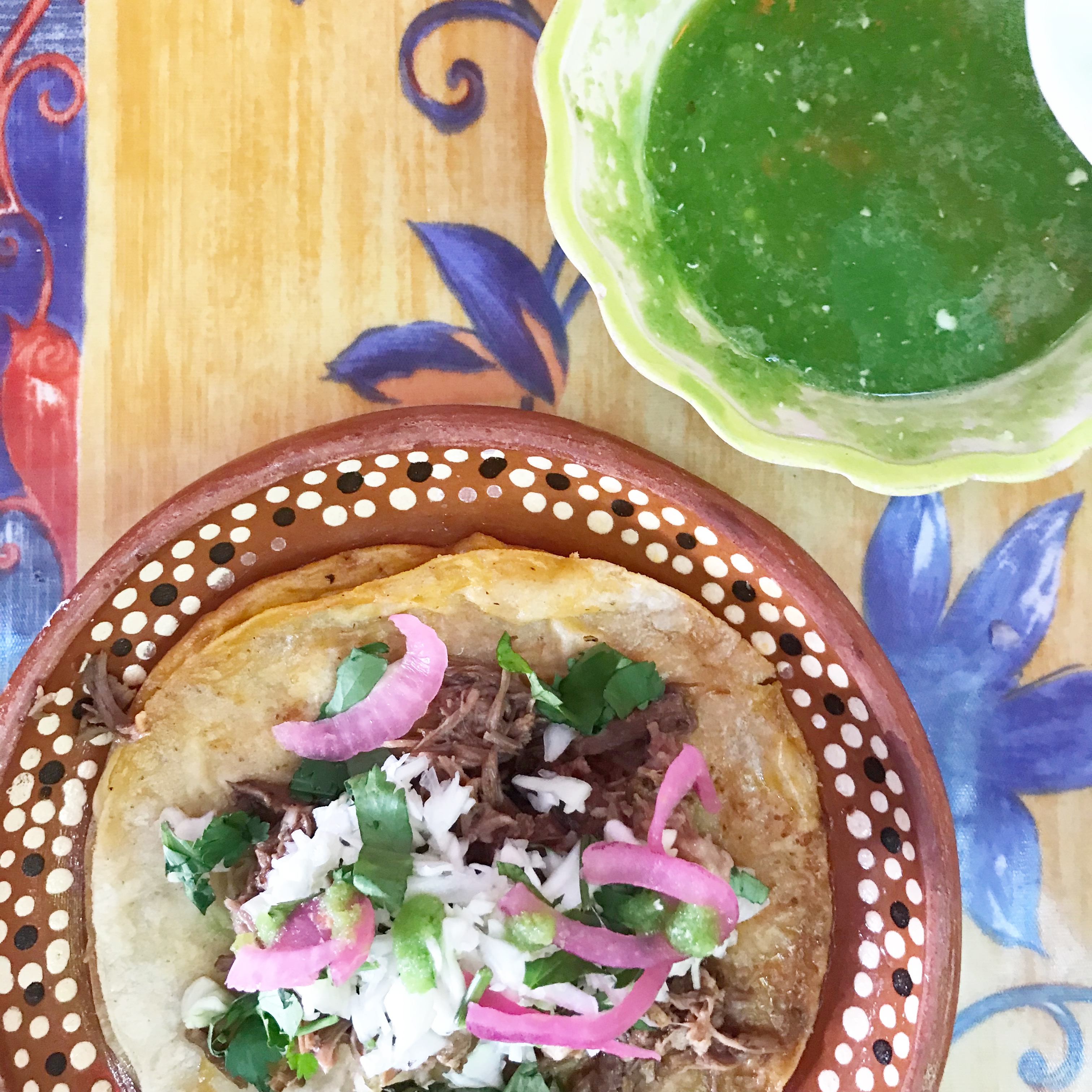 Our guide, Shawnie, was full of knowledge, not only about the food, but all the history and culture of Mexico.  In fact, she has driven through all 31 states of the country.  I really could do a whole post on this tour, but you can check out all of the deets of this tour on Vallarta Food Tours.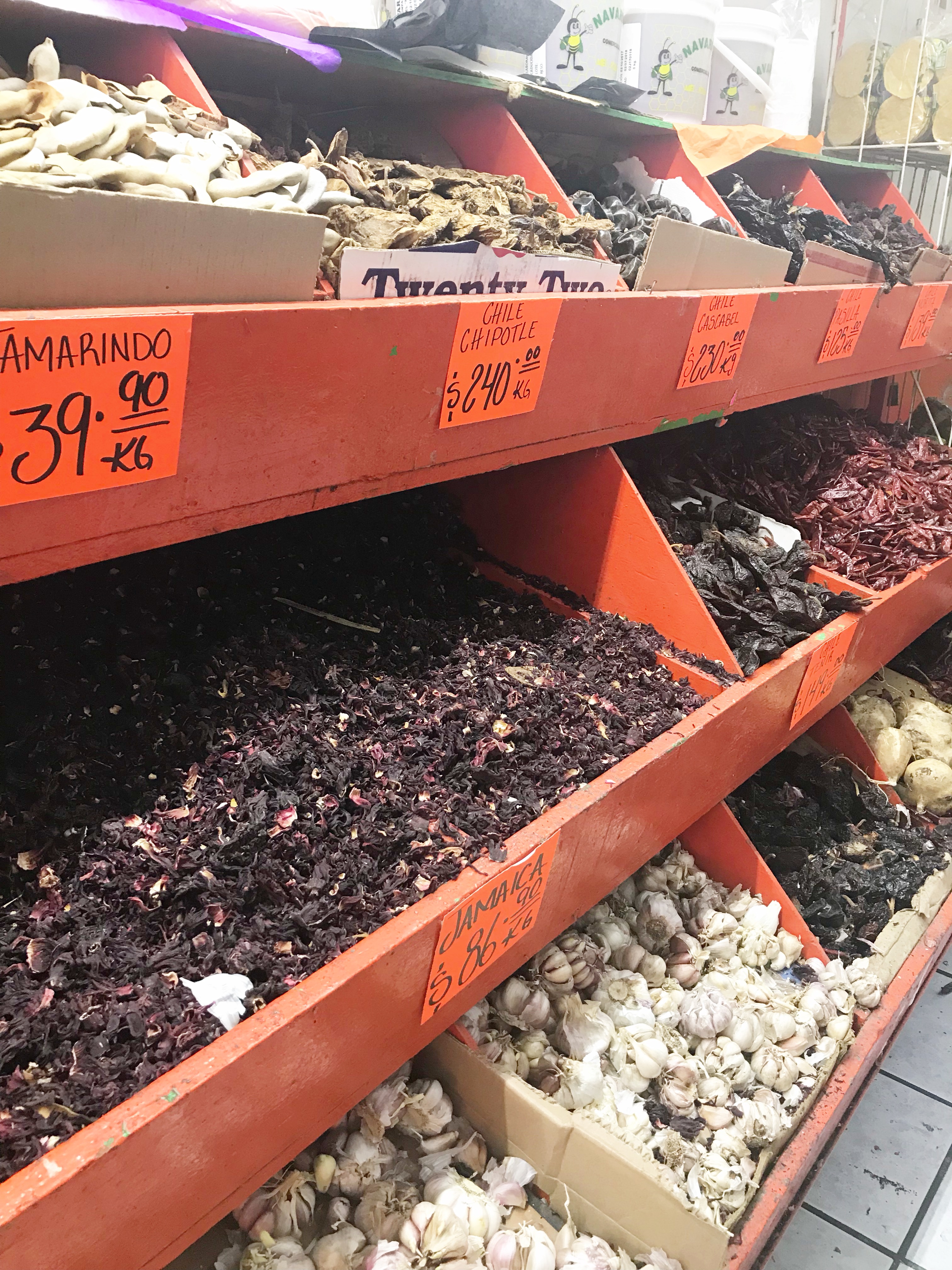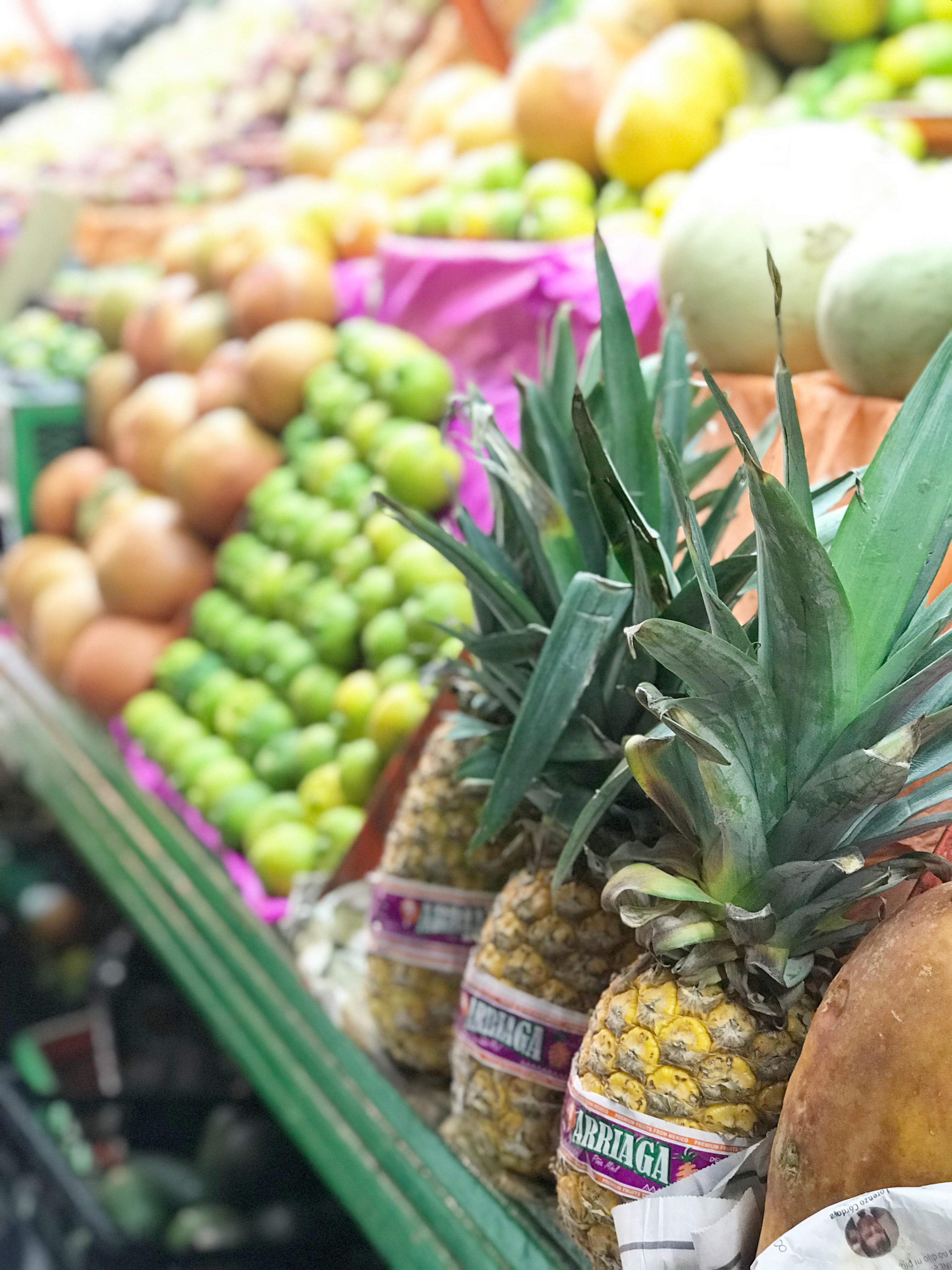 We headed back to Bucerias to relax and let the food settle!  In the evening, we took a cab to Nuevo Vallarta to catch our tour to Las Caletas Beach Hideaway with Vallarta Adventures.  We got on a boat that takes you to the former home of filmmaker John Huston on a secluded beach, accessible only by boat.  Once we arrived we watched what Taya described as a Cirque-like show in the jungle and then we headed to the beach for a candle-lit dinner under a coconut tree.  On the way back, the crew of the boat thoroughly entertained us with an airband show covering favorite songs from many decades.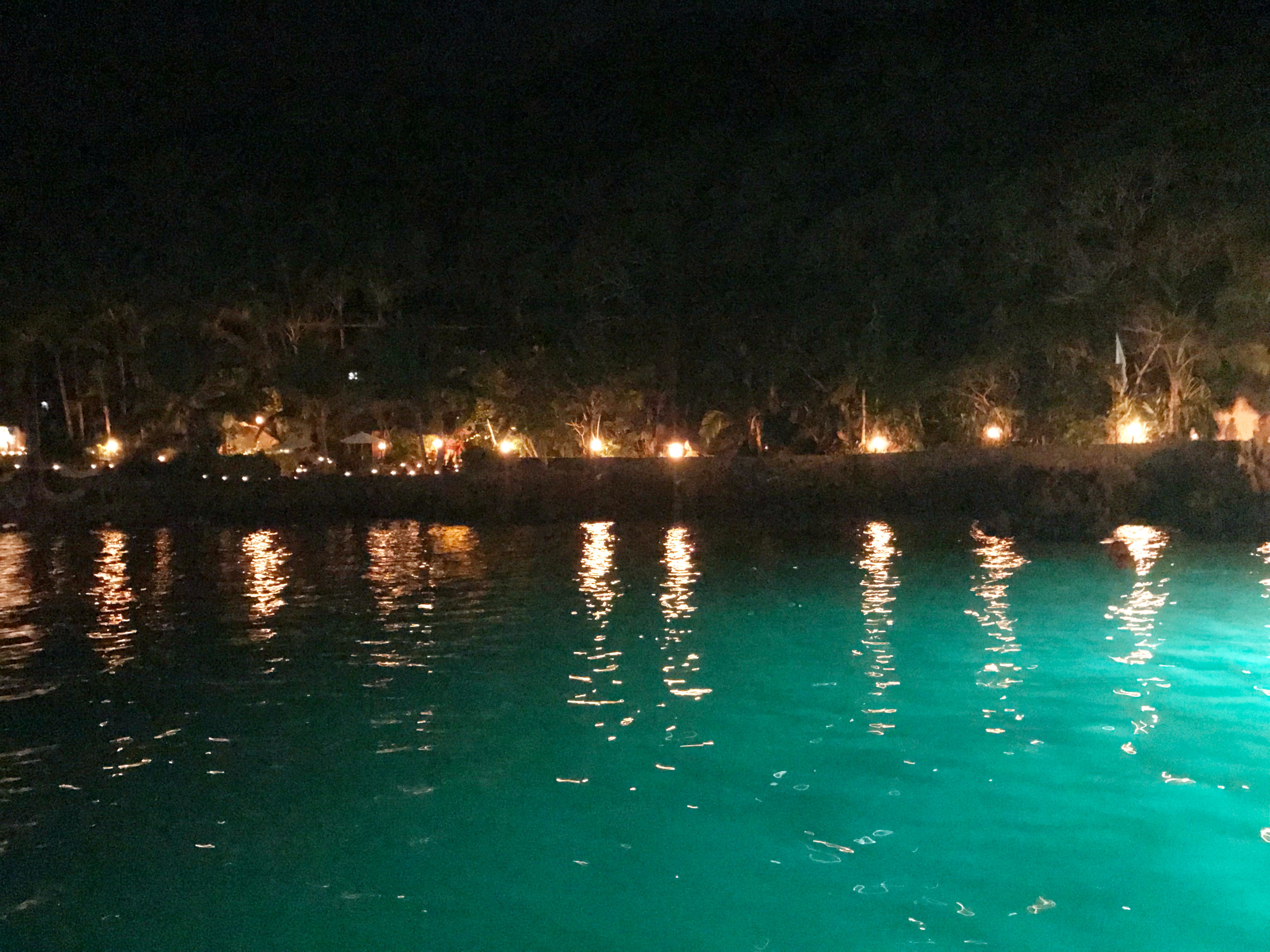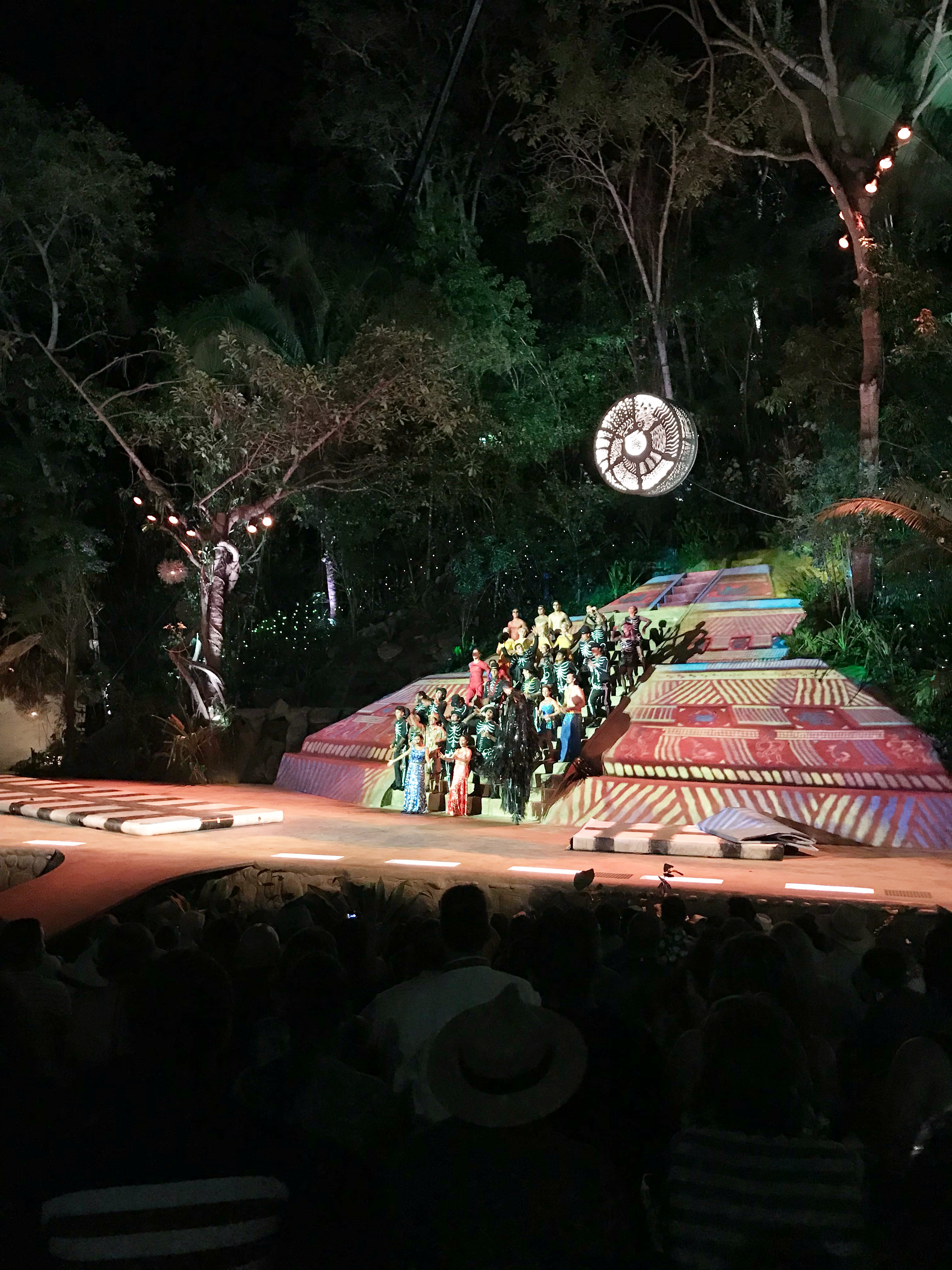 FRIDAY | Laurel and I got up and walked along the main road over the bridge to the other side of Bucerias to check out the market.  Along the way, we came across a kiosk with hand dyed carpets.  The shop owner, Vicente, showed us how the carpets are made with naturally dyed wools.  They use dried cactus beetles to get a purple color.  They add lime to make an orange color.  He asked where we were from and he told us some of his textile bags are sold on Salt Spring Island…what a small world!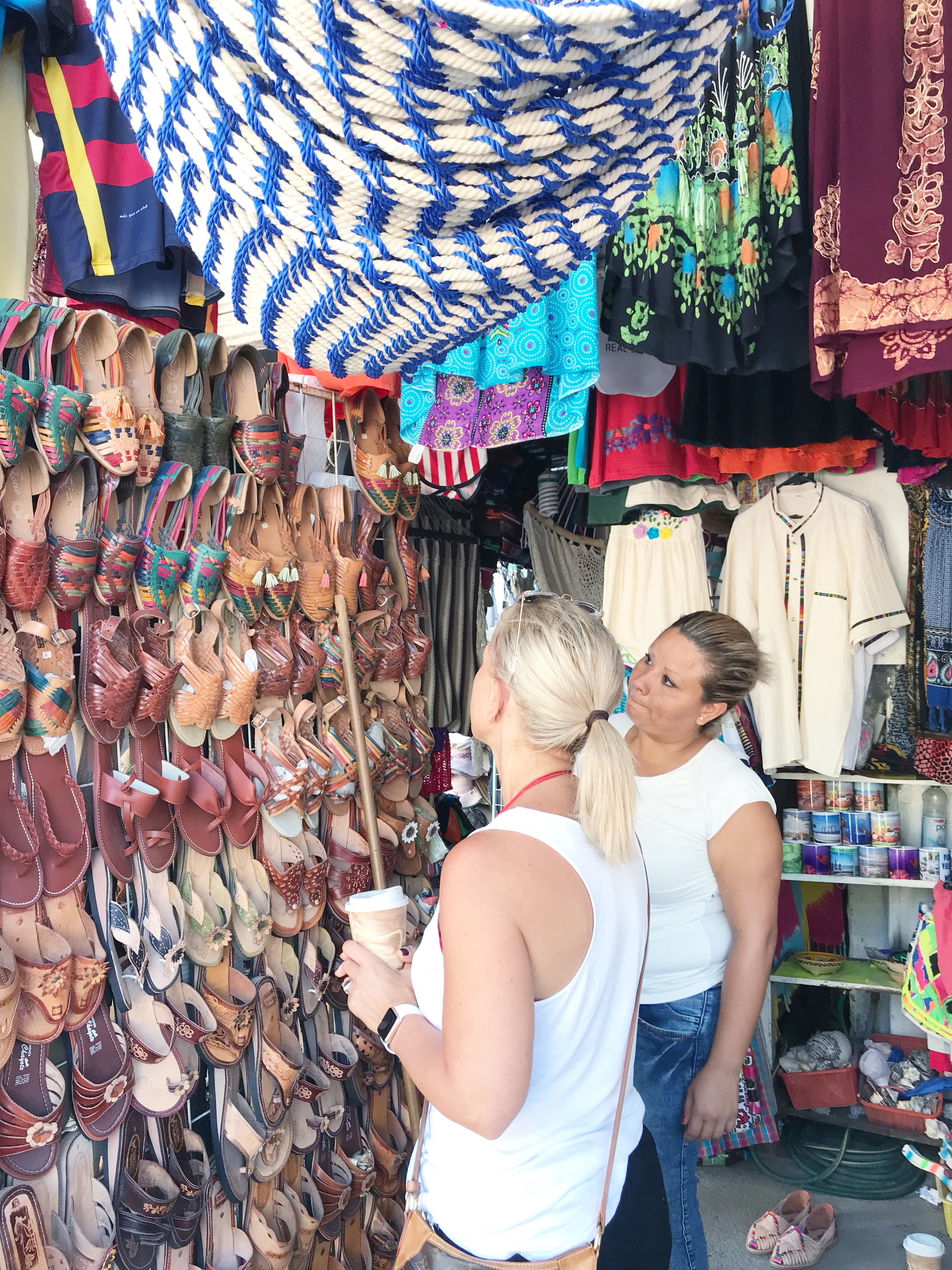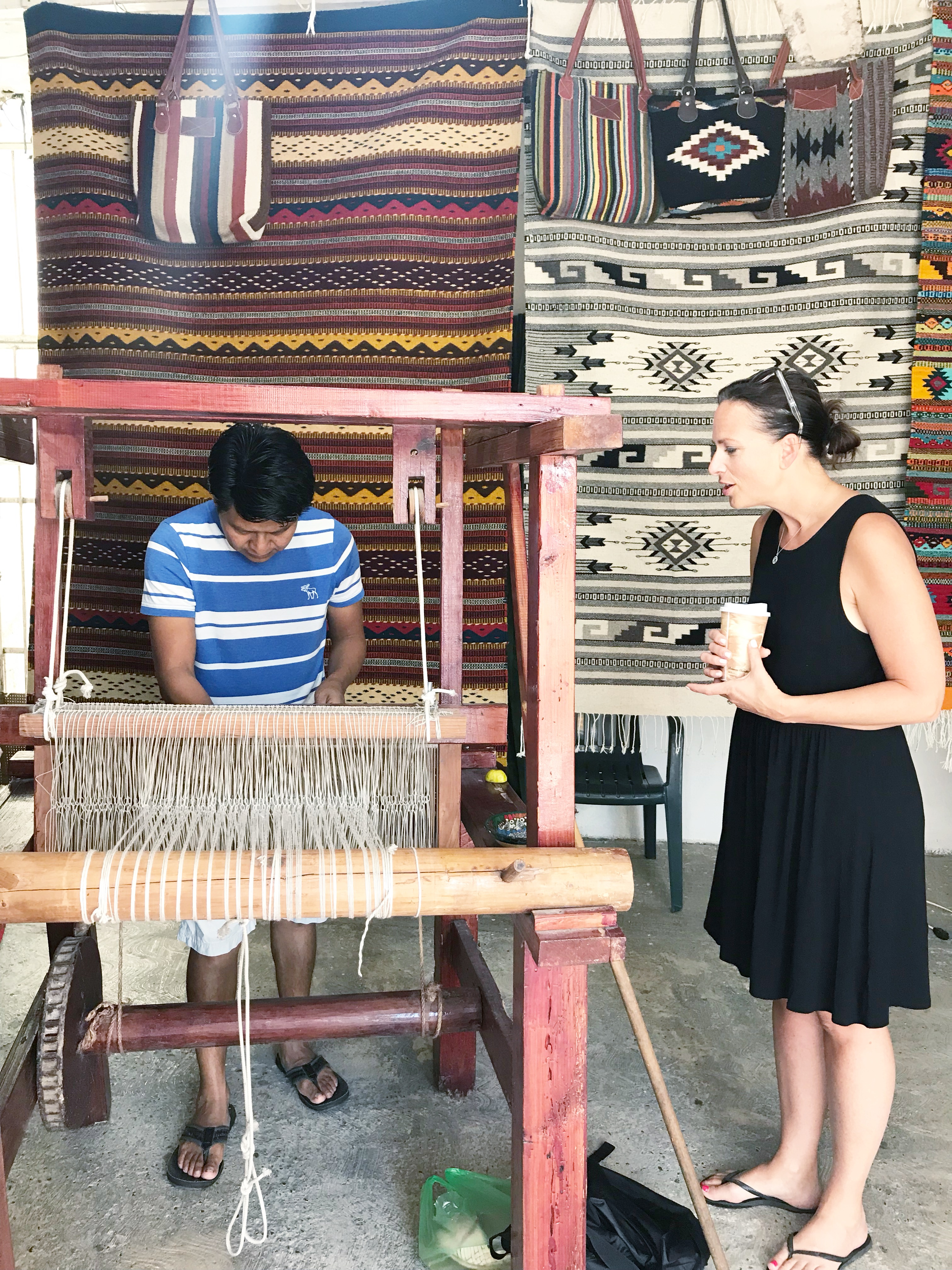 We met Taya for breakfast and then relaxed by the pool to absorb as much Vitamin D as we could!
I don't know where Bucerias has been all my life, but now that Taya has introduced it to me, I need to share it with my family.  Bucerias is about the beach and casual living, as well was fresh food, culture, art and friendly people.  Thank-you Taya for sharing your love of Bucerias with us!
To find out more information about Casa de las Flores, visit here.