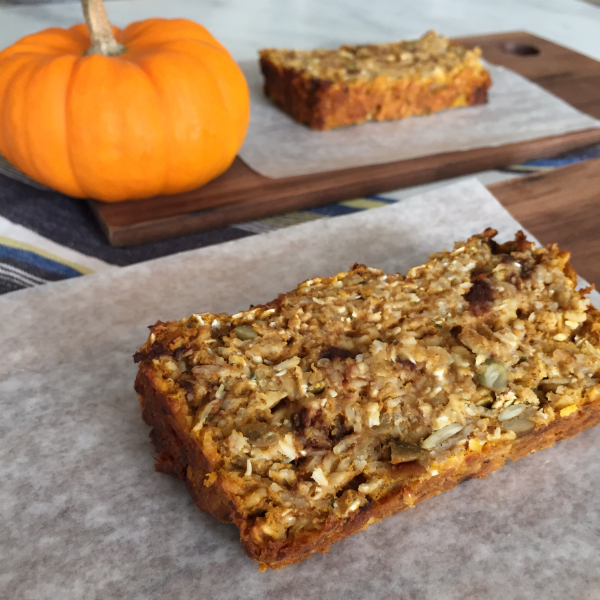 Are you in a rut packing lunches yet?  I've been working hard to find recipes that I can make for the kids that are healthy and filling for lunches and snacks on the go.  I'm really trying to limit the prepackaged pantry items!  We are kinda in love with pumpkin spice right now at our house…it's just a fall thing, right?  And it is officially fall!  I made these pumpkin spice energy bars after being inspired by this recipe and they were a huge hit. They are chock full of healthy ingredients…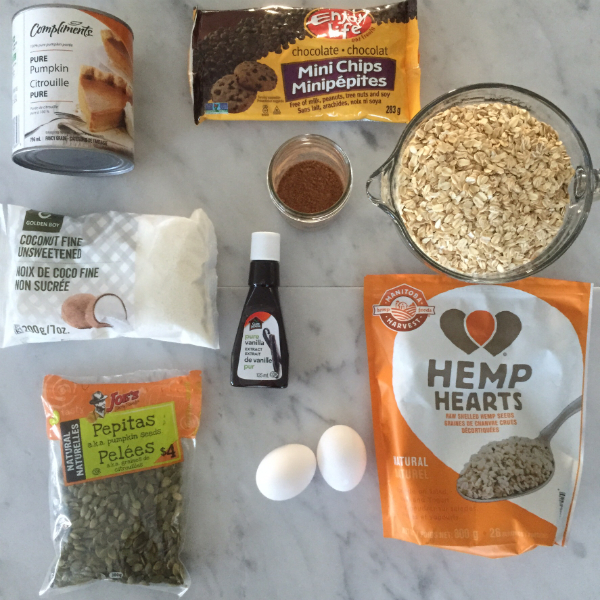 Pumpkin Spice Energy Bars
Ingredients
4 cups gluten free oats
1 teaspoon kosher salt
2 teaspoons pumpkin spice mix
4 eggs
1 teaspoon pure vanilla extract
2 cups unsweetened almond milk
2½ cups pure pumpkin puree
⅔ cup honey
¼ cup hemp seeds
⅓ cup unsweetened finely shredded coconut
½ cup pumpkin seeds
½ cup mini dark chocolate chips
Instructions
Preheat oven to 375F degrees.
Grease two 9" loaf pans with coconut oil spray.
In a large bowl, combine oats, salt, and pumpkin spice.
In a medium bowl, whisk together eggs, vanilla, almond milk, pumpkin puree and honey.
Stir wet mixture into oat mixture, and mix thoroughly.
Add hemp seeds, coconut, pumpkin seeds and chocolate chips and stir just to combine.
Pour the mixture into the two loaf pans.
Bake in oven for 35 minutes turning pans halfway through cooking time.
If you need to bake them longer, you may wish to turn your oven off and leave the pans in another 5 minutes if the edges are becoming brown.
Remove from oven and let cool 15 minutes before removing from pan.
Before they have completely cooled, slice each loaf into 12-14 bars.
Once completely cooled, wrap individually and store in fridge or freezer.
I used canned pure pumpkin puree.  Make sure you are not using pumpkin pie filling.  Also, you can use store bought pumpkin spice or you can easily
make your own
.  I make a large batch and store it in a jar and use it for this recipe and
pumpkin spice lattes
and
smoothies
.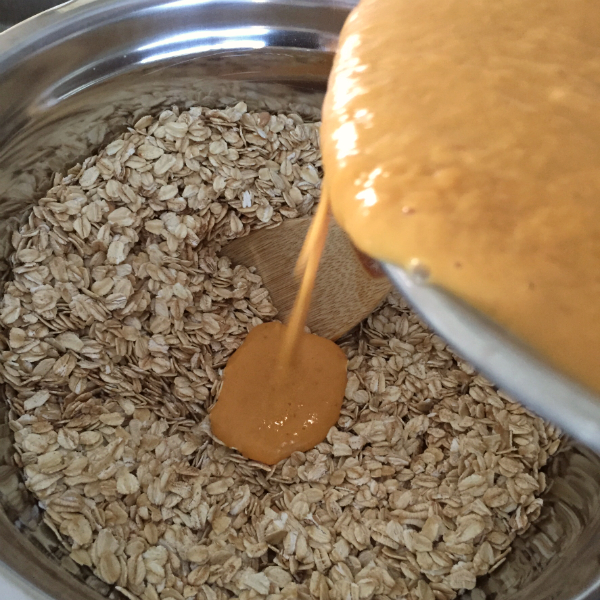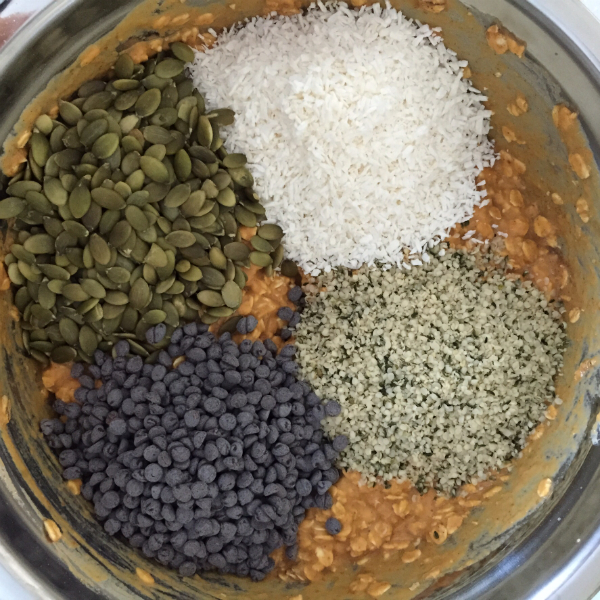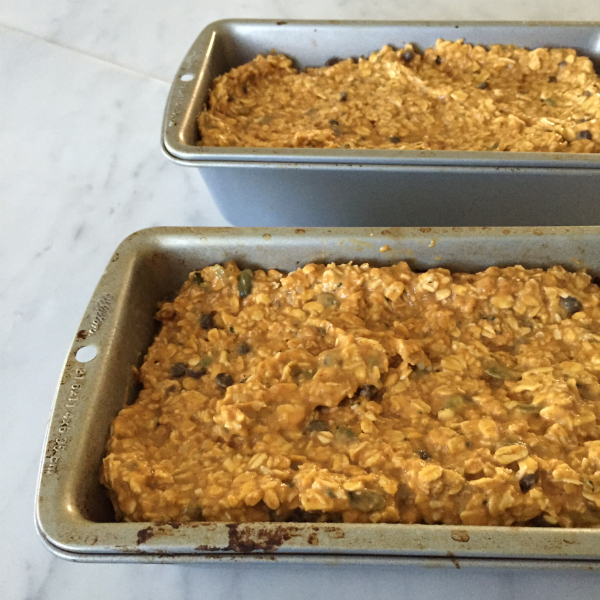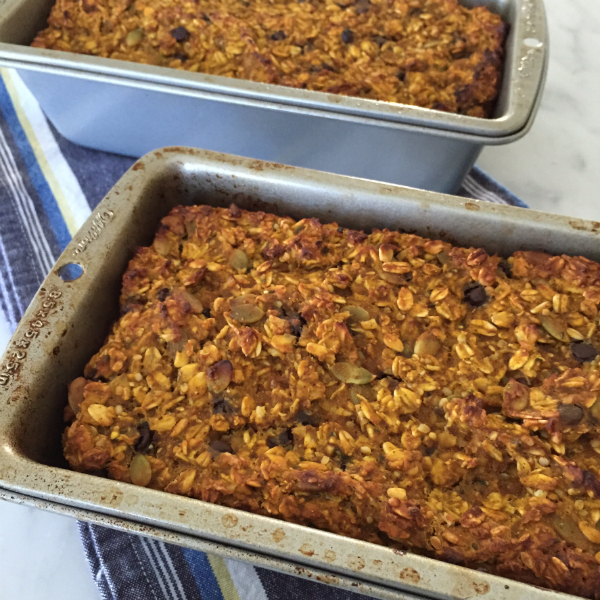 These are super easy and quick to make…and you will come out with up to 28 bars!  I keep half of the bars in my fridge and freeze the other half.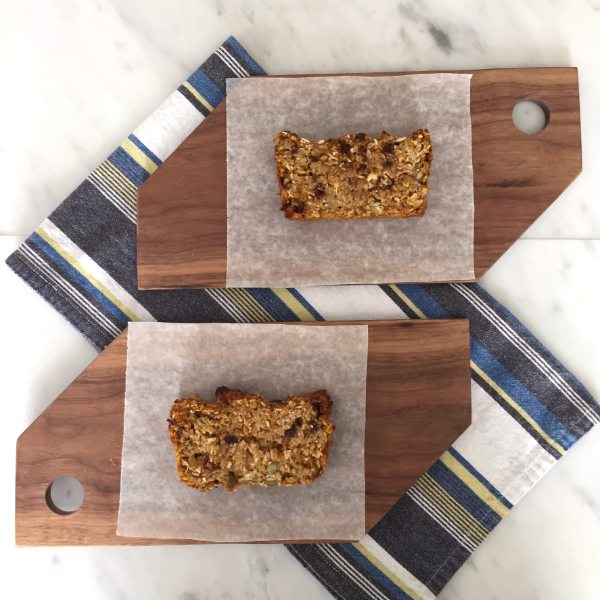 If you are concerned about the almond milk for nut allergies at school, try using coconut or hemp milk. There are so many variations you could make…swap out the chocolate chips for dried cranberries.  If you prefer nuts, you can use pecans instead of pumpkin seeds.  I think I might try adding chia seeds next time too!
These are also great for breakfast for those grab and go mornings.  I recently packed them along for a dance convention weekend and Berkeley loved them for breakfast and they kept her fueled up until lunch. This recipe is a great base, so you can have fun with it and customize it to your family's tastes.  It's so much better than store bought bars!