Pumpkin Spice Energy Bars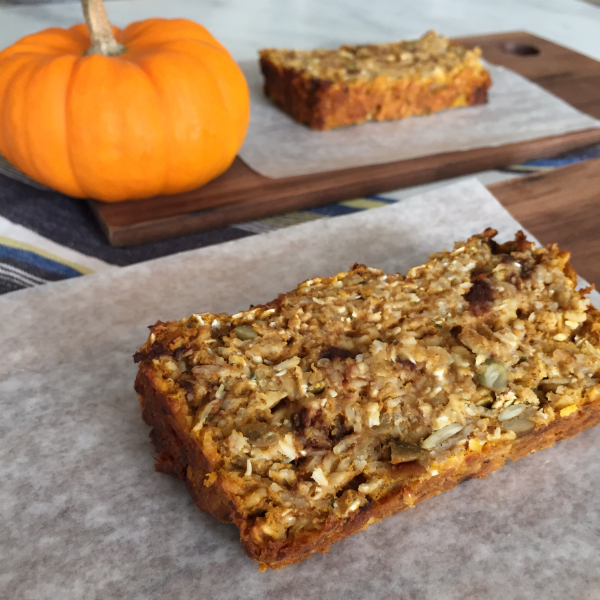 4 cups gluten free oats
1 teaspoon kosher salt
2 teaspoons pumpkin spice mix
4 eggs
1 teaspoon pure vanilla extract
2 cups unsweetened almond milk
2½ cups pure pumpkin puree
⅔ cup honey
¼ cup hemp seeds
⅓ cup unsweetened finely shredded coconut
½ cup pumpkin seeds
½ cup mini dark chocolate chips
Preheat oven to 375F degrees.
Grease two 9" loaf pans with coconut oil spray.
In a large bowl, combine oats, salt, and pumpkin spice.
In a medium bowl, whisk together eggs, vanilla, almond milk, pumpkin puree and honey.
Stir wet mixture into oat mixture, and mix thoroughly.
Add hemp seeds, coconut, pumpkin seeds and chocolate chips and stir just to combine.
Pour the mixture into the two loaf pans.
Bake in oven for 35 minutes turning pans halfway through cooking time.
If you need to bake them longer, you may wish to turn your oven off and leave the pans in another 5 minutes if the edges are becoming brown.
Remove from oven and let cool 15 minutes before removing from pan.
Before they have completely cooled, slice each loaf into 12-14 bars.
Once completely cooled, wrap individually and store in fridge or freezer.
Recipe by
Sugar Plum Sisters
at https://sugarplumsisters.com/2015/09/pumpkin-spice-energy-bars/