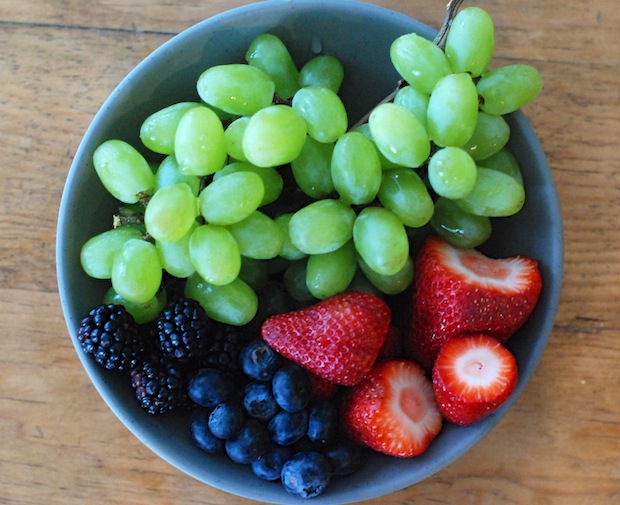 This may be a blog post seemingly written by Captain Obvious, but sometimes it's the glaringly simple that gets forgotten. If i need reminders, here's hoping there are some of you that could benefit from them too!
A recent conversation got me thinking. They say you should fill your diet with fruit and veggies…visually speaking, it's suggested that at each meal you fill 1/2 your plate with them.  Are you doing the eyebrow raise when you read this? We all could likely use some help to increase our fruit and veggie intake. Me included. Here are some small changes..lifestyle changes.. that can help "up" your filling each day:
1. Drink them – this is hands down the easiest way of getting large quantities of both fruit and veggies into our diet.  Our newest family member 'Vitamix" is making it possible… best investment we've made in some time. That said, you don't have to have a Vitamix to get your smoothie on. No excuses! Two of our favorite recipes are here and here...they both are delicious and guilt-free.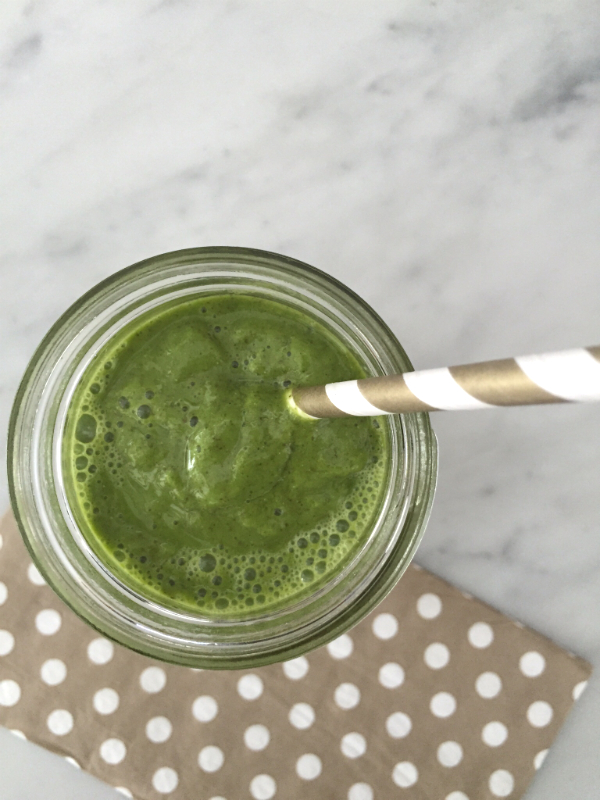 2. Begin your day with them – i love starting the morning off with a bowl of my healthy granola. I've made it a routine to pile fresh berries on top and now the granola just doesn't taste the same without them. Blueberries, blackberries strawberries and raspberries add more than just colour….they offer all sorts of benefits for your body. Like brain power…blueberries are little warriors in that department!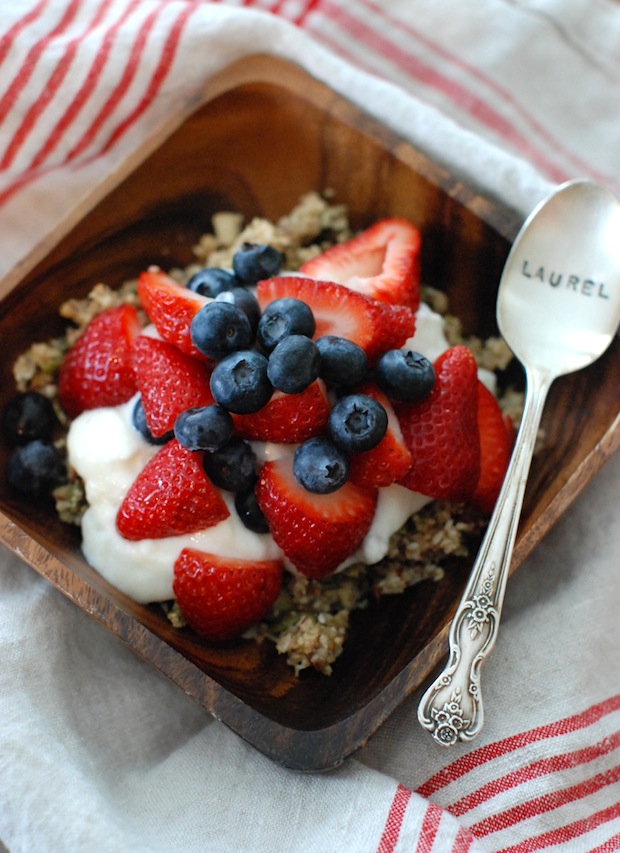 3. Freeze them – frozen grapes are delicious and my kids love them… freeze grapes individually and pop them in your mouth for a sweet treat. Frozen bananas are pretty delicious too…
4. Swap veggies for starchy and unhealthy carbs. Mashed potatoes can be replaced with pureed/riced cauliflower or pureed celery root. Lettuce wraps are much healthier than flour tortillas. Ditch chips and dip for a plate of crisp crudités and hummus like we did here.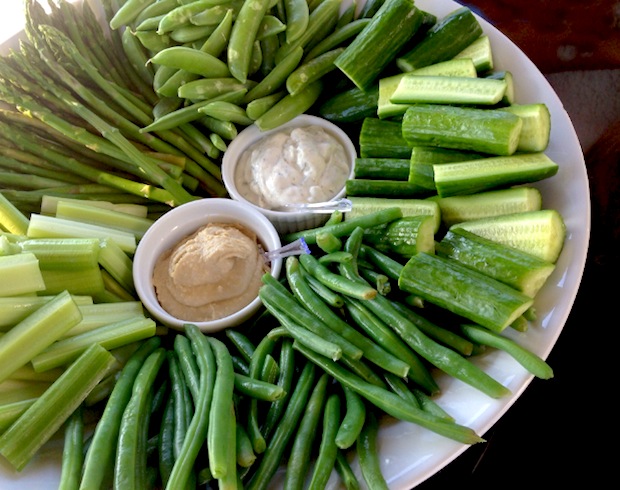 5.  Expand your prep methods for veggies. Just because you might have grown up with mushy overcooked frozen veggies, it doesn't mean you won't like them prepared in a different way. This requires a bit of experimenting to see what you and your fam will like. If you don't like raw cauliflower, try roasting it. We slice it thinly, drizzle with olive oil, sprinkle with kosher salt and roast it. Yum! Ever tried rutabaga fries? Sliced into matchsticks….yum!
6. Try incorporating an entree salad into your weekly rotation of dinners..at least once! Here is a list of some of our favourites.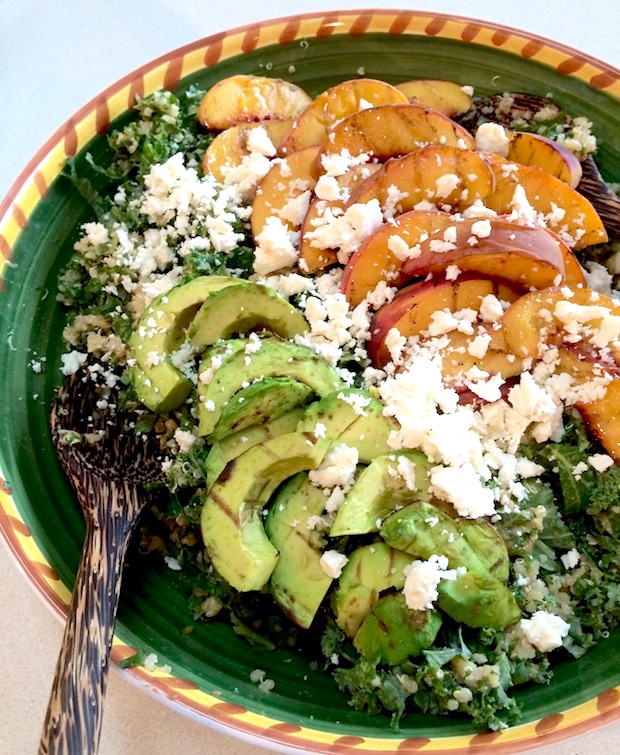 7. Pick your snacks wisely – a favorite snack is sliced apples with organic peanut butter. If i'm hungry in the evening, i make myself a little deal that if the hunger pains aren't quelled after the apples and peanut butter i'll allow myself to indulge further. Talk about head games! But truthfully, this snack satisfies and it's infinitely better than chowing down on some of my other favourites like chocolate or taco chips!
8. Have fruits/veggies at the ready – maybe the most obvious tip of them all, but the best if you ask me. If you want to eat healthful as well as those in your household, you need to make it convenient. Period.  There's no better way than pulling the fruit out of the fridge and having a bowl ready for the eating on your counter. The kids come home from school and its gone in no time…have you tried to walk by ripe red strawberries without grabbing one? They're pretty hard to resist.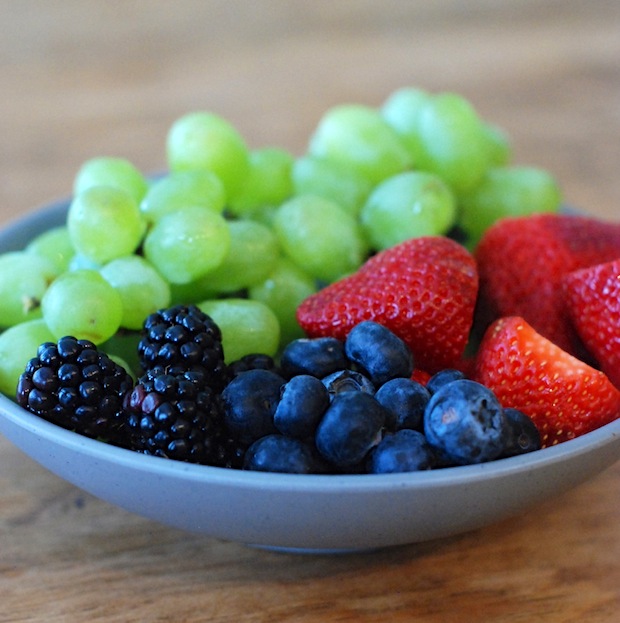 Do you have tips for getting more fruit and veggies into your diet? I'd love to hear them! xo