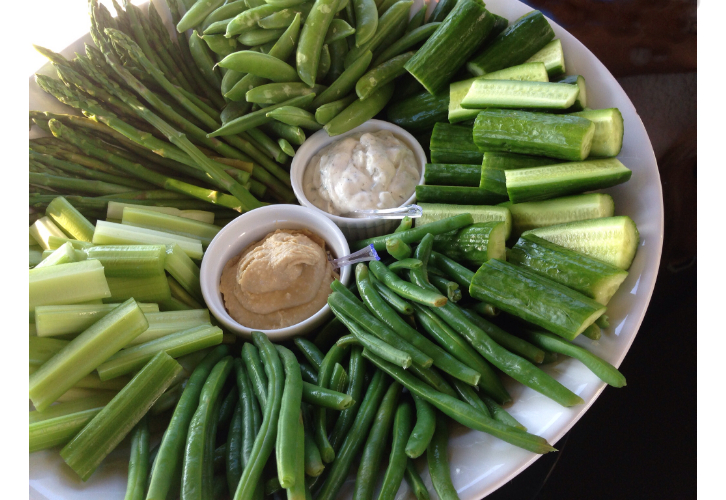 It's summer…and whoever said that it's easier in summer to eat healthier is wrong!!  Summer time = snack time.  More entertaining, more nibblies, more dessert!  It's totally ok to indulge, but I've been trying to find some healthy appies and snackies to put out that are guilt free.  Veggies are always a good option…but the trick is to make them appealing and entertaining-worthy.
I put together this veggie plate as an appie for a barbeque we hosted recently.  I thought it would be visually appealing to use all green veggies…and hey, Vert Crudites just makes green veggies sound a heck of a lot fancier!  Add a few dips and you have a healthy starter that has some nice crunch and flavor.
I used asparagus, green beans, snow peas, cucumbers and celery along with hummus and tzatziki.  I did blanch the asparagus and green beans….boil water and immerse them for about 3 minutes, until they turn bright green, then plunge them in ice water to stop the cooking process.  This keeps them crunchy.
Even just the way you arrange your crudites can make them look more appealing.  I used a very large graduated white bowl that was a HomeSense find (similar here).  A bowl like this is also perfect for serving up salads.  White platters like this one work well for crudites and salads as well.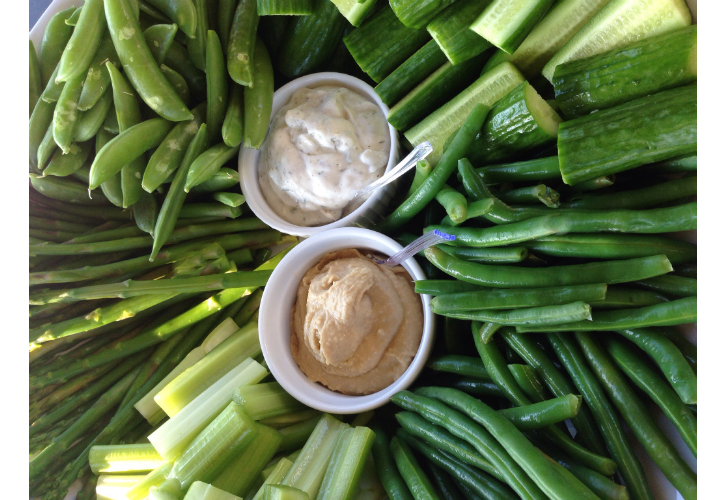 This is a much healthier alternative to chips and dip….and it's full of fiber and vitamins.  So, go on and eat your greens….veggies that is!