We may be starting to think about back to school around here, but i am always super reluctant to let summer go too easily. That includes what's coming out of my kitchen. Fresh fruits and veggies are still in plentiful supply and i plan to make the best use of them for as long as possible.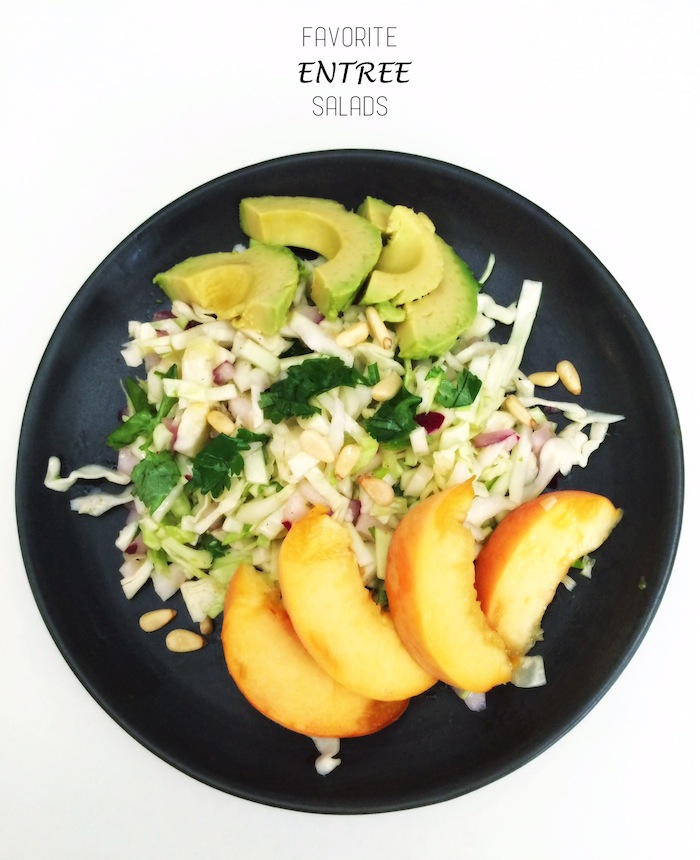 If i'm to be totally honest, i'll admit that this summer has also been pretty rough in terms of eating clean. Travelling and spontaneous bbqs have been awesome but the side effects of eating out are beginning to rear their ugly head. Time to get back on track!
These entree salads are my go to recipes. They are packed full of healthy veggies, fruits and protein and bursting with both flavour and colour:
1. Jicama, Grilled Peach, Goat Cheese & Greens- Julienned jicama (or kohlrabi) is a unique addition to a salad due to its subtle flavor and crunchy texture. This is an incredibly fresh salad that is one of my favourites hands down. Combine the jicama, greens, chopped cilantro with an easy 2 ingredient dressing of olive oil and white balsamic vinegar. I used a lime olive oil and a coconut white balsamic vinegar, drizzling them atop the greens. So fresh! I marinated the chicken beforehand in coconut milk, minced ginger & garlic, chopped cilantro, pinch of cayenne epper, fresh lime juice and zest and honey. This marinade was a homerun!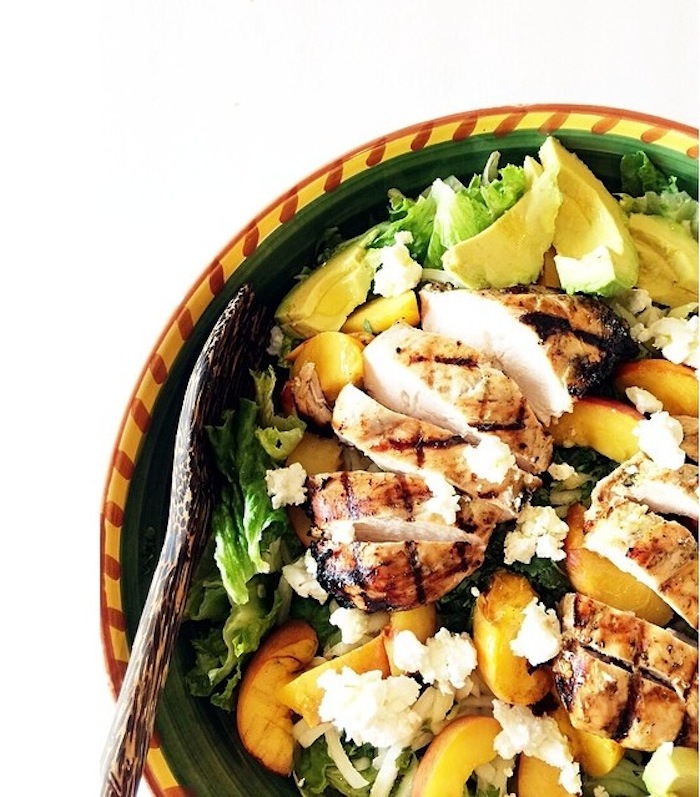 2. Paleo Taco Salad– this is the quickest salad i can get on the table…year round. I usually have some  Cilantro Lime dressing on hand, which is my favorite healthy dressing for taco salad. Mound ground turkey or extra lean ground beef atop your greens and sauteed veggies…leeks, mushrooms, peppers… and fresh veggies such as tomatoes and cucumbers to round it out perfectly. Homemade taco seasoning is so-o-o easy to make and takes literally a minute…click here for the recipe i use.  This salad is so good that i skip cheese or sour cream because it just doesn't need it!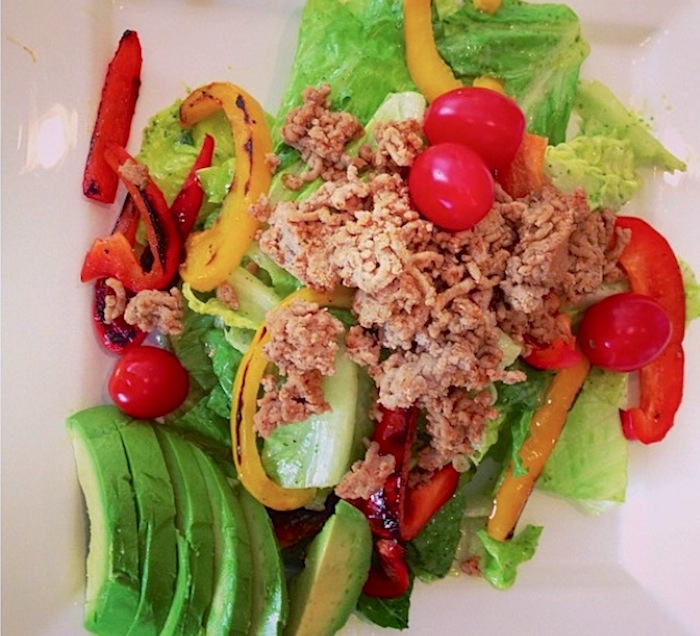 3. Caprese Salad with Arugula and Kale Pesto– Bocconcini and tomatoes marinated in the delicious kale pesto are a delicious combination. I've shared this recipe from The Sprouted Kitchen before but it still remains a favorite. Look for heirloom tomatoes that come in different colour shades to make it even more colourful.  Add grilled chicken, steak or fish to make it a complete meal.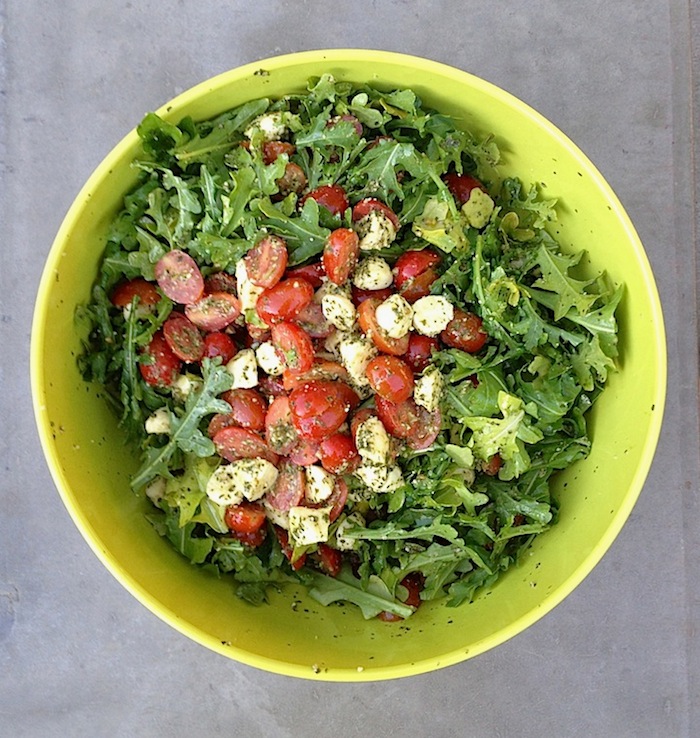 4. Grilled Chicken, Roasted Peach & Avocado, Kale and Quinoa Salad– this salad recipe is a hearty one. The roasted peaches add a sweetness to the nuttiness of the quinoa and rougher texture of the kale. This dressing is flavor to the max..make extra because you will want to use it again! The roasted avocados are also a great pairing with the peaches. Add a glass of Pinot Grigio and you're set…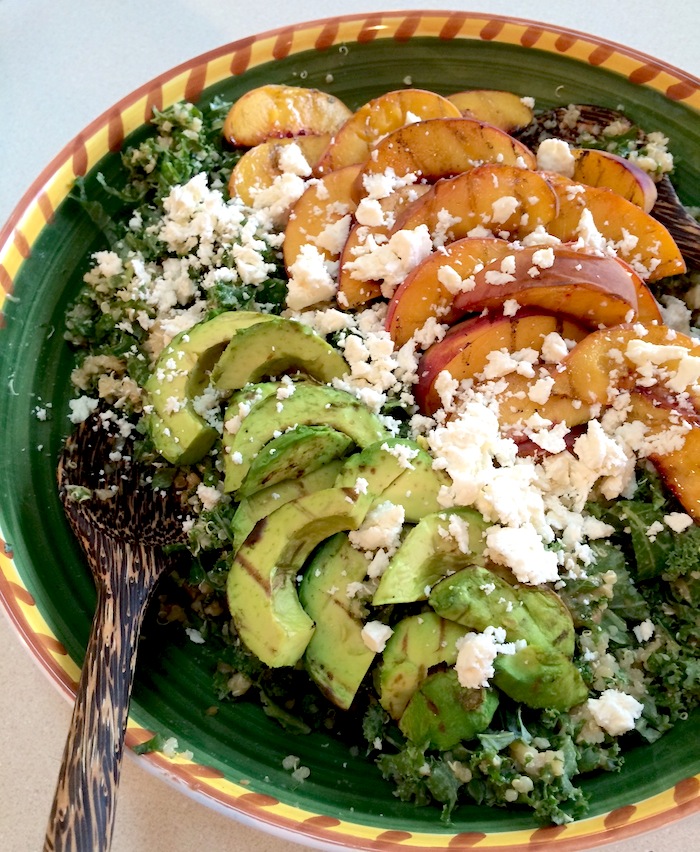 5. Blackened Steak Salad with Red Peppers and Feta– this has been one of our favorites for a long time. The blackening spices give a little kick to the dish…it's a great salad to add whatever veggies you have on hand…grilled or roasted, use what you have: mushrooms, zucchini, squash, peppers to name a few.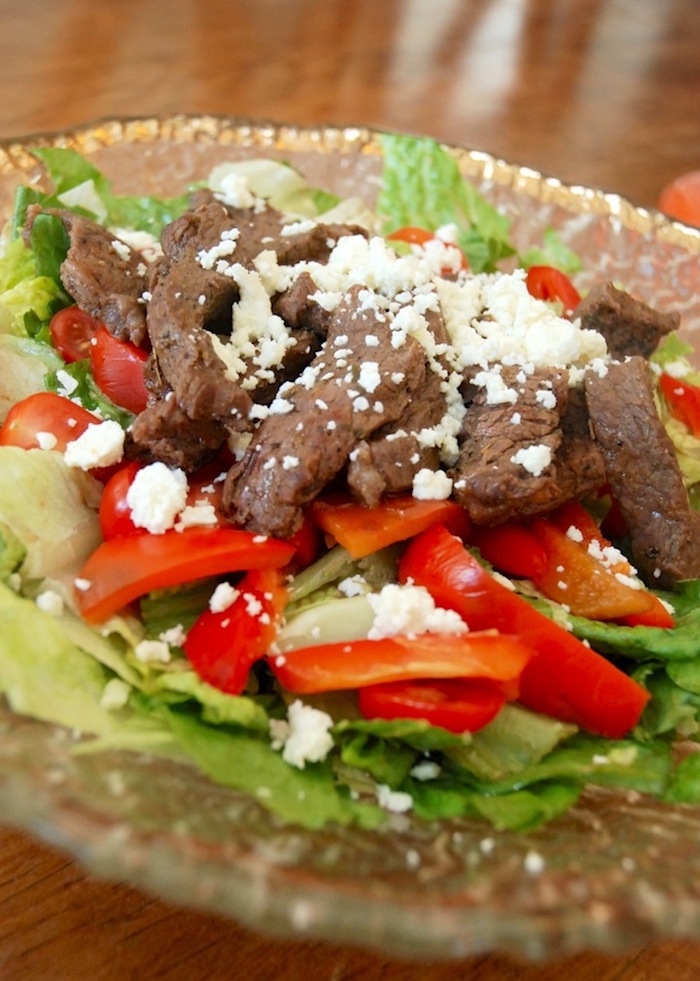 Pam and i are serious salad lovers, so we'd love to hear if you have a favourite one you make for dins. Let the repertoire increase!