You've heard me talk about Sprouted Kitchen before…i'm kinda compulsively following this site. Not only are the pictures gorgeous, but it's my go-to for healthful food that incorporates seasonal produce. Plus? Every single recipe i've tried has been delicious! Case in point: Kale pesto. Kale is definitely a buzz word at the moment. It is, indeed, one of the healthiest things you can put in your body and we could all benefit from eating more of it. i'm just looking for some unique ways to serve it more.
In our kitchen, Lexi is constantly making kale chips… that's her go to snack. i'm always happy to snatch a couple over her shoulder..and once we're done eating, we compare our smiles. Nothin like a kale filled grill! Here's a new and inventive way to add kale to the menu. This Arugula Caprese Salad with Kale Pesto salad is indeed reminiscent of the traditional Italian caprese, but the pesto gives it an extra kick. I also love the addition of arugula with its pepper like taste…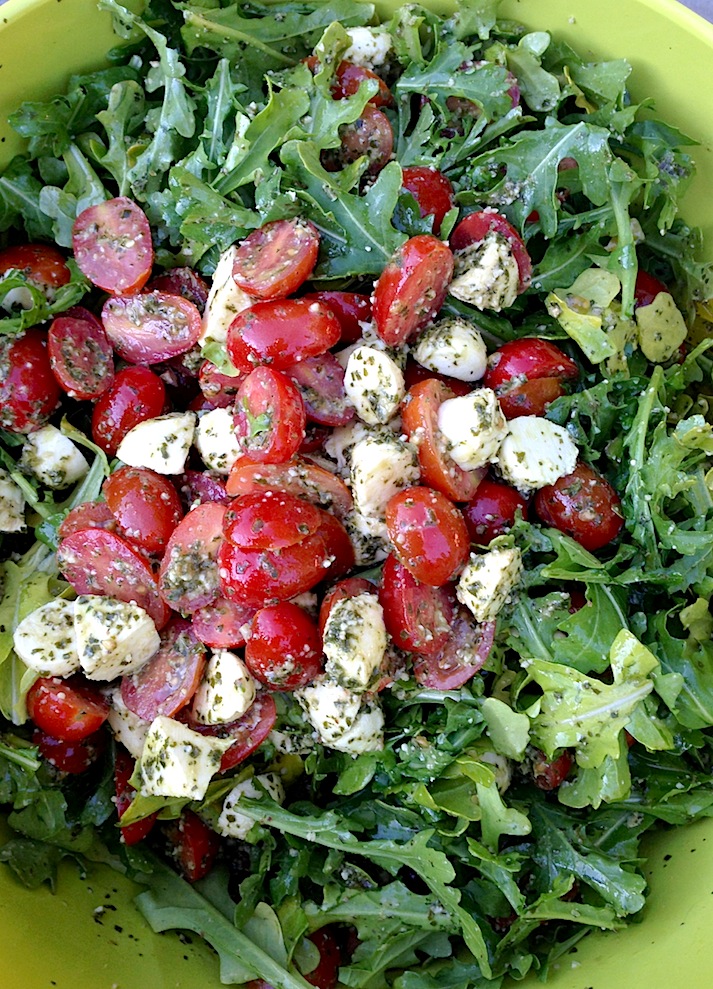 Kale pesto: Trim the kale spines and chop the leaves. Add to a large pot of salted water to a boil. Blanch the kale leaves for about 30 seconds, transfer to a strainer and run cold water over them to stop the cooking process. Once the kale is cool, squeeze out the excess moisture.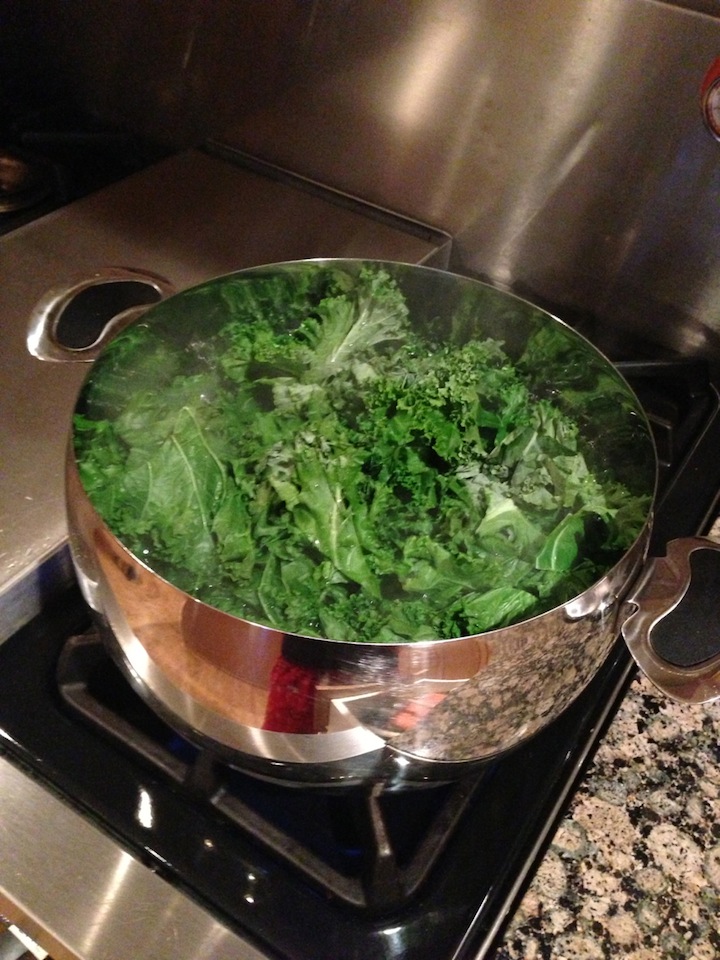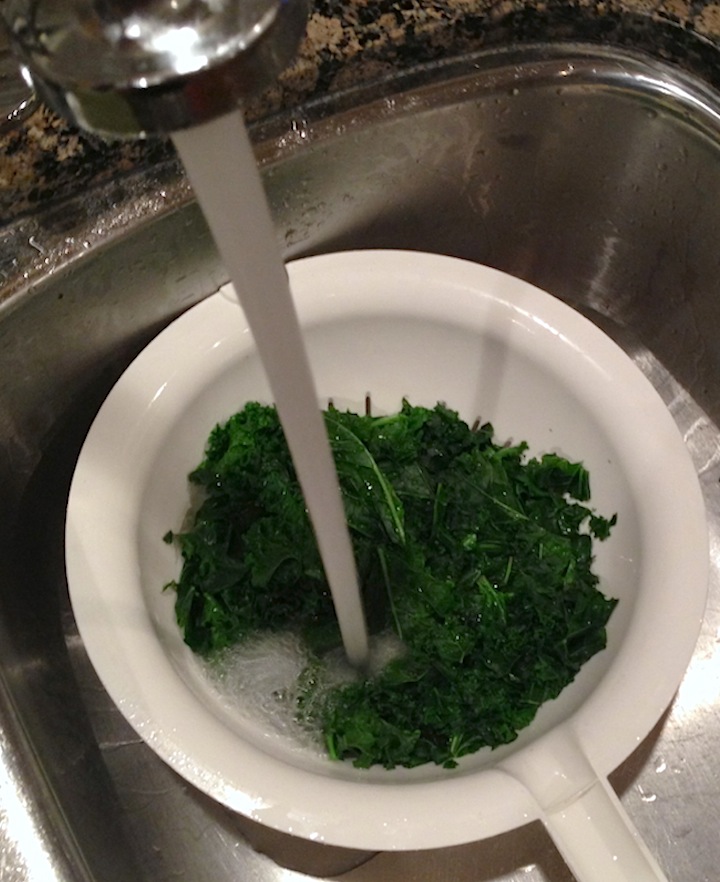 Combine the garlic and walnuts in a food processor and pulse. Add the kale, basil, parmesan, red pepper flakes, water, lemon juice, 1/2 tsp. each salt and pepper and pulse to combine. Turn the processor on and drizzle in the olive oil until you get the consistency you like. Thin with a bit more lemon juice and a splash of water for a more dressing-like consistency.
Slice the baby tomatoes and mozzarella balls in half and collect them in a large mixing bowl. Add a few spoonfuls of the kale pesto and toss gently to coat, adding desired amount of dressing.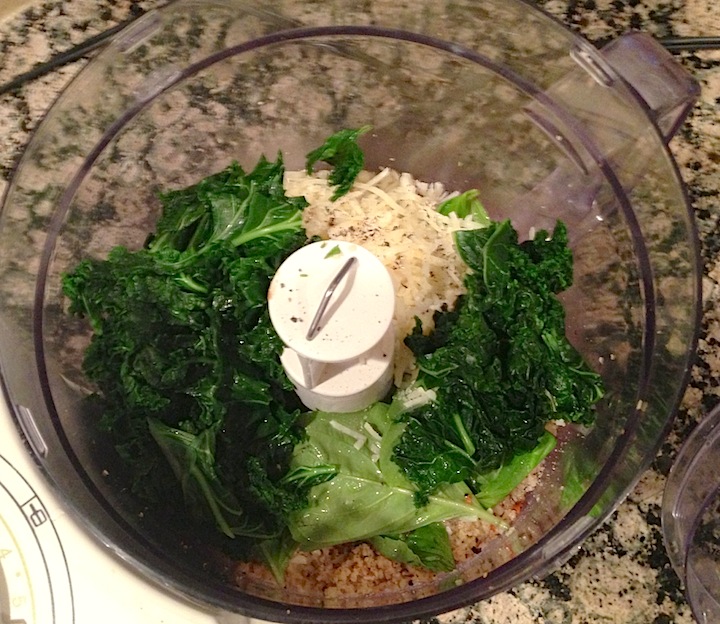 Add the arugula leaves and serve.
The Sprouted Kitchen recommends that you marinate the bocconcini and tomatoes for a couple of hours in the dressing. I agree that not only does it allow the flavours to meld together beautifully, but it will save you on assembly time when you are ready to serve it.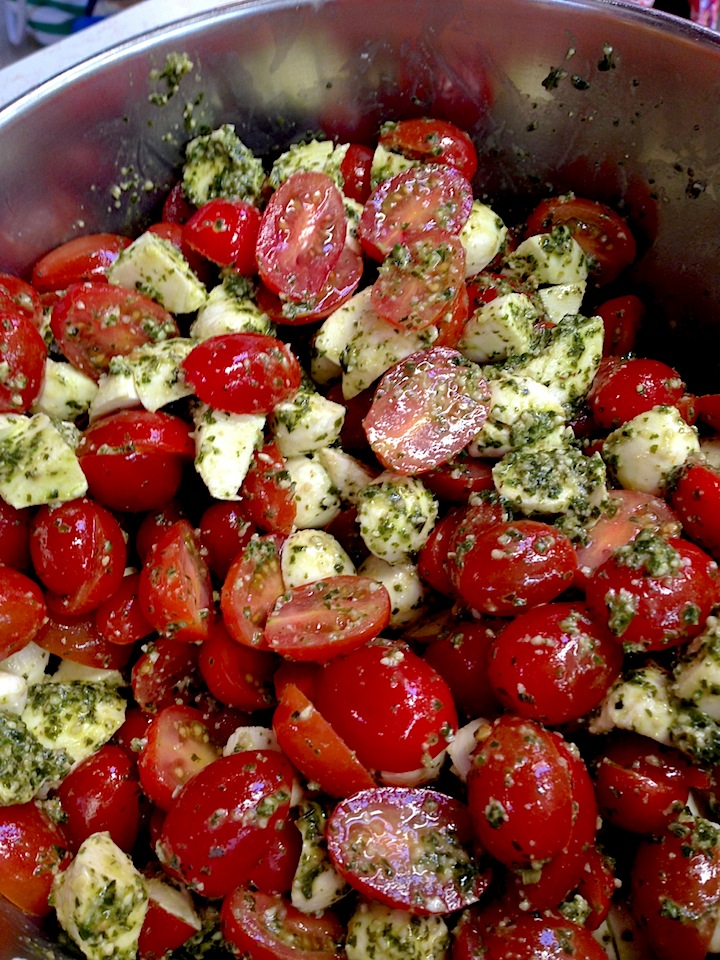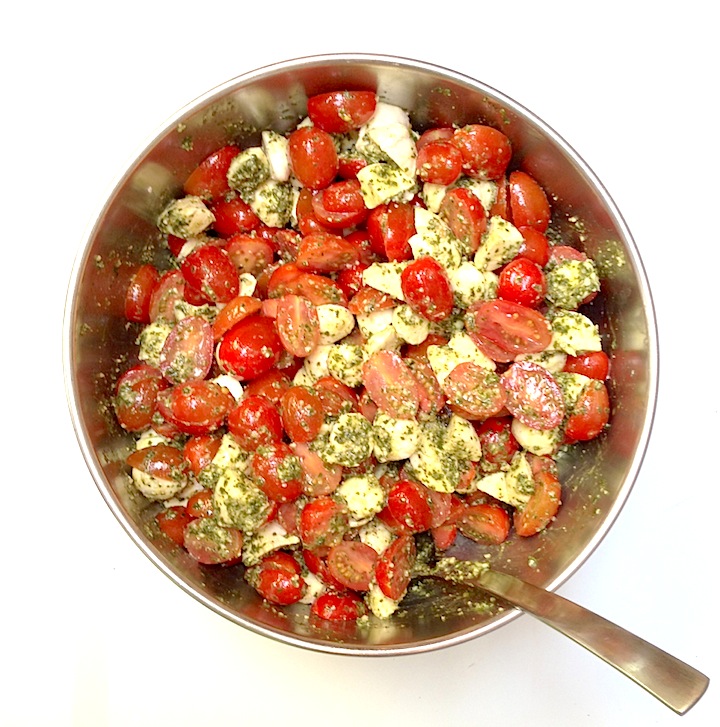 Add the arugula and serve…delish!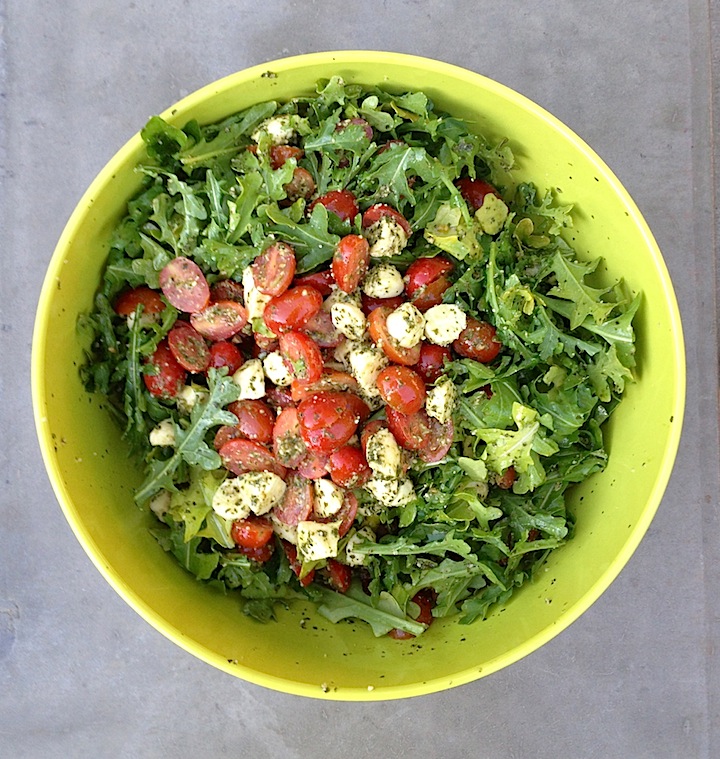 ***I froze the leftover pesto and used it as a marinade on pork tenderloin…huge flavour!!
The details:
ARUGULA CAPRESE SALAD WITH KALE PESTO // Serves 6
Adapted from The Sprouted Kitchen Cookbook
This will make more kale pesto than you'll need to dress this salad. It is excellent on eggs, as a sandwich spread, an alternative to pizza sauce, tossed in with some noodles or as a dip. Baby tomatoes are up at the farmers market, I love the sweet 100's, but any ripe baby tomato is just fine here.
1 small bunch Tuscan/lacinato kale
2 cloves garlic
1/2 cup lightly toasted walnuts
handful fresh basil leaves
1/3 cup fresh grated parmesan cheese
pinch of red pepper flakes
juice of one lemon
3 Tbsp. water
sea salt and pepper
1/3 cup extra virgin olive oil
3/4 lb. baby tomatoes
8 oz. small mozzarella balls (bocconcini or pearline)
3 cups baby arugula
flaked sea salt, optional