Recently, the amazing media team from HighStreet came to do a shoot of Laurel's and my closets to be featured on their blog (watch for it in September!).  HighStreet is a new open air shopping and entertainment experience that has recently opened just down the street from our farm…lucky us! We couldn't be more excited to have such great shopping at our fingertips!
Lo and I weren't sure how prepared we needed the rest of our houses to be so, to be on the safe side, we took the opportunity to complete any unfinished projects around our houses (the hubbies were thrilled….not!).  This included Berkeley's bedroom.  Ok, I do feel a bit sorry for Berks….we started out the room revamp about two years ago so the project changed from creating a "tween" bedroom to a "teen" bedroom.  Berks was very patient and she also worked  hard to help get her room "photo shoot" ready.
We had Berkeley's hardwood floor painted white about a year ago.  It has held up very well and I love the clean look!
We found these magnetic, bulletin and white boards at Walmart.  We covered the bulletin boards with extra fabric left over from her bedding.  Yes, I am craft-impaired, but I could do that with a glue gun!
I love seeing what Berks puts up on her boards….it really shows her personality!
The whole inspiration for the room came from the fabric by Michael Miller that we used for the duvet cover.  We found that about two years ago and we both fell in love with it!  We found coordinating fabrics for cushions and then supplemented the patterns with the black and white and white and turquoise toss cushions from Tonic Living.  We bought a queen sheet from Walmart and had it sewn together with the Michael Miller fabric for the duvet cover….super inexpensive!
Judging from the amount of time that Berks spends in her room, I think she's happy with the finished product….or maybe that's just a teen thing!  I'm happy she FINALLY has a space of her own that reflects her personality!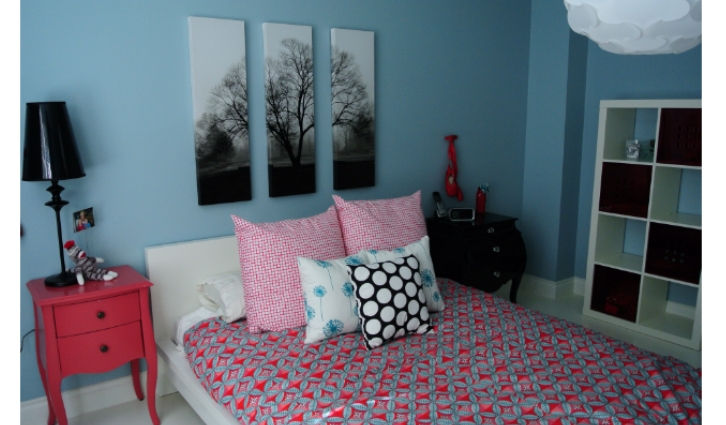 Oh, and I did have Berks approve this post before it went public!!  She's all good with you seeing her room!