I'm a fan of "full meal" salads…the type that you can pile high on your plate and feel completely satisfied after eating. Our family favourite go-to is this blackened steak salad….my kids ask me to make it on a pretty regular basis and i'm happy to oblige.  I have to say the spice mix creates an incredibly yummy steak…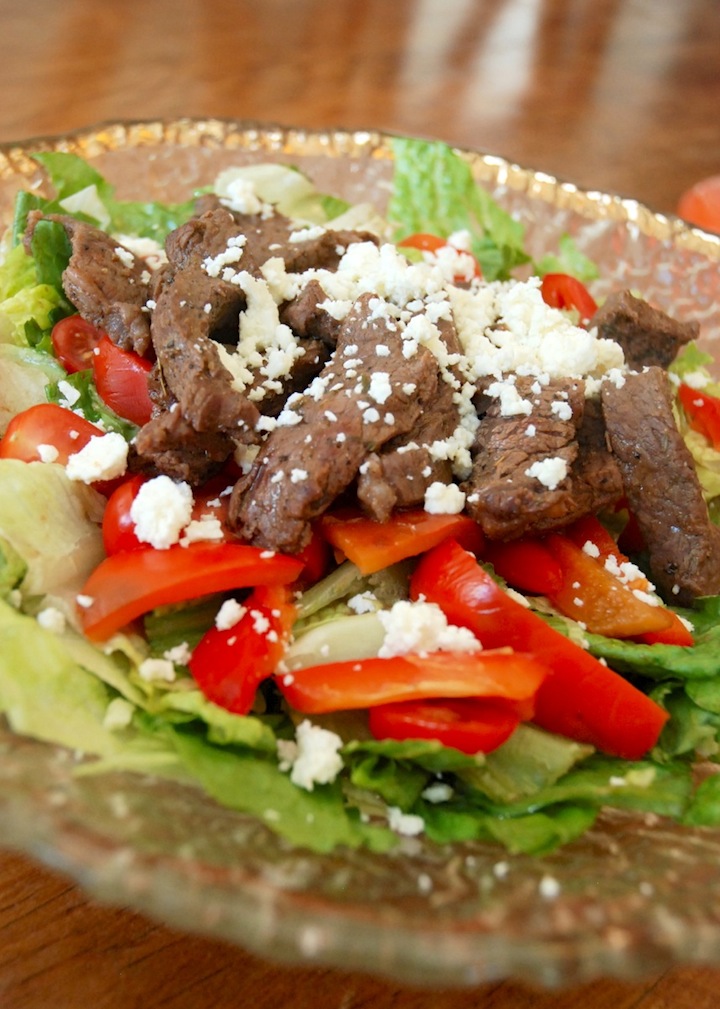 Roasted peppers are another addition that make this salad so delicious. The process is simple. Broil the peppers until slightly charred and blistered (on the right). Remove from the oven and let them "steam" under the cover of a bowl or container. After sitting for 15-20 minutes, the skin peels easily. You are left with a sweet and slightly smoky pepper that is less harsh than the raw variety.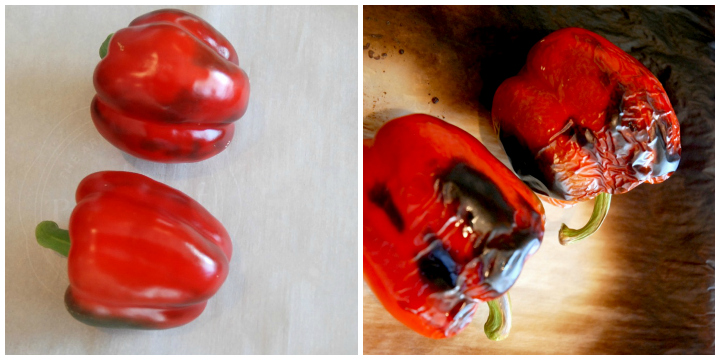 Not only are the flavors so good, but i love that its got some good color! As a side note, this salad is an easy one to add any of your favorite roasted veggies…if i'm wanting to add more "bulk", i'll throw in brussel sprouts, mushrooms, leeks…pretty much anything i have on hand!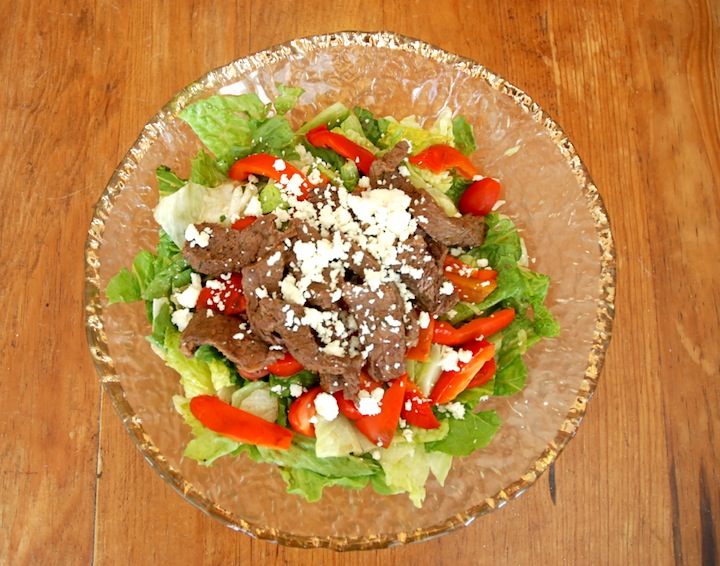 Blackened Steak Salad
Ingredients
BLACKENING MIXTURE:
1 tbsp paprika
2 tsp ground black pepper
2 tsp sea salt
1½ tsp garlic powder or garlic salt
1 tsp cayenne
½ tsp dried oregano
½ tsp dried thyme
SALAD DRESSING:
⅓ cup olive oil
3 tbsp balsamic vinegar
1½ tsp dijon mustard
SALAD:
Mixed baby greens or romaine
2 roasted red peppers
cherry/grape tomatoes, halved
feta cheese
4- 4oz steaks of your preferred cut...(baseball, tenderloin, strip loin etc)
2 tbsp olive oil
Instructions
Combine all blackening spices in a ziploc bag.
Slice steak into thin strips and add to ziploc bag...Shake to coat.
To prepare dressing, combine oil, vinegar and dijon mustard in a jar and shake well.
Heat olive oil in large pan and add coated steak strips.
Cook until desired doneness.
To roast peppers, place washed and dried peppers on a pan lined with foil.
Place under broiler until slightly charred and blistered.
Make sure to turn peppers until all sides are done..broiling will take approx 15 min.
Remove from oven and cover with a glass bowl to "steam" them (at least 15-20 min) and allow the skins to loosen from the pepper flesh.
Peel the peppers and slice into strips.
To prepare salad, assemble baby greens and top with cherry tomatoes and sliced peppers.
Add blackened steak and finish with crumbled feta cheese.
Prep
During grilling season, coat full cuts of steak with the blackening spice rub and grill on the bbq. Slice cooked steak.