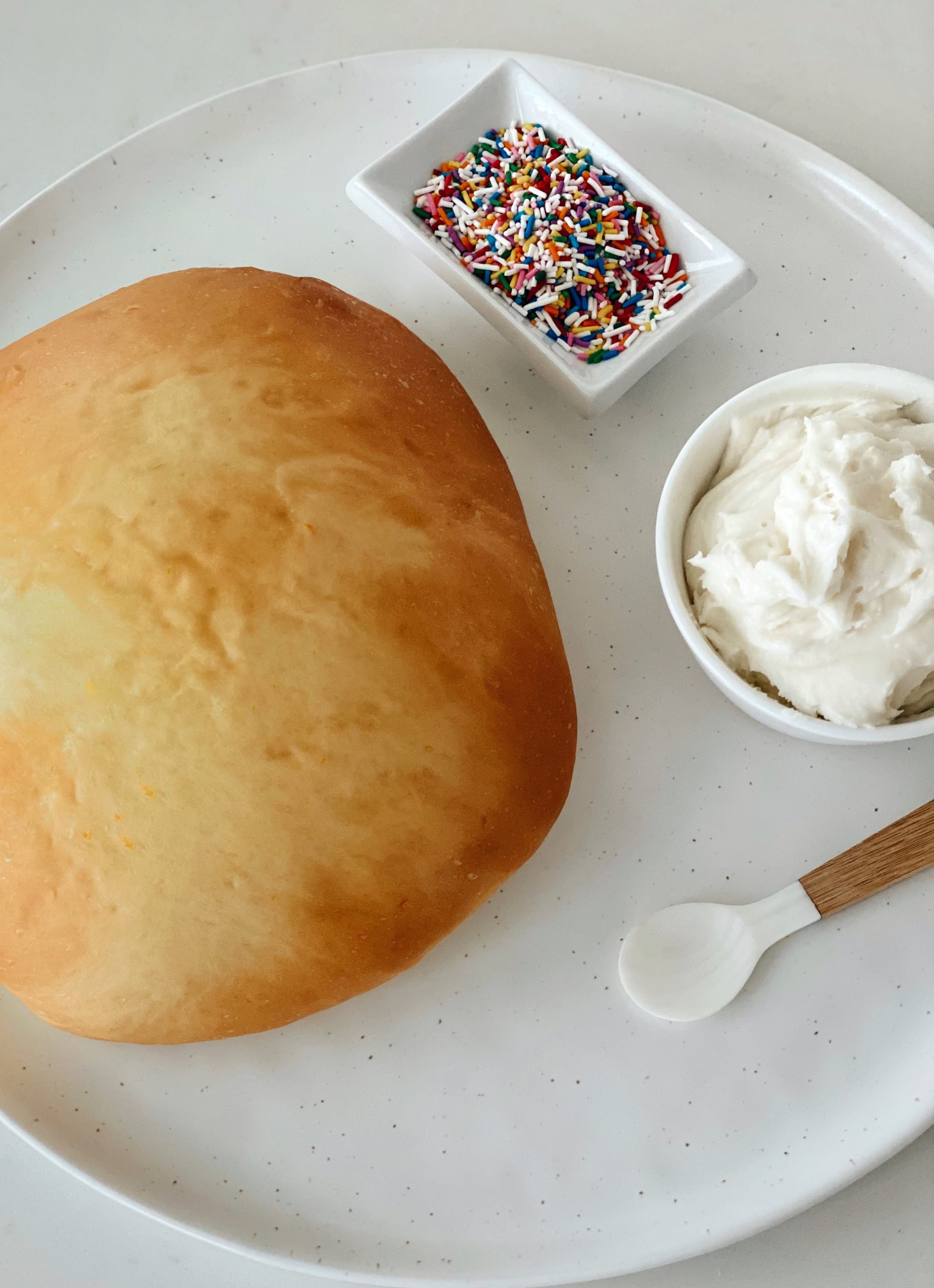 Paska. If you know, you know.  And for those of you who don't, I'll explain 🙂  Paska is a sweet Easter bread…common in many European cultures and very much a tradition in the Mennonite community.  As a child, the anticipation of Easter began with the amazing aroma of my mom's first paska bake of the season! There is something to be said about keeping these special traditions alive… my kids get excited when they see that glorious light and airy loaf come out of the oven….and that's enough motivation for me to keep baking it every year.  The nostalgia of paska is one I hope to pass down as my mom did for us! Sadly, Nina can no longer enjoy eating it with us and it's one of the foods she misses the most since being diagnosed as celiac.  I'm told that the Mennonite Girls Can Cook has a delicious gluten free version that I hope to try soon!
My first paska post was 9 years ago!! And every time I would use the post's recipe, I would have to read and re-read ur because I hadn't written it well!  So ….finally, I've filmed it and re-written it: My mom's same recipe as always, but hopefully easier to follow!
Click below to watch my paska tutorial!! 👇🏼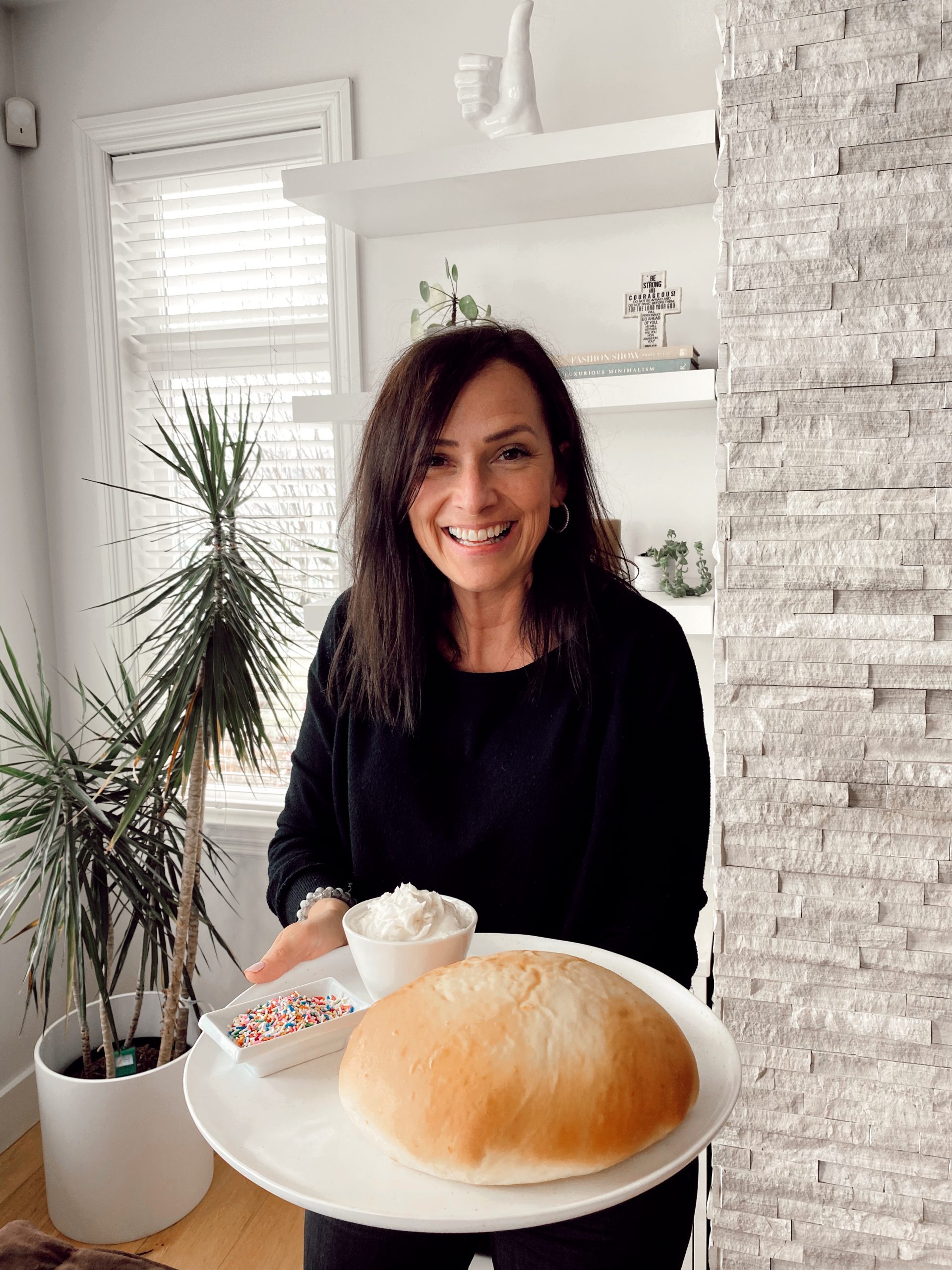 Paska
Ingredients
1 cup milk, warmed
½ cup flour
2 Tbsp yeast (rapid or quick rise)
2tsp sugar
½ cup warm water
10 egg yolks
2 full eggs
1 tsp salt
1 cup sugar
2 tsp vanilla
¾ cup butter, melted and cooled
Rind of 1 orange
Scant rind of lemon
5 cups flour
ICING
½ cup butter, room temperature
2 egg whites ( egg whites keep icing fluffy)
1½ tsp vanilla
2 Tbsp cream
4-6 cups icing sugar
Instructions
Whisk warmed milk and flour to make a smooth paste and set aside.
Mix and let rise: yeast, sugar and warm water.
In mixer with whisk attachment, beat 10 egg yolks and 2 full eggs. Beat until light and fluffy.
Add salt.
Slowly beat in sugar and vanilla. Beat well.
Pour melted and cooled butter into egg mixture.
Add rind of one orange and scant rind of lemon.
Add yeast mixture and flour/milk mixture.
Before next step, switch to dough hook attachment.
Add 5 cups flour and knead. As you add the flour, dough will eventually pull away from the sides of the bowl. Once dough is at that consistency, knead for approx 10 minutes.
Empty into large bowl sprayed with Pam or canola oil.
Move dough around and spray again so it is evenly coated.
Cover bowl with towel and plastic wrap ( I like to use a dry cleaning bag ) and let rise for at least one hour...and up to two hours.
I place the bowl on top of my running dishwasher or heating oven to help the rising process.
Punch down dough, re-cover and rise for a second time ...for an hour.
Punch down dough and form into 4- 4 inch dough balls. Place on greased cookie sheet, cover again and let rise for the last hour.
Bake at 300 degrees for 10 min, then decrease to 275 degrees until done ( approx 20 min more).
ICING:
Beat butter in mixer until fluffy.
Add remaining ingredients and beat until fully incorporated, smooth and fluffy. Keep icing refrigerated
Some notes (literally every Mennonite recipe has a list of unwritten rules!!):
1. Leave the eggs out the night before (that always freaks me out!!!) as you want ingredients to be on the warm side for optimal rising.
2. Do not use brown coated pans as it will cause your bread to sink after baking.
3. Run your dishwasher and place the rising dough on the counter above…. or set on top of a heating oven…to help get a good rise. Be patient as some of the rises take longer than others.
4. Use fresh jumbo eggs.
5. Use whole milk. Just trust, ok??
6. Don't double the batch.
ok I know traditions vary on what you top the paska with… but we are diehard icing fans WITH sprinkles. We do not deviate! Though I will whisper that toasting paska is pretty darn awesome too!! Just sayin…
Click below to watch my paska tutorial!! 👇🏼