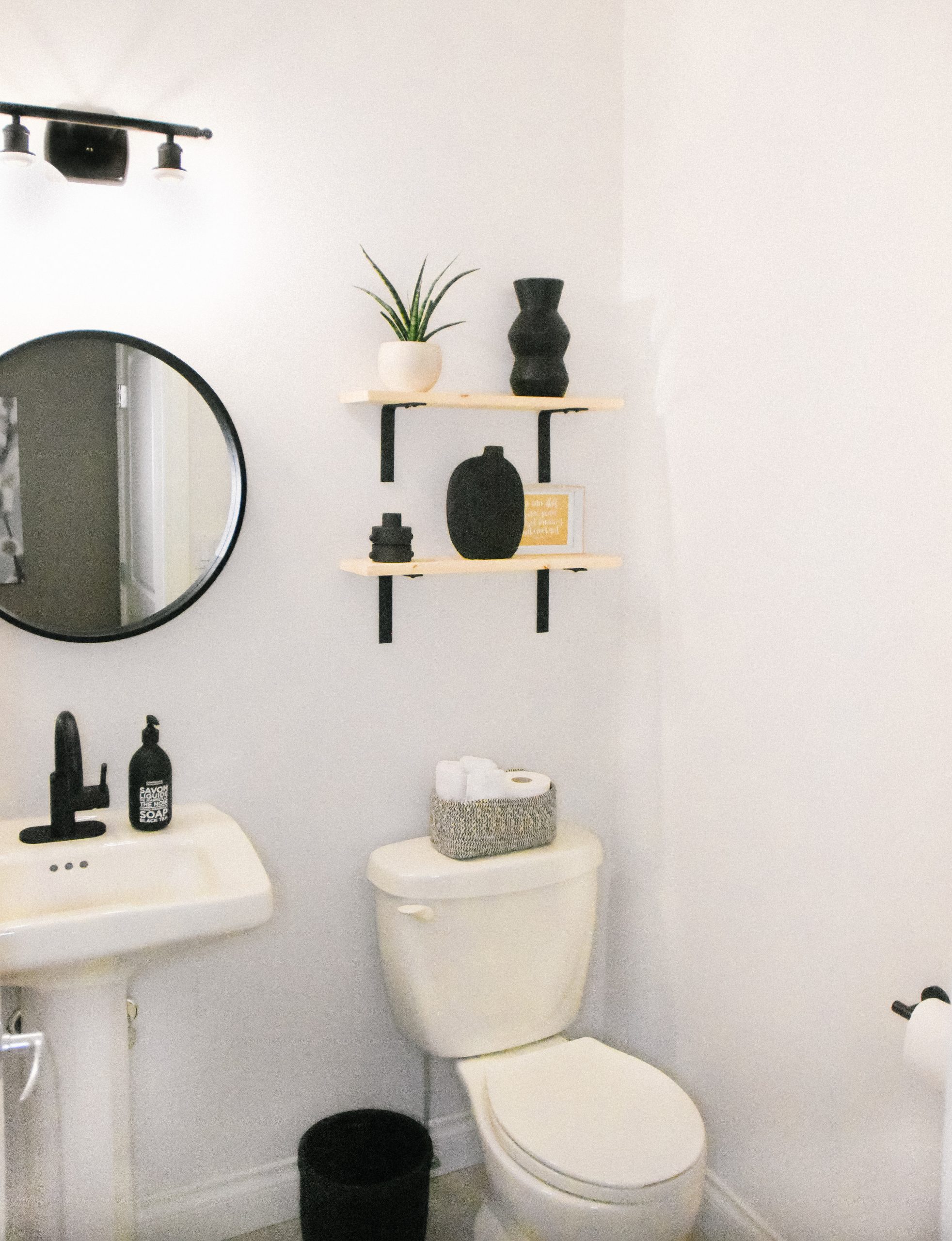 By now, you've probably seen the before and after pic of my powder room. Can I just pause on that yellow framed mirror for a moment? Guys…..what was I thinking? To make matters worse, the mirror didn't come in that color…I painted it that insanely gaudy yellow by choice! *head shake*  Ok, I was trying to go for the Palm Springs vibe…but I'll raise the white flag and admit it was a huge failure!
This powder room essentially hadn't been touched since the house was built (excepting the glorious yellow framed mirror!) 19 years ago. It was dark…even more so because there is no window…meaning no natural light.  It was a room that just niggled away at me because I simply didn't feel good in it! So…it was time. Let's take one last look: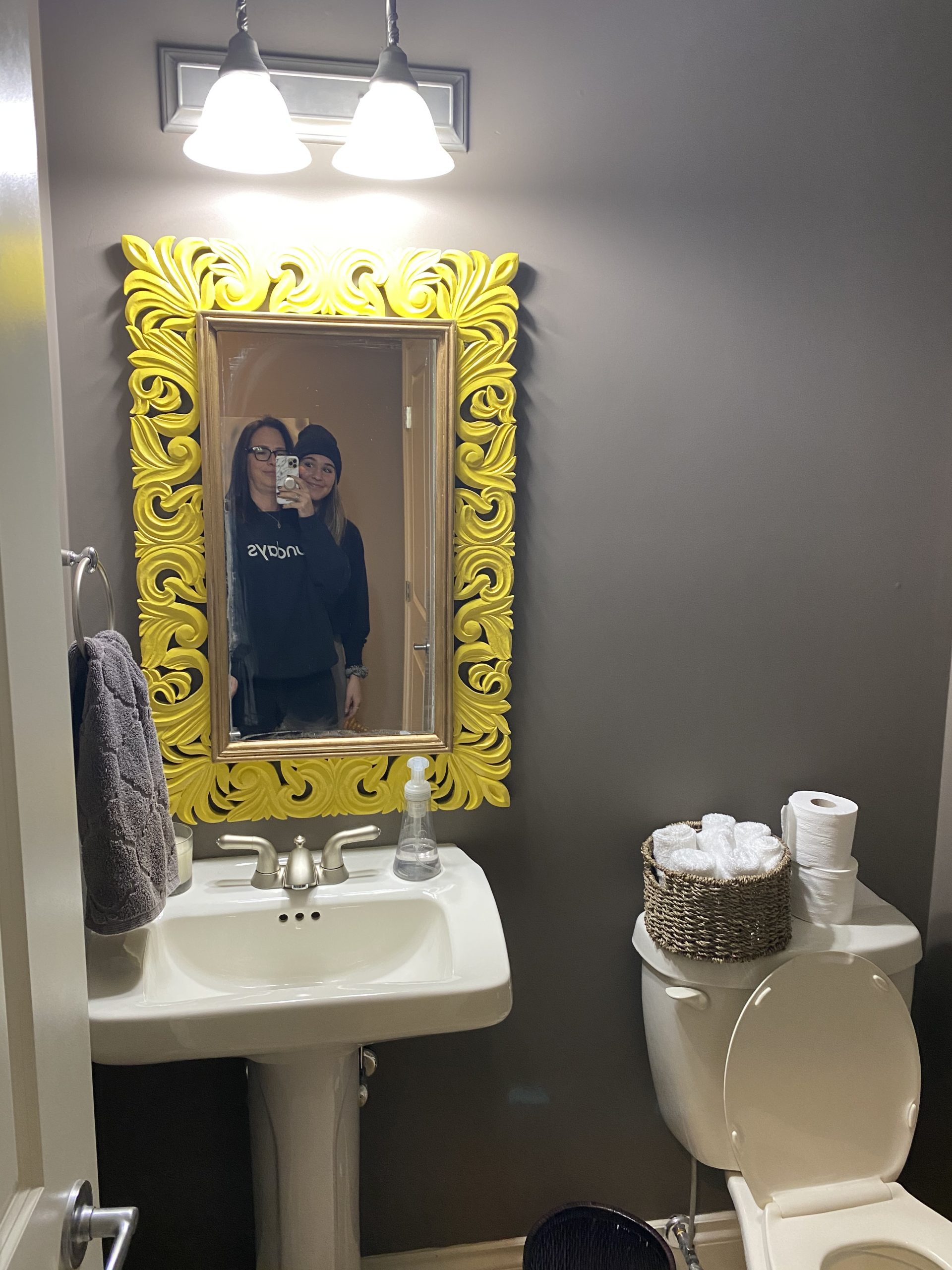 ps can I just pause here and say that it's Lincoln's job to clean this bathroom.. love you kid but ummm…the mirror. I know it's ugly, but it could still be cleaned!!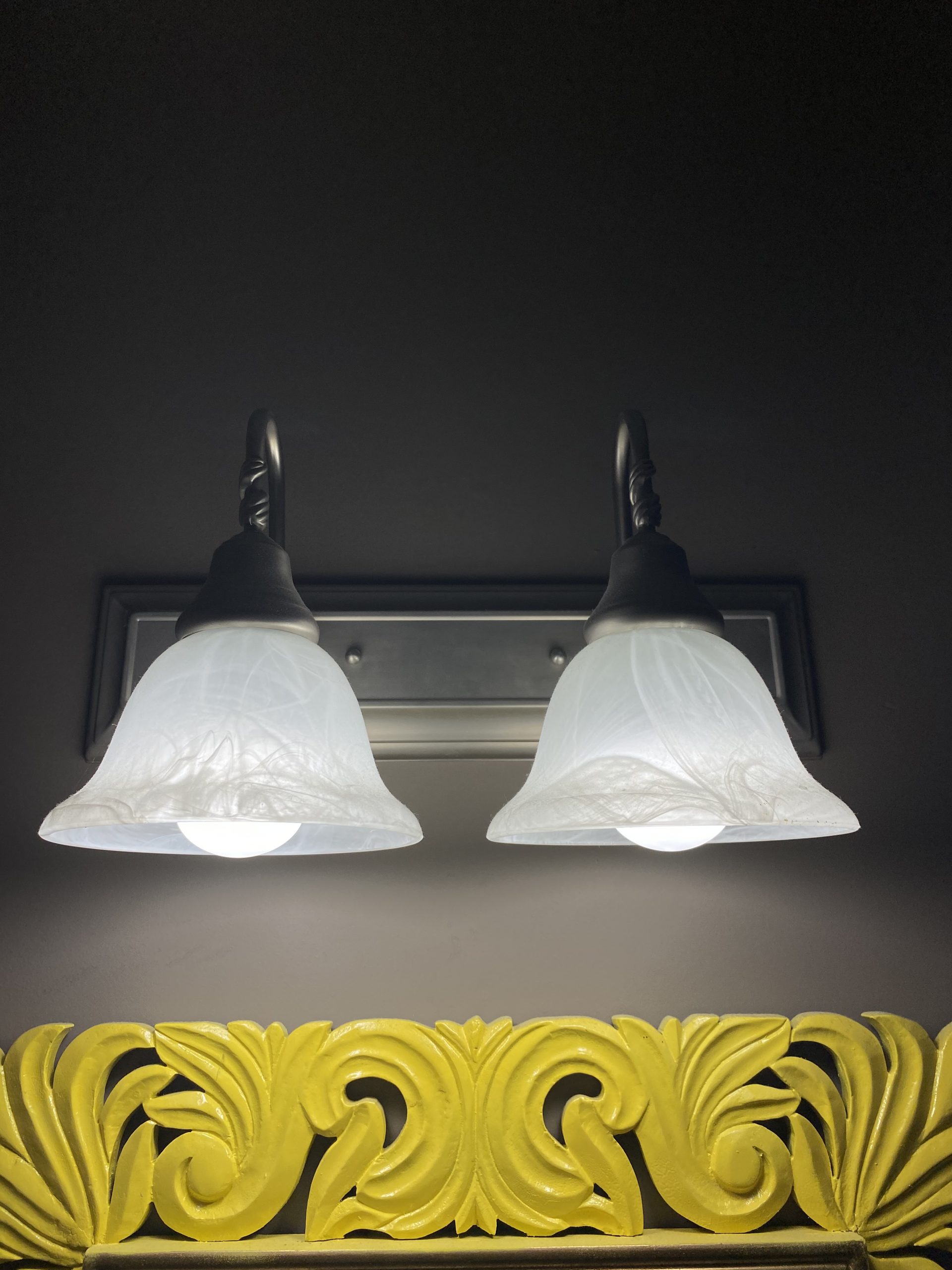 Not sad to see these lights go!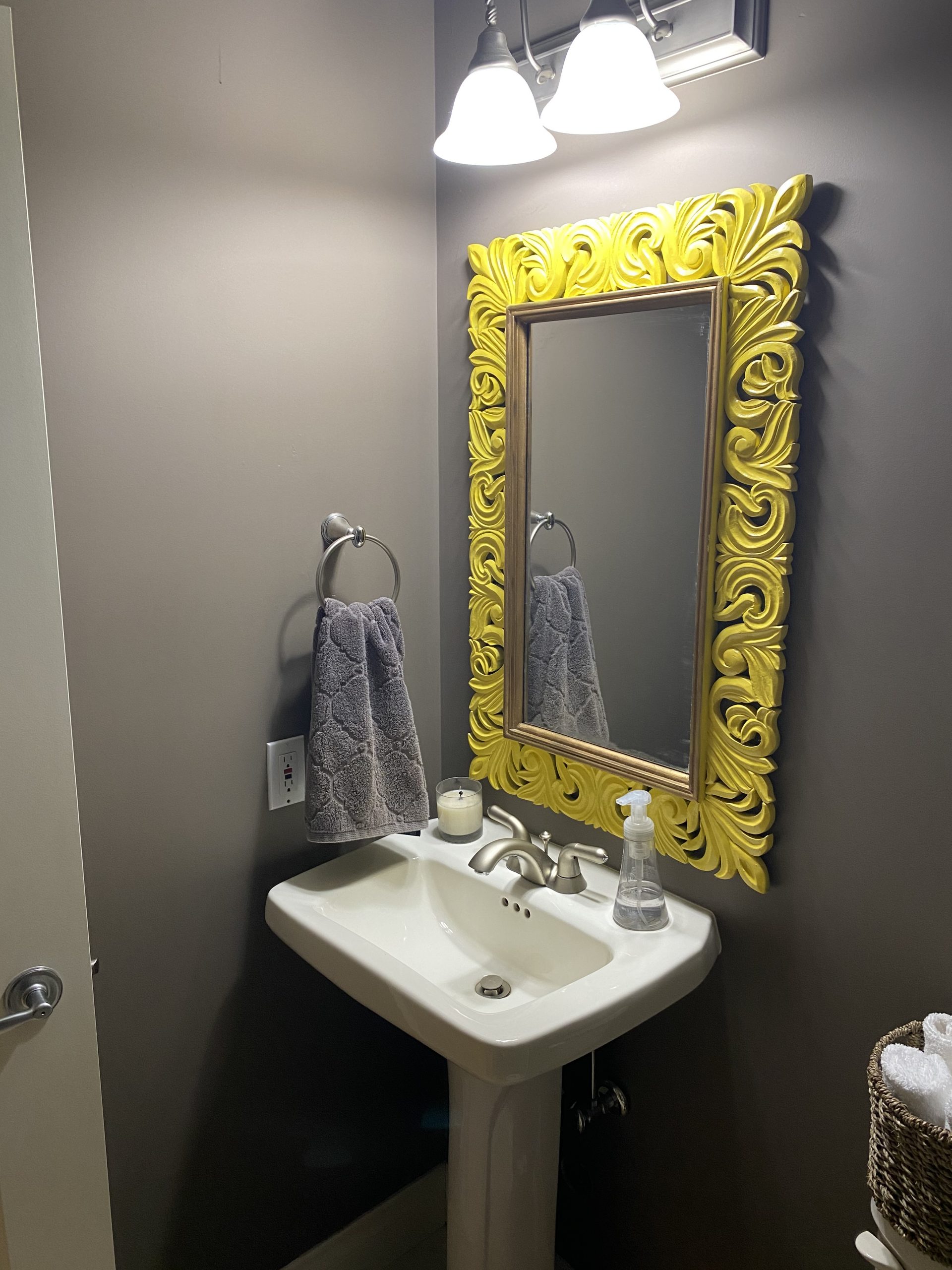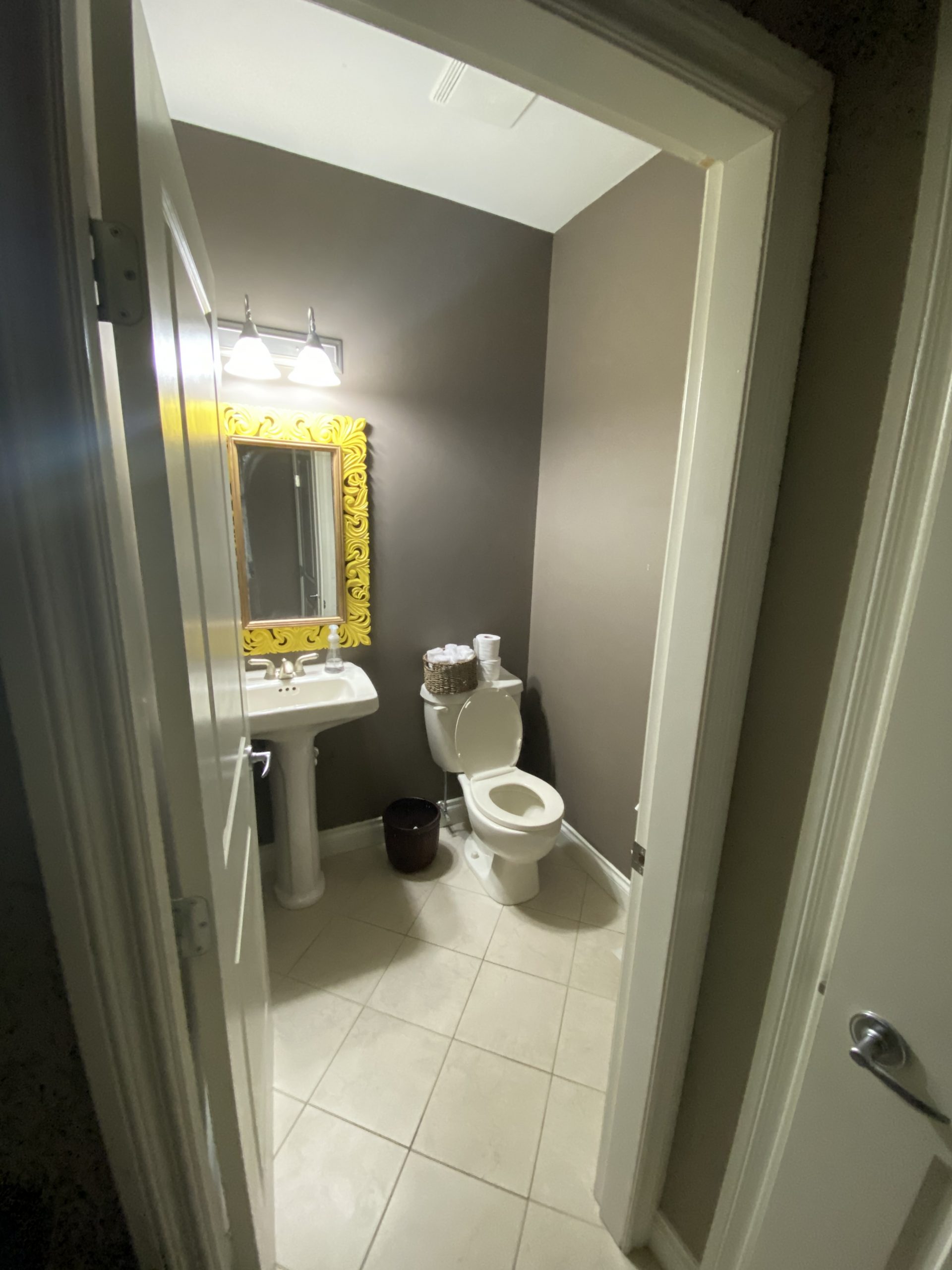 I didn't want to spend a lot of money…but rather wanted to re-purpose what I could and see what I was capable of doing on my own. There were indeed many things that I could do…I asked a lot of questions and couldn't have done it without that help…from both friends and google!!)  And then there was a time to get some professional help…on the plumbing front! We were able to take the faucet out on our own but the pipes were too difficult to get to behind that pedestal sink…and also the bottom of the new faucet had a bigger circumference than the hole in the actual sink. Uggg… thank you to Sean the plumber for literally grinding the sink hole bigger! Yup, that was way beyond my scope!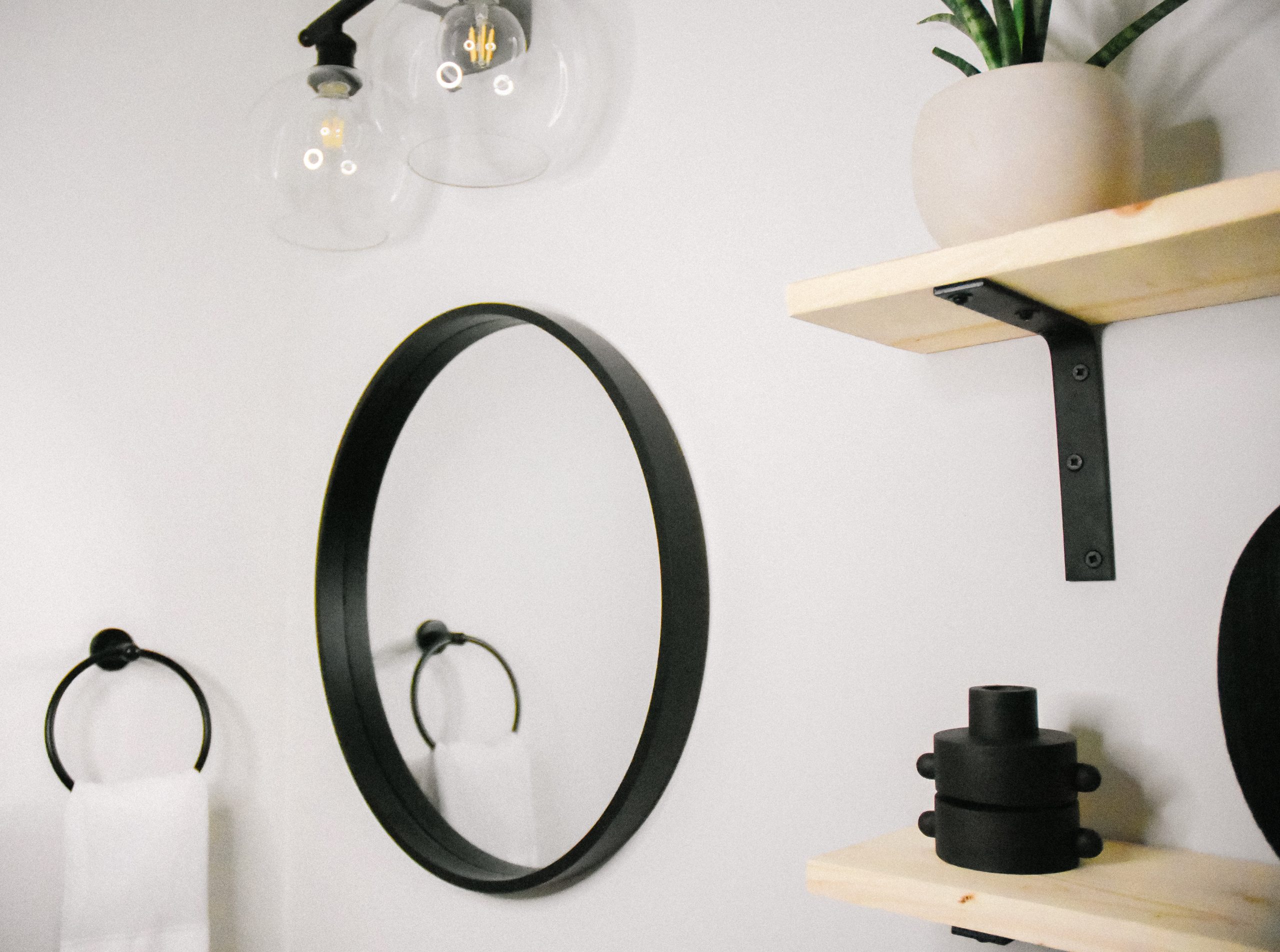 My jump off point was some leftover paint I had from when our family room was painted a number of years ago. I know I know…maybe could have/should have used fresh paint? But…no harm, no foul! Taking the room from a dark brown to a super light gray required a number of coats but what a difference it made!
Changing the paint and the fixtures were key. Our brushed chrome lighting, faucets and accessories really did date the room back to 2002.
These DIY shelves below took a bit of….time! (And a number of trips to the store for various screws hahah!!) but so worth the learning curve. Highly recommend finding a helpful employee at a hardware store to walk you through it. I found a gentleman who was patient and gave me a number of tips that helped walk me through what supplies I needed! I was able to purchase one pine plank and have them cut it in half for me there at the store. Then I simply added a matte clear coat to finish the wood as I wanted to keep the natural grain.
When I began to look for black hinges, it became obvious that it wasn't going to be an inexpensive DIY. So… I took a different angle and decided that I could buy less expensive ones and just paint them. These steel hinges were so well priced at $4.89 each! Painted black, you would never know the difference. I also painted the screw heads!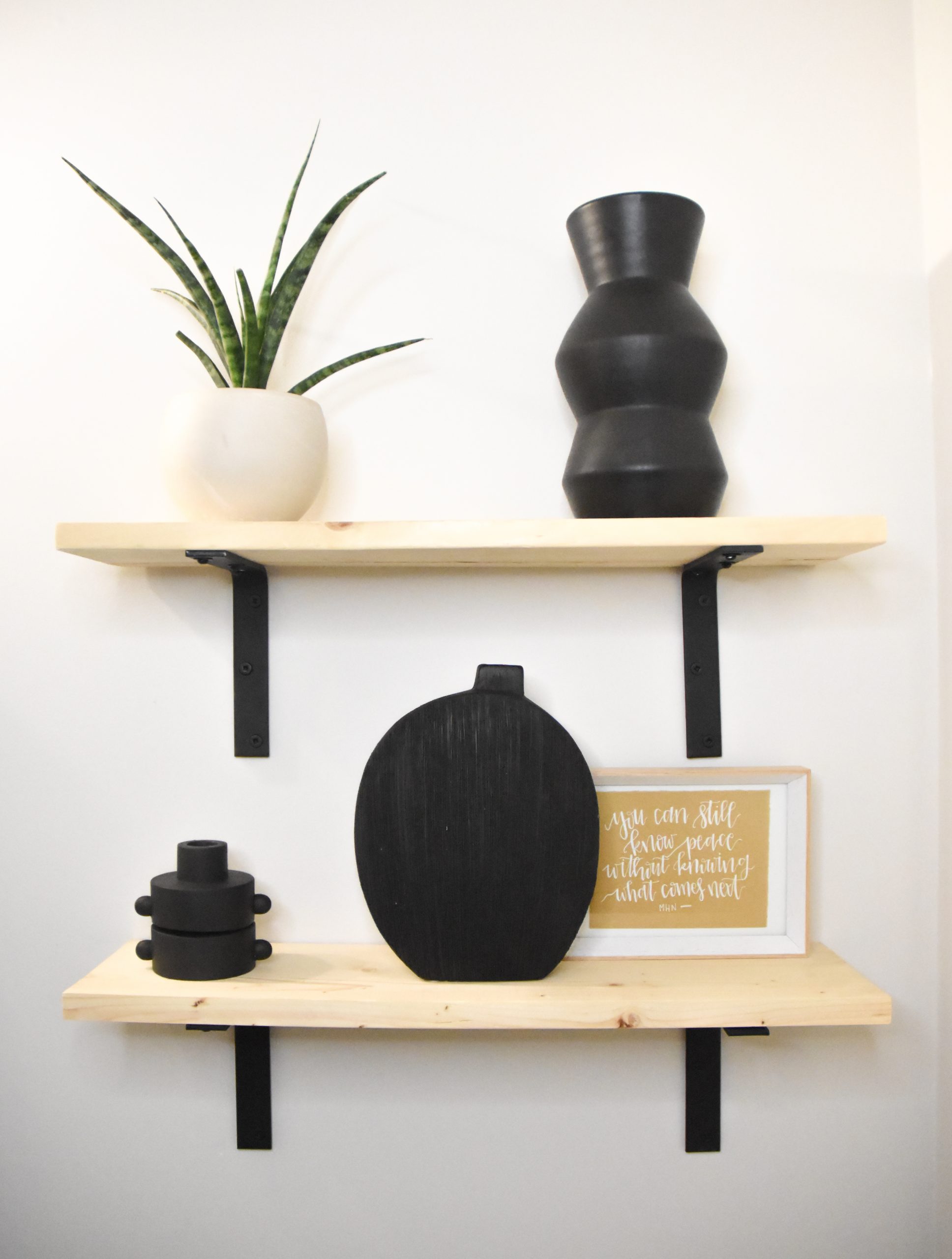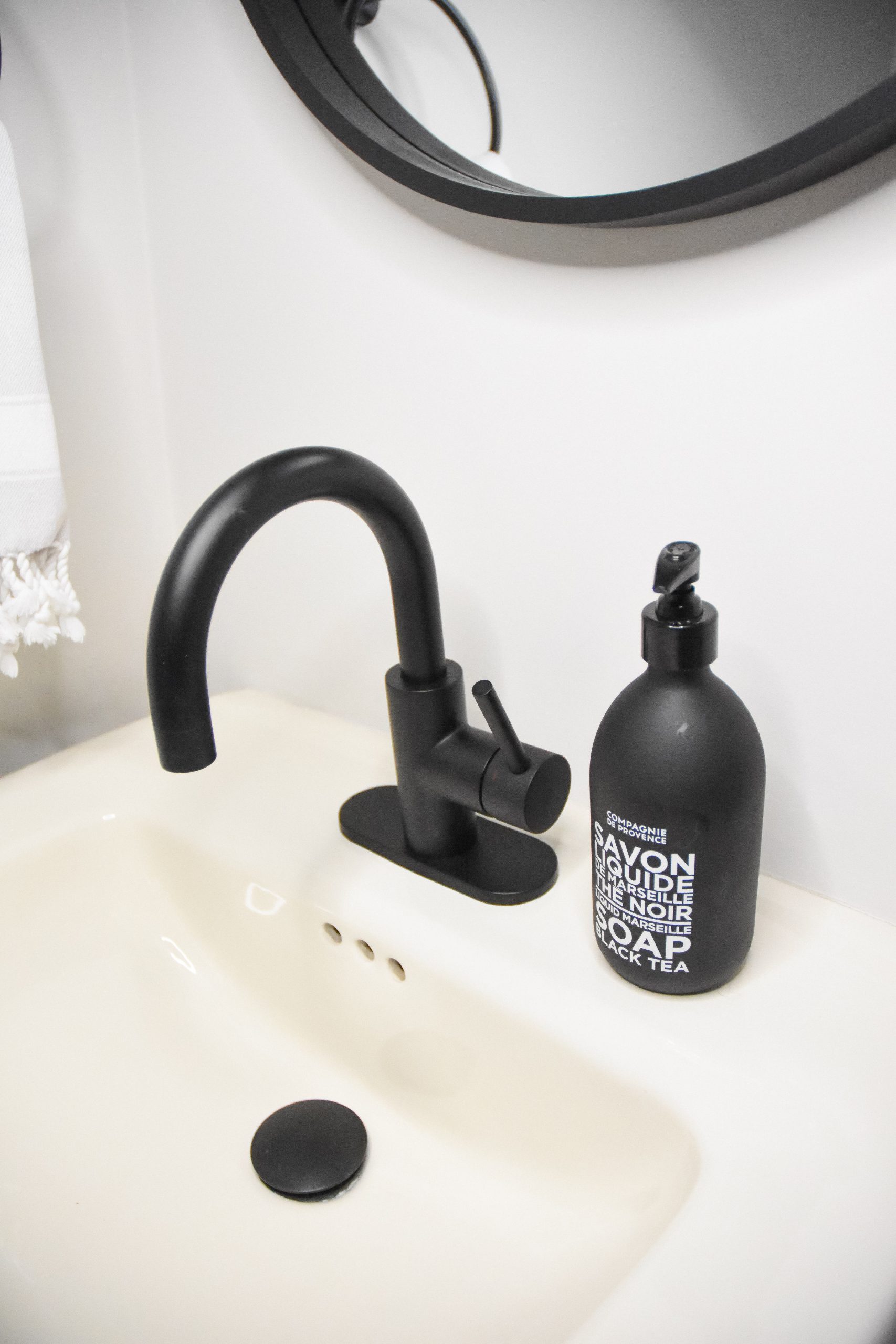 A little snake plant which needs virtually no light…and very little water. My kind of plant friend.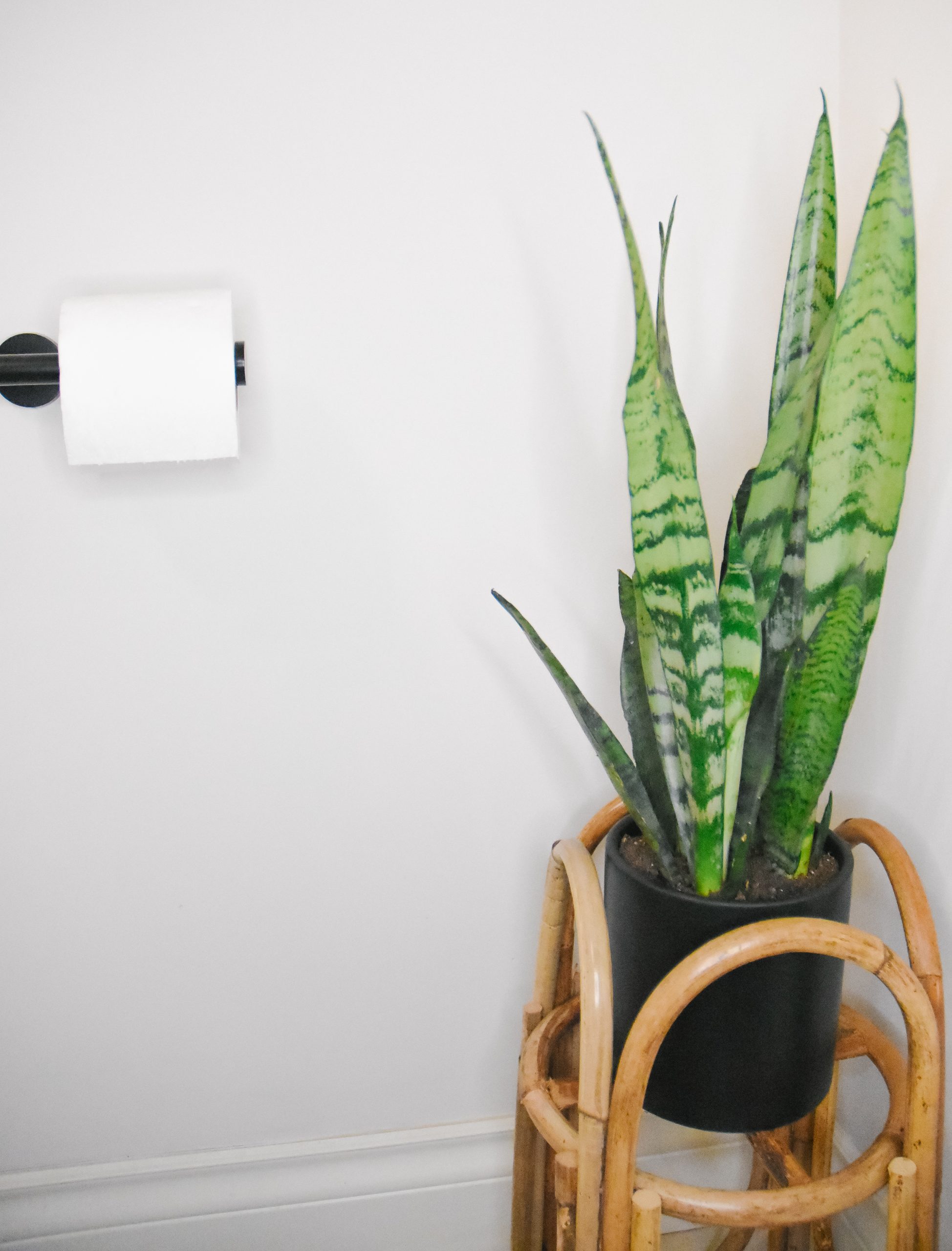 There it is! I'm laughing because I've peeked in the room countless times because I still can't believe how different it looks. So… no one is using it yet as it's too soon to entertain, but when the restrictions ease, I will absolutely welcome one and all to pay a visit to the powder room 🙂
Sources:
Faucet: Amazon  $68.90
Drain stop: Amazon $25.40 Here's a second option.
Mirror: Walmart $42.99
Towel Ring: Amazon  $23
Toilet Paper Holder: Amazon $21.00
Light Fixture: Wayfair $155 (originally discounted to $282.87 and further discounted as I bought an "open box"…meaning, it was a returned item…look for the "open box" option on Wayfair!
Rattan Planter: Marshalls $29.99
Shelves: Rona: Brackets 4 at $4.89 each
Wood plank: Rona (cut into 2 pieces) $14.49
Screws/Wall Anchors: Rona, Home Depot $20 (various boxes and sizes…ok I bought some I didn't need!)
Paint: Benjamin Moore "Classic Gray" OC-23
Trips around the farm and to the hardware store to scrounge out drills, wall anchors and the like: PRICELESS!! haha