Paska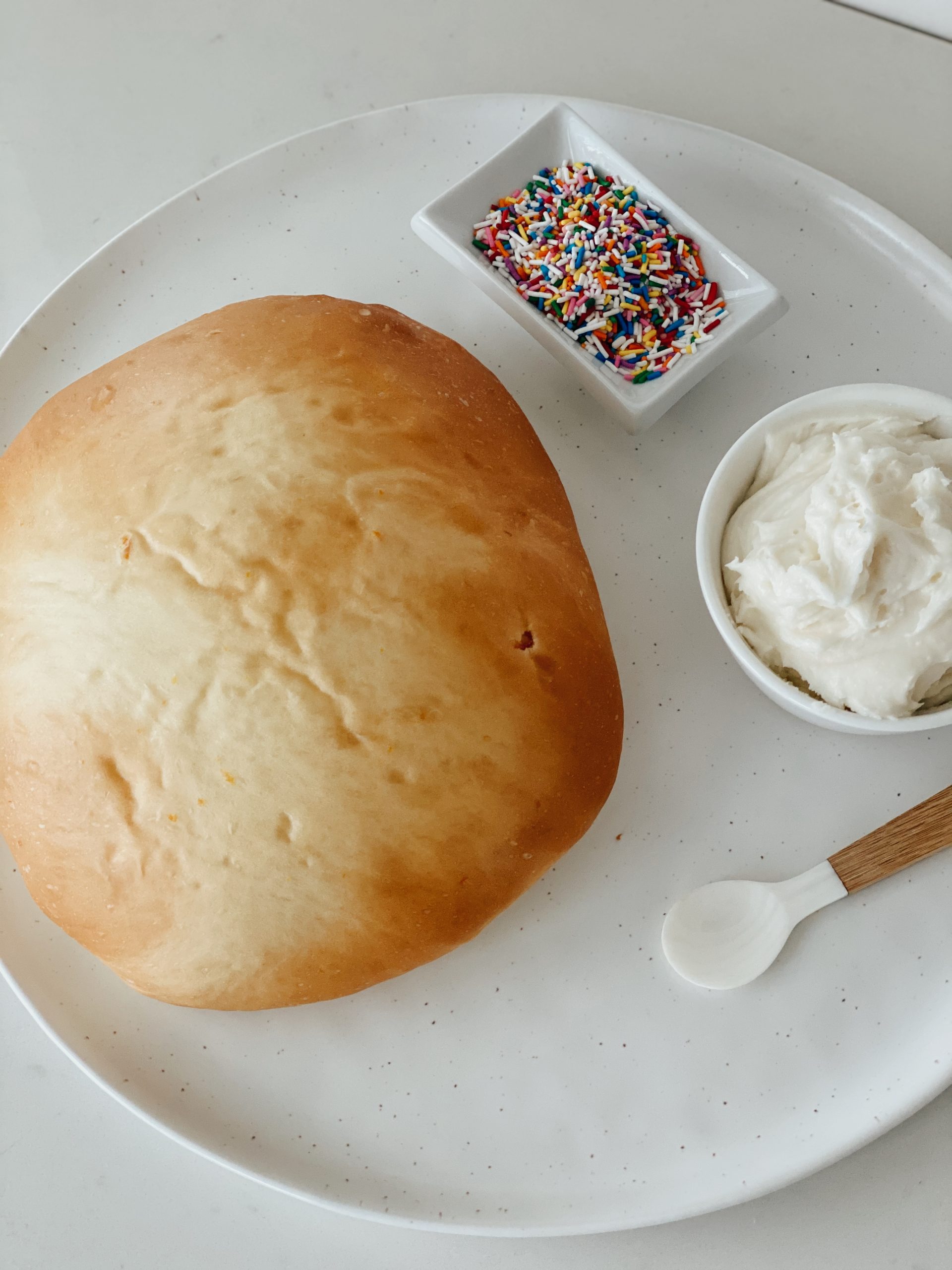 1 cup milk, warmed
½ cup flour
2 Tbsp yeast (rapid or quick rise)
2tsp sugar
½ cup warm water
10 egg yolks
2 full eggs
1 tsp salt
1 cup sugar
2 tsp vanilla
¾ cup butter, melted and cooled
Rind of 1 orange
Scant rind of lemon
5 cups flour
½ cup butter, room temperature
2 egg whites ( egg whites keep icing fluffy)
1½ tsp vanilla
2 Tbsp cream
4-6 cups icing sugar
Whisk warmed milk and flour to make a smooth paste and set aside.
Mix and let rise: yeast, sugar and warm water.
In mixer with whisk attachment, beat 10 egg yolks and 2 full eggs. Beat until light and fluffy.
Add salt.
Slowly beat in sugar and vanilla. Beat well.
Pour melted and cooled butter into egg mixture.
Add rind of one orange and scant rind of lemon.
Add yeast mixture and flour/milk mixture.
Before next step, switch to dough hook attachment.
Add 5 cups flour and knead. As you add the flour, dough will eventually pull away from the sides of the bowl. Once dough is at that consistency, knead for approx 10 minutes.
Empty into large bowl sprayed with Pam or canola oil.
Move dough around and spray again so it is evenly coated.
Cover bowl with towel and plastic wrap ( I like to use a dry cleaning bag ) and let rise for at least one hour...and up to two hours.
I place the bowl on top of my running dishwasher or heating oven to help the rising process.
Punch down dough, re-cover and rise for a second time ...for an hour.
Punch down dough and form into 4- 4 inch dough balls. Place on greased cookie sheet, cover again and let rise for the last hour.
Bake at 300 degrees for 10 min, then decrease to 275 degrees until done ( approx 20 min more).
Beat butter in mixer until fluffy.
Add remaining ingredients and beat until fully incorporated, smooth and fluffy. Keep icing refrigerated