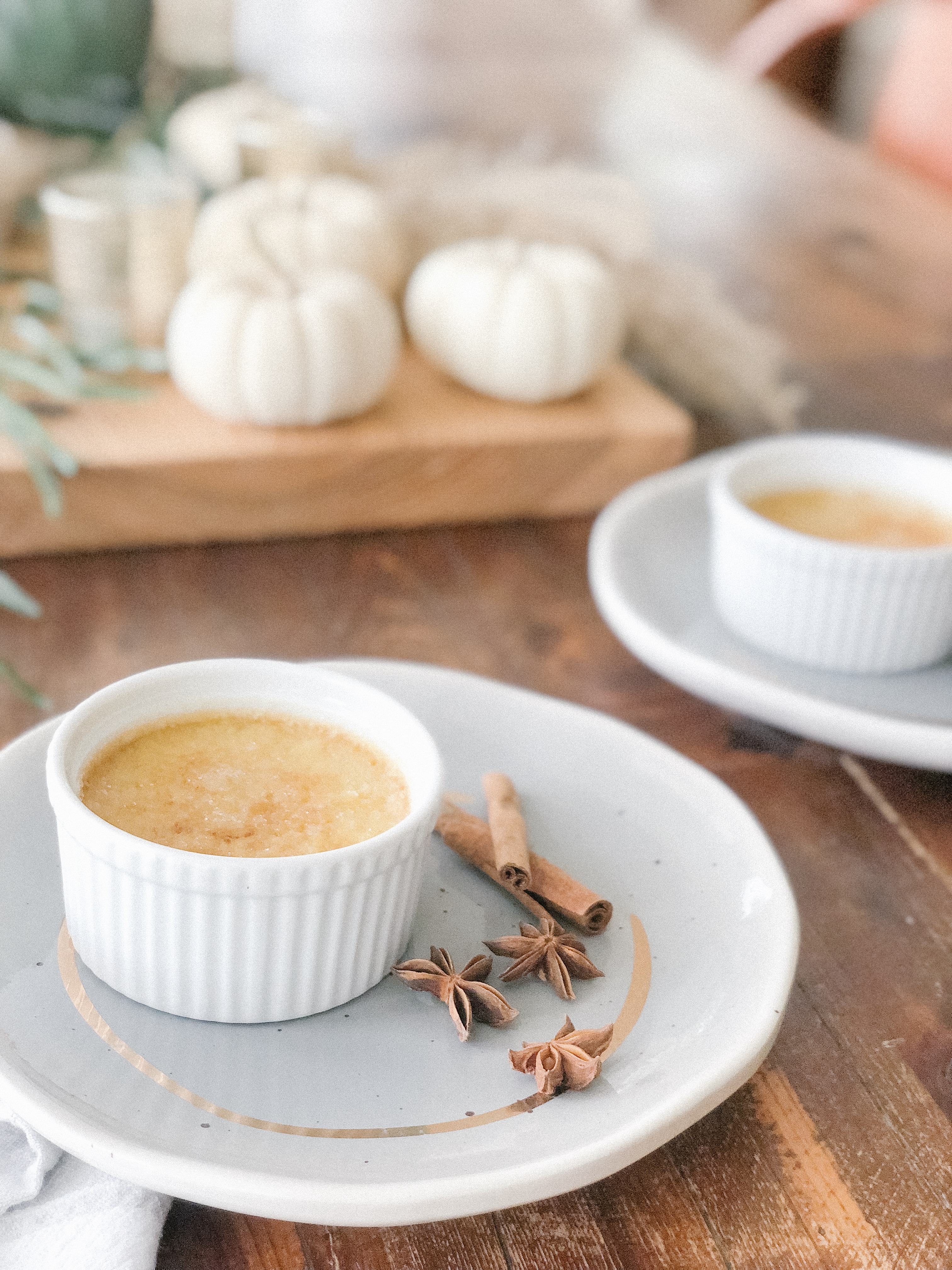 One of my favourite dessert on the planet is creme brûlée.  With Thanksgiving just around the corner, I thought I would come up with a pumpkin version as an alternative to pumpkin pie.  It's great for anyone with gluten sensitivity or celiac disease.  You get all the feels of a cozy dessert without the flour!  And to be honest, I'm note a huge fan of pumpkin pie.  Anyone else out there feel the same?
I was intimidated to make creme brûlée for the first time.  But if you follow the directions closely, it will turn out.  I have tried to break it down with detailed instructions.  The big thing is you don't want it to taste like scrambled eggs.  So, pour that warm cream into the egg yolk mixture VERY slowly…patience is KEY!  If the mixture gets lumpy, do the extra step and strain it!

Pumpkin Spice Creme Brûlée
Ingredients
4 teaspoons ground cinnamon
2 teaspoons ground ginger
1 teaspoon ground cloves
½ teaspoon freshly grated nutmeg
¼ teaspoon freshly grated allspice
1½ cups whipping cream
⅓ cup sugar
6 egg yolks
½ cup pure pumpkin purée
1 teaspoon vanilla
½ teaspoon pumpkin spice mix
Sugar
Instructions
Preheat over to 325 degrees Fahrenheit
Mix together cinnamon, ginger, cloves and nutmeg for the pumpkin spice mix. You will use ½ teaspoon of this below. Store the rest in an airtight container.
Bring cream just to a boil and remove from heat
Add sugar and stir until dissolved
In large bowl, beat eggs yolks. Add pumpkin puree, vanilla and pumpkin spice mix and stir together.
Whisk cream very slowly into yolks, ensuring that they don't start to scramble.
If mixture is not smooth, strain through a sieve.
Pour mixture into 6-8 ramekins.
Place ramekins in large pan and fill the pan with water to half way up the ramekins.
Bake for 30-40 minutes, turning the pan halfway through. After 30 minutes, check to see if the custard appears firm.
Remove ramekins from pan and let cool.
Refrigerate for approximately 12 hours.
Before serving, sprinkle a thin layer of sugar over the top.
Use a torch or broil until the sugar melts and is golden brown.
The other key to this recipe is making your own pumpkin spice mix.  It really makes a difference and the freshly grated spices really amp it up.  This spice mix recipe makes extra, so you can store it in an airtight container and use it in pumpkin loaves or muffins and pumpkin spice lattes.  However, if you are pressed for time, use pumpkin spice mix from the grocery store.
One other point…make sure to use pure pumpkin purée.  Canned is fine and there are some great organic ones available.   Just don't use pumpkin pie filling!
The great thing about this dessert is that you can make it the day before, so it will free up time the day you are making your turkey dinner!   Once the creme brûlées cool after taking them out of the over, cover the ramekins and store them in the fridge.  When you are ready to serve them, sprinkle sugar on top and swirl the ramekins around to get an even layer of sugar on the top.  I don't have a torch, but that would be preferred over using a broiler.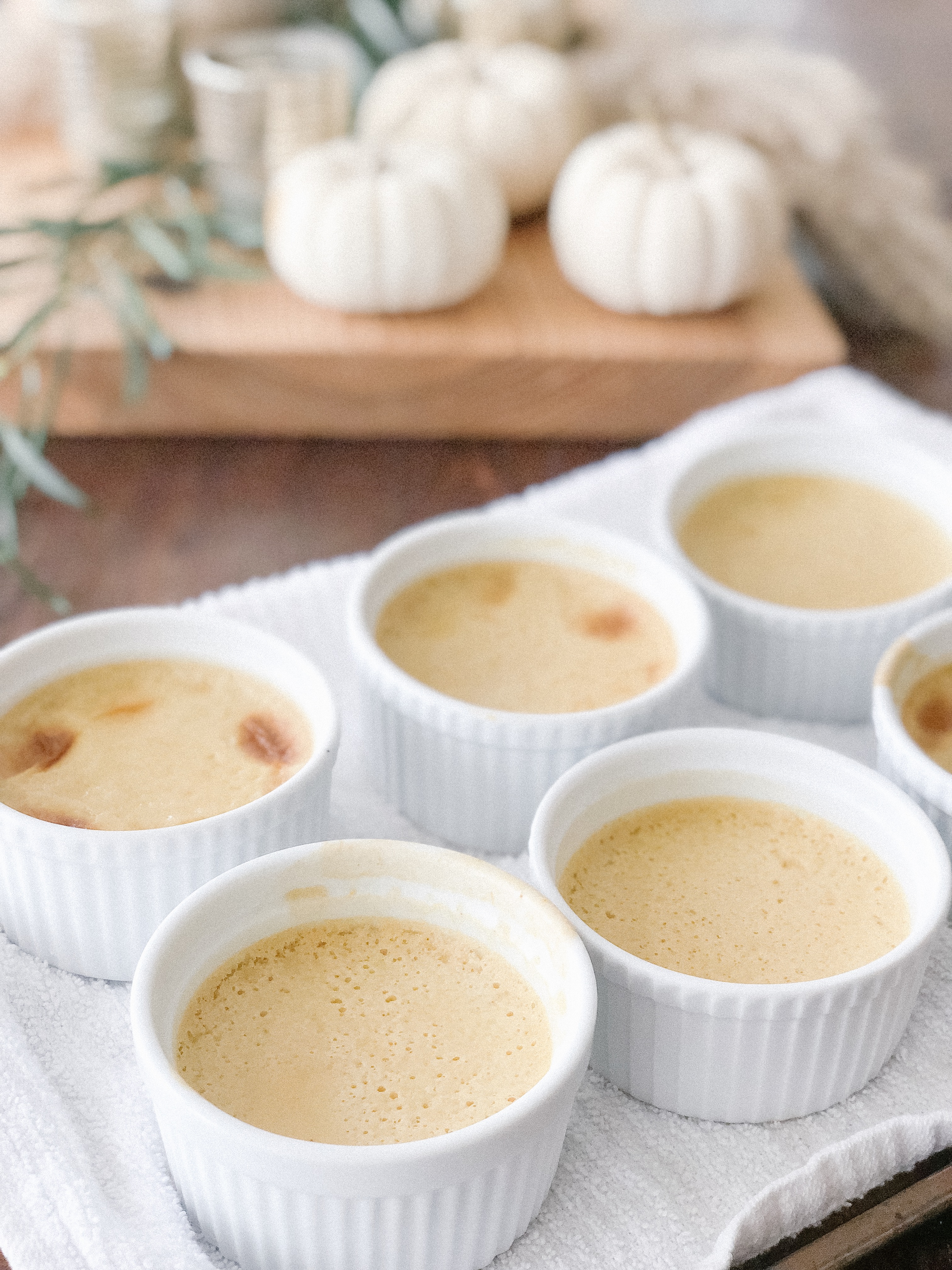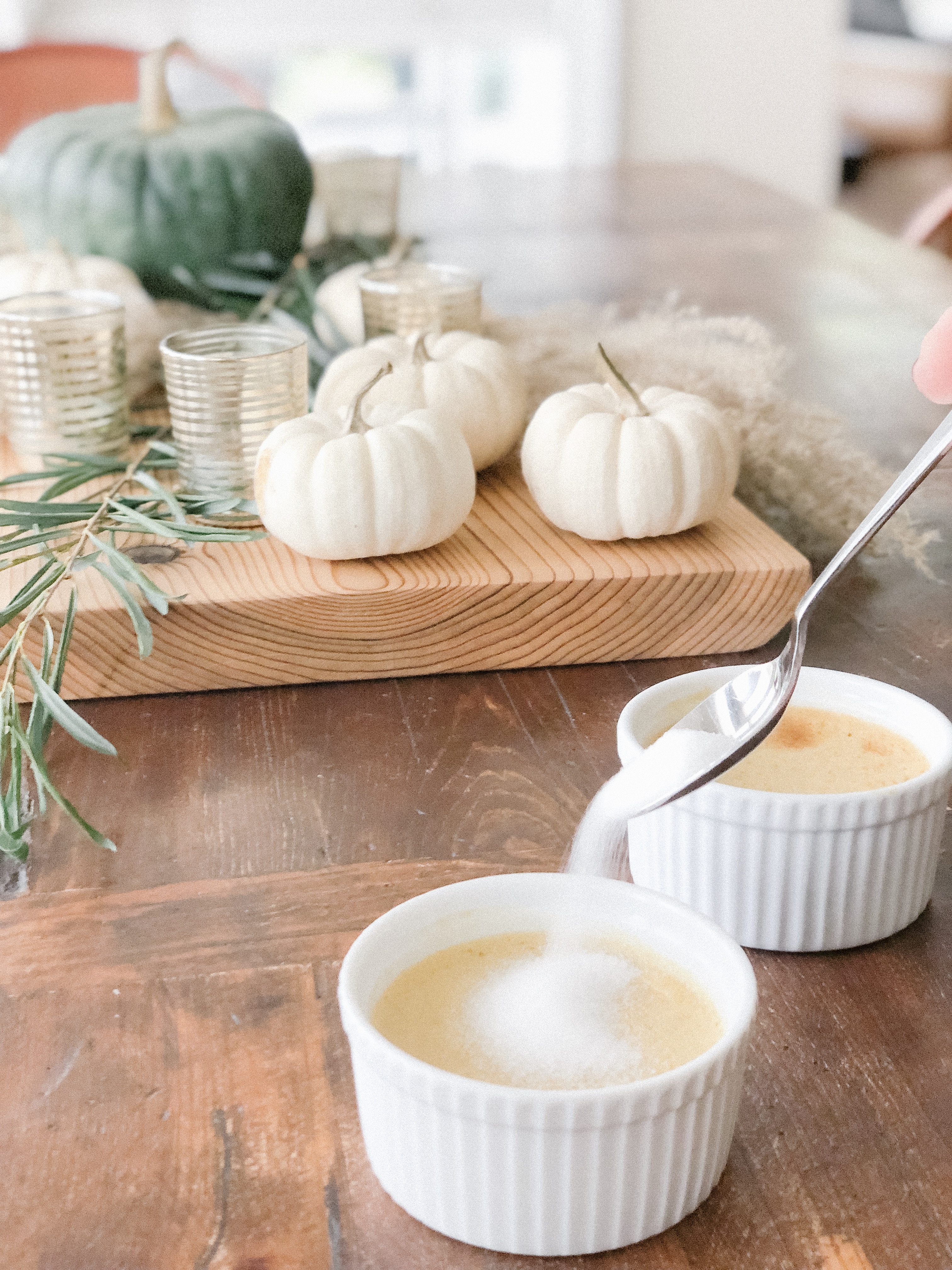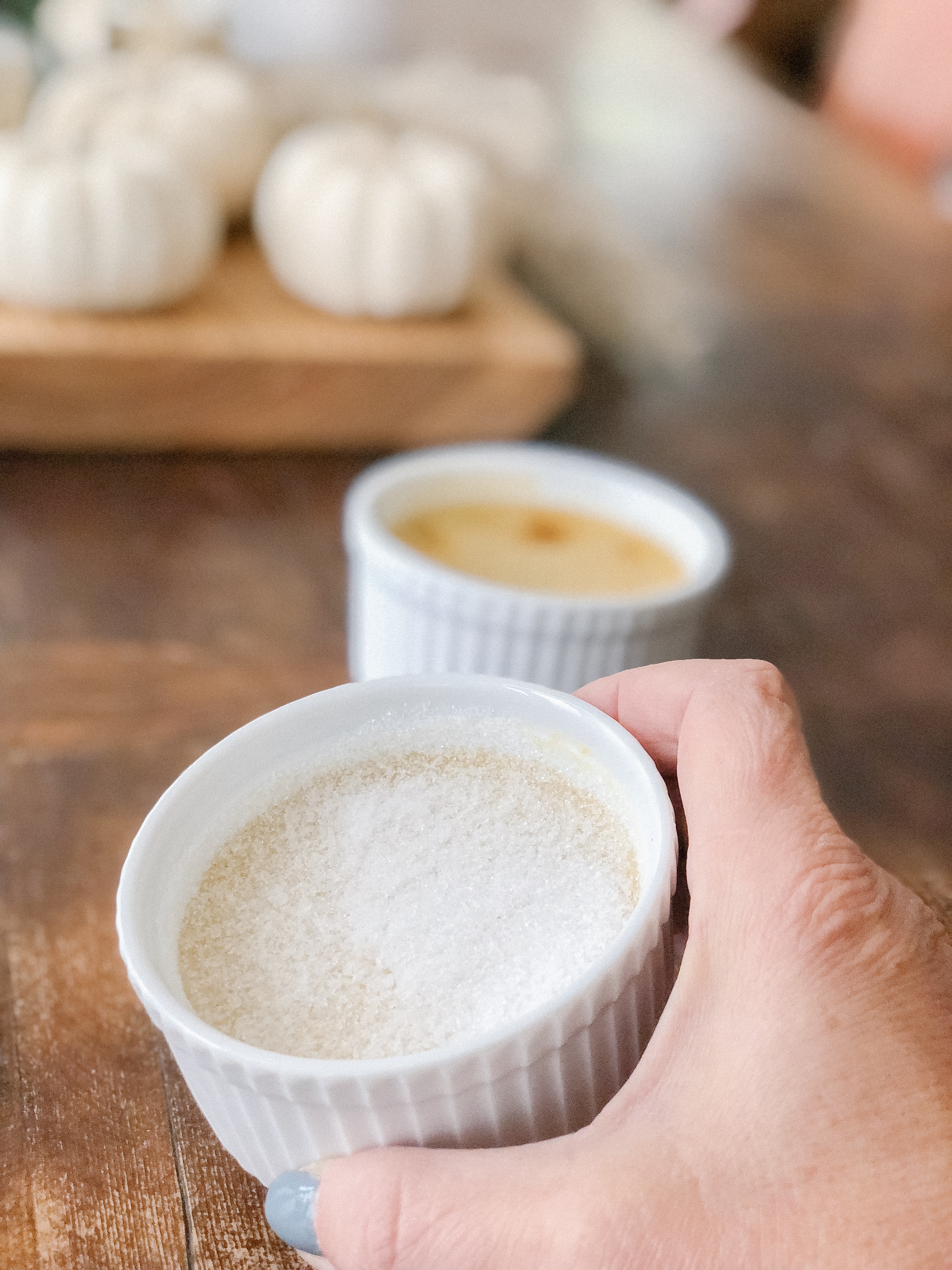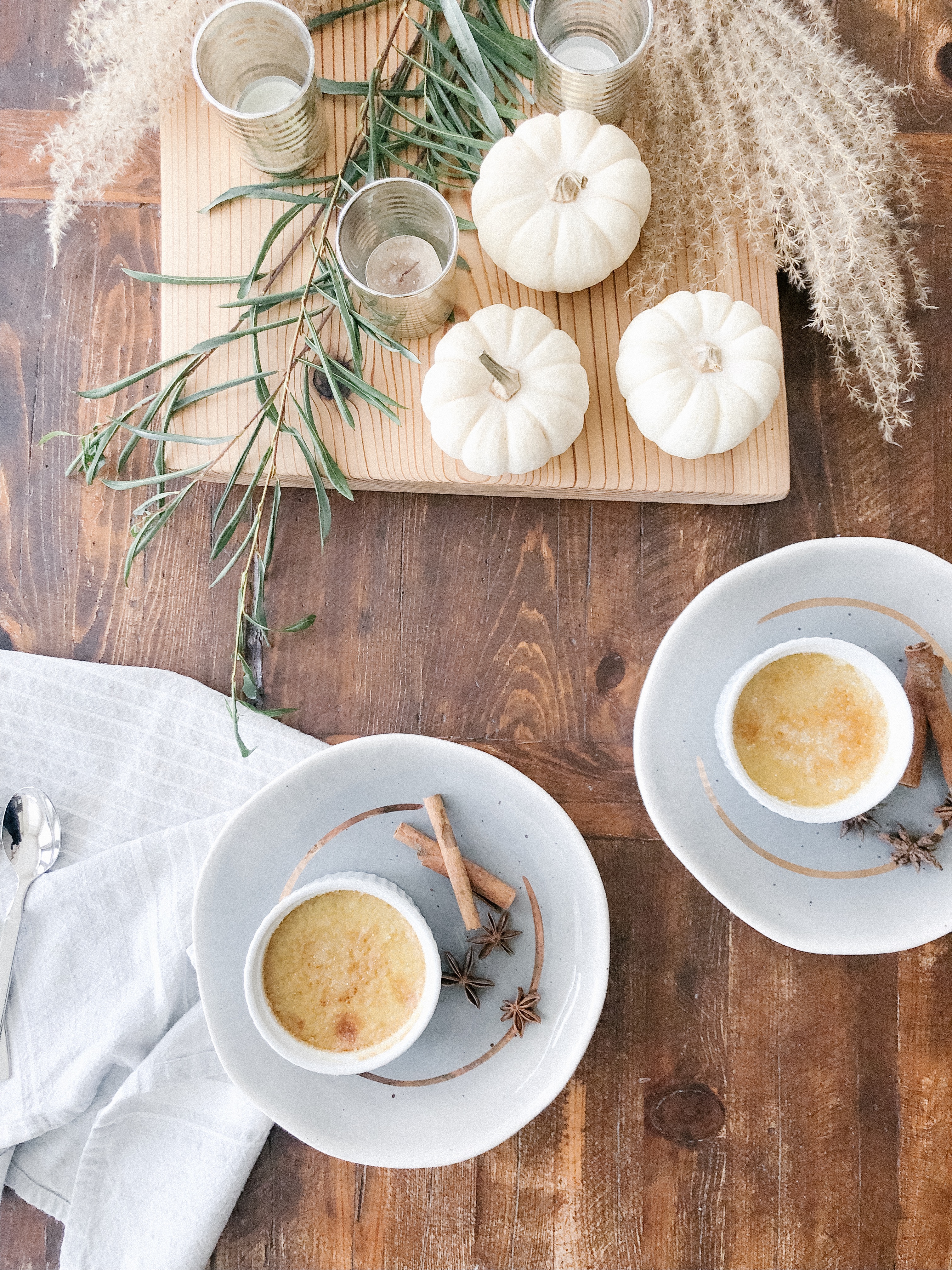 I hope you enjoy this pumpkin version of creme brûlée as much as I do!  Let me know if you make it and how you like it!