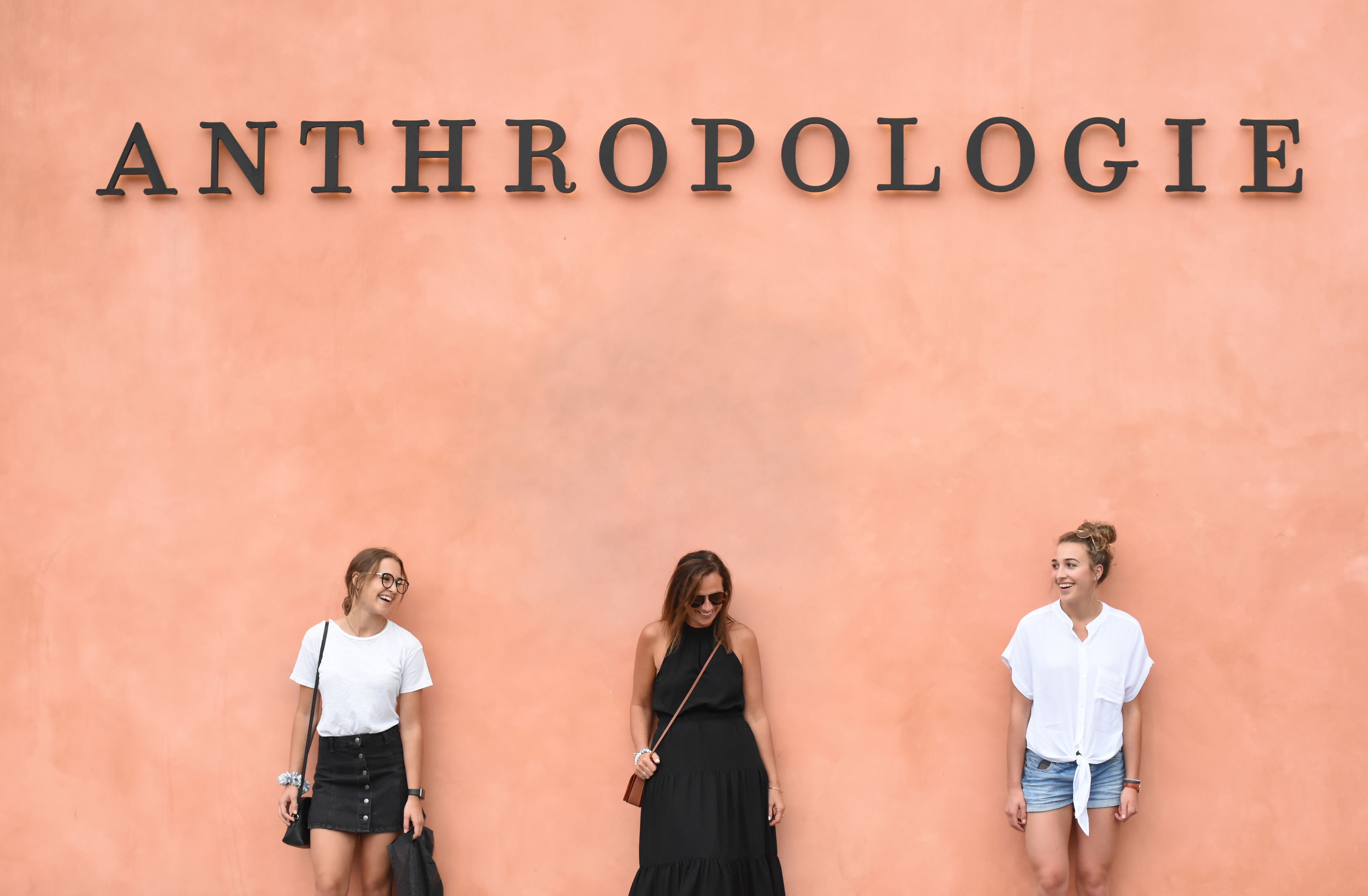 When Park Royal invited us to bring our families to spend some time here, it was an easy YES PLEASE!  Growing up in the Fraser Valley, we have often enjoyed going into the city as a family and making all of our favourite stops…boutiques, coffee, restaurants, shops. Especially in the more recent years as our kids have transitioned into the teen and young adult years. Lincoln seems to need a new wardrobe every 3 months (his growth spurts are no joke!) and our girls are realizing that there's more to living soley in workout clothes. They have also grown an appreciation to the "wander, coffee, shop, explore" thing that their mom loves to do. Maybe I'm looking for excuses to make a day for all of us to be together, but we always make sure to tag on some good food…who's going to say no to that??
Park Royal is awesome because it really is one stop and checks all the boxes for our family. Lincoln and Scott can do the sports obsessed thing visiting Nike, Sneakerbox & Sport Chek while us girls can visit all of our favourites: Zara, Aritzia, Urban Outfitters, Oak + Fort, Anthropologie. You might remember me posting about some Louis Vuitton handbags at the Winners in Park Royal a couple of months ago. Guys…no joke, this Winners is a good one. The best one I've visited to date. Their designer section is full of top end goods at Winners pricing. I've lucked out there finding everything from home goods to shoes…highly suggest you give yourself lots of time to make your way through here!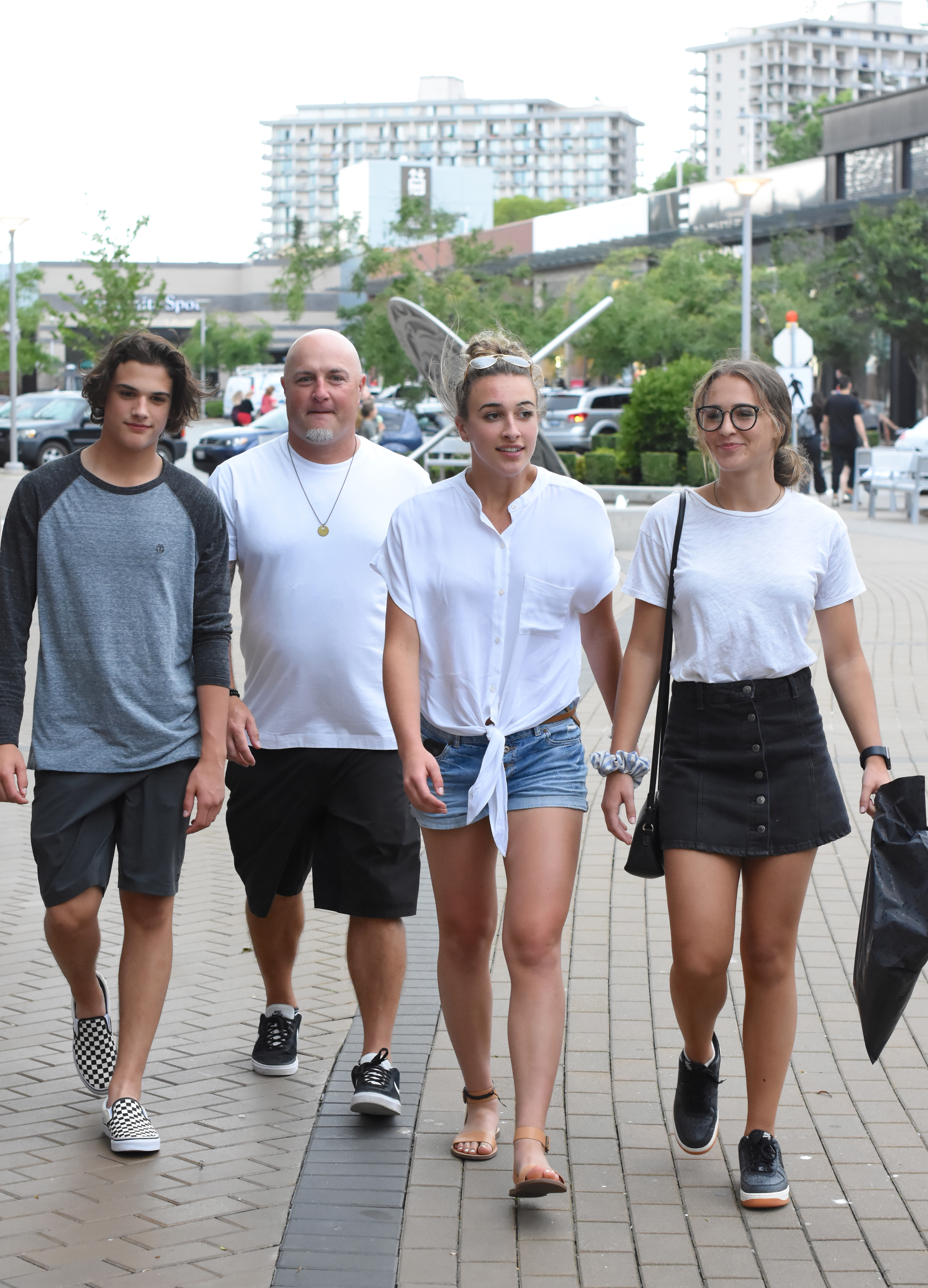 My first stop should be no surprise to anyone… coffee. Ha! I'll admit whenever we go to the Horseshoe Bay Ferry Terminal, I make a quick pit stop at Caffè Artigiano (their beans are some of my favourite!) to enjoy in the ferry lineup! Their beans have to be some of my favourite..so, coffee in hand and coffee beans to bring home!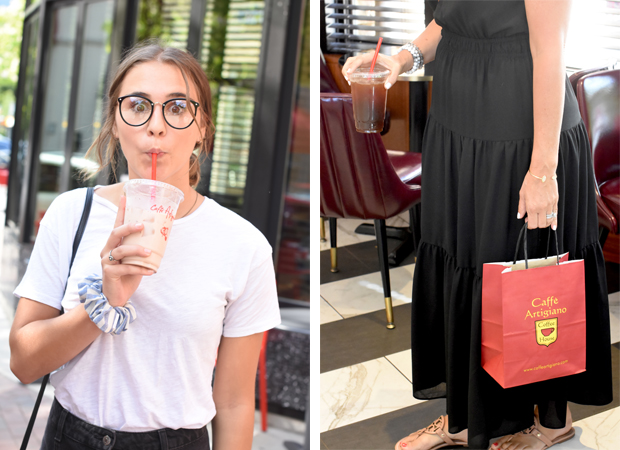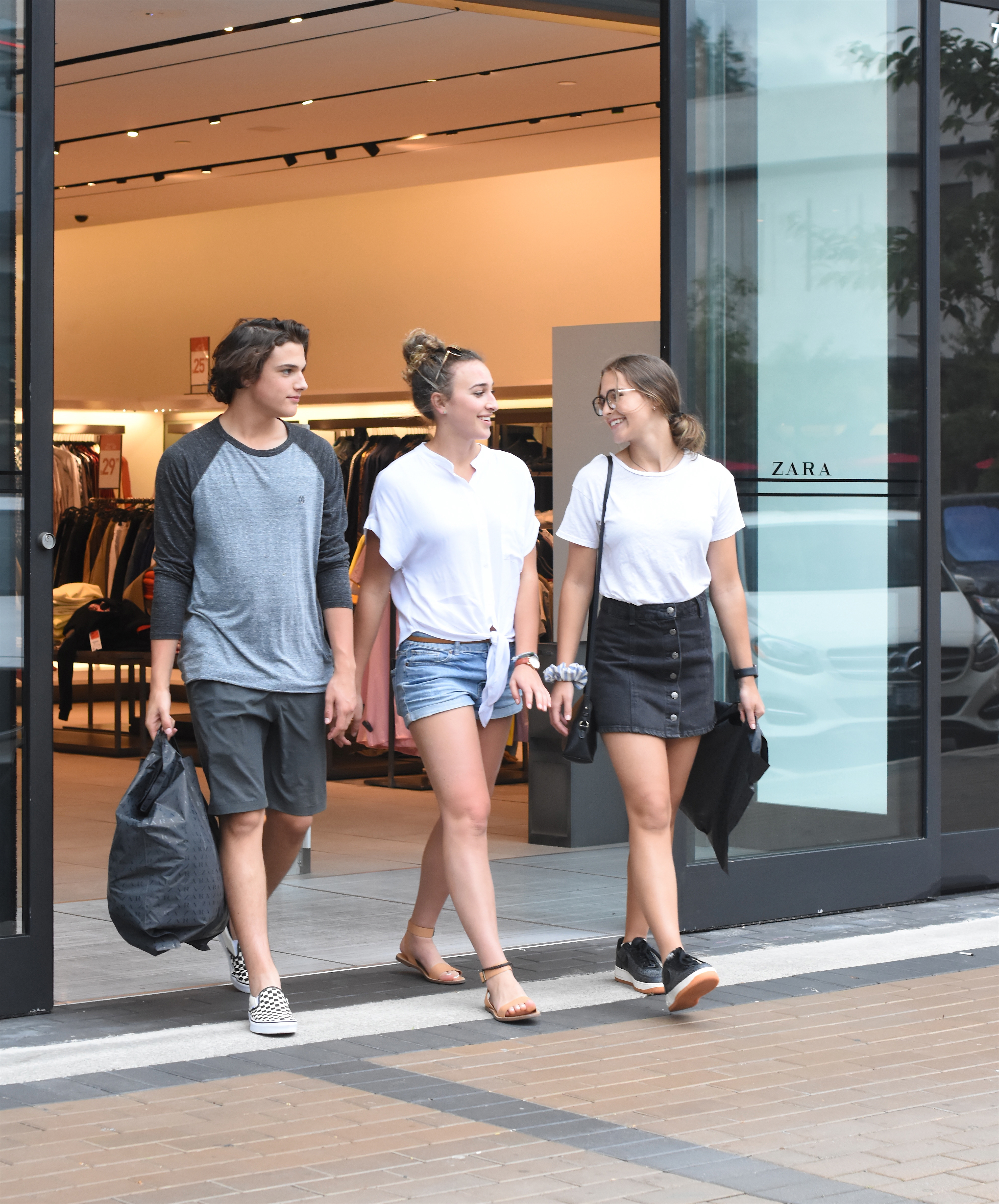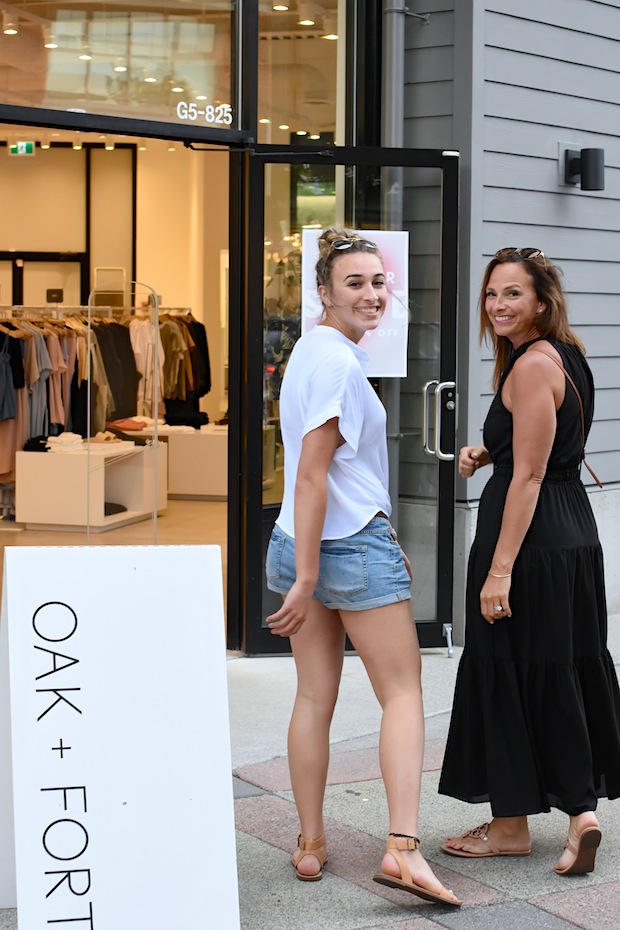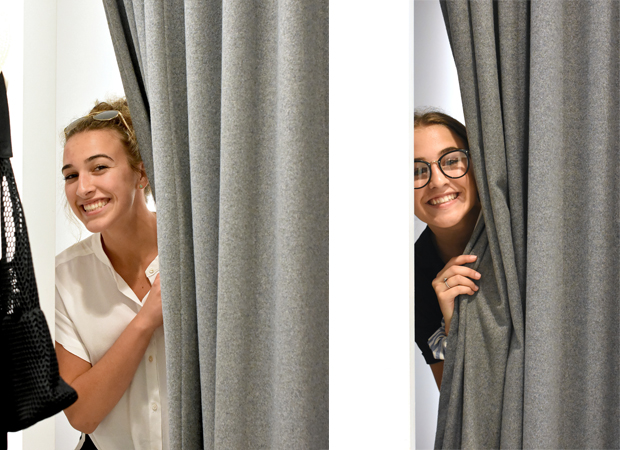 I dunno…are you surprised this was where Scott headed? #nikeforever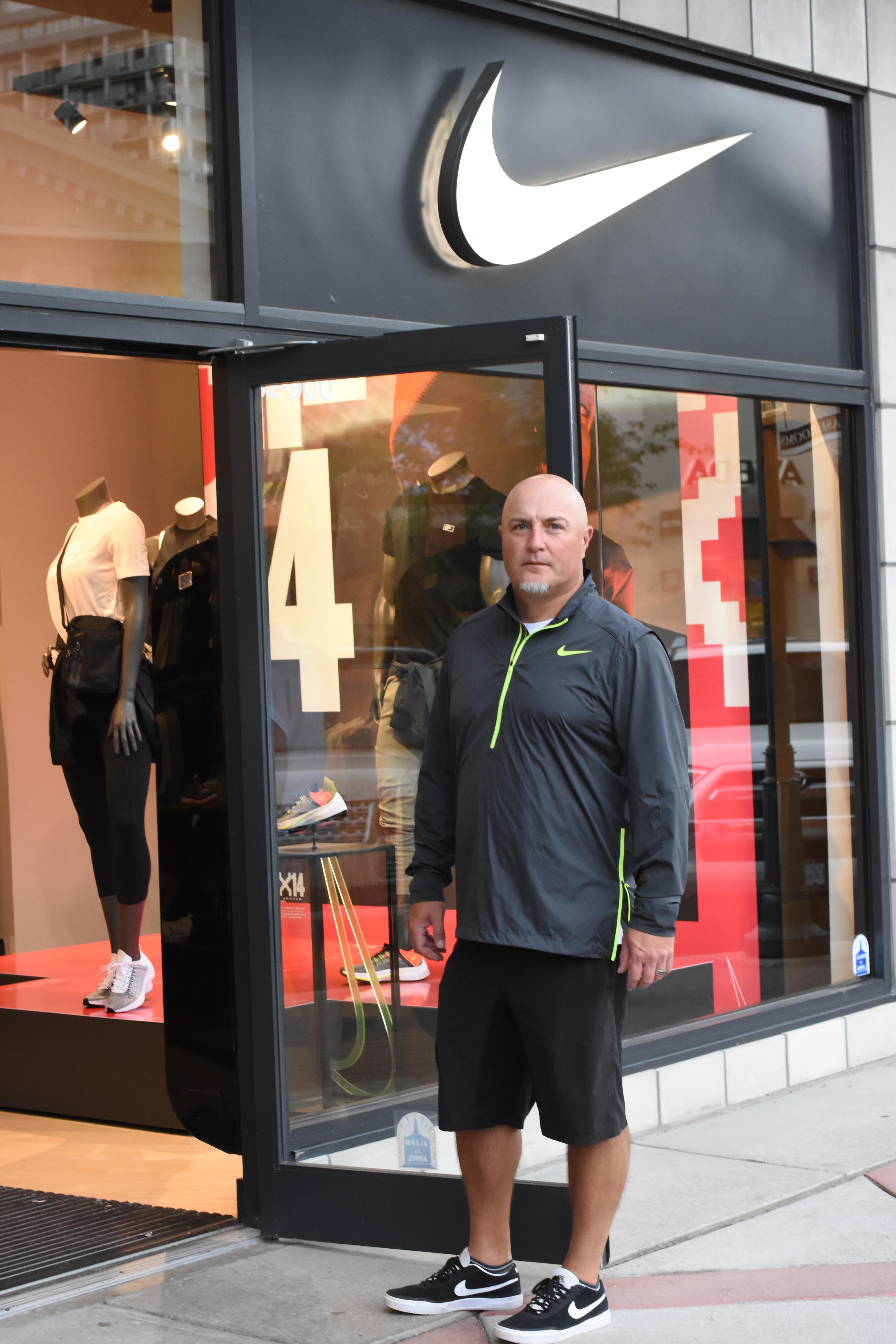 And. Grocery goodness. Whole Foods Market makes me ridiculously happy…is that weird to get so excited for a grocery store? But whenever we know we'll be close to a Whole Foods, I pack a cooler bag (truth) so I can stock up on some specialty items. Nina goes crazy picking out gluten free foods…there's so much to choose from! This time we left with 3 different types of pizza so she could do a little taste testing. So, you laugh, but…we brought home an enormous amount of fresh foods and gf treats!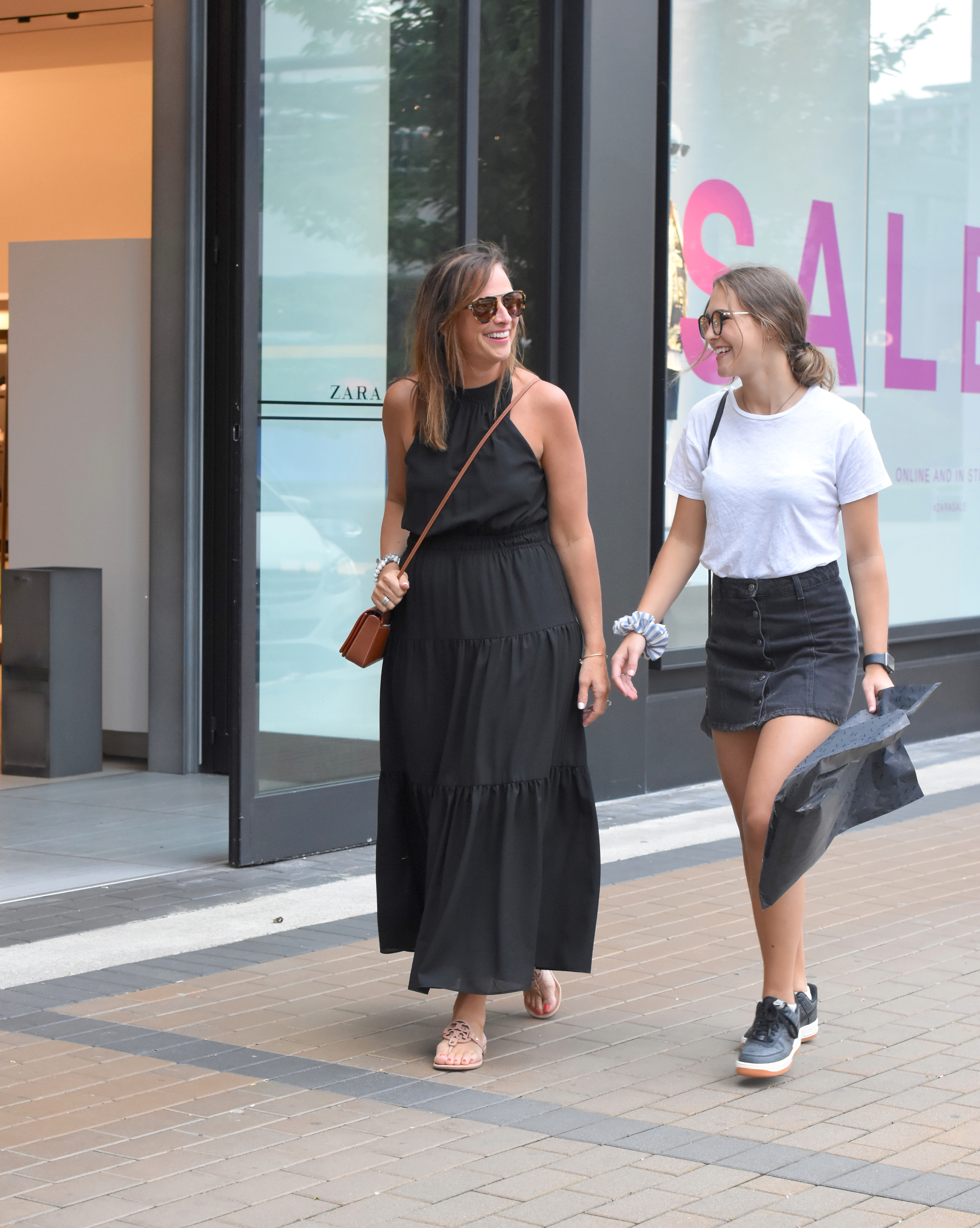 To end our day, we headed to Trattoria for dinner. Nina's celiac heart was full at the gluten free options and their attention to her! Highly suggest a table on the upper patio if the weather is in your favor:)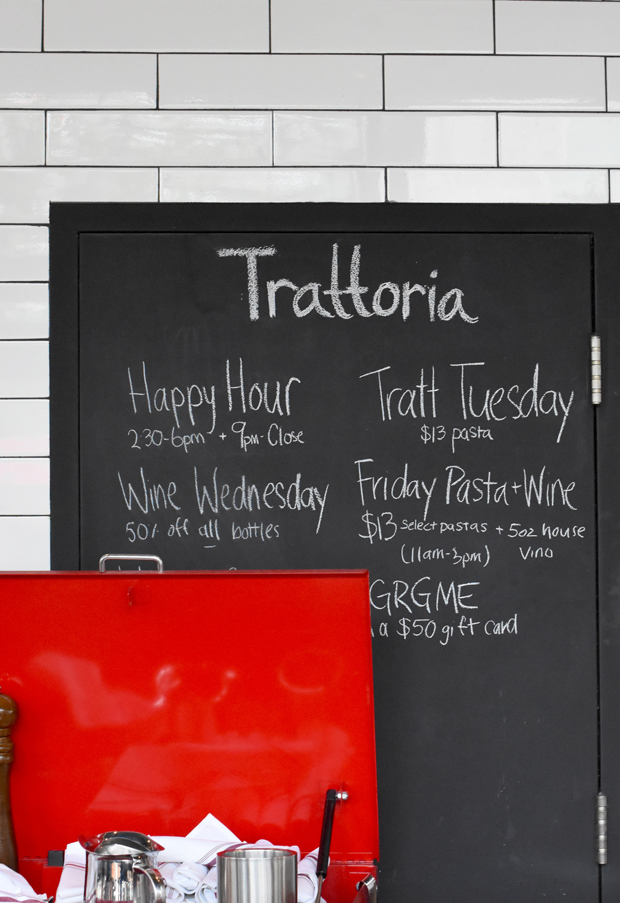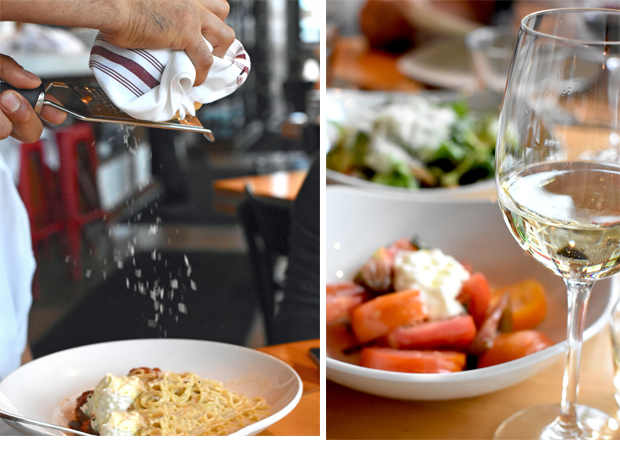 On our next trip we plan to get an earlier start and include a stroll along Ambleside Beach. Or a stop at Capilano Suspension Bridge. I kinda think we've all agreed that our back to school shopping could most likely get done here in one shot. Yes, please!
========================================================================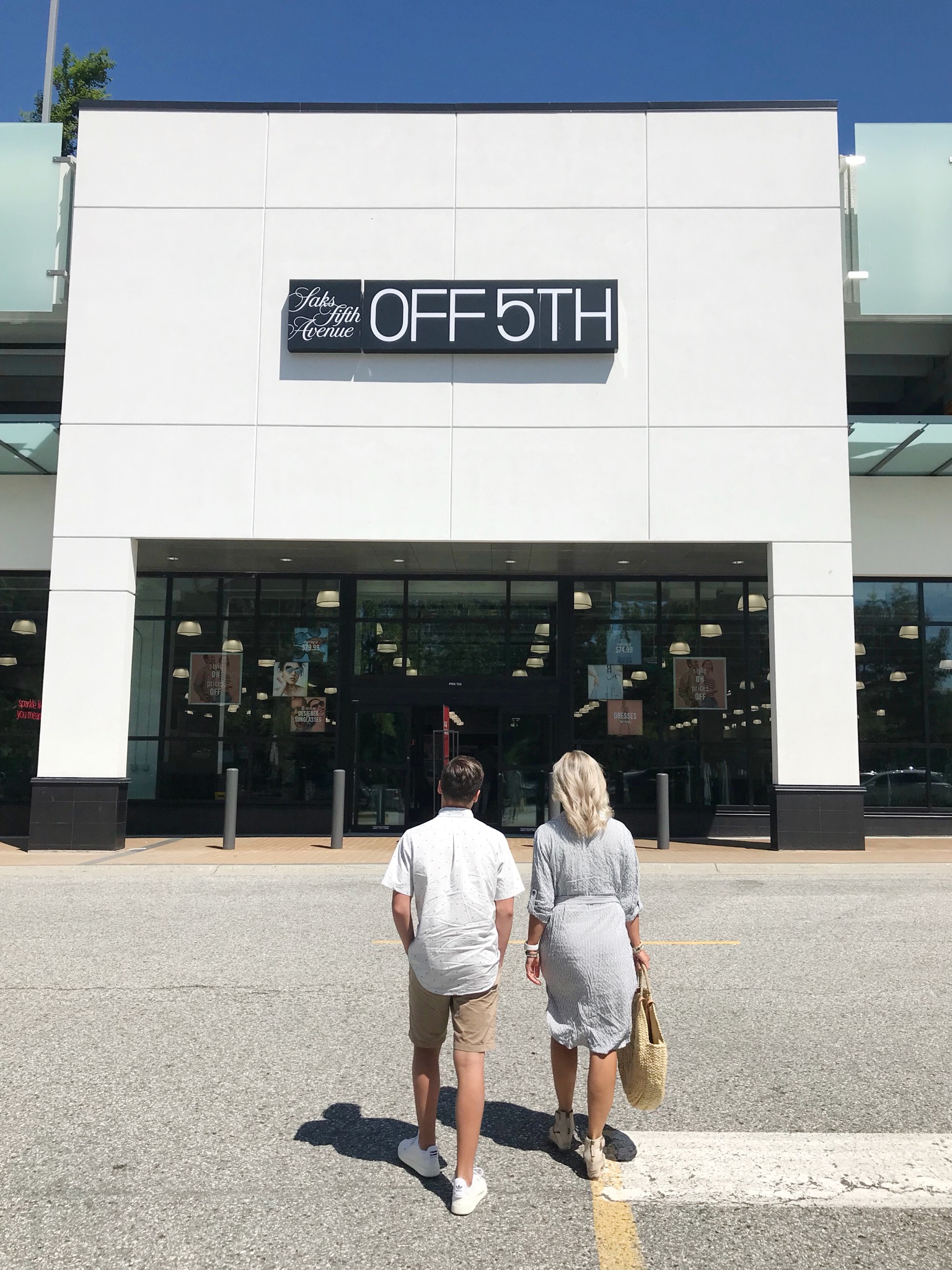 Jason, Mac and I visited Park Royal Sunday afternoon.  We had a great afternoon wandering the shops and stopped for lunch at Caffè Artigiano.  I love their almond milk lattes!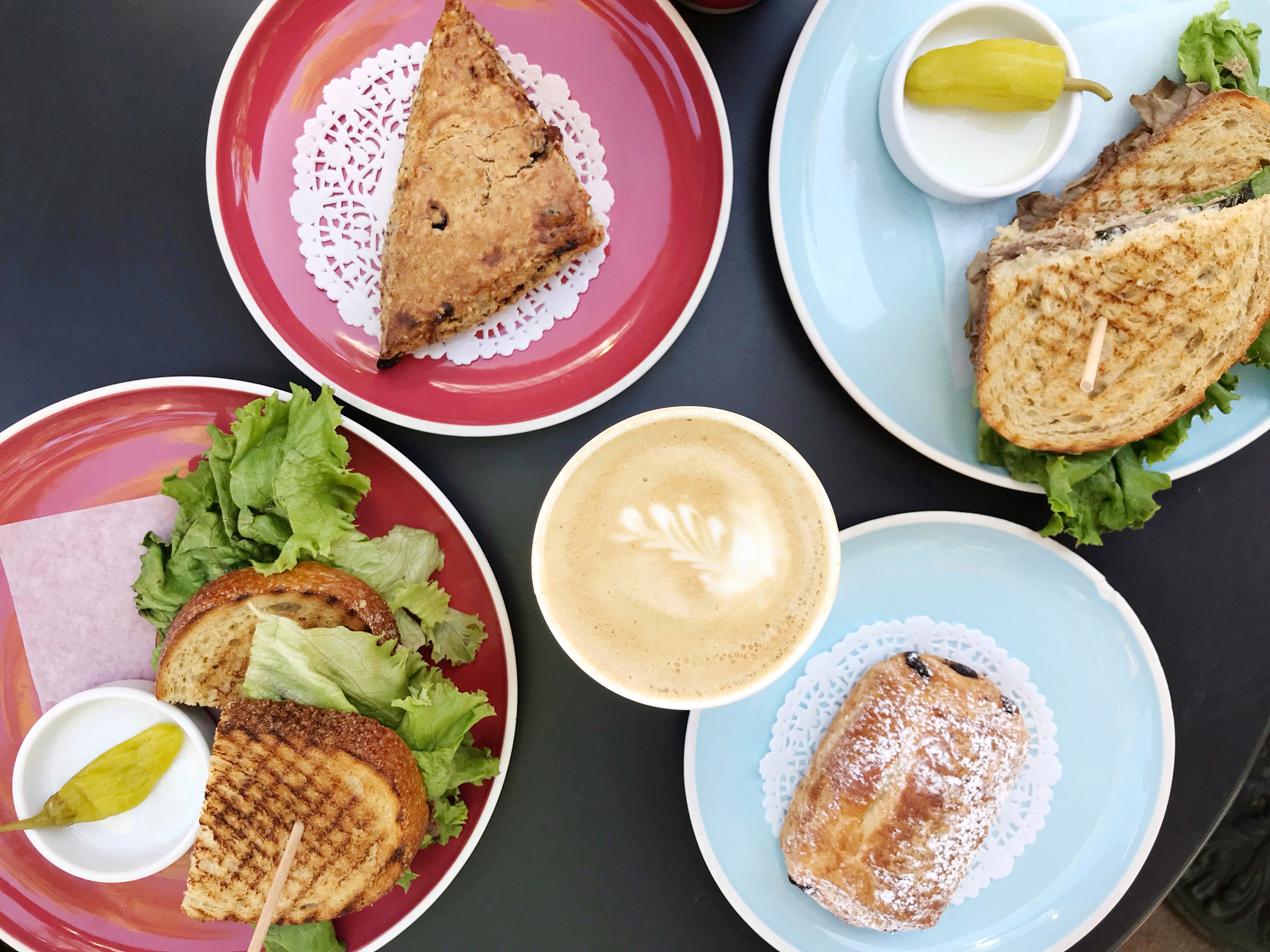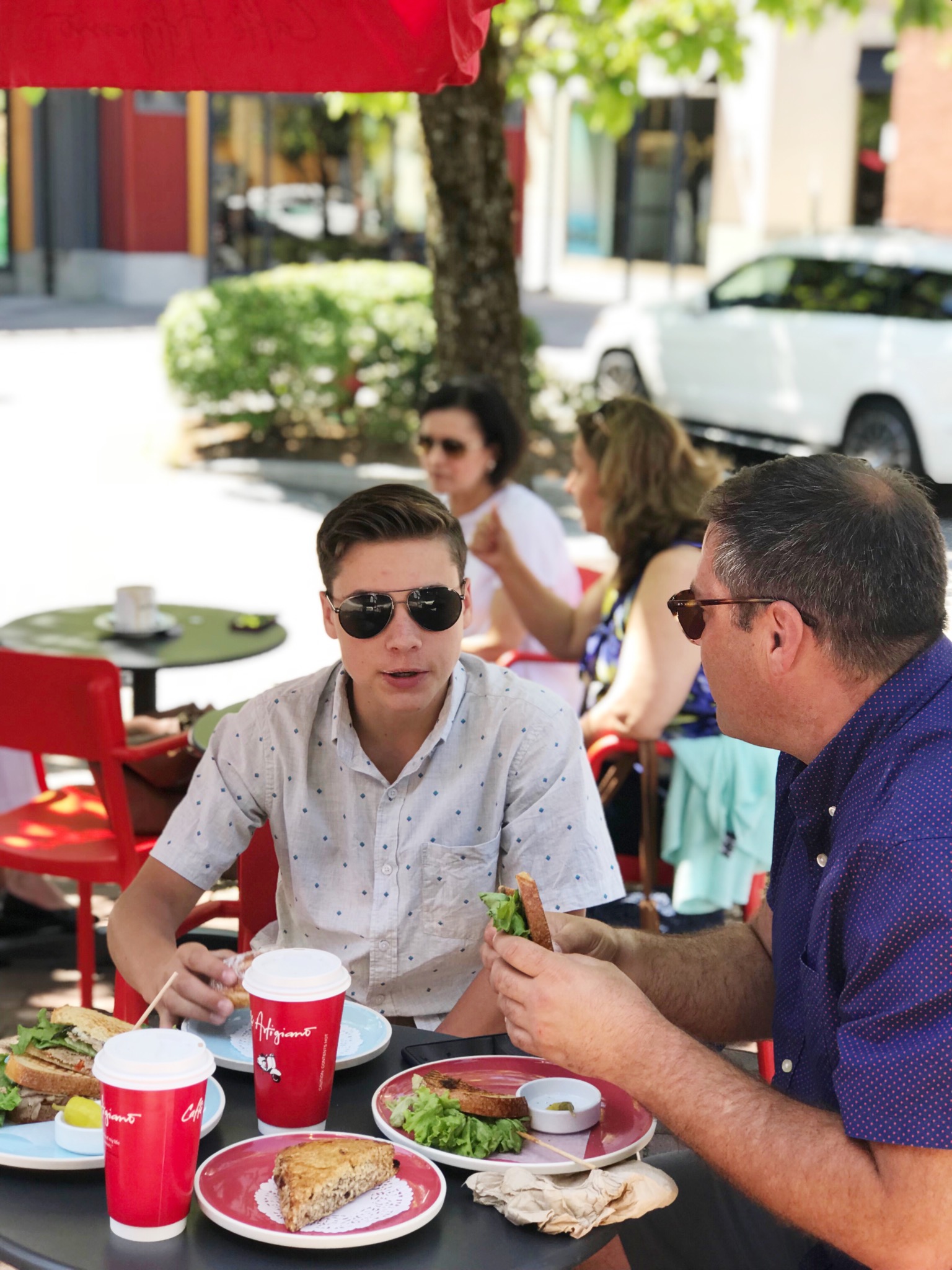 This is a great place for our family to shop as Park Royal is on the way to the Horseshoe Bay Ferry Terminal, so it's the perfect place to stop when Mac goes back to school on the ferry.  Like Link, Mac seems to outgrow his clothes every time he comes home.  We can get him stocked up before he heads back over.  This trip we focused on the many summer sales happening at the stores at Park Royal.
Park Royal really does have something for everyone in our family.  Jason and I like to shop designer brands at discounted prices at SAKS OFF 5TH…I love hunting for a great deal!  And right now they have their End of Summer Sale with up to 80% off, going on until July 24th.  And, yes, I couldn't resist buying the pom pom floppy hat!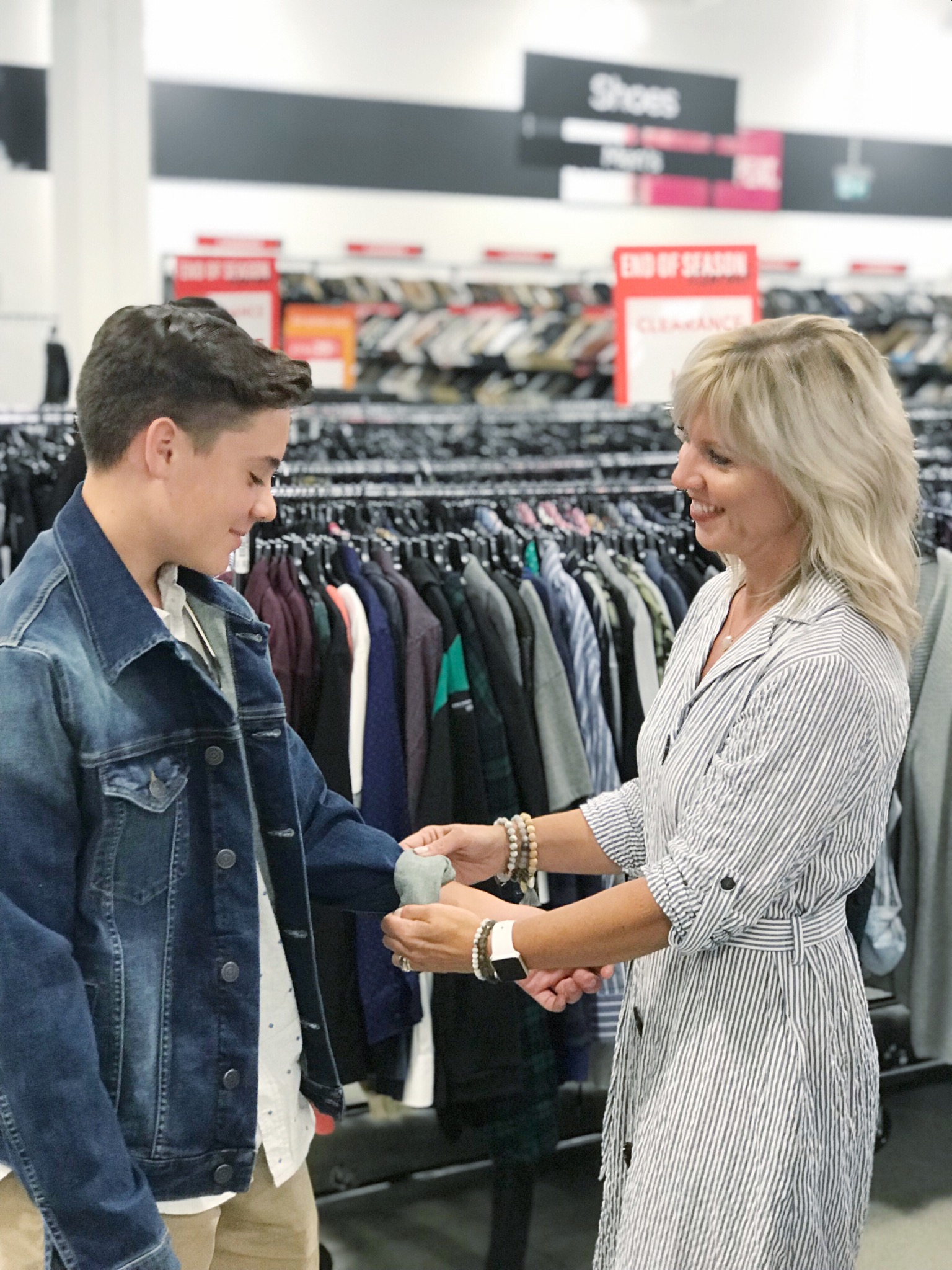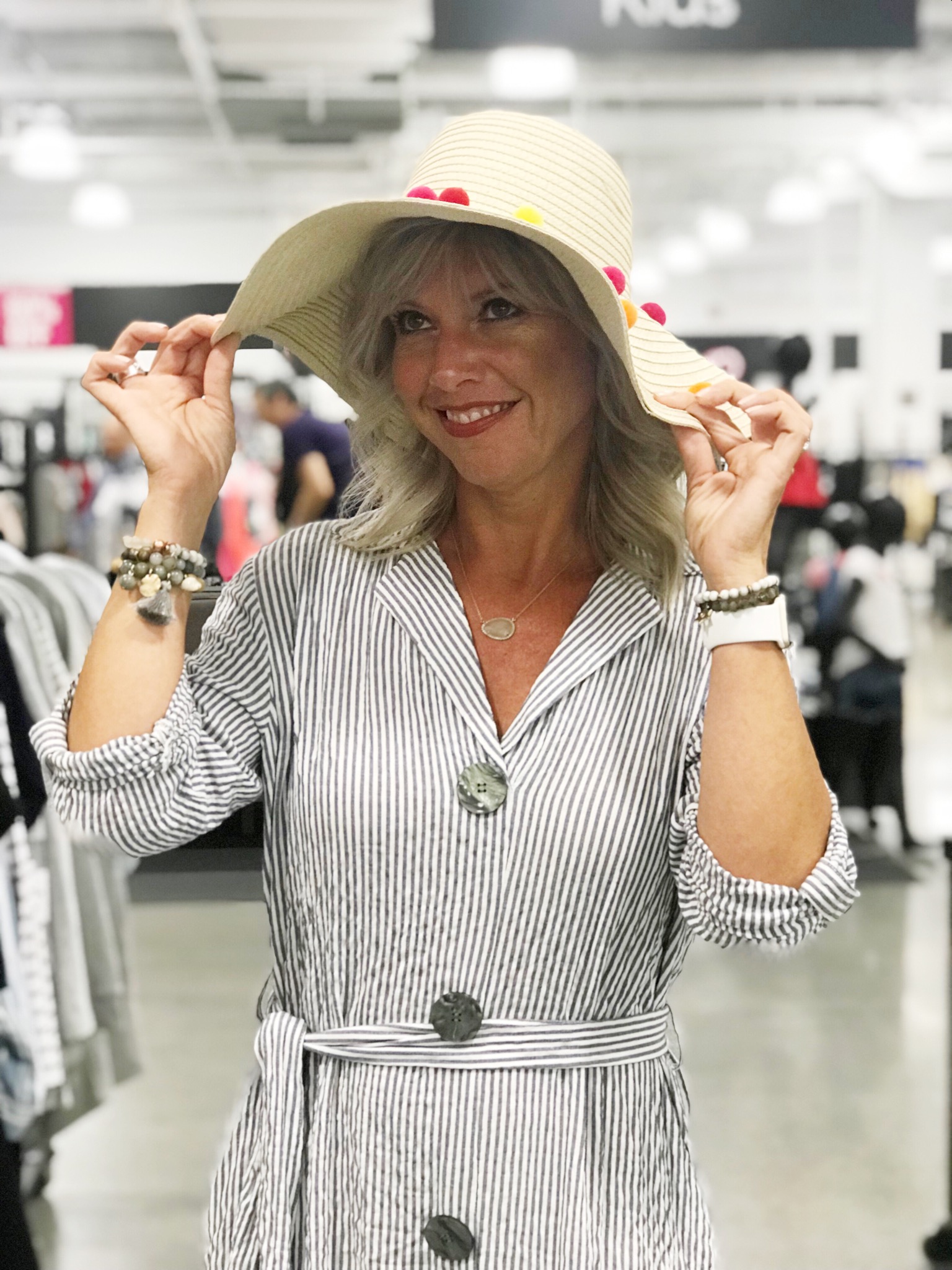 We checked out Simons for their high end designers like Comme des Garcons.  They also carry a wide selection of Nike, Adidas, Fila, Vans and Champion, so Mac was thrilled!  It's a great place to check out stock for those brands that might be sold out at other stores.  I loved that in their swimsuit section they carried tons of separate tops and bottoms, so you can get the perfect size.  Finding a swimsuit is usually a very painful process for me, but not this time!  I found one that fit perfectly right off the bat and it was on sale! Yes!!!  And can we just talk for a minute about the Frenchie t-shirt?  Hello Bruno!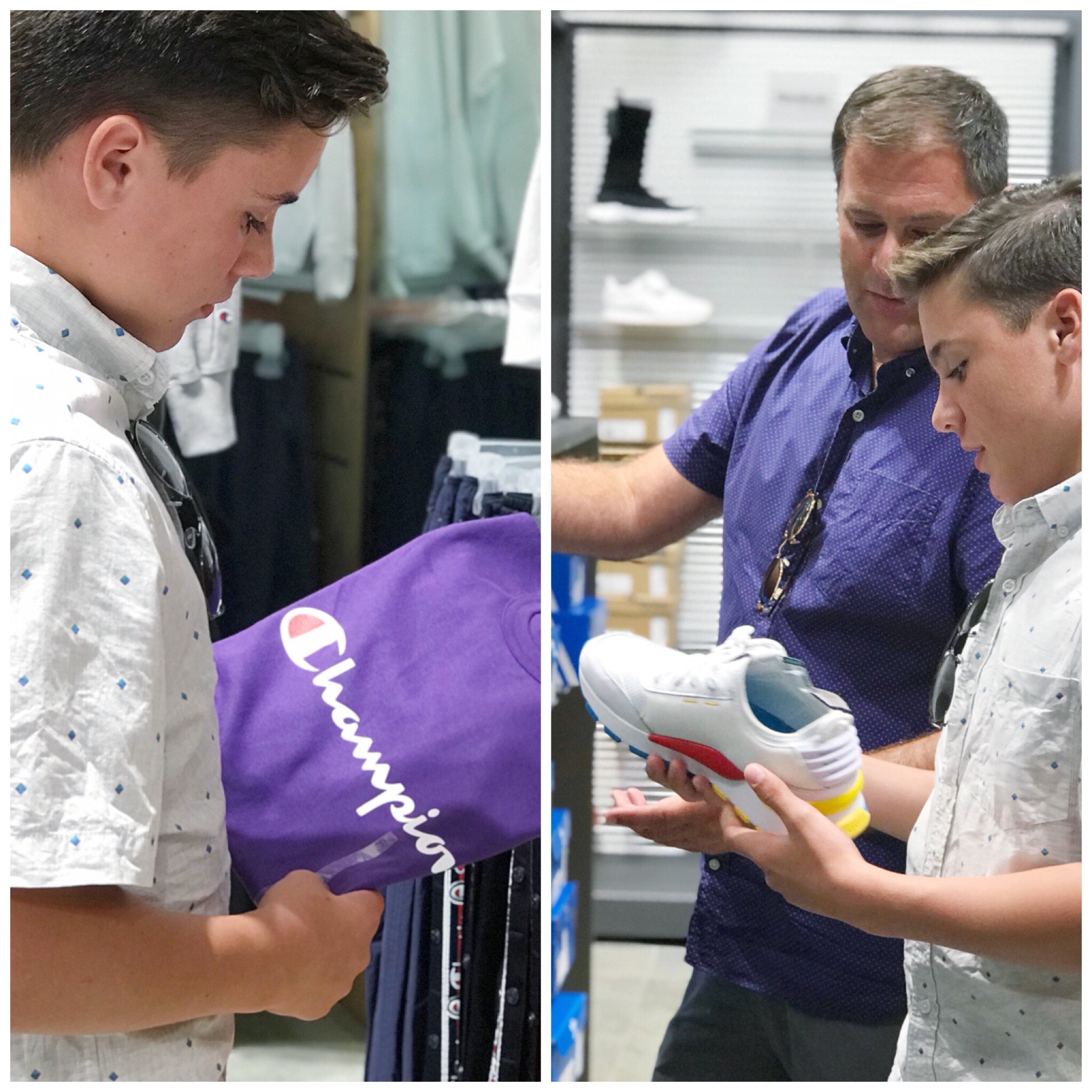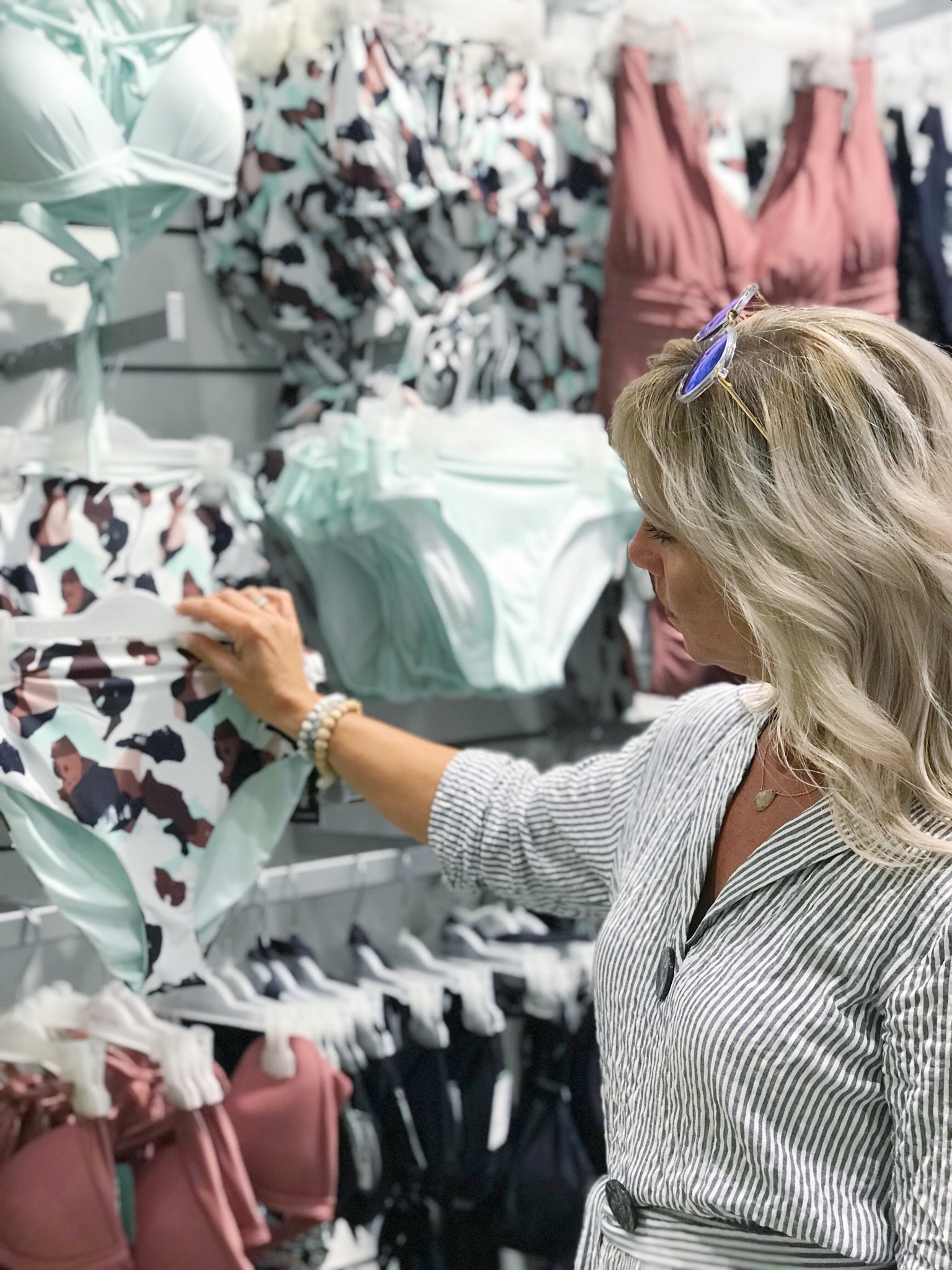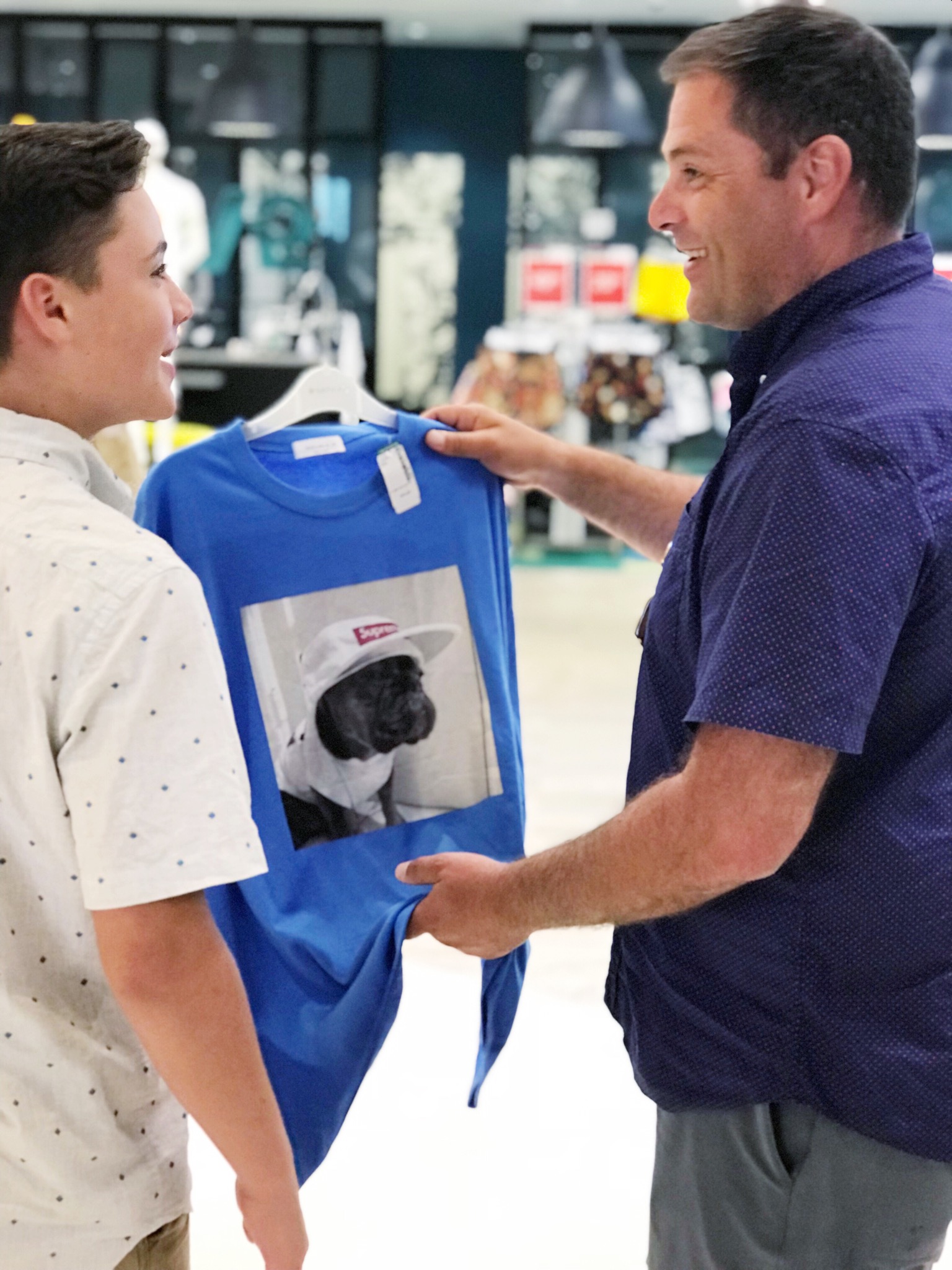 Oak + Fort also has their summer sale going on with up to 60% off.  Mac found a white on white tee that was on sale and looked pretty fresh with his new white runners.  Watch for Oak + Fort's Warehouse Sale coming soon!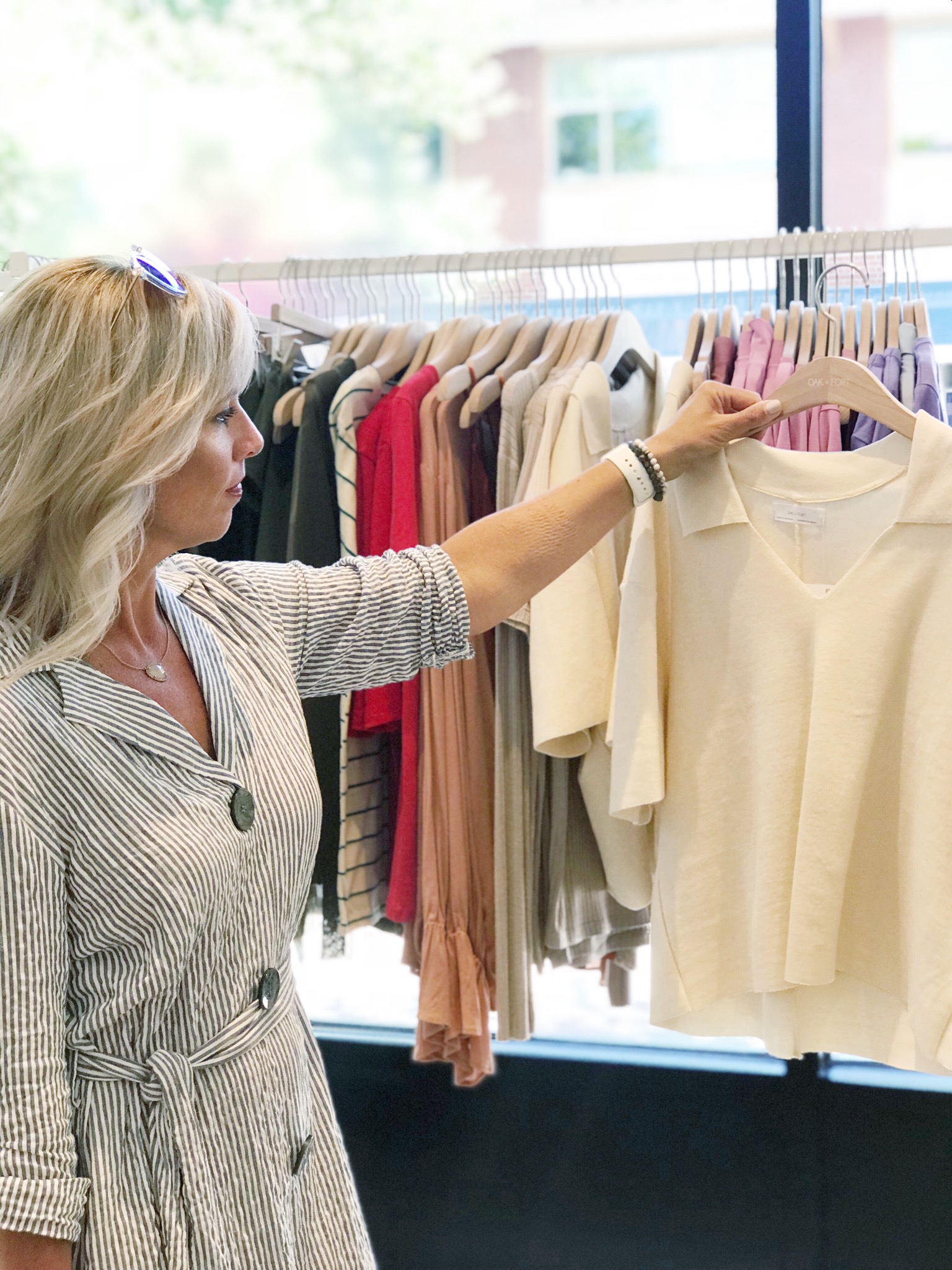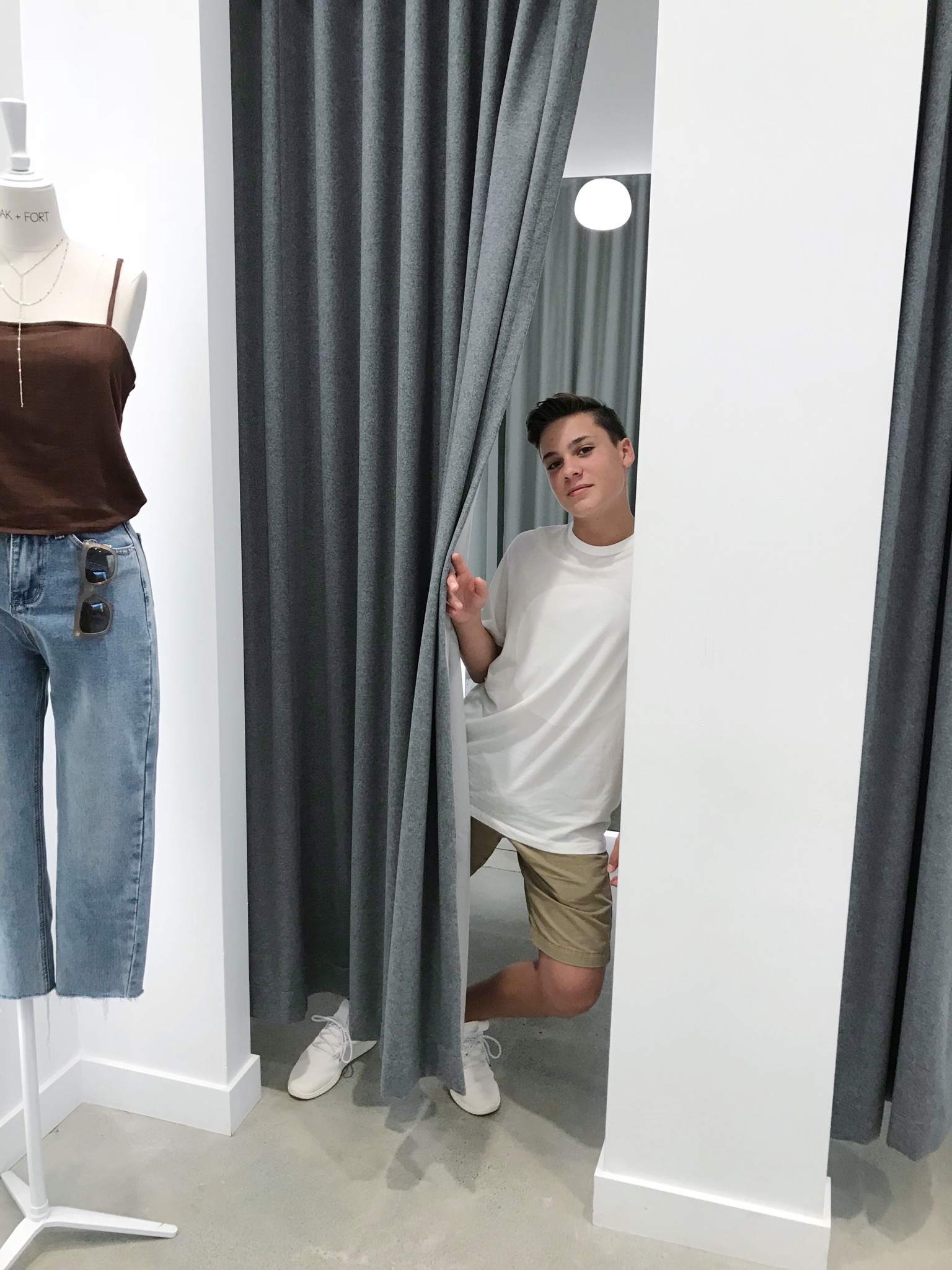 I also popped into Sephora to pick up some products that Berkeley and I had run out of.
Mac needed a new backpack as he's travelling back and forth to school and also a lot for hockey.  We went to RYU and looked at several different ones.  We were so impressed with their customer service and knowledge of their products.  They were so engaging and helped us find the perfect backpack for Mac.  He can't wait to use it!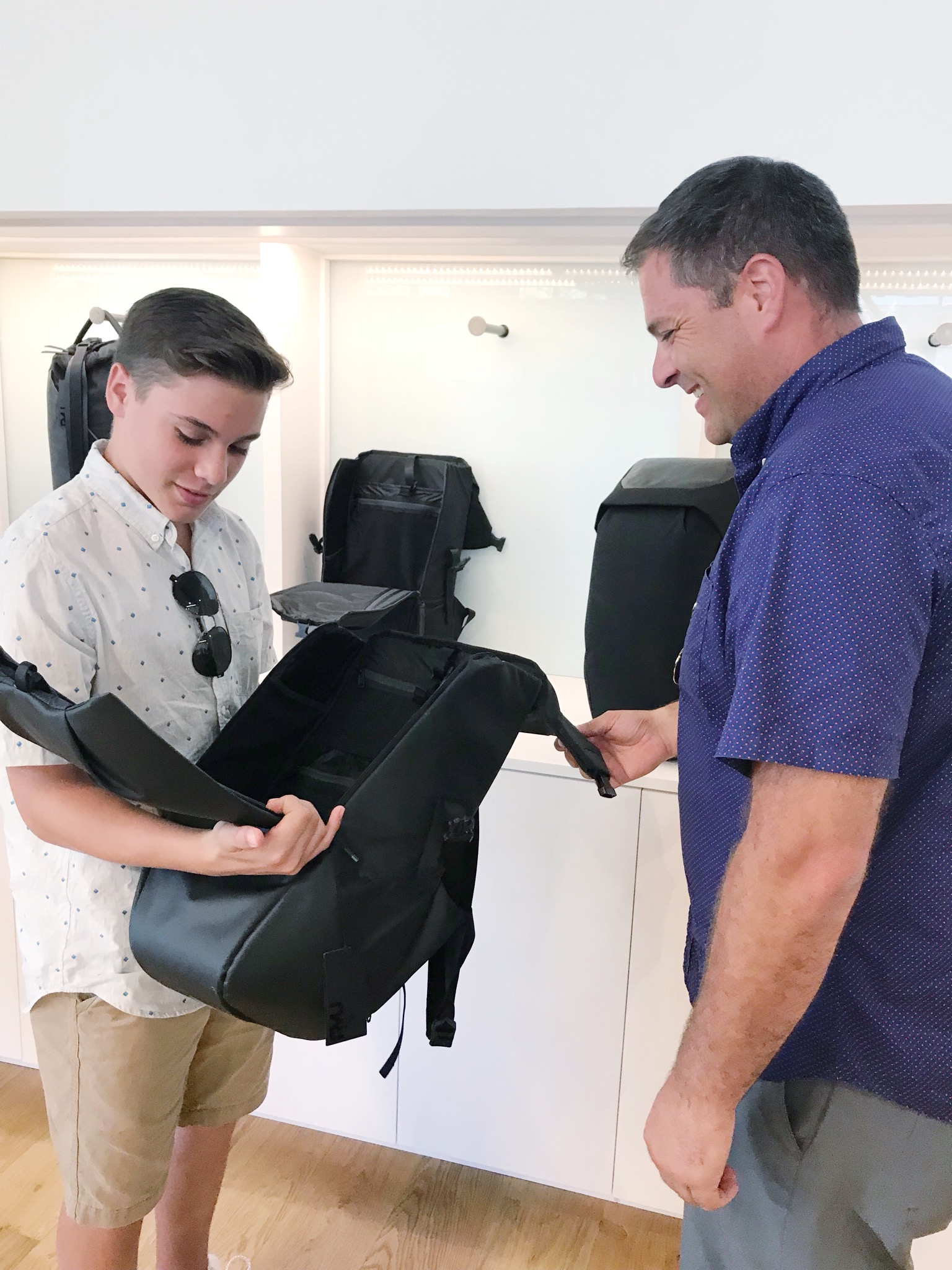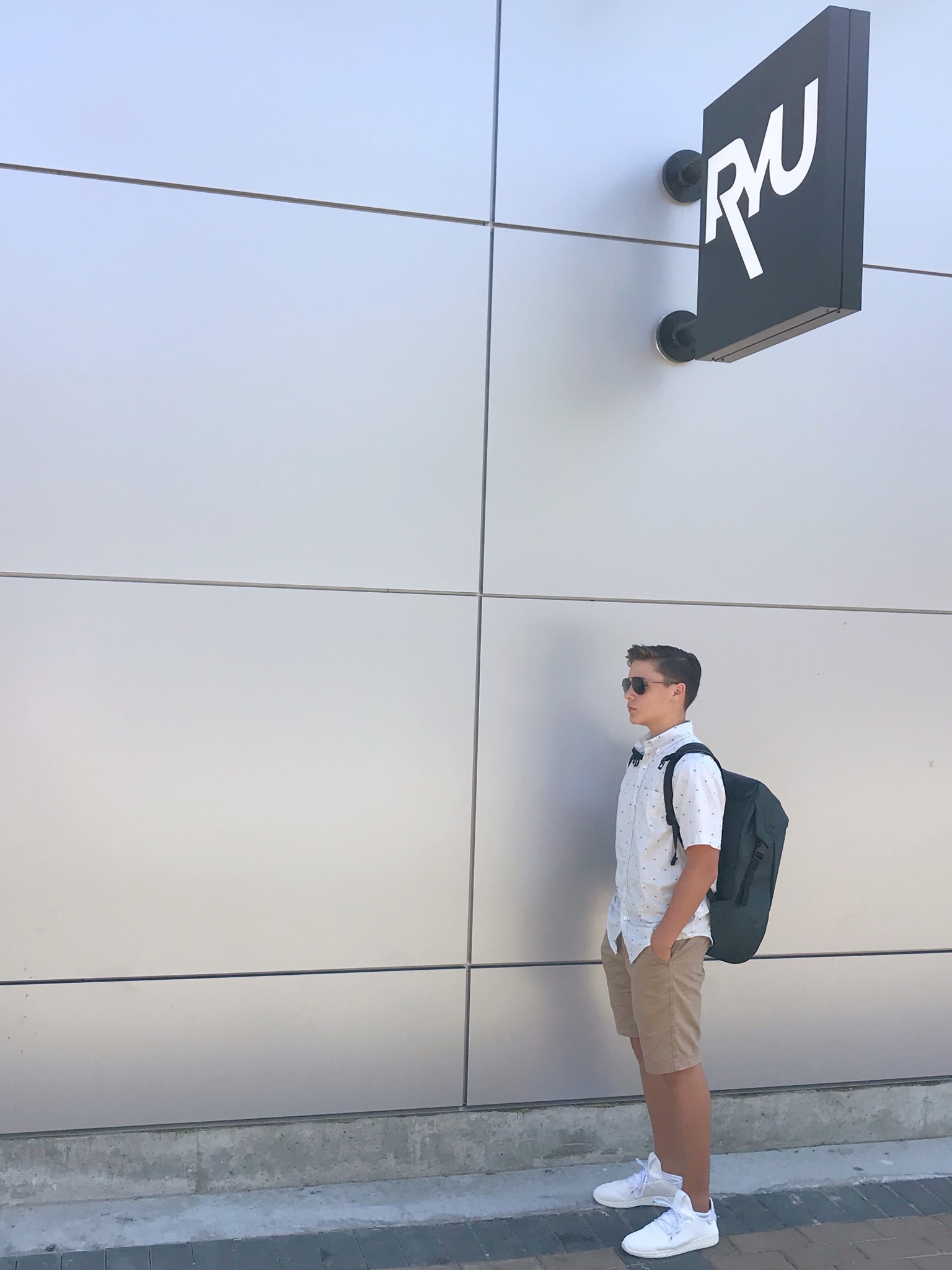 Berkeley and Dylan were working, but they definitely are going to join us on our next outing.  When Mom and Dad plan a shopping trip, you know who's paying!  Their faves are Aritzia, Urban Outfitters, Nike, Sephora and RYU.  They have all of our favourite stores in one place!  I also noticed that Blaze Pizza will be opening up at Park Royal very soon!  Blaze is a family fave that we discovered in California.  The pizzas are fully customizable….think high-end Subway for pizzas, and they have gluten-free crust available as well.  We will plan to head back in a month or so to do some…yes, I'm going to say it…back to school shopping and go for pizza!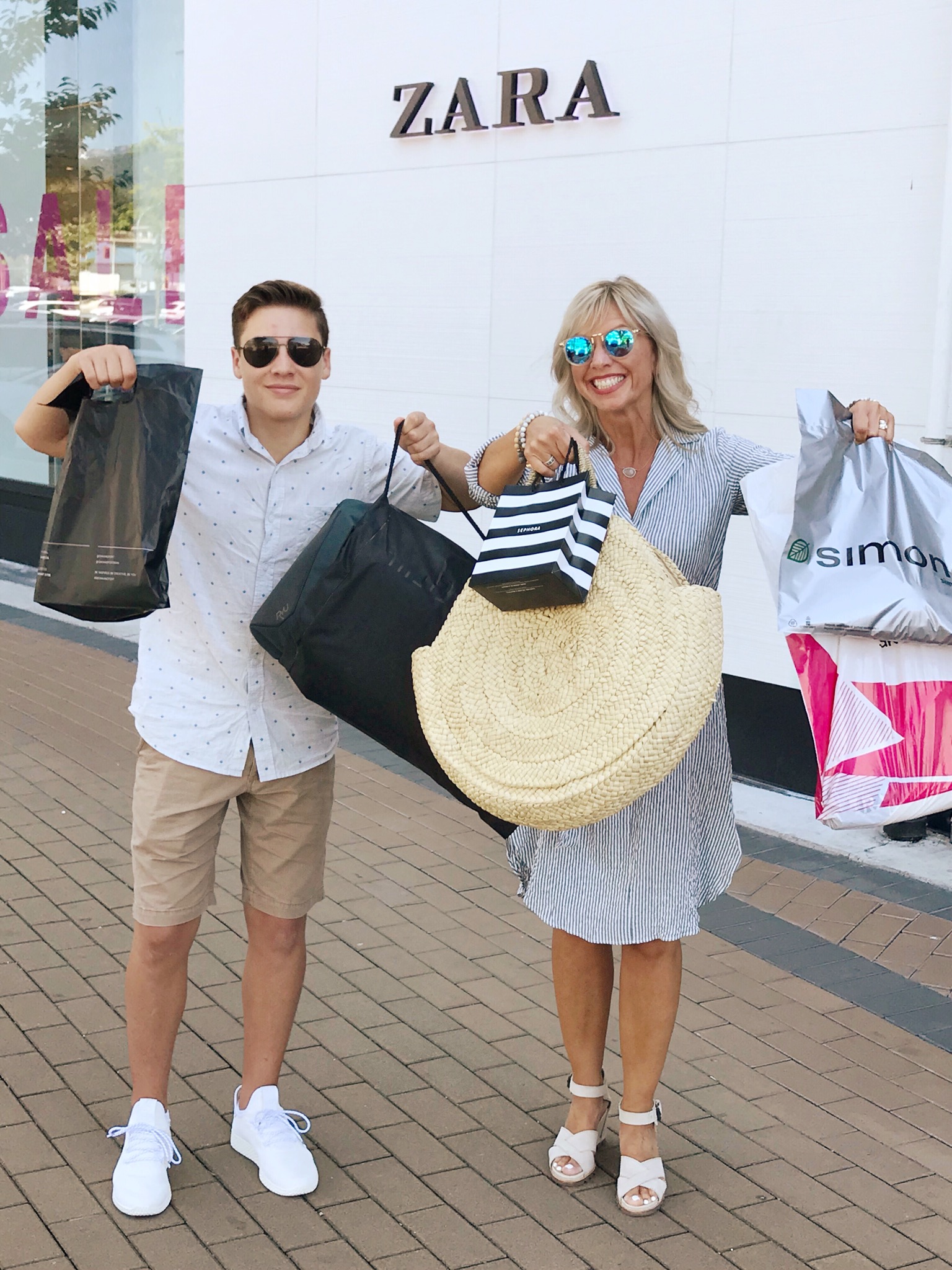 *this post is sponsored by Park Royal Shopping Centre. The opinions are completely our own and based on our experience.  Judging by the number of shopping bags we brought home, we had a more than fantastic experience 🙂
*Sale items mentioned in this blog are for a limited time.  Items found are while quantities last."