A couple of weeks ago, I posted a number of life hacks…little tips to make your day-to-day either more efficient, a tad more simple or more enriched. We're continuing along that same vein in the travel department. I've rounded up some of my favourite hacks to enhance your travel experience and make it just a little sweeter. Obviously, there must be so many more tricks of the trade out there so I'm hoping you'll share your hacks with me too!
Travel is hands down one of my passions…can I hear an amen? In saying that, there are moments that can get stressful! Me and the kids like to tease Scott as he gets into what we call "travel mode" in the airport. "Kids go stand by your mother!" "Move your suitcases outta the way!" Lol. He's high tempo…which is so contradictory to his normal chill way.  Travelling is amazing and awesome, but most everyone has their moments where there's fatigue, stress or frustration. So anything to alleviate those roadblocks is a win!
Here we go:
Research out favourite stops (eateries, sights, markets, boutiques) you want to make before you leave on your vacay. You can mark their location on your google maps app by searching the name, clicking on it, and then pressing the "Save" button. Once you're at your destination, pull up the area map to not only remind you of these must-visit places but also to get directions to them.
Choose the best seat on your flight with Seat Guru . This handy site provides your flight's seating map and classifies seats as good/bad along with comments.  Scott got me onto this one and I love being able to choose wisely.
Pre-trip, exchange your money at your local currency exchange rather than the bank. The rates at your banking institution tend to be substantially higher as well they often require a number of days to order the foreign money in. Skip the wait and the higher fees. **I know many prefer to exchange their money upon arrival to their destination but I'm a planner and feel more comfortable arriving money in hand.
Have your toiletry bag ready to go..re-pack it upon your arrival home from a trip so it's at the ready for your next adventure. This was in my last life hacks post, but it's worth mentioning again!
Pack your toiletries into two separate bags…pack one in your carry-on bag and one in your personal bag to maximize the amount of liquids you can bring in-flight.
Keep the pouch game strong. I have 3 pouches…one each for: technology (my iPad, cords, etc), in-flight necessities (medications, supplements, essential oil spray,, antibacterial lotion) and one with miscellaneous items (a scrunchie, my travel collagen packs , bandaids, brush). The pouches keep my items easy to access, while still fitting narrowly and efficiently into my travel bag.
On those long haul flights, practice your regular night time ritual to help you fall asleep. Wash your face, brush your teeth, put on some warm socks. Make it fun and use a sheet mask to keep your skin hydrated…or if you're not brave enough, apply moisturizer to mitigate the dry in-flight air!
Keep a laundry detergent travel pack in your bag. All you require is a sink and one of these packs to clean those coffee drips, dirt spots or grime from being out all day.
Pack a dryer sheet to put in your laundry bag to keep your suitcase from smelling anything less than fresh.
Always pack an extra pair of undies and a t-shirt. Losing your luggage is never optimum but having a couple of necessities packed can alleviate the stress.
Consider immersing yourself into the culture by staying at an airbnb rather than a hotel. I also find that there is a bit more of flexibility when it comes to rates. Ask (politely!) if there is any movement available with the nightly fee. I have found when I'm booking short notice there tends to be more flexibility as people would rather have their space occupied than nothing at all.
Set all your clothes out to pack…and then take out half! Ok, that might be a bit heavy handed. But…since I've gotten into the whole carry on thing, it's been freeing! The truth is, you have your favourite items. Bring those and leave the rest.  Choose a more "capsule" type wardrobe with mostly solids that can mix and match with each other.  You'll travel lighter (figuratively and literally) and you'll have some extra space to bring some treats home!
Throw a packable daypack in your bag…I can't tell you how many times this has come in handy. They can serve as a beach bag or hiking pack..and take up precious little space.
Here's one that I've heard just as of late. This is one that I haven't yet compared but am going to put this to the test asap. I'm told you should book your flight with a private browser.  Sites collect cookies which means they can record your visits. If you've been searching flights, these websites take note and raise their ticket prices to encourage you to panic and purchase. Ack…there's a part of me that doesn't want to believe this could be true.  But if it's true, it'll change how I search.  If you use Chrome you can switch to a private browser, but going to file and clicking "New Incognito Window".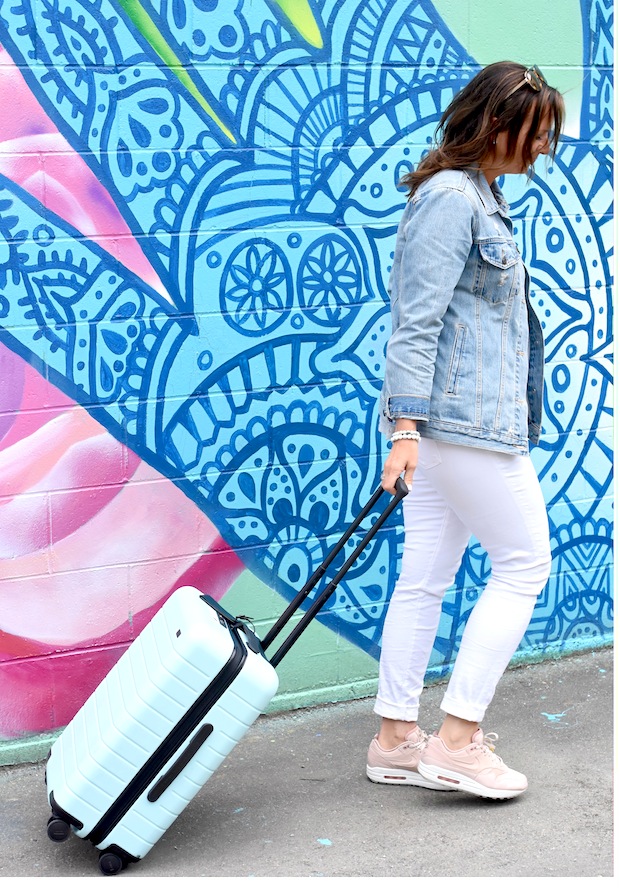 | Carry On Bag |
Ok..let's quickly talk about my carry on. I'm kinda obsessed with it…not only can I fit an unbelievable amount in it, but I can also charge my devices with the portable charger on the suitcase. I've included the link for the "refer a friend" program for this bag. …it's good to receive $20 off your purchase! PS When I was shopping for my Away Carry On, I found that the bag was less expensive to purchase on the US site and have it shipped to border shipping where I could pick it up myself. If you are close to the border, I'd highly recommend this:)
Happy travelling, friends! Have I forgotten some major hacks you use? I hope you'll share them with us! Wishing you all an AWESOME July long weekend! Summer has begun…yay! Thanks so much for reading. Laurel xo