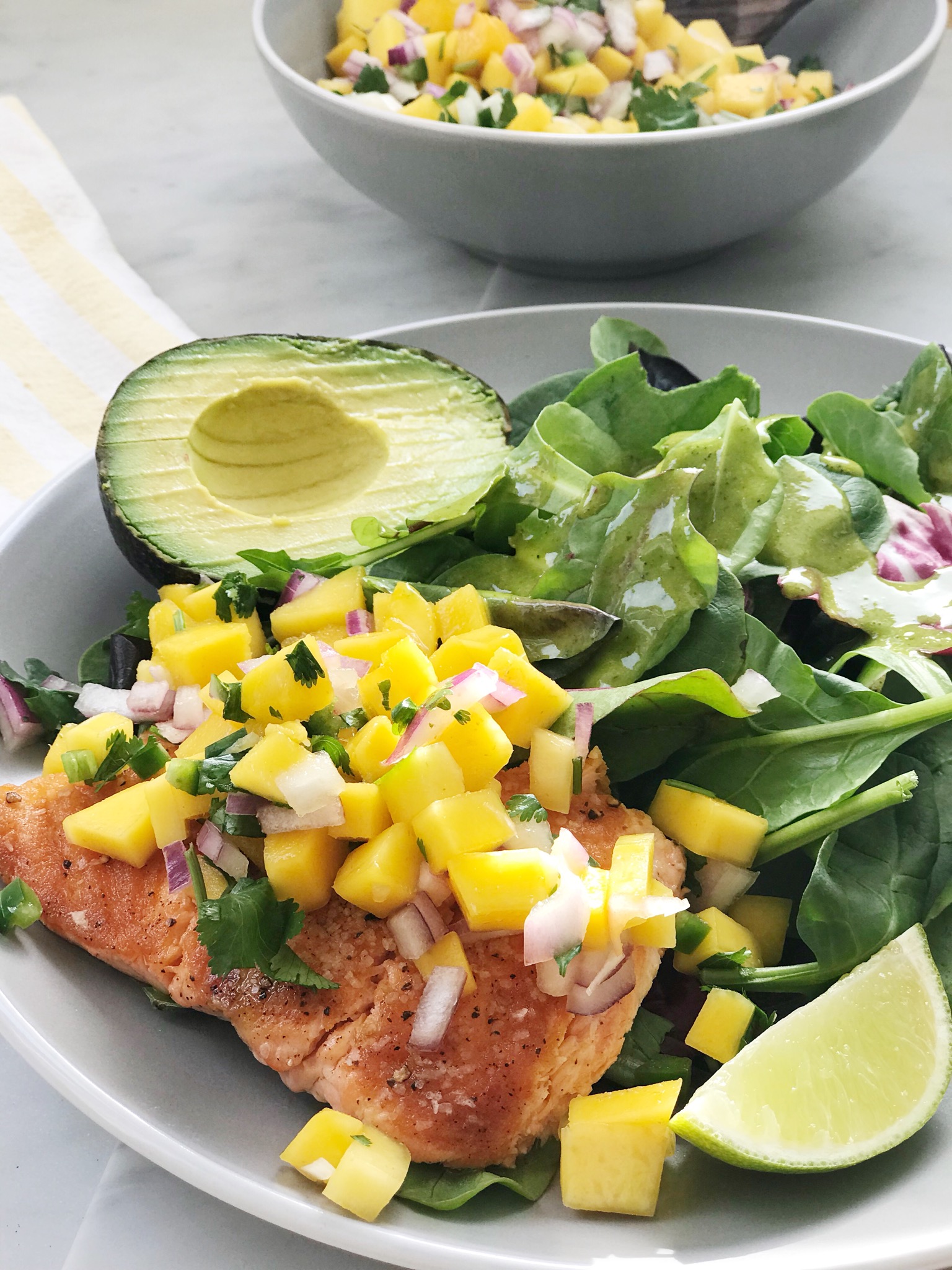 When spring arrives, we start eating a lot more salads for dinner.  The key for our family is still to have a generous portion of protein, so that the salad is filling and satisfying.  I put this salmon salad together last week and put it on my story.  Laurel asked for the recipe and I was like I just threw it together.  But I said I'd make it again and figure out the measurements.  I love the fresh taste of the lime cilantro dressing and the mango salsa is everything.  And all of the ingredients are good for you!  So you can feel great about making this for the fam jam!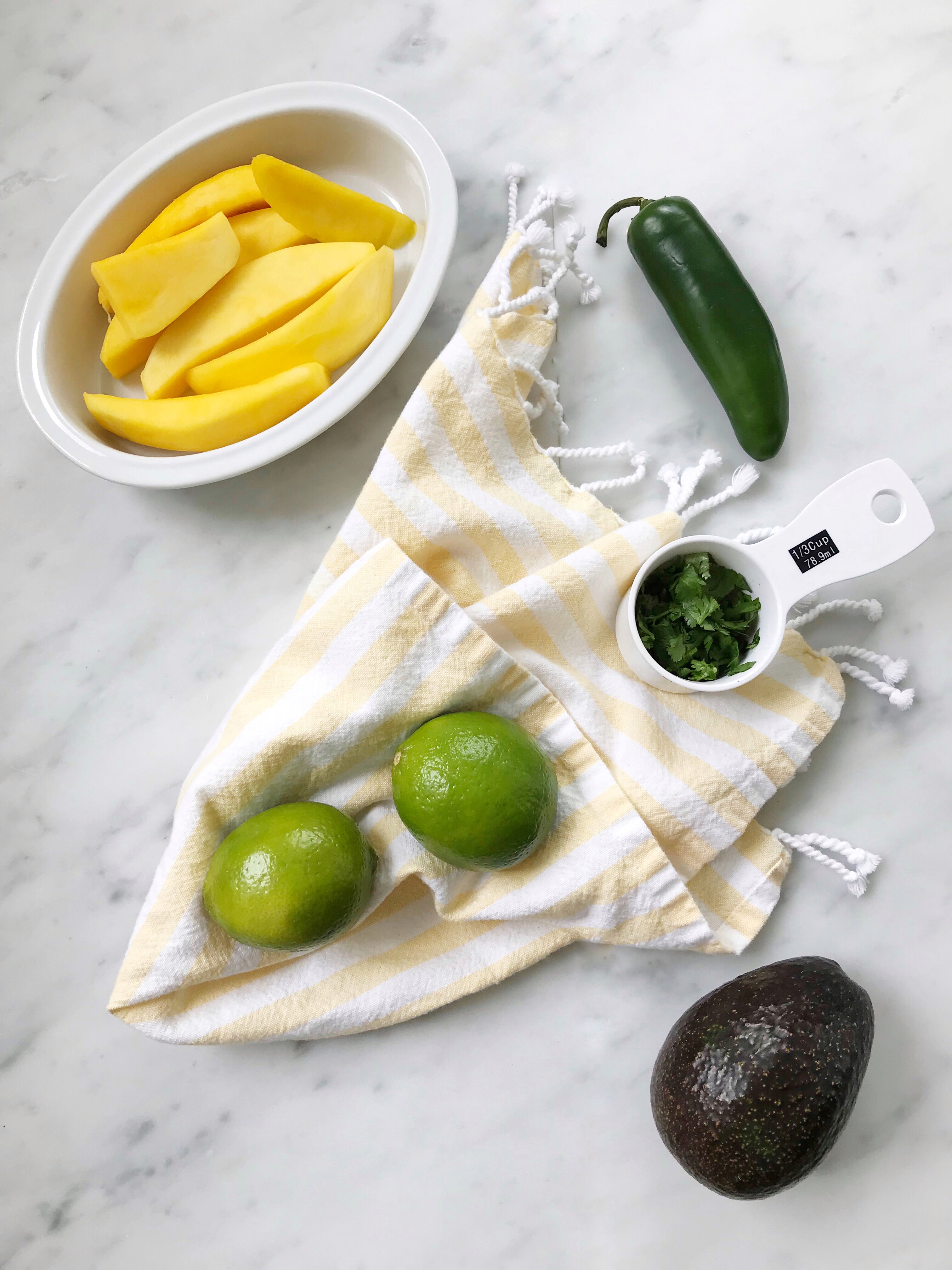 This recipe looks like a lot, but it's a whole meal, so you can do it!  It really only takes about 30 minutes to prepare.

Salmon Salad with Mango Salsa and Lime Cilantro Dressing
Ingredients
½ cup olive oil
4 limes, juiced or ¼ cup lime juice
½ cup fresh cilantro, chopped
2 teaspoons honey
1 teaspoon kosher salt
freshly ground pepper
red chili flakes, optional
1 mango, peeled and diced into very small cubes
¼ red onion, finely diced
½ jalapeno pepper, ribs and seed removed, finely diced
¼ cup fresh cilantro, chopped
½ teaspoon cumin
1 lime, juiced
800 grams salmon fillets, cut into desired serving sizes
1-2 teaspoons olive oil
kosher salt
freshly ground pepper
mixed greens
avocado, ½ per person, sliced
Instructions
For the dressing, in a blender, combine ½ cup olive oil, the juice of 4 limes, ½ cup chopped cilantro, honey, 1 teaspoon kosher salt, freshly ground pepper and red chili flakes (if using). Blend until well combined and set aside.
To prepare the salsa, peel and chop the mango. Add the chopped red onion, jalapeno pepper, ¼ cup cilantro, cumin and juice of one lime. Combine and refrigerate until ready to serve.
Cut salmon fillets into desired sizes. Salt and pepper the non-skin side Heat frying pan on med-high heat with 1-2 teaspoons of olive oil. Cook salmon fillets, skin side down first. Once the skin is crispy, turn over and peel off skin. Salt and pepper that side. Once the salmon looks almost cooked through, turn over one more time to crispy up the side that had the skin removed. This will take approx. 10-15 minutes, depending on the thickness of the fillets.
To serve, add a generous helping of mixed greens to each plate. Drizzle with the dressing. Add half a sliced avocado to each plate as well as a salmon fillet. Top with mango salsa.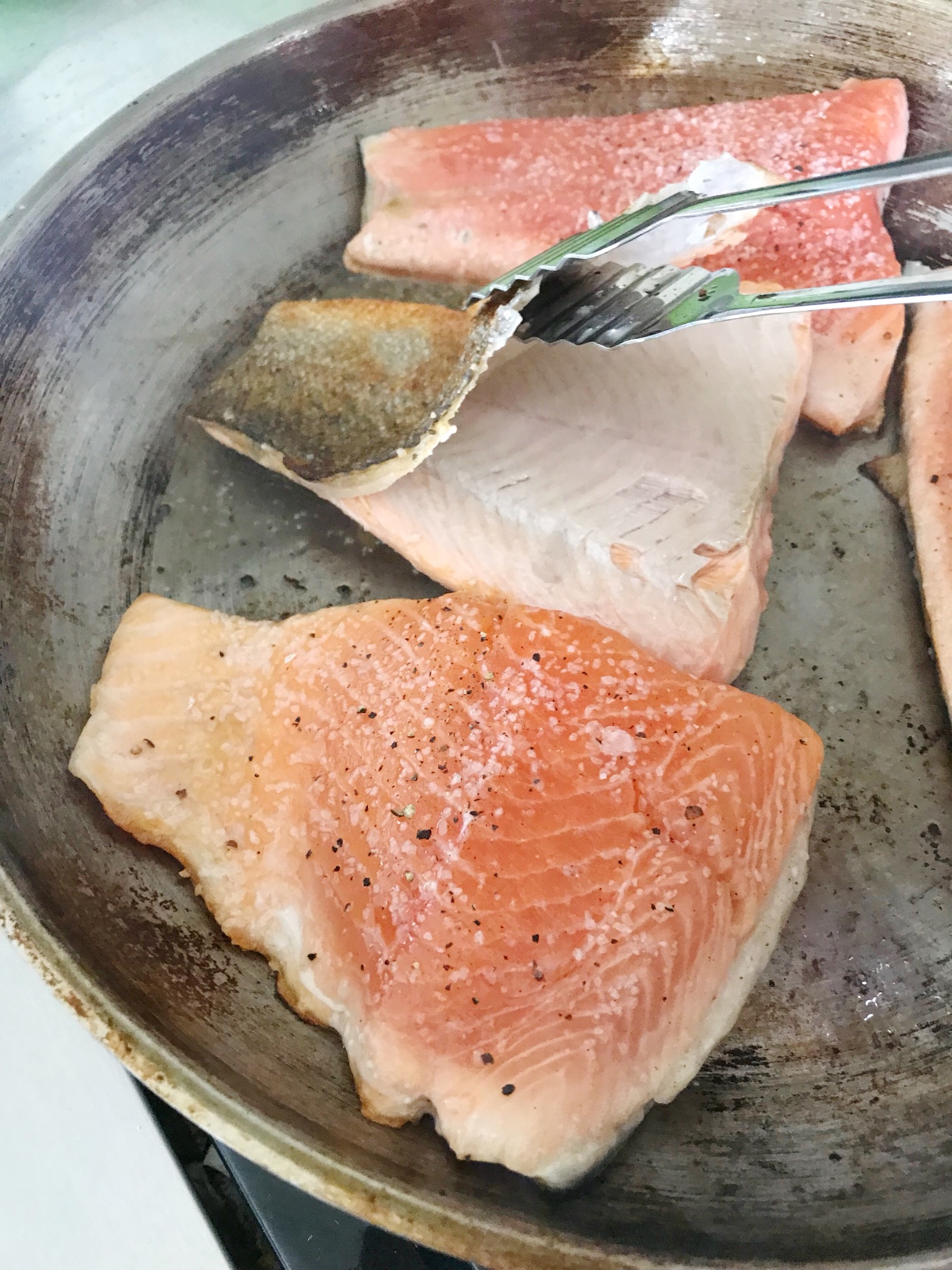 Ok, a couple of notes…You can include cubed avocado in the salsa.  I chose to serve it with the salad separately because I usually have leftover salsa and the avocado will go brown in it.  Also, if you do have leftover salsa and dressing, mix them with the greens (just the greens, not all of the other stuff) from a Sweet Kale Salad Kit and it makes a seriously delicious salad!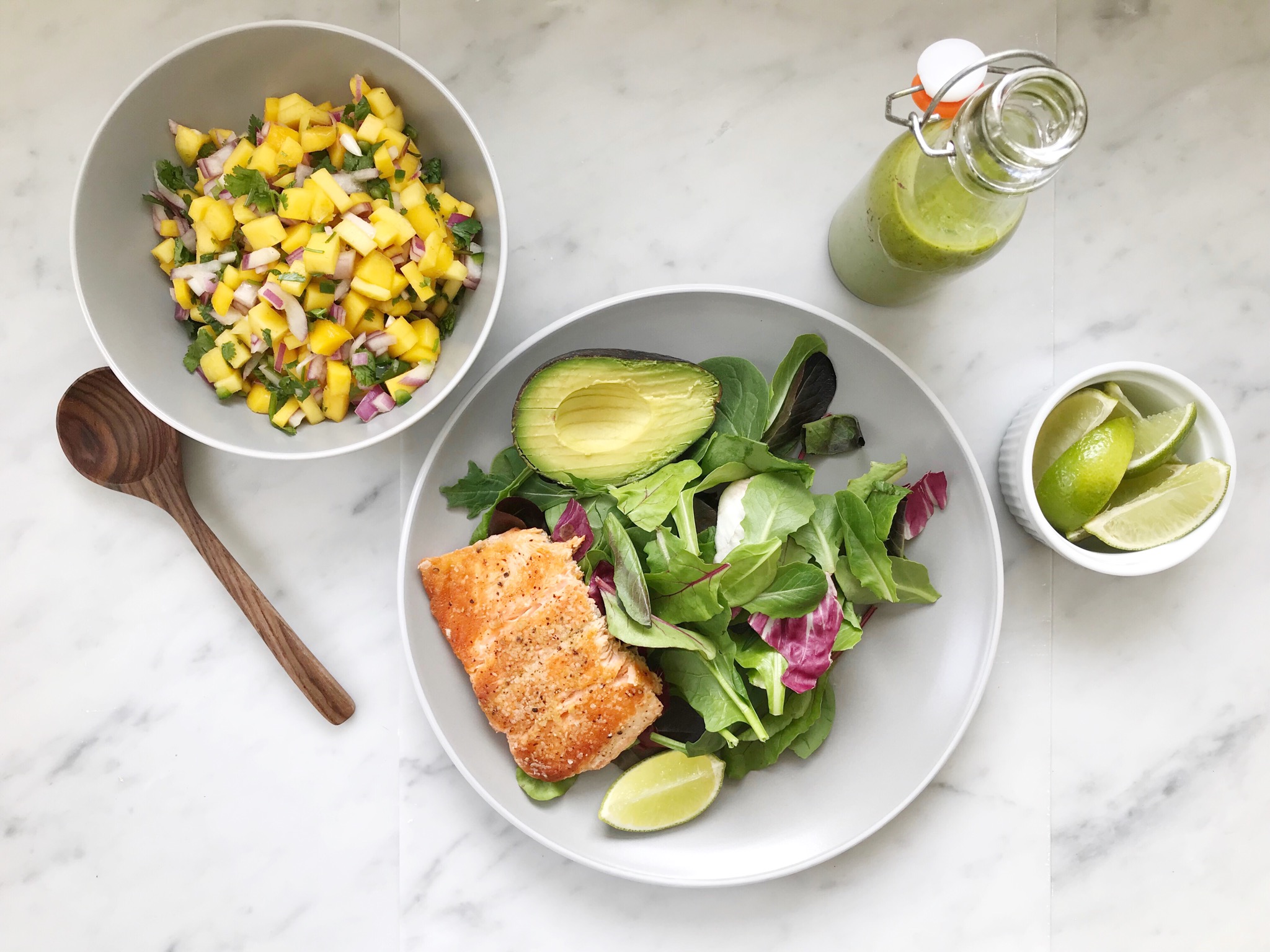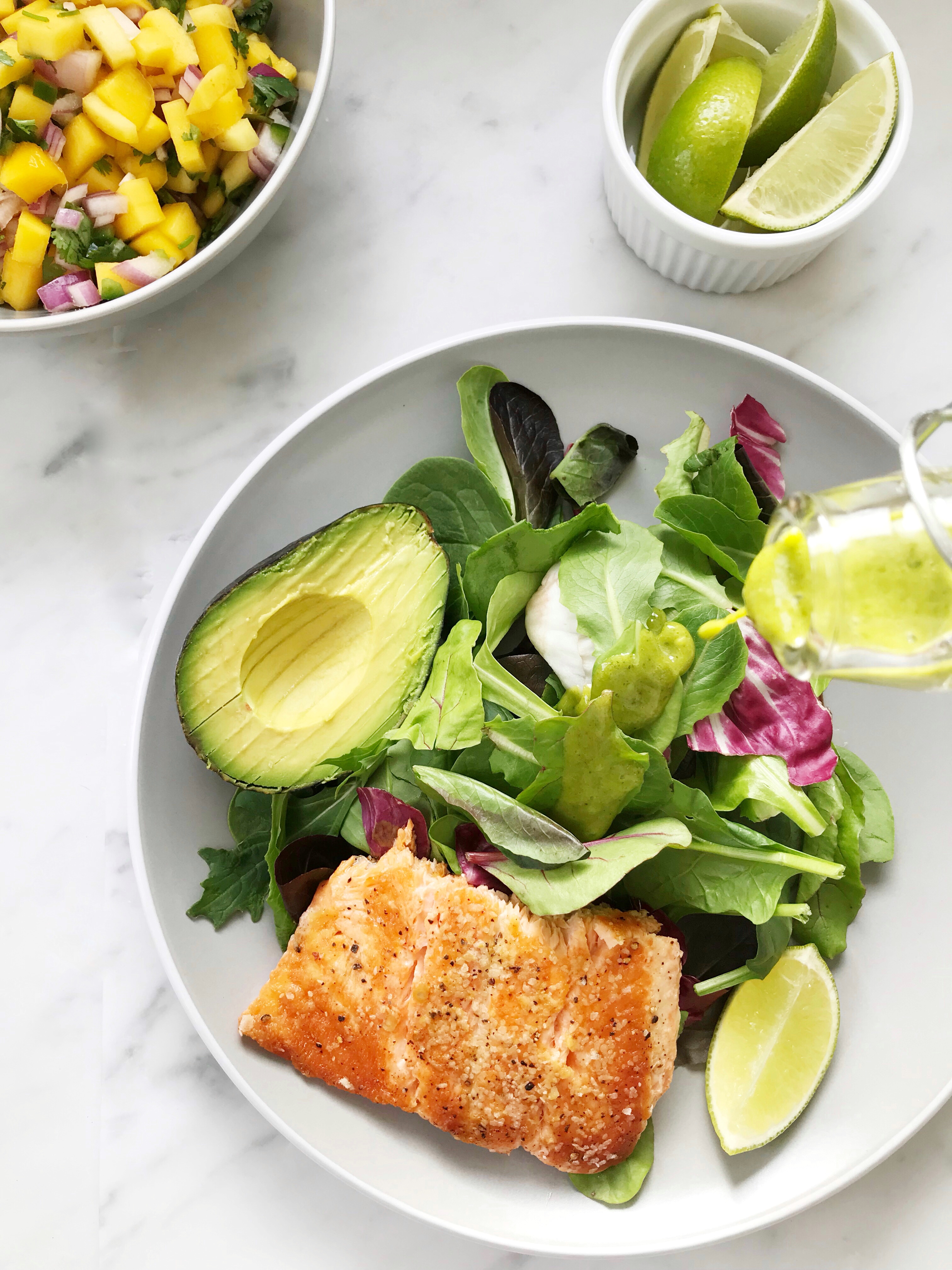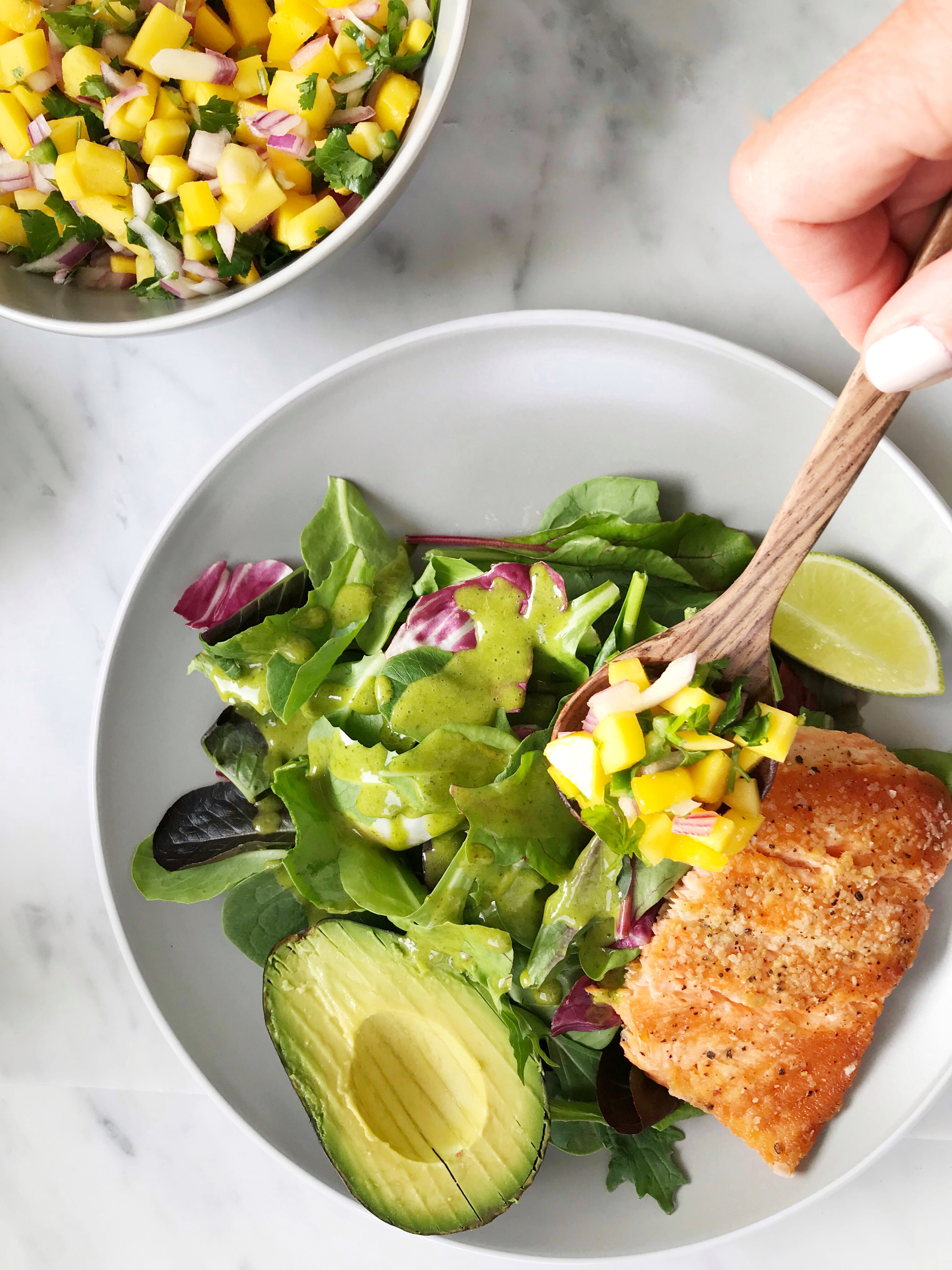 Cooking the salmon in the olive oil gives it a nice crispy crust.  And salmon is just so good for you…it's an awesome source of protein and omega-3 fatty acids, which is good for the brain!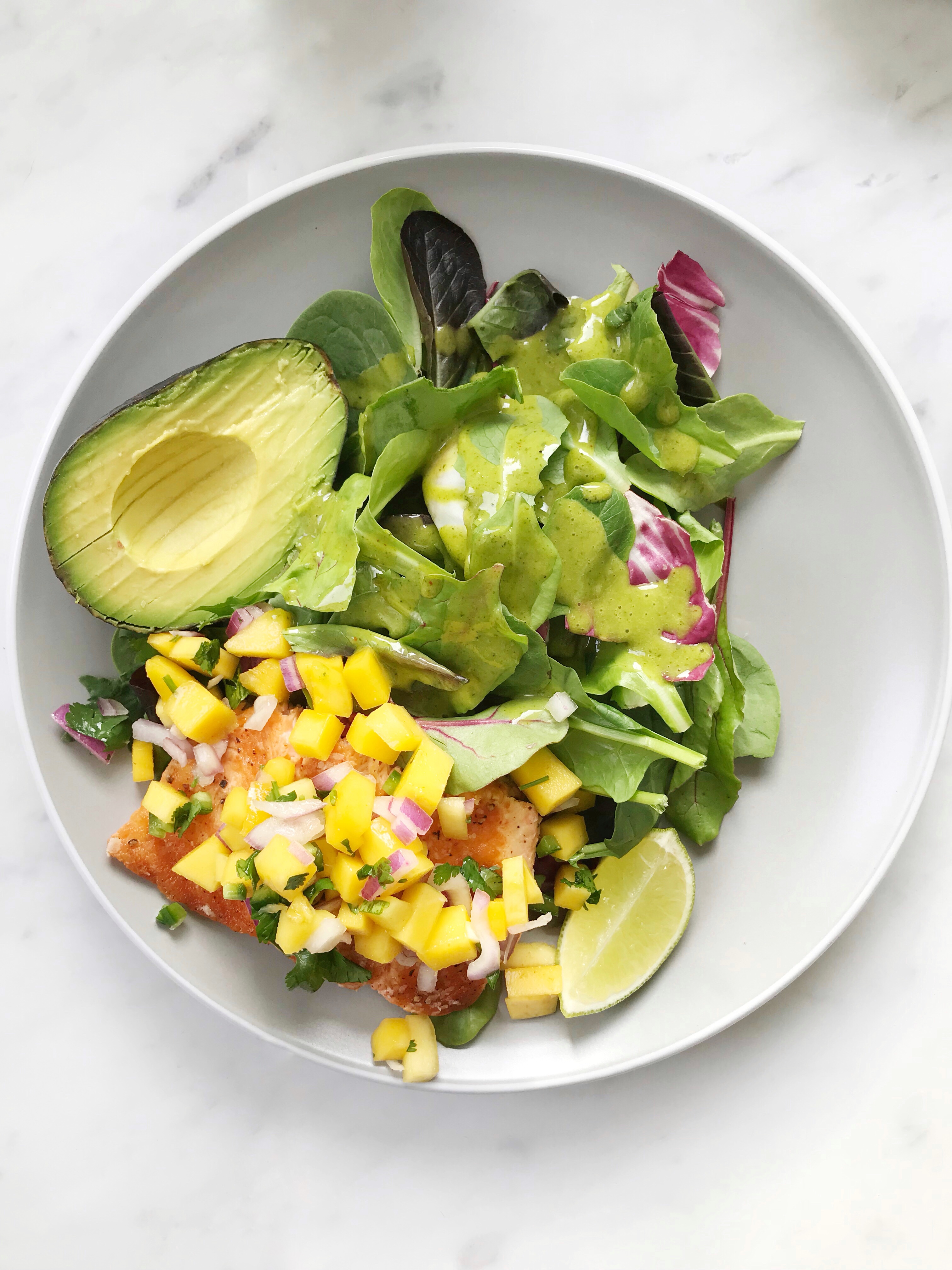 This meal is a great way to get your greens in.  It's fresh, satisfying and really good for you!