Salmon Salad with Mango Salsa and Lime Cilantro Dressing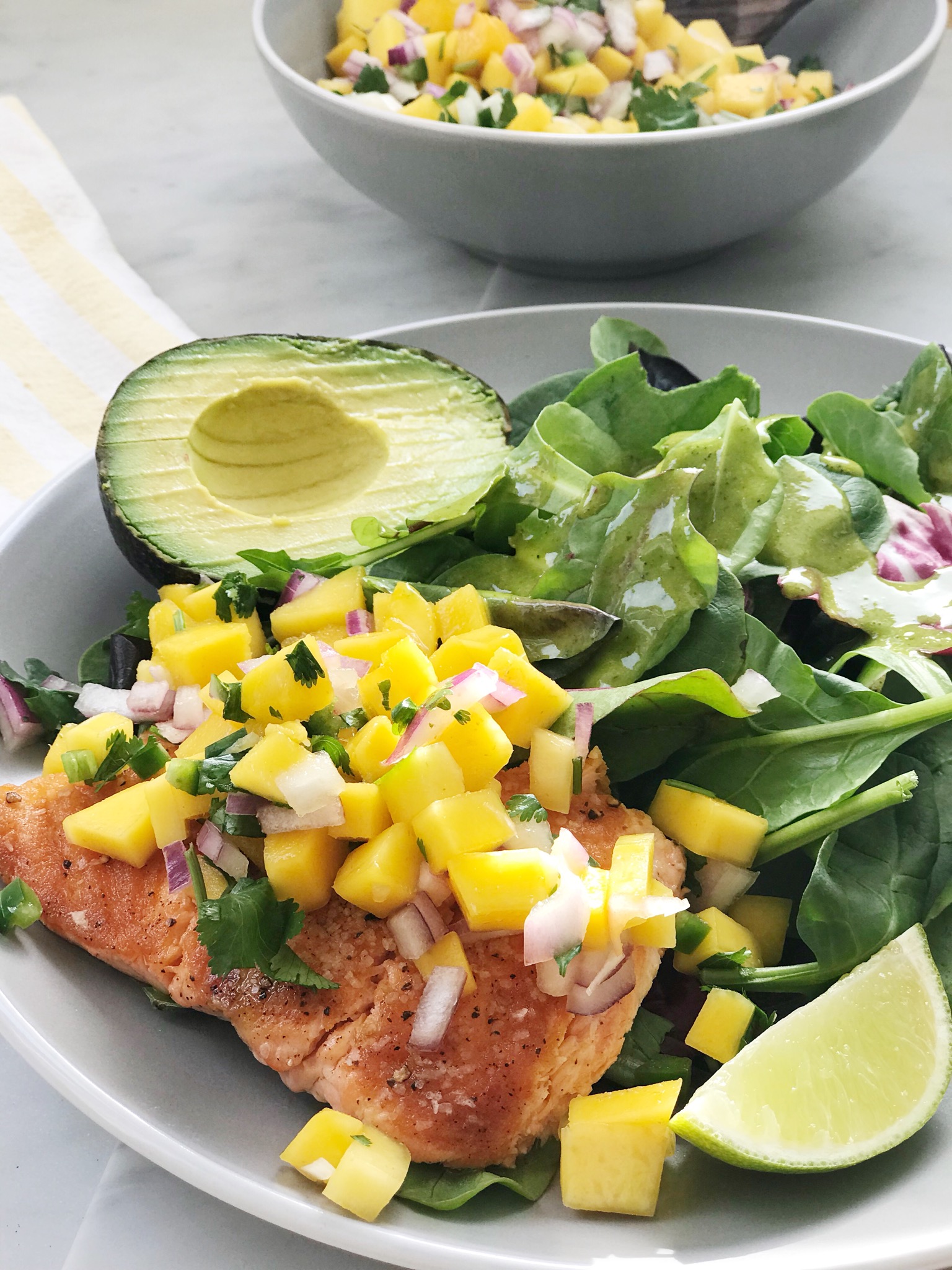 ½ cup olive oil
4 limes, juiced or ¼ cup lime juice
½ cup fresh cilantro, chopped
2 teaspoons honey
1 teaspoon kosher salt
freshly ground pepper
red chili flakes, optional
1 mango, peeled and diced into very small cubes
¼ red onion, finely diced
½ jalapeno pepper, ribs and seed removed, finely diced
¼ cup fresh cilantro, chopped
½ teaspoon cumin
1 lime, juiced
800 grams salmon fillets, cut into desired serving sizes
1-2 teaspoons olive oil
kosher salt
freshly ground pepper
mixed greens
avocado, ½ per person, sliced
For the dressing, in a blender, combine ½ cup olive oil, the juice of 4 limes, ½ cup chopped cilantro, honey, 1 teaspoon kosher salt, freshly ground pepper and red chili flakes (if using). Blend until well combined and set aside.
To prepare the salsa, peel and chop the mango. Add the chopped red onion, jalapeno pepper, ¼ cup cilantro, cumin and juice of one lime. Combine and refrigerate until ready to serve.
Cut salmon fillets into desired sizes. Salt and pepper the non-skin side Heat frying pan on med-high heat with 1-2 teaspoons of olive oil. Cook salmon fillets, skin side down first. Once the skin is crispy, turn over and peel off skin. Salt and pepper that side. Once the salmon looks almost cooked through, turn over one more time to crispy up the side that had the skin removed. This will take approx. 10-15 minutes, depending on the thickness of the fillets.
To serve, add a generous helping of mixed greens to each plate. Drizzle with the dressing. Add half a sliced avocado to each plate as well as a salmon fillet. Top with mango salsa.
Recipe by
Sugar Plum Sisters
at https://sugarplumsisters.com/2018/04/salmon-salad-with-mango-salsa-and-lime-cilantro-dressing/