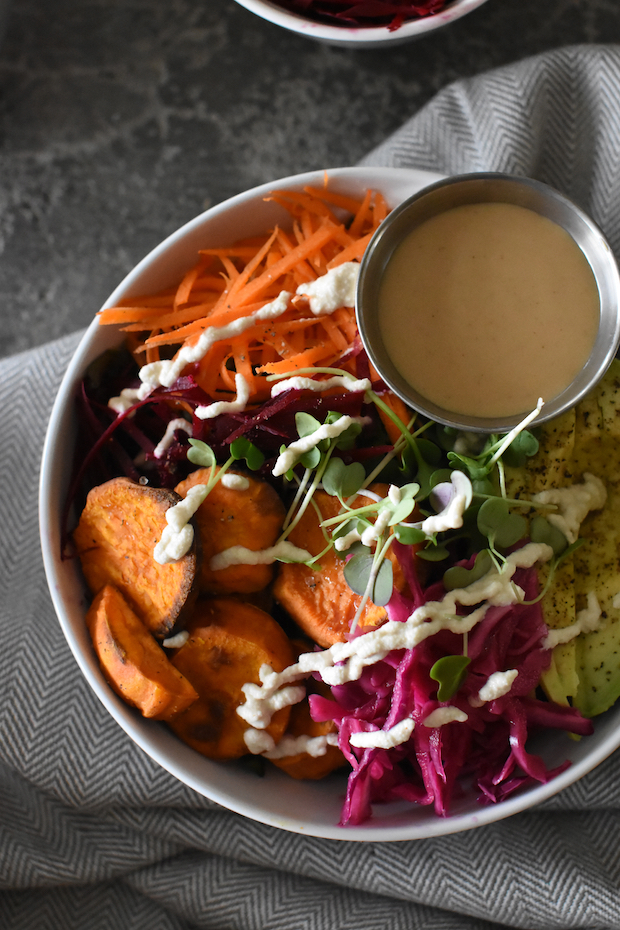 For the last couple of months I have been lamenting the absence of weeknight family dinners. They are in  extremely short supply as the kids have their sports at times which make a "sit down" dinner impossible. Besides the driving schedule (we ain't even going to touch that! I know, I know, we signed up for it!) this timeline makes dinner planning a little more challenging. We like to eat fresh. And healthy. But it's tricky to accomplish that when everyone is either eating at different times or eating on the run.
I've been on a mission to come up with some solid go-to options. One of which is one bowl meals. A hearty buddha bowl totally fits the bill. It take a bit of prep…BUT…once you have all of the components, you can actually create bowls for a number of days. It's all about the prep, guys! In fact, I ate the remnants of this recipe for about 4 days…changing it up here and there. Our family also enjoys these types of meals because everyone can customize their bowl to their preferences. I've included all the toppings in this recipe because it's how I eat it, but really there are so many different options.
There's a couple of key components here…. fresh seasonal produce, a hearty grain, and a healthy dressing that serves as a base. Here is my version of a kick butt buddha bowl: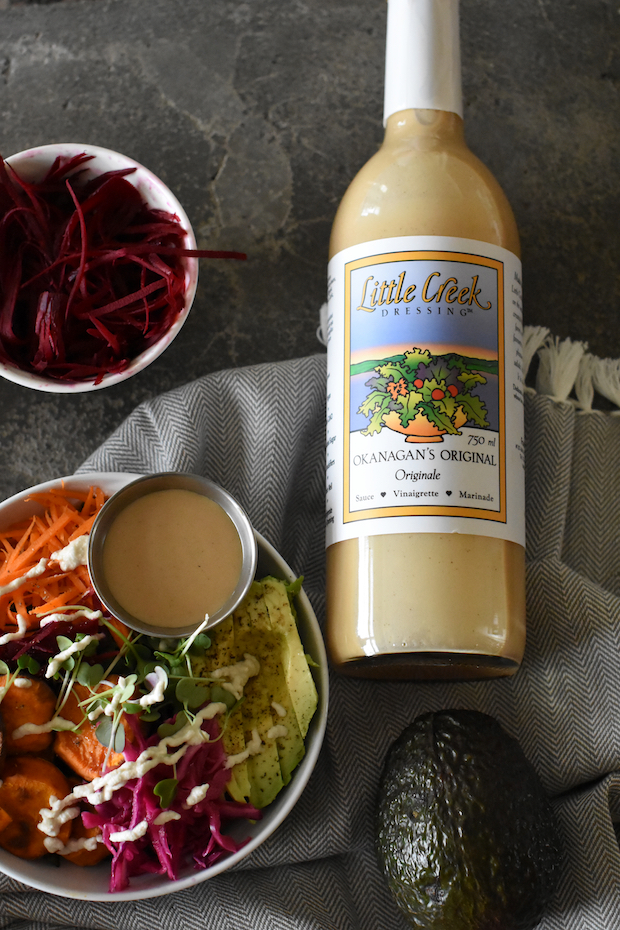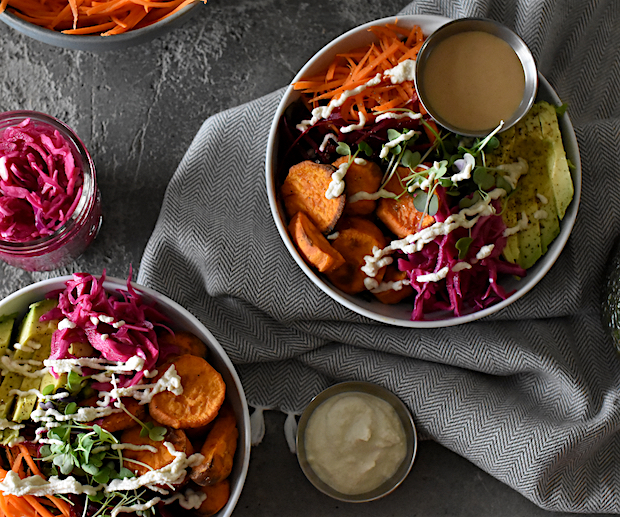 Remember, once you have all of the prep done, the bowls can be made as people come and go. Throw everything into the refrigerator and the leftovers can be enjoyed all week. One note, don't skip out on the pickled cabbage (not just because it's such a pretty fuchsia color!)…it adds the perfect level of tartness/acidity to the dish.  The cashew drizzle also pairs amazing with the Little Creek Dressing. This buddha bowl comes together because of all the different flavours!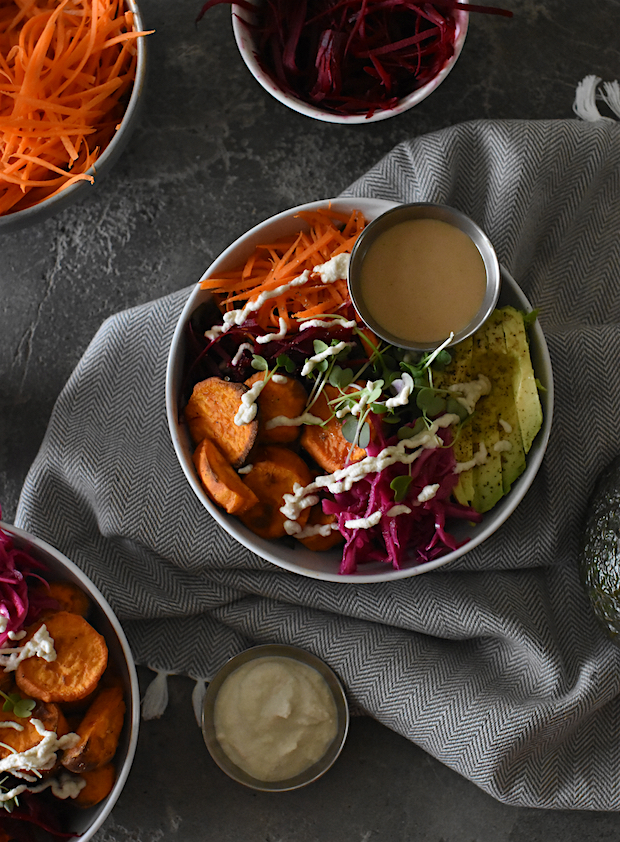 Buddha Bowl
Ingredients
quinoa
carrots, grated
microgreens
beets, grated
sweet potatoes, sliced and roasted
avocado
Pickled Cabbage
½ head of purple cabbage
½ cup apple cider vinegar
⅓ cup red wine vinegar
2 tsp coconut sugar
2 garlic cloves
1 bay leaf
Cashew Drizzle
2 cups cashew
2 garlic cloves
Instructions
Quinoa
Cook quinoa. Combine 1 cup rinsed quinoa and 2 cups water in a saucepan.
Bring to a boil. Cover and simmer for 12 minutes, until water is absorbed.
Fluff with a fork and allow to cool
Pickled cabbage
Use a mandolin or sharp knife to finely grate purple cabbage. Add to a bowl with 1 cup water, apple cider vinegar, red wine vinegar, coconut sugar, garlic cloves, bay leaf and 1 tsp sea salt and freshly ground pepper.
Cover and allow to sit overnight.
Sweet potatoes
Slice into chunks/cubes and roast with olive oil, salt and pepper in a 425 degree oven for approx 30 minutes.
Cashew drizzle
Soak cashews in water for 2 hours. Drain and add to food processor with garlic cloves and 1 tsp salt. Process and serve.
To assemble:
Mix greens, quinoa and Little Creek Okanagan Original Dressing.
Top greens/quiona with:
Beets
Carrots
Pickled cabbage
Microgreens
Sliced avocado
Cashew drizzle
Additional Little Creek Okanagan Original Dressing
Make sure you to visit our insta … @sugarplumlaurel and @sugarplumpam … where we're hosting a crazy awesome giveaway to give 3 of you readers a holiday 4 pack of Little Creek Dressing! Yep, it's a good one!
This post was created in partnership with Little Creek Dressing and we received compensation for our participation. Opinions are our own, ALWAYS.. Thank you for supporting the sponsors who support the Sugar Plum Sisters! Laurel xo