Buddha Bowl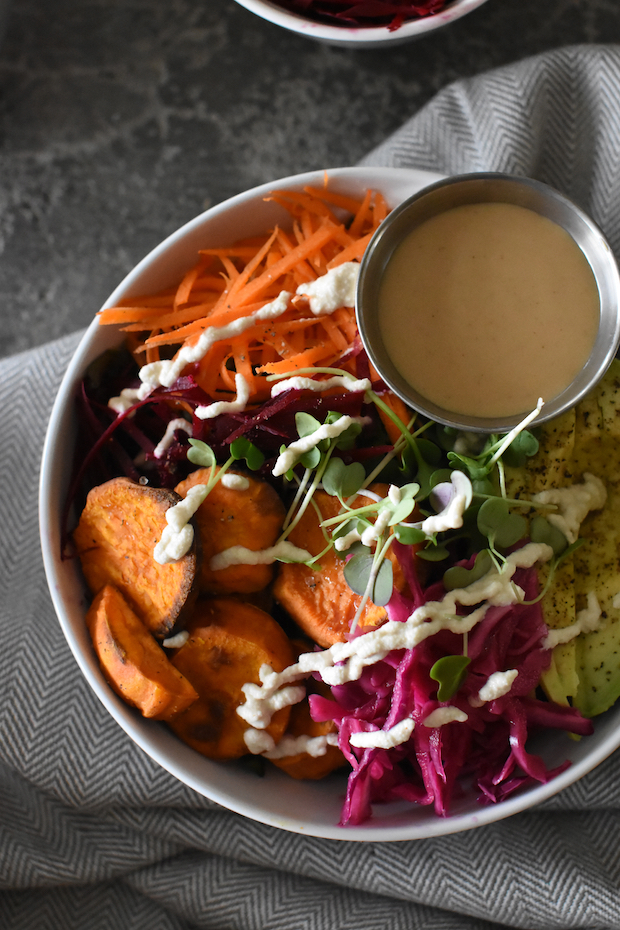 quinoa
carrots, grated
microgreens
beets, grated
sweet potatoes, sliced and roasted
avocado
½ head of purple cabbage
½ cup apple cider vinegar
⅓ cup red wine vinegar
2 tsp coconut sugar
2 garlic cloves
1 bay leaf
2 cups cashew
2 garlic cloves
Cook quinoa. Combine 1 cup rinsed quinoa and 2 cups water in a saucepan.
Bring to a boil. Cover and simmer for 12 minutes, until water is absorbed.
Fluff with a fork and allow to cool
Use a mandolin or sharp knife to finely grate purple cabbage. Add to a bowl with 1 cup water, apple cider vinegar, red wine vinegar, coconut sugar, garlic cloves, bay leaf and 1 tsp sea salt and freshly ground pepper.
Cover and allow to sit overnight.
Slice into chunks/cubes and roast with olive oil, salt and pepper in a 425 degree oven for approx 30 minutes.
Soak cashews in water for 2 hours. Drain and add to food processor with garlic cloves and 1 tsp salt. Process and serve.
Mix greens, quinoa and Little Creek Okanagan Original Dressing.
Beets
Carrots
Pickled cabbage
Microgreens
Sliced avocado
Cashew drizzle
Additional Little Creek Okanagan Original Dressing