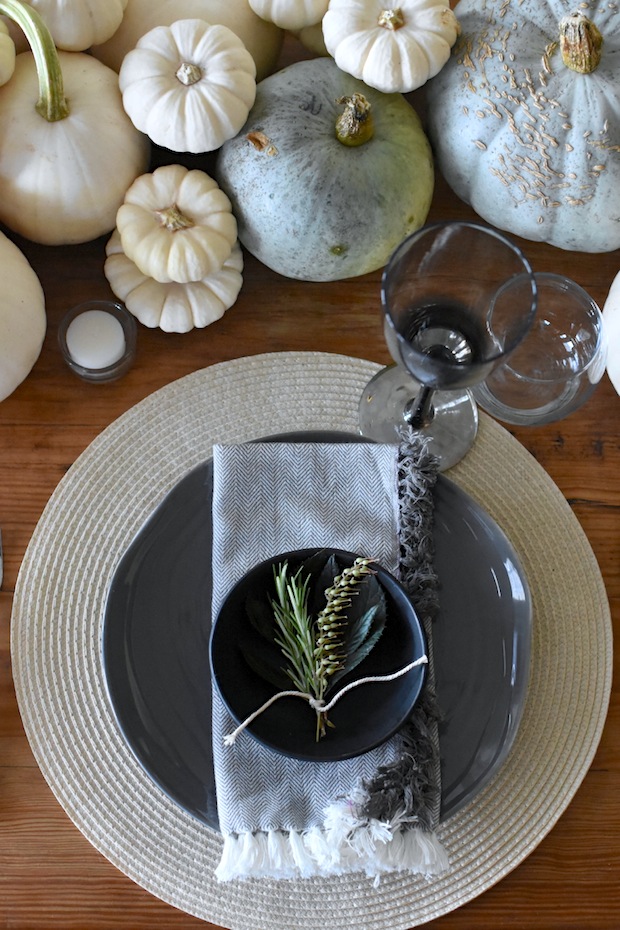 Anyone else feel like Thanksgiving  has crept up on us? Stealthy, I tell ya. Maybe it's been the long Indian summer that we've had…what a treat. This might have been the first time I went to the pumpkin patch in a summer dress!
Ready or not, it's only a week before we Canadians celebrate and so it's time for our annual Thanksgiving table. Pam and I both seriously love putting together a table setting that reflects fall and sets the tone for a delicious Thanksgiving dinner. You might remember that last year, we ventured outside and hosted our families al fresco.  I also loved the personalization that Pam included in this Thanksgiving table.
My idea this year was to keep it super simple. No crafting, painting, gluing. Just collecting some elements and layering them together. The main player here? White pumpkins (ok, I also snuck a couple blue pumpkins in there too because I just couldn't resist the color!). Once I had washed them, it was as easy as placing them all on the table…doesn't get easier than that.
The remaining elements are clean and simple. I decided to ditch the tablecloth (just one more thing to dry-clean, right?) and kept things rustic on the wood tabletop.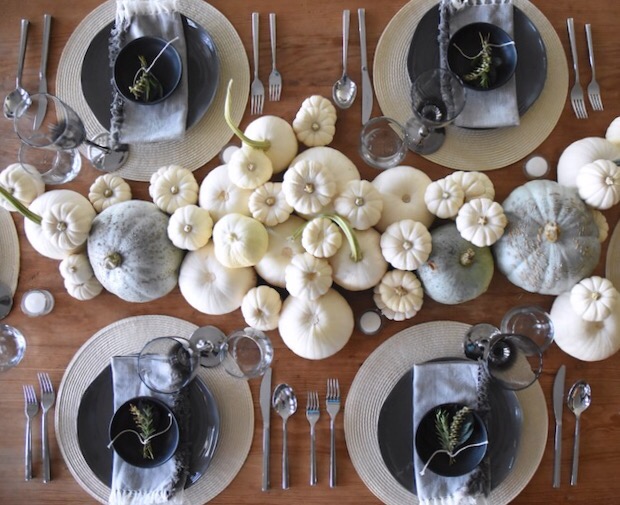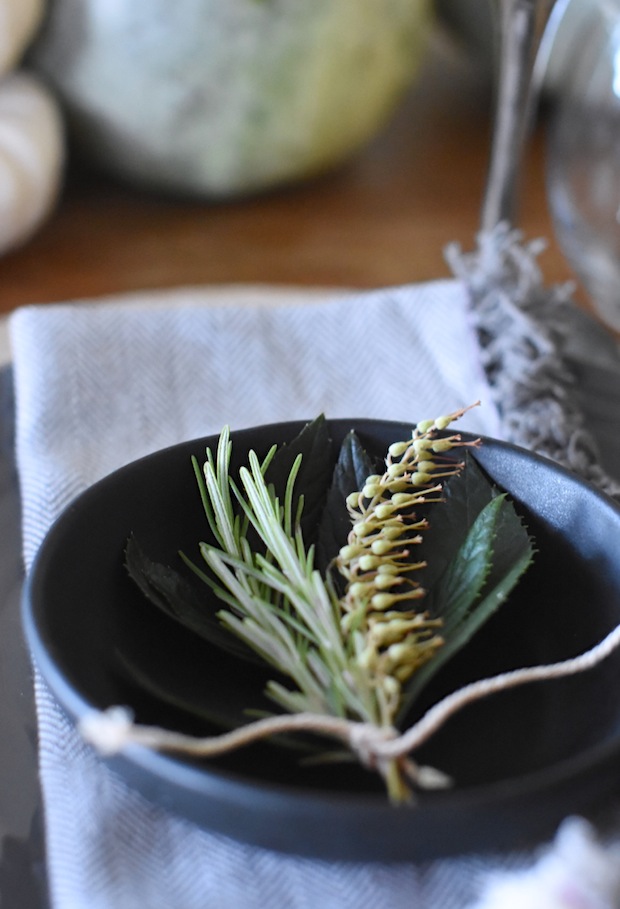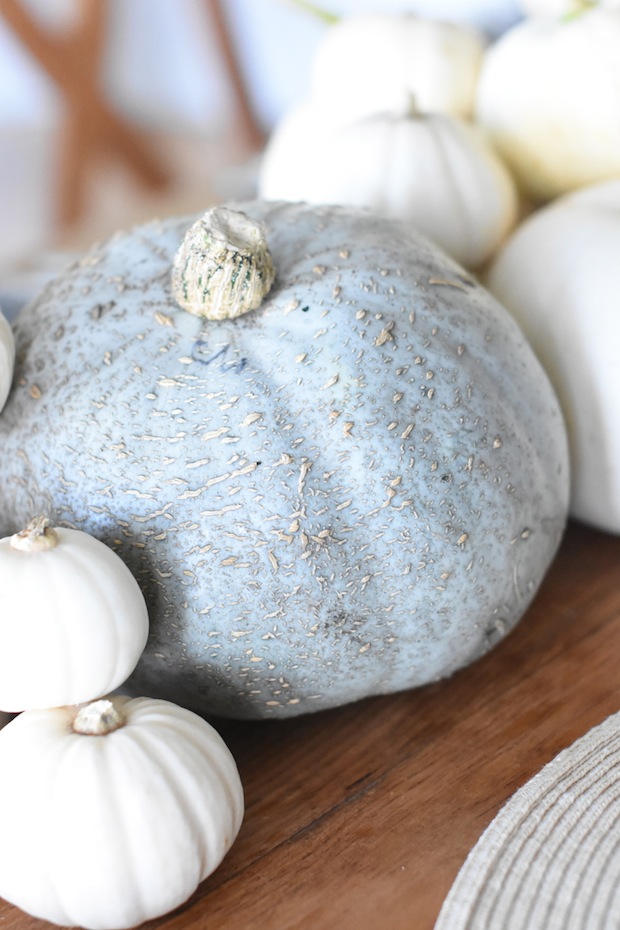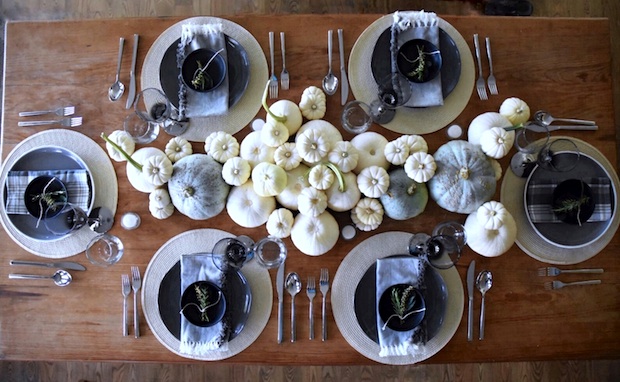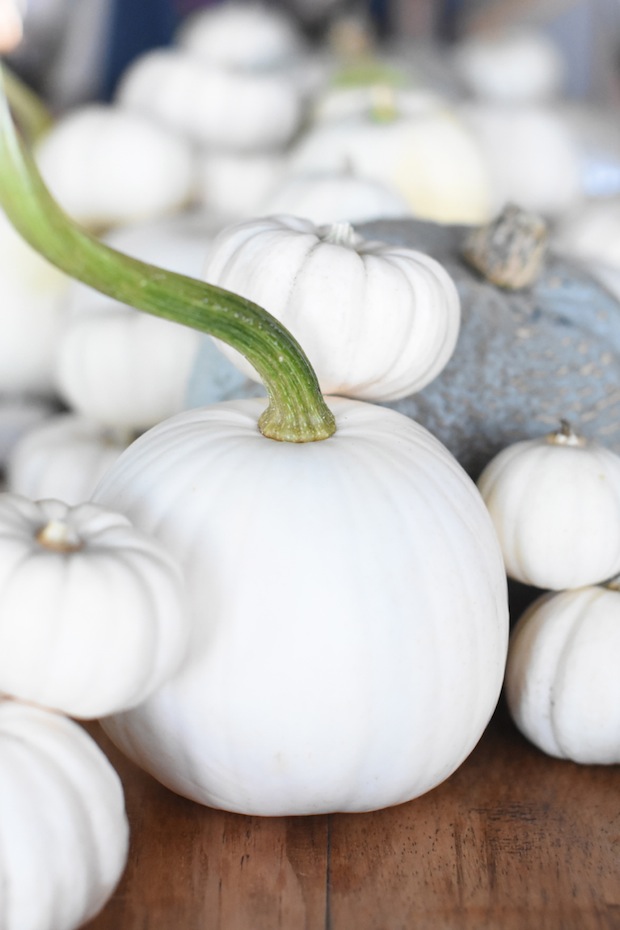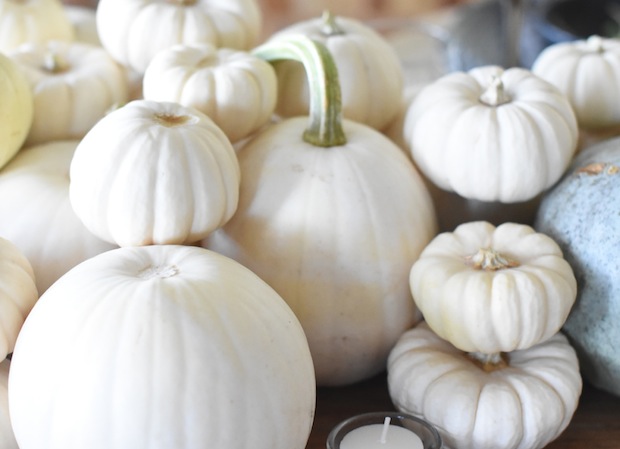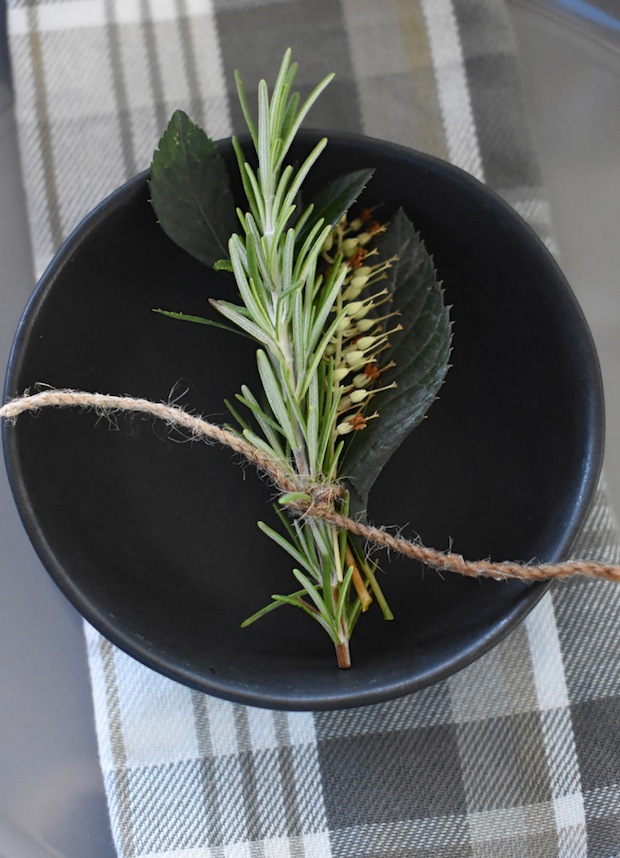 My favourite "touch" on a Thanksgiving table is the addition of herbs…rosemary is my go-to, hands down. Not only does it add a pop of live greenery but its fragrance works so good with the food that's going to be served.  The mini greenery bouquets at each place setting include a rosemary sprig and some greenery I clipped from outside. If you wanted to arrange the seating, a place card could easily be added.
Hope this gets you thinking about your Thanksgiving table and how you can easily create a seasonal look without having to invest hours of crafting. Not that there's anything wrong with that..ha!
And friends, it's giveaway time! In the spirit of fall and Thanksgiving dinner, we have partnered with our friends at Winners/Marshalls to celebrate. It really is the perfect partnership as I find myself looking for entertaining pieces here on the regular! They always seem to have the little finishing touches that I'm looking for…serving platters, napkins, placemats…the details that make for an inviting table.
The lucky winner of the giveaway will win a $250 Winners/Marshalls gift certificate. Hop on over to our IG pages, @sugarplumlaurel @sugarplumpam to enter. It's super easy and you can enter as many times as you like!
Sources:
Placemats, dinner plates, cloth napkins ~ Homesense, Winners
Black appetizer bowls – Chapters
Flatware – Pottery Barn
Pumpkins – Willow View Farms