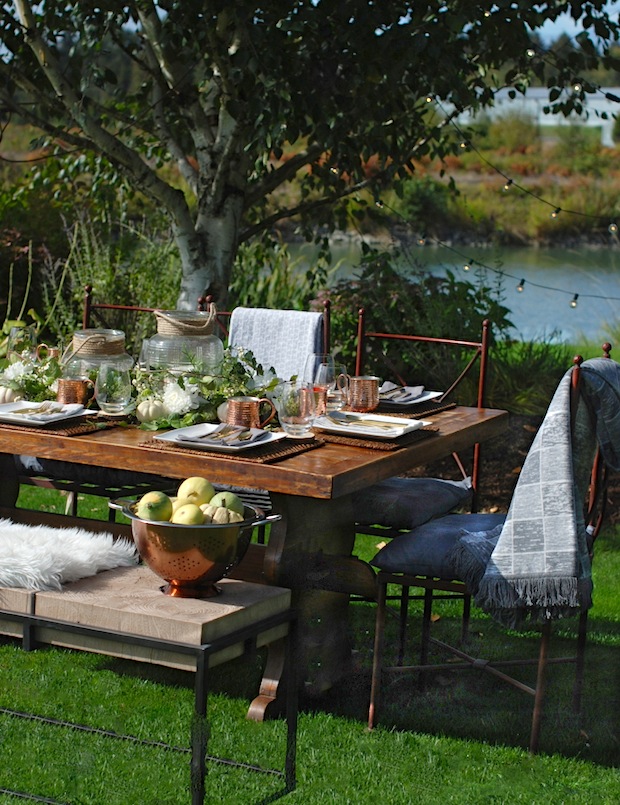 You might have seen that we celebrated Thanksgiving dinner last weekend. Say what? Well, we cooked up an idea that we wanted to be able to share with you and so, we needed some lead time!
Pam and I were talking recently about how early our Canadian Thanksgiving is…we have many memories of us going for walks post "turkey dins ", often in short sleeved tees. It really does seem like this holiday creeps up on us after summer…just about the time we're getting used to the back to school schedule. Why not take advantage of an Indian Summer… or shall we say Indian Fall…by moving dinner outside? After all, the rain will be coming so it makes sense to eke out every last second of warm sunlight. You might think it's way too much work but truthfully, it took minutes to move Pam's table outside. And, if that's not your thing, you can still use your patio furniture..keep it out for a little longer! It was a welcome treat to enjoy Thanksgiving dinner al fresco …I could get used to this…
We really wanted to create a dinner inspo that you would feel like you could replicate ..nothing crazy over the top, but rather, a twist on the usual by re-purposing many items that you would already have in your home. And, of course, we added a couple of special touches that your Thanksgiving table is worthy of.
Pam and I approached some of our favourite shopping haunts to help us out and we are so grateful that they trusted our vision. Winners/Marshalls, Lepp Farm Market, Simply Perfect Flowers and La Z Boy graciously helped us set up our Al Fresco Thanksgiving…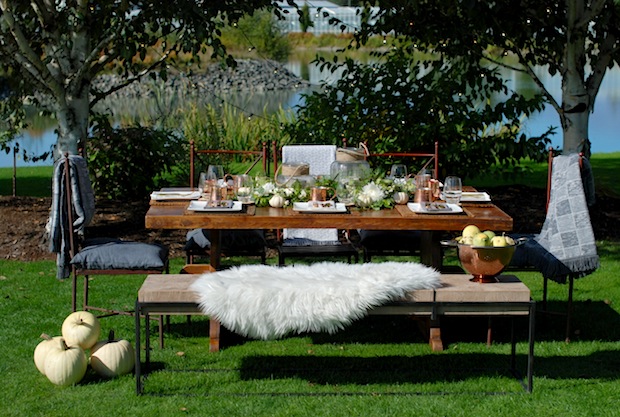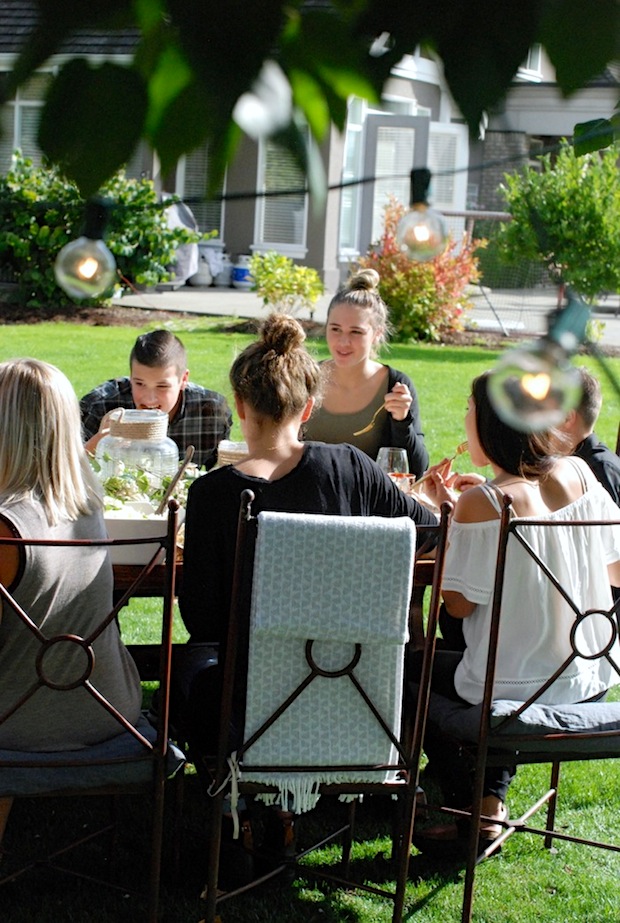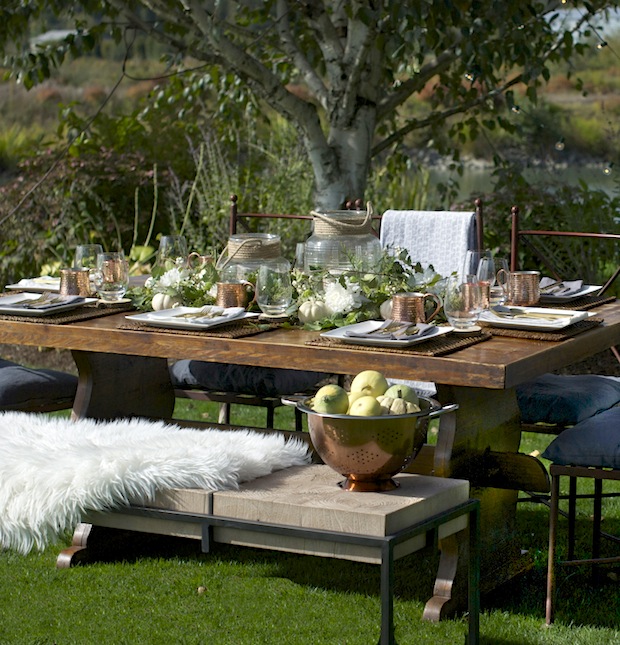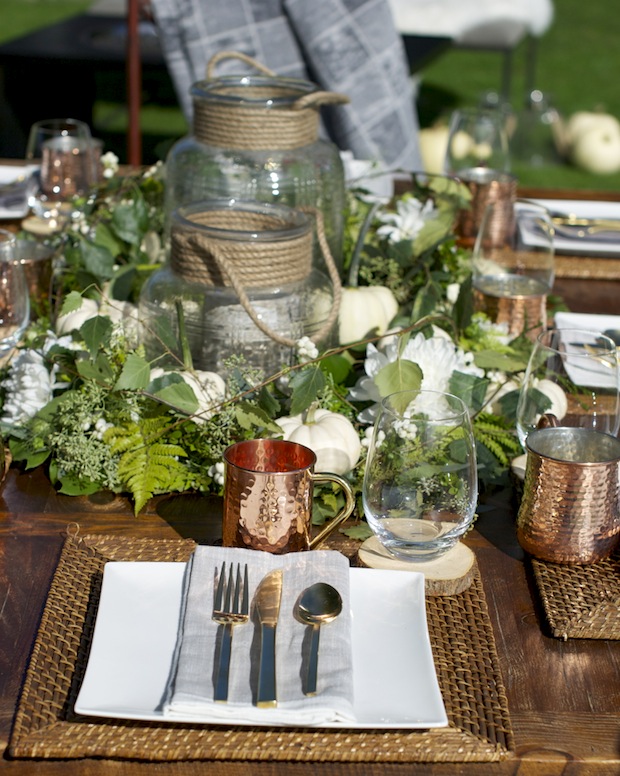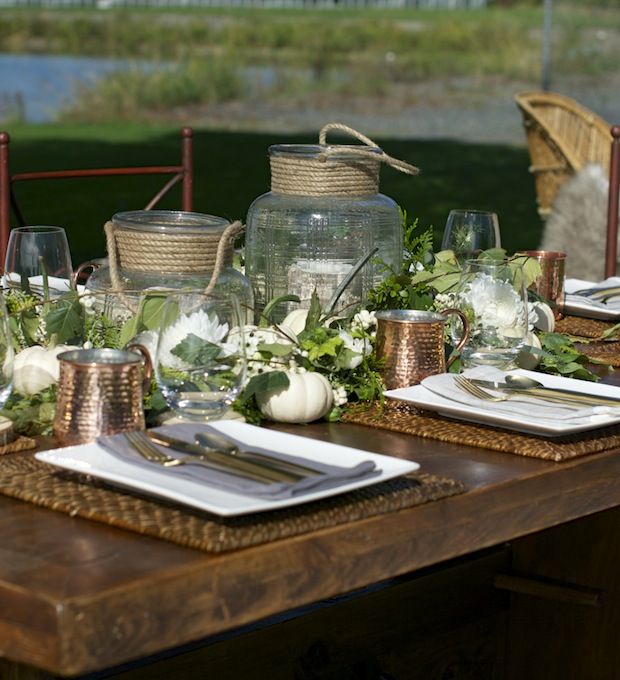 String lights just make everything outside better. I wish we could have stretched our dinner out to make it past sunset…I imagine us wrapped in the cozy throws, enjoying pumpkin snickerdoodle s'mores, huddled around the fire, string lights twinkling in the background. Are you with me? Oh and if you paused at snickerdoodle s'mores, check back with us on Monday…we'll be posting our menu that we served…it was a goodie.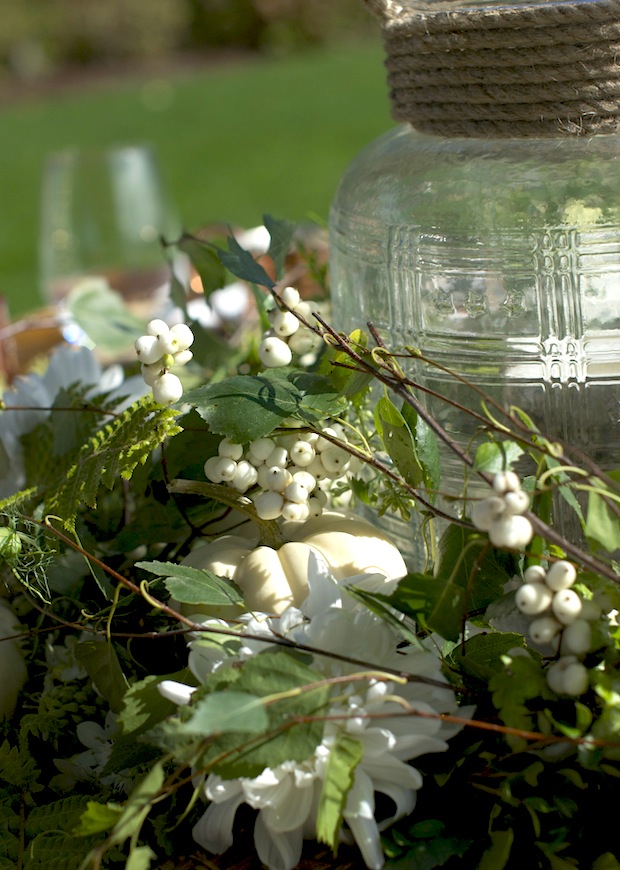 Alexis, of Simply Perfect Flowers, created a gorgeous floral looped runner that really worked with our rustic outdoor vibe. In keeping with foliage and greens that are local (many of which can be foraged in our neck of the woods), this focal point incorporated fern, snowberries, cedar, weeping birch and seeded eucalyptus among others. I kinda fell in love with the snowberries…the little white berries are so pretty, wouldn't you agree?  Contrary to what their name leads you to think, they are in season in fall, not winter, and grow in the wild so keep your eyes open!
The idea here is to decorate with what is in season…we really do live in an area that is home to gorgeous foliage. Use it! Love the little mini white pumpkins as well…why is everything cuter when in miniature size??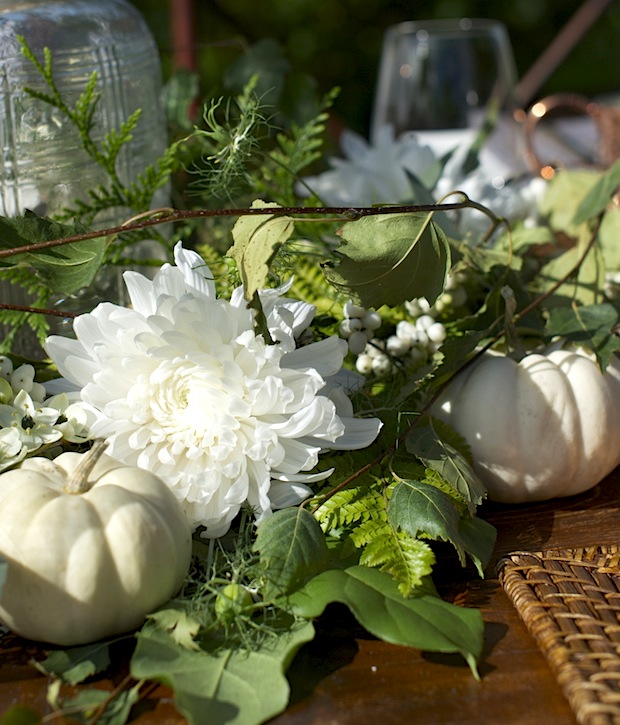 Added touches of metallics, such as the copper mule mugs & gold silverware lent a little touch of luxury. I'm such a lover of the copper mule..we filled them with some seasonal pumpkin chai lattes which were kinda awesome.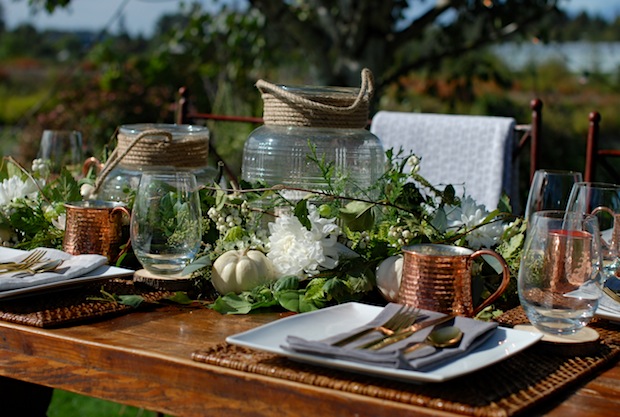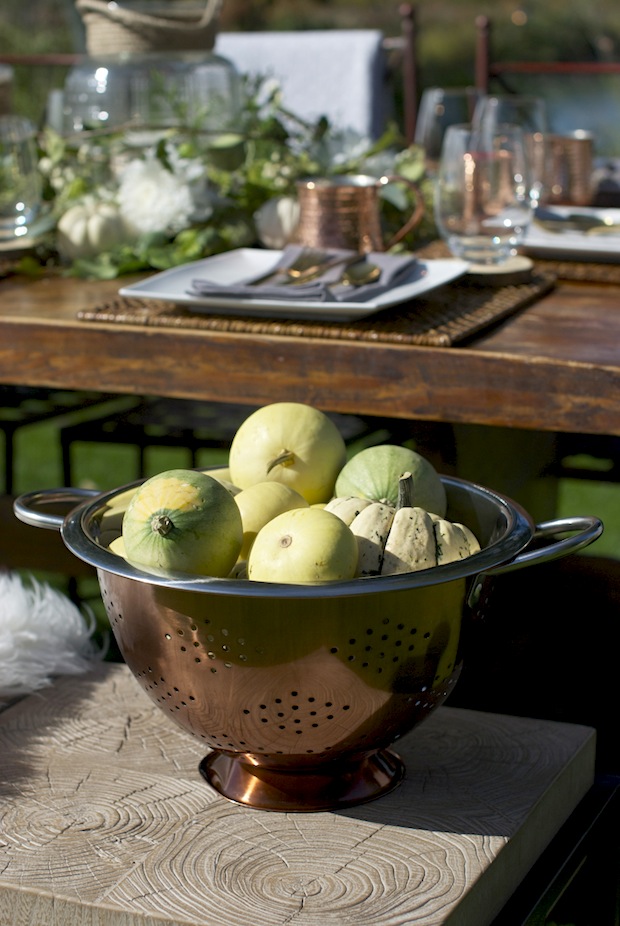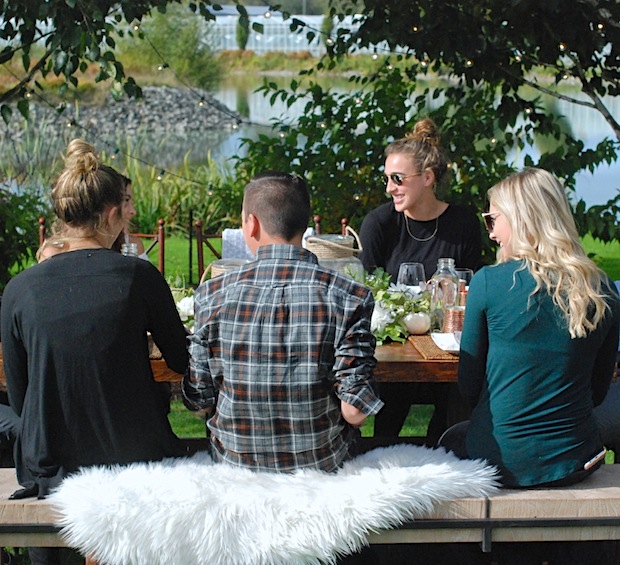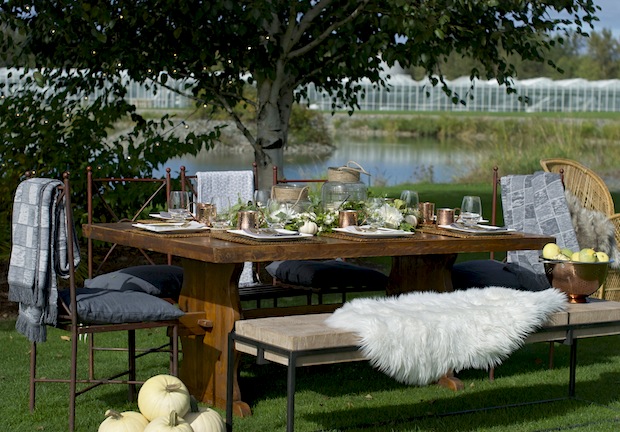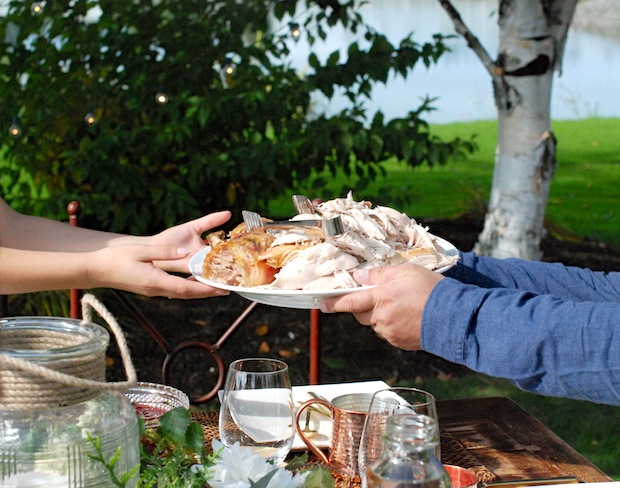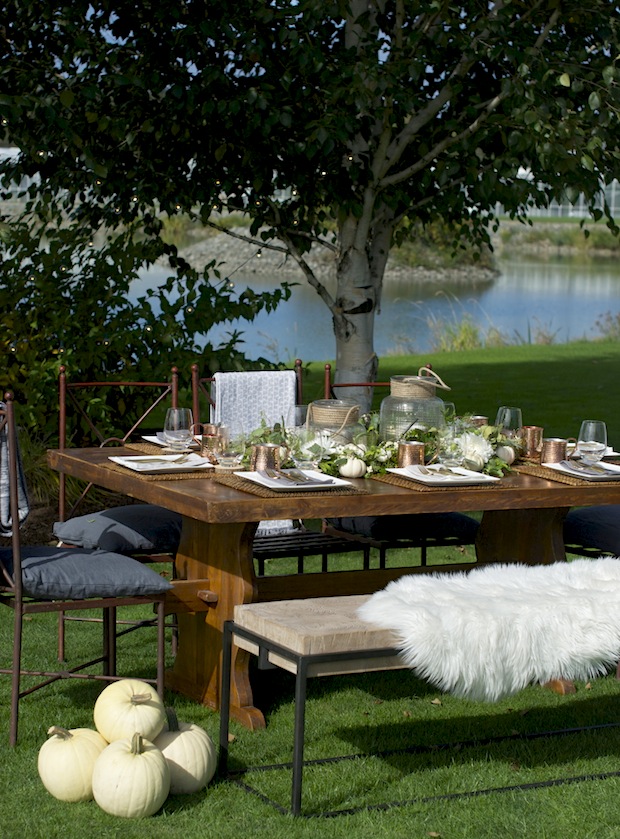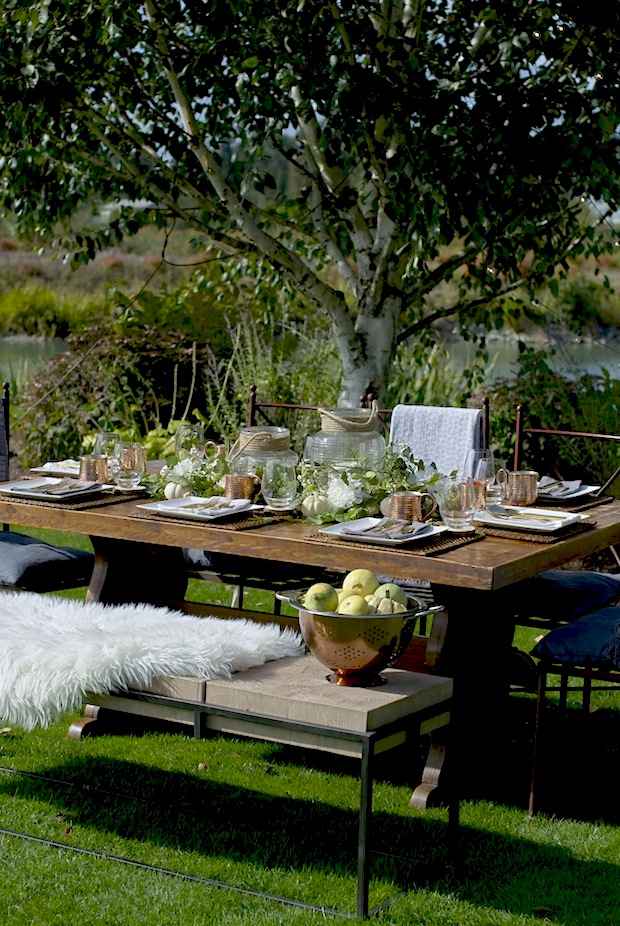 In the spirit of Thanksgiving, we have partnered with our friends at Winners/Marshalls for another giveaway! Honestly, how awesome is this? The stores are brimming with warm and cozy fall elements that will not only elevate your Thanksgiving table but will transition your home to feel decidedly more autumnal (is that a word??).
The lucky winner of the giveaway will win a $100 Winners/Marshalls gift certificate. Hop on over to our IG pages, @sugarplumlaurel @sugarplumpam to enter. It's super easy and you can enter as many times as you like!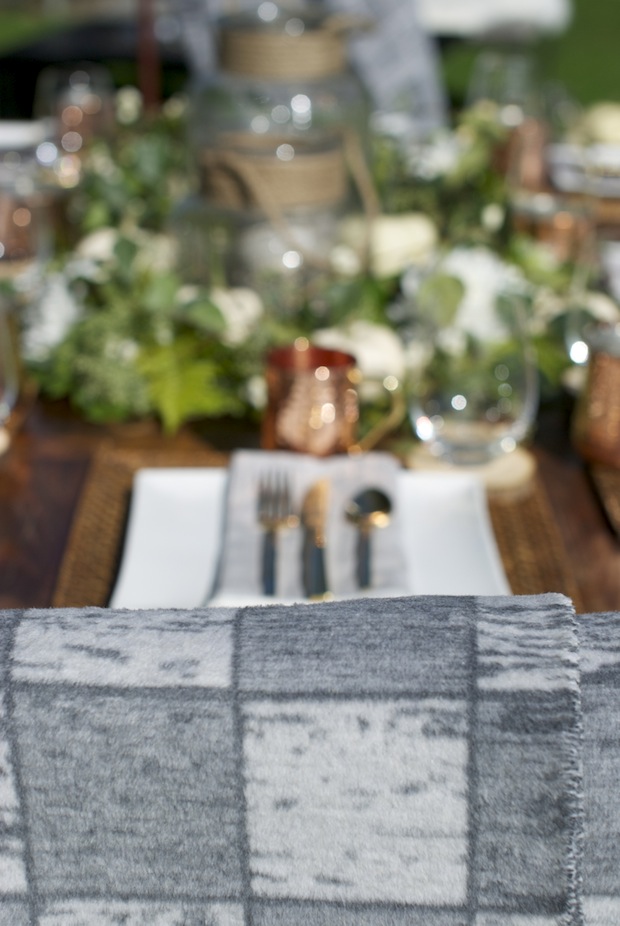 | SOURCES |
Wooden Bench | Upholstered Bench | ~ La Z Boy – Langley
Floral Centrepiece with mini pumpkins |~ Simply Perfect Flowers
Throws | Glass Lanterns | Copper Colander | Napkins | Wood Coaster |~ Winners
Copper Mules | ~ Williams Sonoma
Chair Cushions, similar here | Faux fur throw | ~ Ikea
Special thanks to Lepp Farm Market for supplying us with the ornamental pumpkins , as well as many of our dinner ingredients. We will be sharing our recipes with you on Monday…stay tuned!
PS Here's a little peak at our s'mores situation…