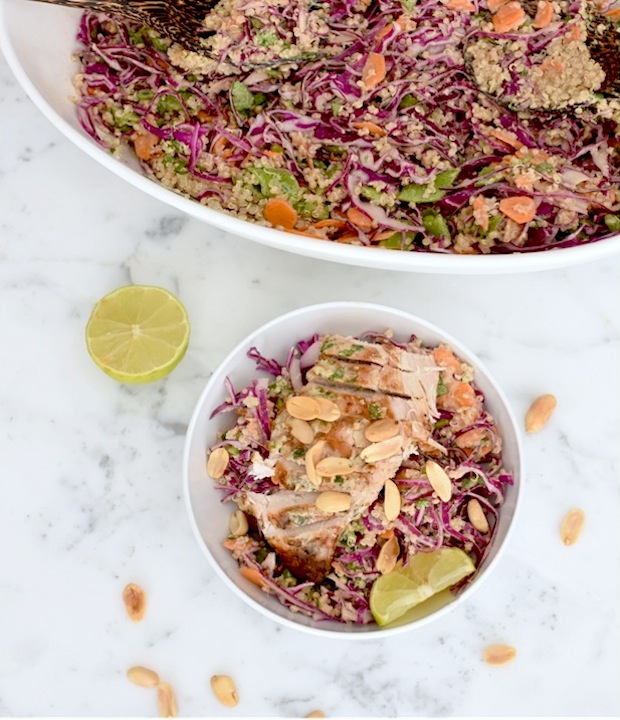 I know everyone's talking about PSL at Starbucks but guys..it's still warm out! And while summer hasn't said goodbye to us yet, I'm still in warm weather mode. That includes grillin' and keeping our meals light and fresh! So before we give the BBQ some downtime, I wanted to share this delicious entree salad recipe. All creds to Pinterest on finding this Thai Peanut Quinoa Salad. Click here for the recipe. The men in our household aren't on board for vegetarian meals, so I added some bbq'd chicken using a quick, thrown together marinade and I think it was a winner. I've included the recipe below. Everyone dug the flavours of this meal…I also LOVED all the colour on my plate. I know I've said it before, but if you're eating colourful, chances are you are eating somewhat healthy (no, that doesn't include jelly beans ha!).
This salad, as well as the chicken, can be prepped well in advance. The veggies can be chopped, the quinoa cooked and salad dressing ready to go.  Marinate the chicken for a short time or for hours until you're ready to BBQ.  I also loved that you could save the leftovers (normally salad leftovers gross me out!!). But the cabbage stayed nice and crisp until the next day. Bonus.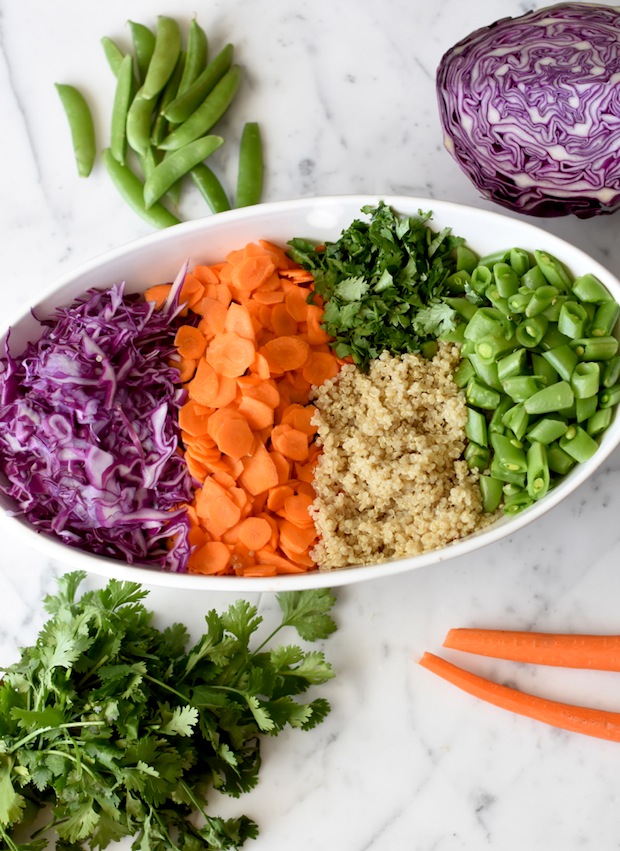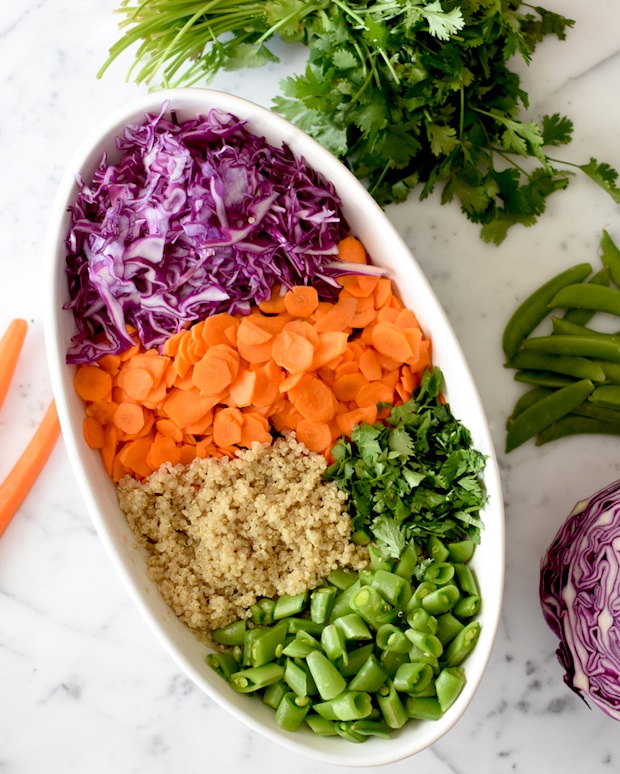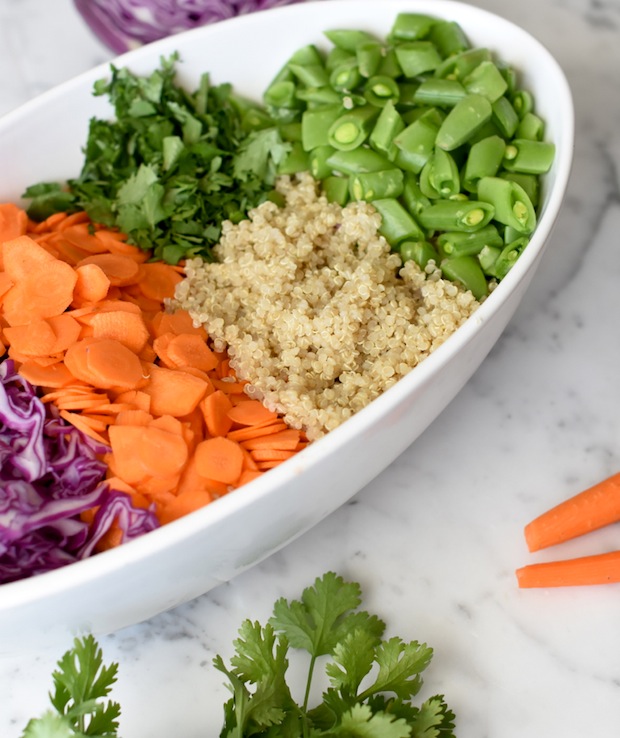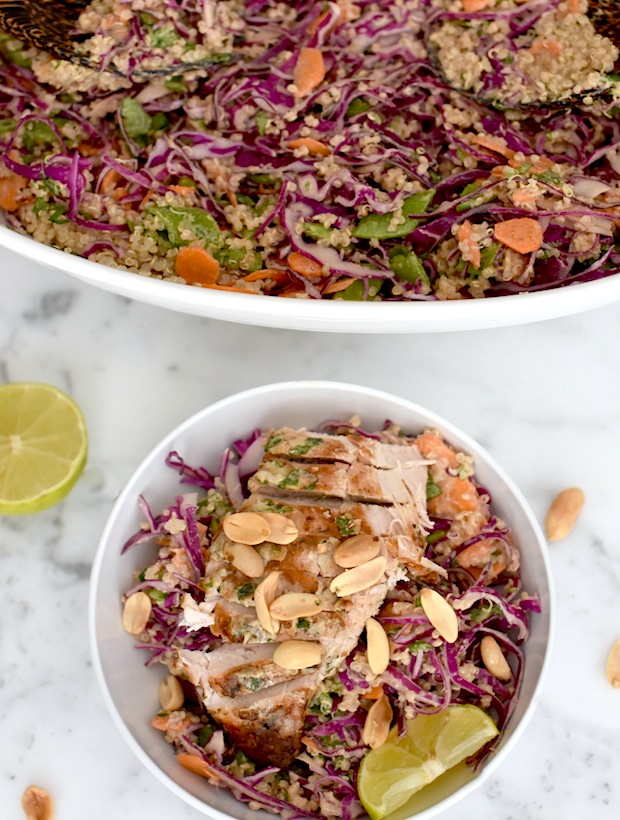 BBQ Thai Chicken
Ingredients
½ cup olive oil
2 Tbsp sesame oil
1 Tbsp grated fresh ginger
2 Tbsp gf soy sauce
2 Tbsp rice vinegar
juice from 1 lime
4 boneless, skinless chicken breasts
roasted peanuts
Instructions
Add all ingredients to ziploc bag.
Marinate ½ hour to 8 hours…as long as you need!
BBQ chicken.
Slice and top the salad.
Add a handful of roasted peanuts.
**Just a note that I'm a pick as to where I buy my chicken. I used
Rossdown Farms
Organic Chicken in this recipe…a local Fraser Valley, family run business…
Hope you enjoy this recipe as much as my fam jam did…also a super great choice for lunch with the ladies!
Wishing you all an awesome week..anyone else feeling a little meh about school starting back up? We are all summer crazy around here…always have been, always will be. But, looking forward to seeing what fall is going to look like for us once all the tryouts, etc have wrapped up and we can see what our schedule is going to look like:)
Thanks so much for reading! Laurel xo