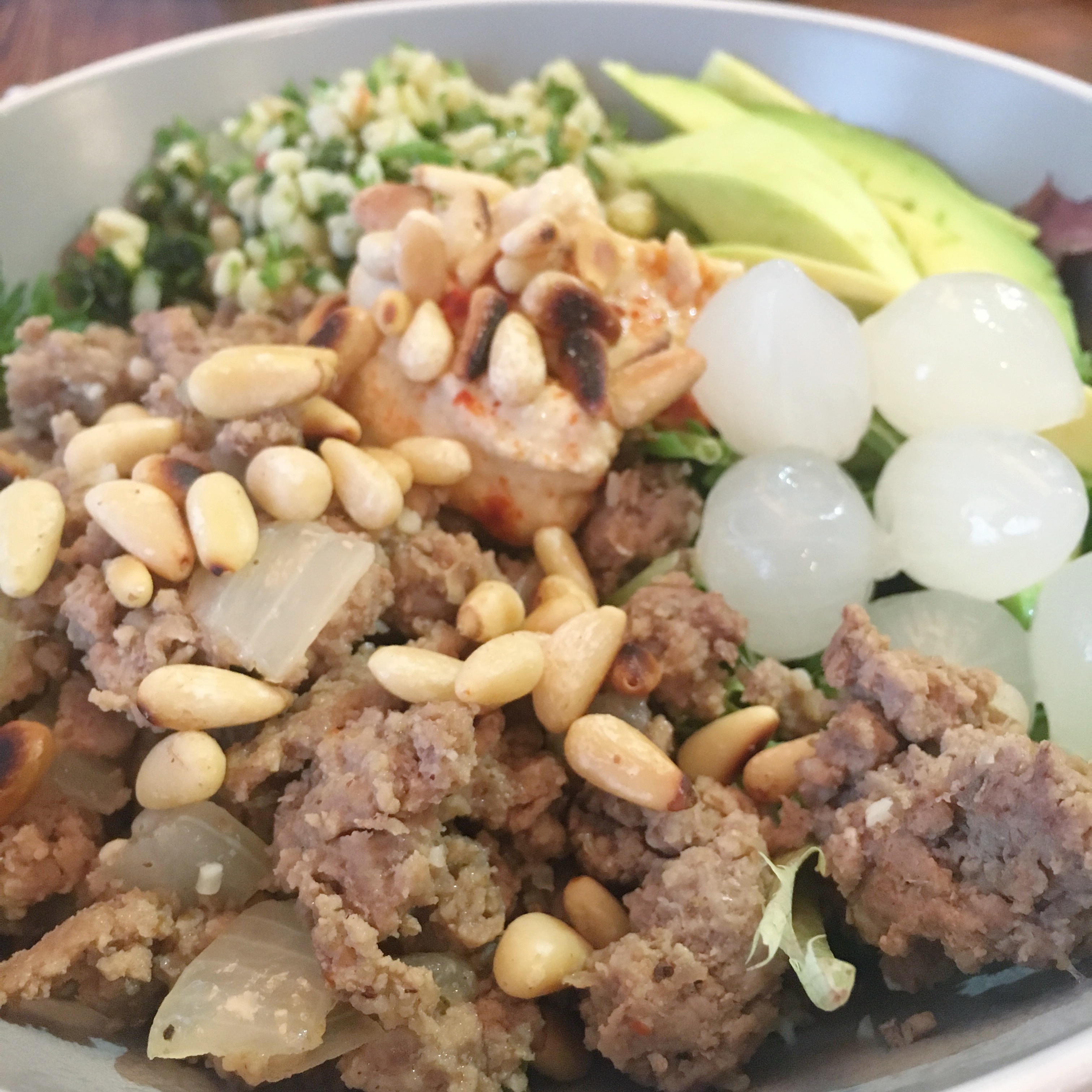 I hope you all had a fun, safe and dry Halloween.  The favorite holiday in our household is Christmas and I was informed by Berkeley that as soon as Halloween was over, she was starting to play Christmas music.  And she also expects Jason to totally Griswold the house out!  I don't know if it's going to happen, but I think we will be in Christmas mode pretty soon over here!
I've been struggling a bit for new dinner ideas.  The colder weather means a lot of soups and stews which are great, but I've wanted to switch it up a bit.  One of my favorite casual restaurants in Vancouver is Nuba.  They have four locations that serve up super fresh and healthy Lebanese food and fresh juices as well.  One of my favorite appies is the lamb hushwie…sautéed minced lamb with onions, pine nuts and spices, served with hummus, avocado, pita and pickled cabbage.  On a side note, if you are going to eat there, you must also try Najib's special which is an appie of crispy cauliflower tossed with lemon and sea salt and served with tahini. Sooo good!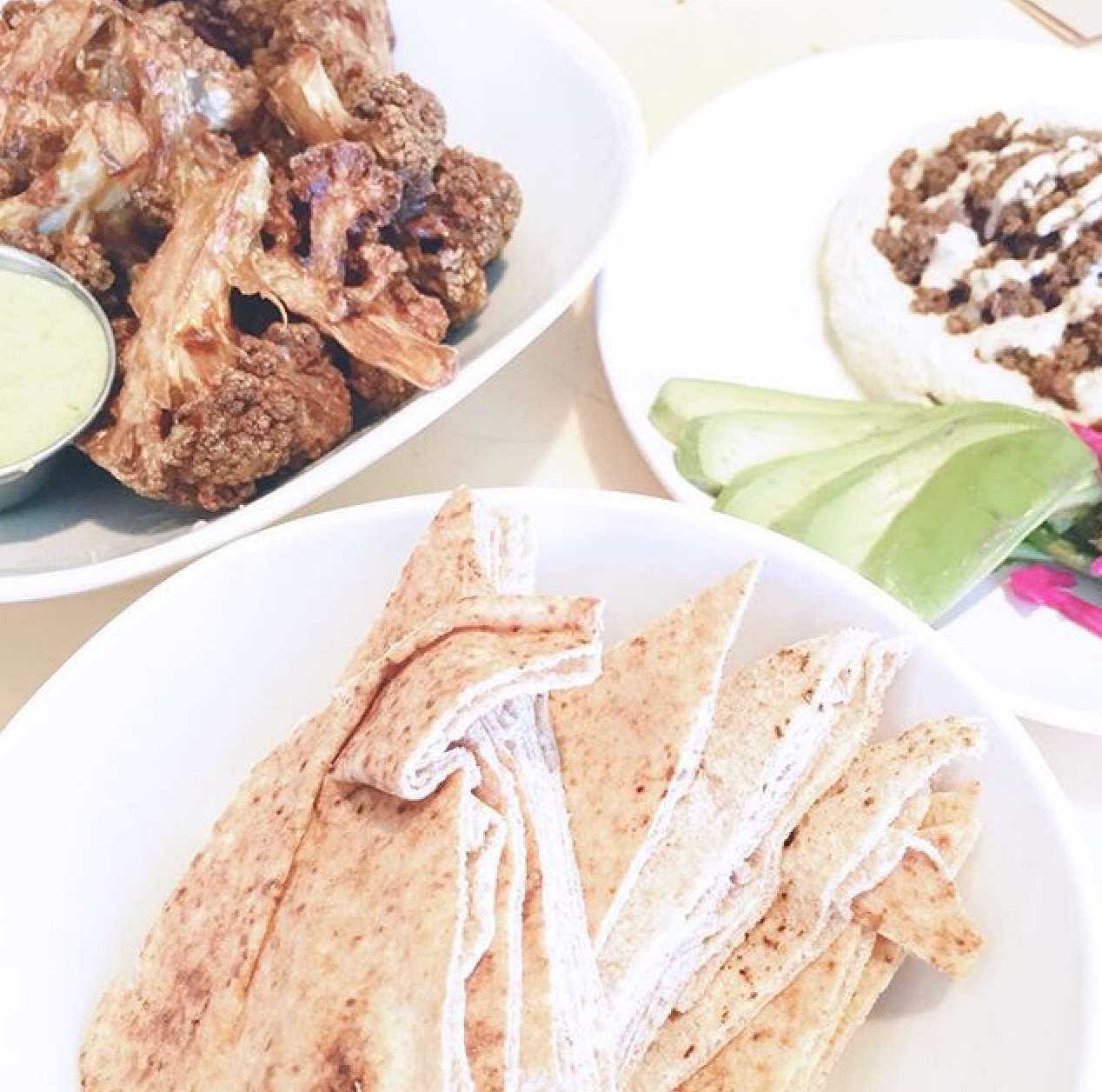 You can get the lamb hushwie as a meal in a pita, but a friend of ours told us that he ordered the lamb hushwie, low carb style, as a meal.  Once I tried it, I was hooked!  Basically, you delete the pita and serve everything over mixed greens.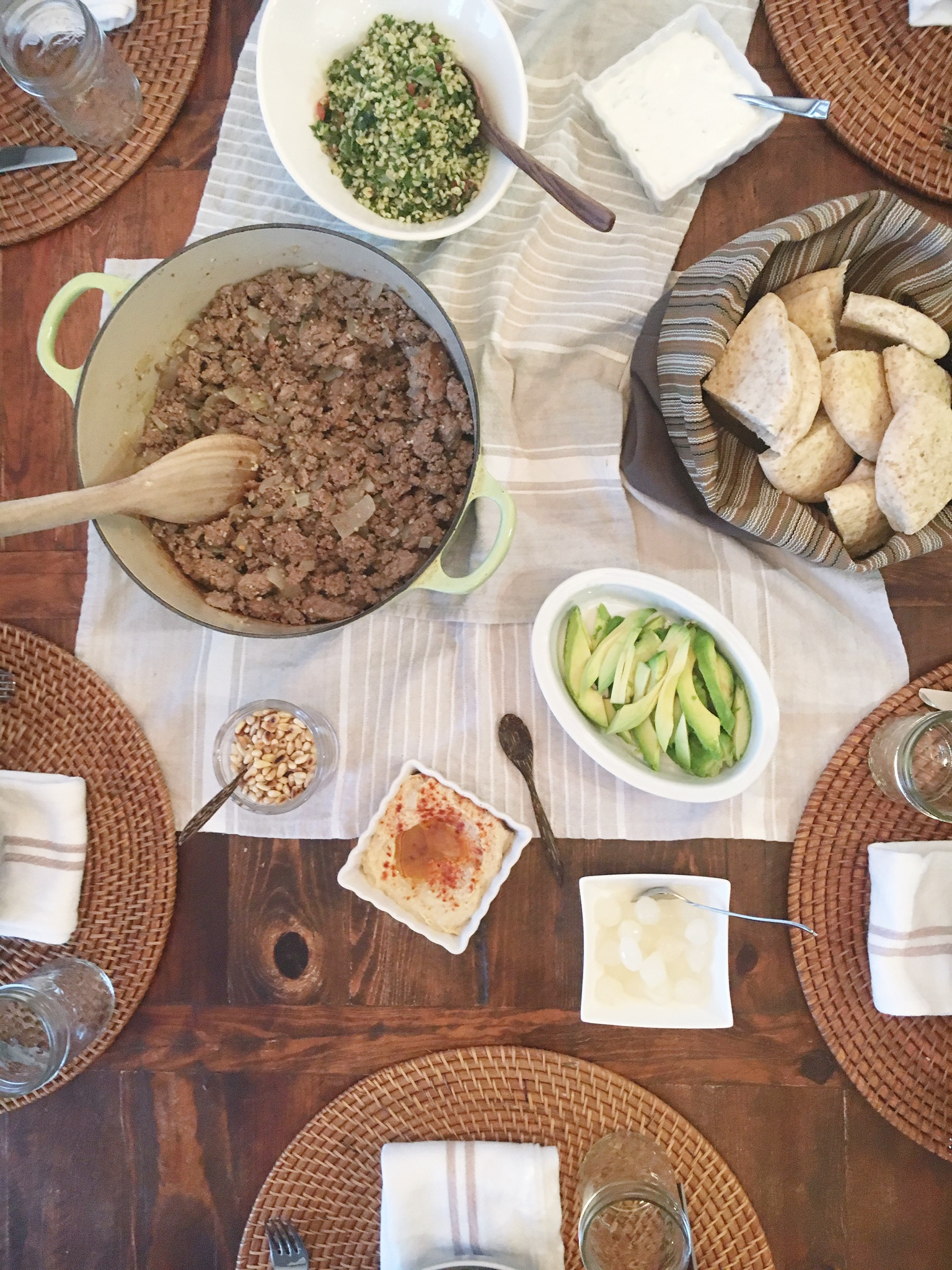 So, I decided I needed to figure out how to make this at home.  This recipe was my jumping off point.  The great thing is you can put all the ingredients out, and everyone can make their bowl to their own liking.  Here's what I included…
mixed greens
hummus drizzled with a little bit of olive oil and smoked paprika
sliced avocado
toasted pine nuts…don't skip these…they are key!
sweet pickled onions as I couldn't find cabbage
tzatziki…okay, not Lebanese, but it sure works with this dish
tabbouleh which is a Middle Eastern salad made of tomatoes, finely chopped parsley, mint, bulgur, and onion, and seasoned with olive oil, lemon juice, and salt.  You can get it at most grocery store deli's
whole wheat pita, heated, for those that want and need the carbs!
spiced ground lamb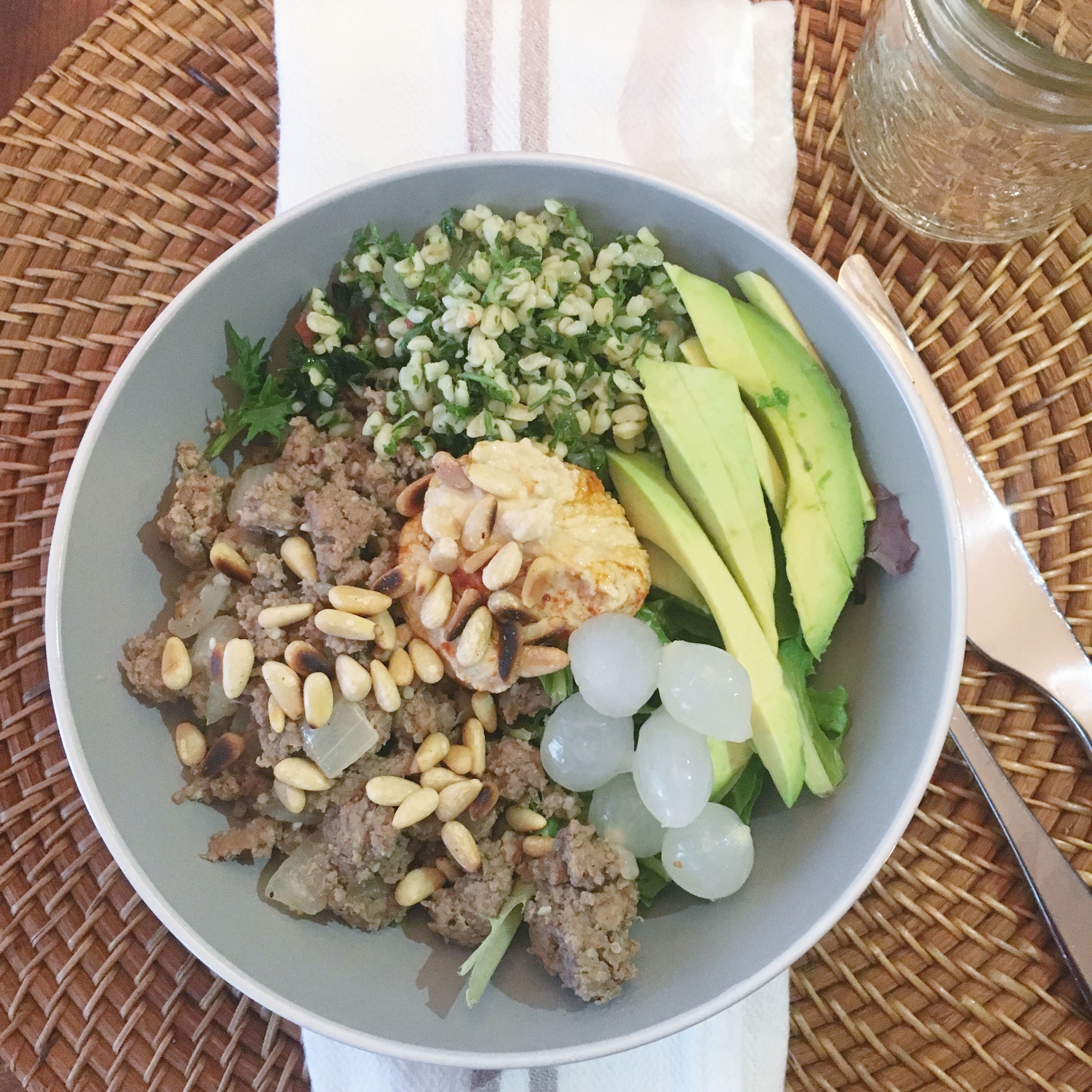 The spiced lamb is super easy to make.  What's the most difficult is finding ground lamb.  I called around to a few butchers and got lucky and found some and bought a bunch, and we've already gone through it.  Time to order more!  I may also try to make it with lean ground beef.  My family likes their protein so I tend to double this recipe and then we have some leftovers for Jason's lunch the next day.

Spiced Lamb for Hushwie
Ingredients
1 Tablespoon olive oil
1 medium onion, finely chopped
500 grams ground lamb
2 garlic cloves, minced
½ teaspoon cumin
½ teaspoon coriander
¼ teaspoon cinnamon
½ teaspoon red chili flakes
½ teaspoon kosher salt
freshly ground pepper
Instructions
Over medium heat, heat a large frying pan with the olive oil.
Add the ground lamb and cook, breaking the meat up with a spoon as you go.
Once meat is no longer pink, add onions and garlic and cook until soft.
Add spices and cook about 5 minutes longer.
Use in your lamb hushwie bowls.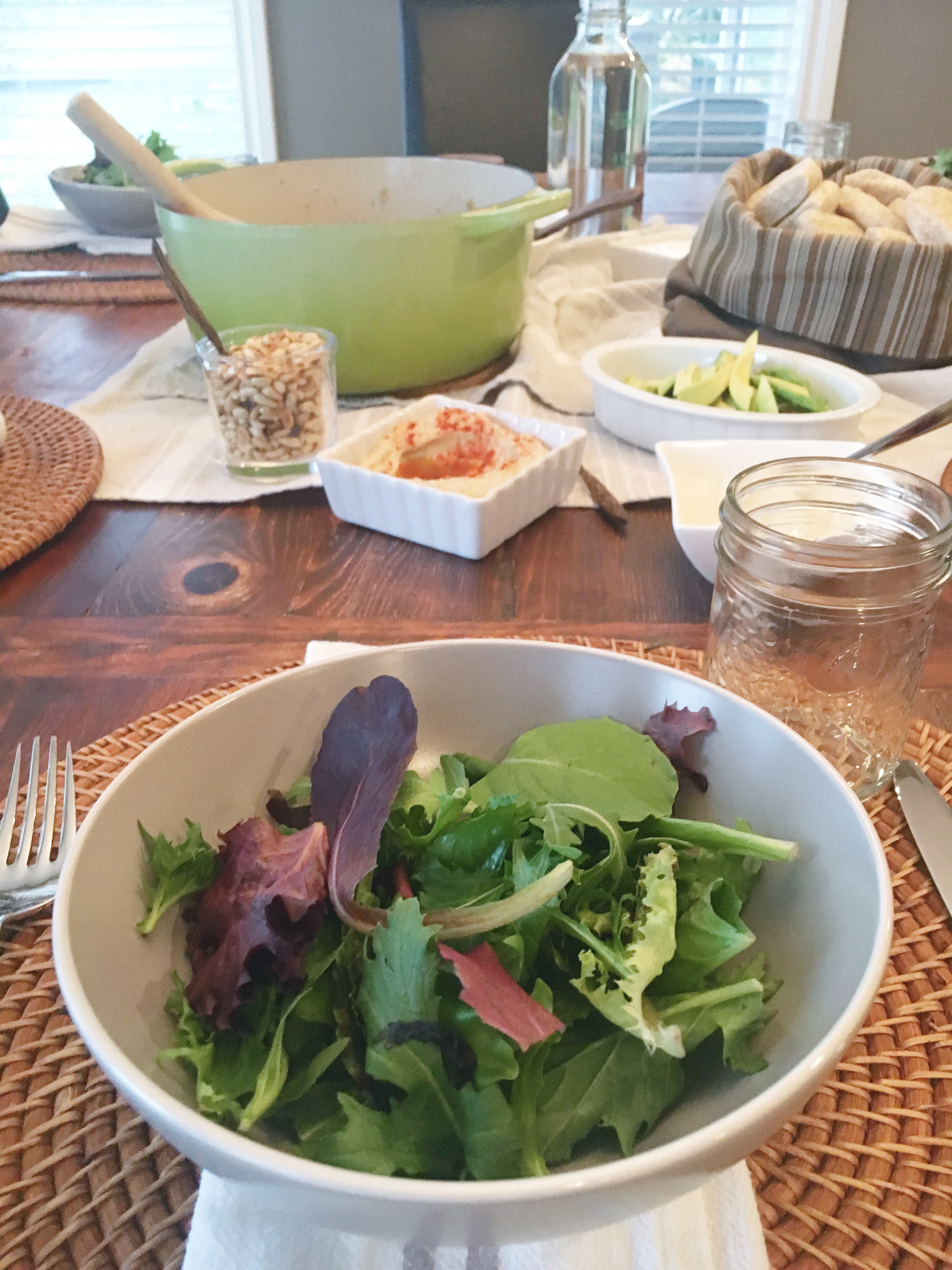 These bowls are perfect for fall!  They are fresh, yet hearty.  And everyone is happy as they can pick and choose what to put in their bowl.  I just dish out the greens first to make sure everyone gets their veggies in!