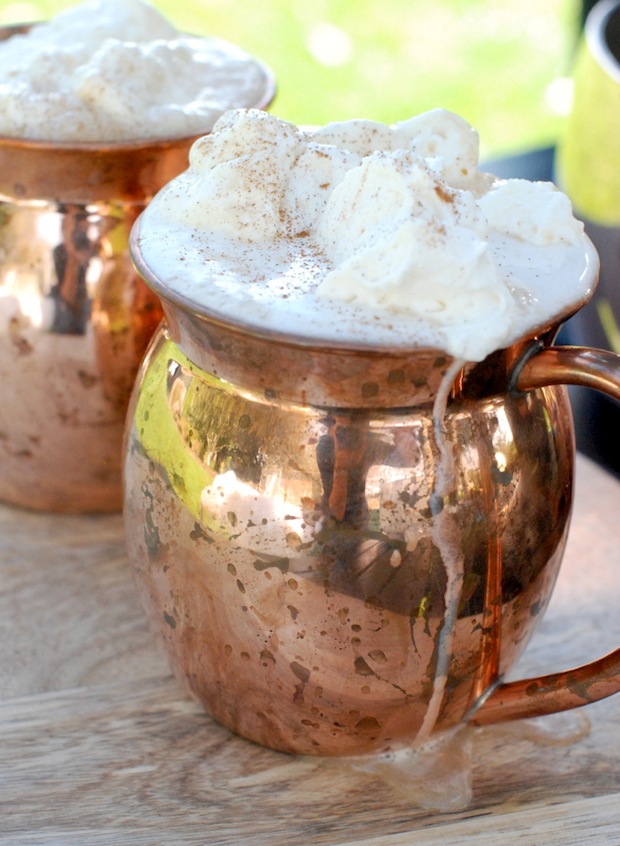 Are you in Thanksgiving planning mode yet? It's right around the corner and if you haven't checked in with us lately, we've been breaking our dinner down for you starting with our outdoor setup this year. While we held our dinner outside, you could easily relay the same rustic look indoors. Let's be honest, we are always prepared for weather back up plans around here.
Pam posted about our menu on Tuesday. Still thinking about all the amazing food and kinda happy that we get to re-live it this weekend. It's not the worst thing that could happen!
And today…today is about satisfying your sweet tooth. Finishing off Thanksgiving with a bang. I mean, this isn't about satisfying hunger because we all know that after turkey we all feel overstuffed but, somehow we don't feel complete until ye old punkin' pie gets served. We may have gone overboard on the dessert here…all for research purposes..right? Take one, take them all…you can't go wrong.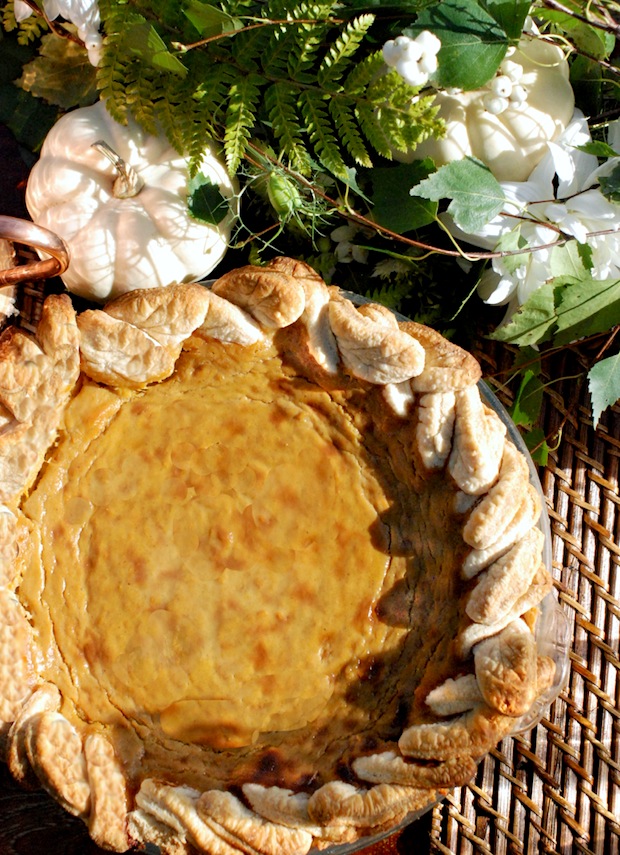 Pumpkin Pie. No surprise here, except that I'm going to say that homemade pumpkin pie is better than the store bought variety. Am I right? I know that prepping a big meal can be an overwhelming task, so our method is to do absolutely everything beforehand that you can. That goes for pumpkin pie. It can easily be made ahead and frozen.
And here's one more tip: My favourite pastry is available in dough form at Lepp Farm Market (made by Krause Farms and supplied to Lepps). I always have a package of this in my freezer. It's homemade dough and bakes up to a seriously delicious pie crust.
The pumpkin pie recipe is one passed on by a good friend. It's rich, creamy and super pumpkin-y, which is appropriate right? ha! See below for the recipe. One change we made was we got all Martha-ish (well at least Pam did) and she cooked up a Cinderella pumpkin for us to use for the puree. Super duper easy and would be an awesome idea to keep your freezer stocked with pumpkin to be used throughout the year. If the idea of cooking your own pumpkin stresses you out, by all means go for the tinned version. Simple!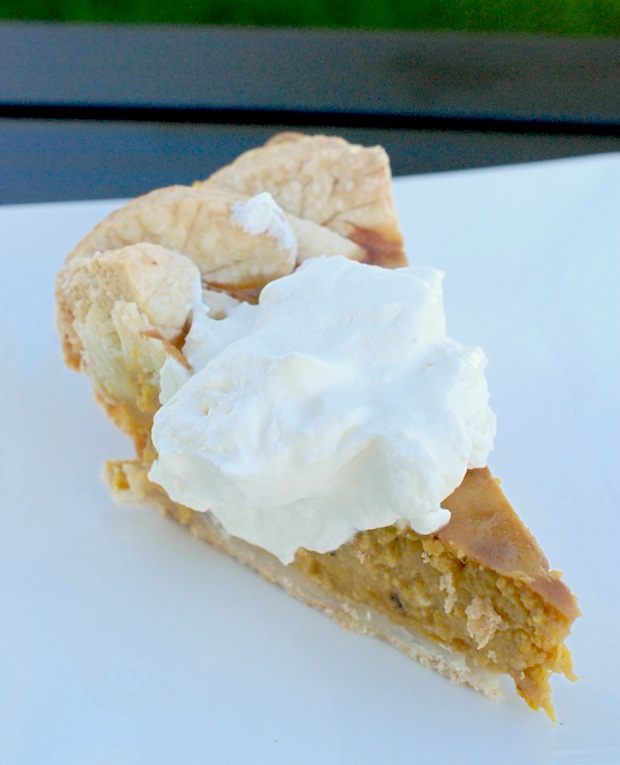 Pam makes such a good cup of coffee…and her copper french press set is gorge! Done and done.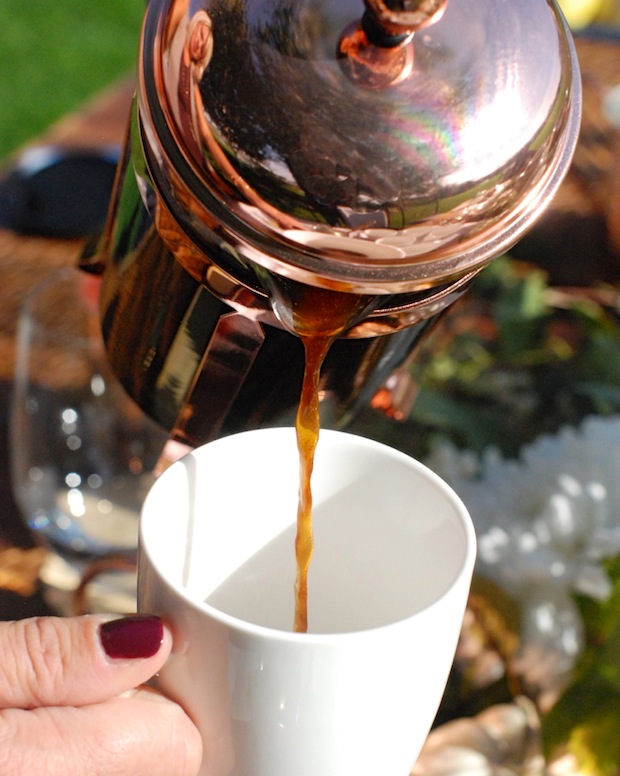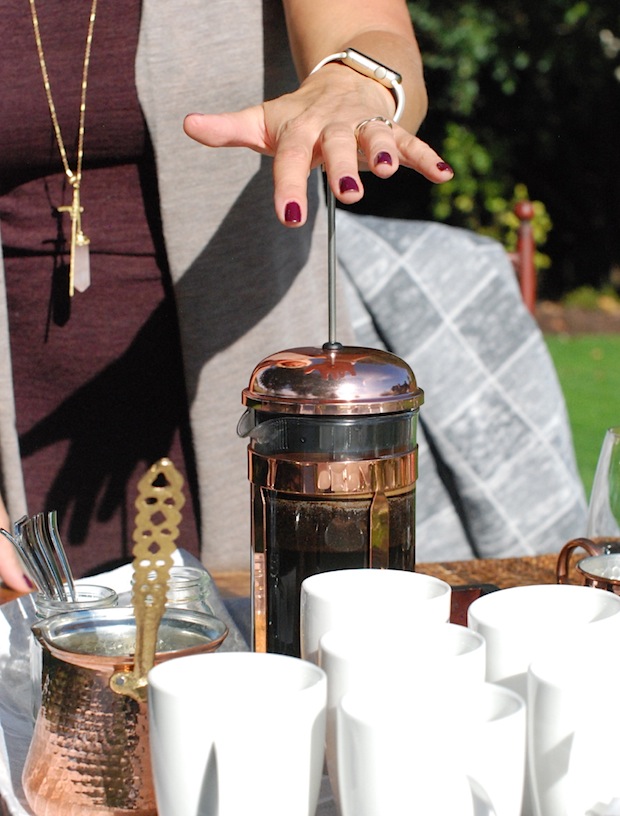 After making the pies, I had some leftover pumpkin and looked for a way to serve a hot drink that would incorporate it. Enter the Minimalist Baker's recipe for Pumpkin Chai Tea Lattes.  This recipe is from her "Everyday Cooking" cookbook, but I've also found this one that looks super similarly delicious!!
Little note here: watch out Starbucks..this might just threaten some of your PSL business!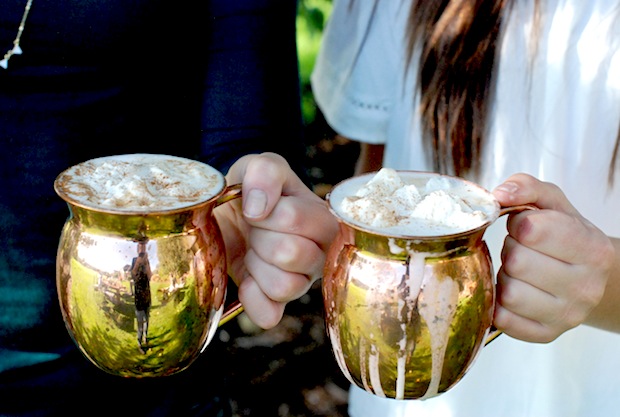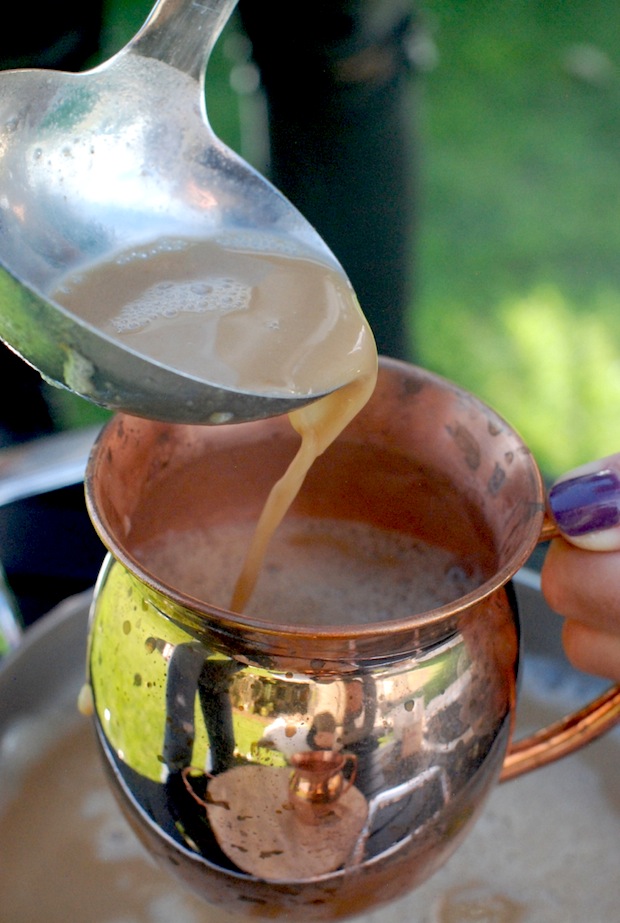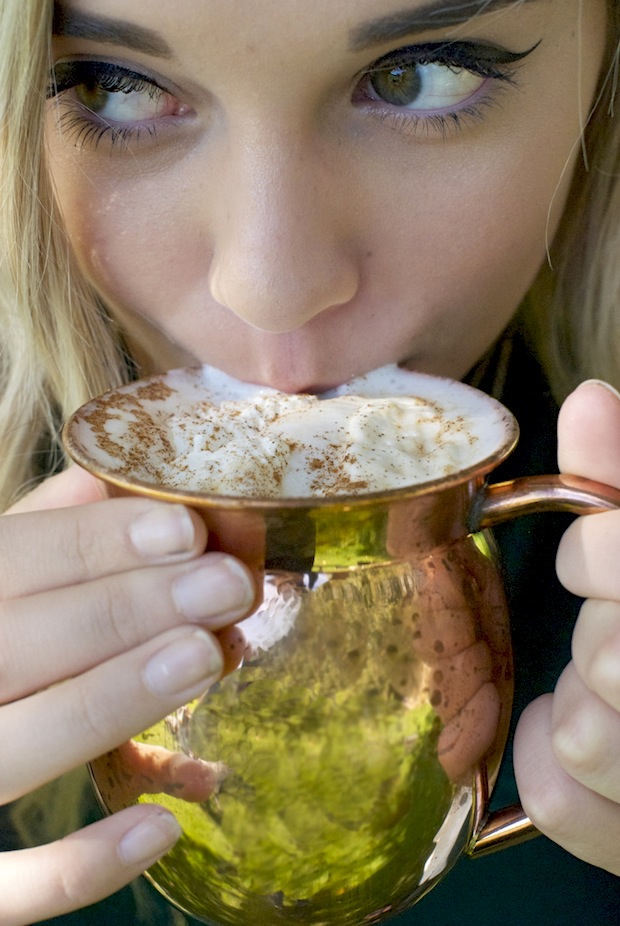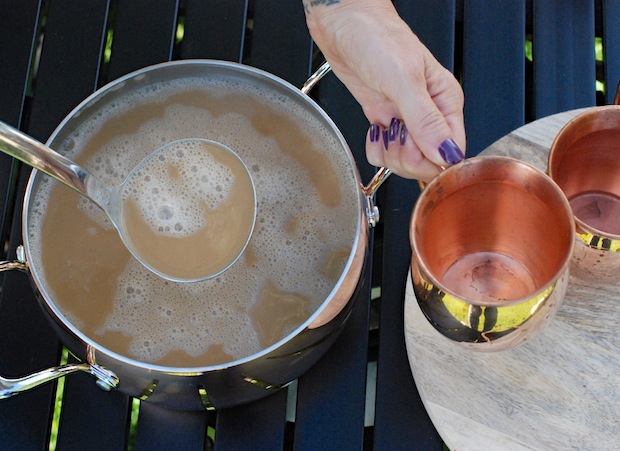 In light of holding our dinner outside this year, we wanted to take full advantage of the possibilities. What can you do outside that you can't inside? Umm…light a fire! S'mores of course. With a twist. Pumpkin Snickerdoodle S'mores to be exact.
Pam made these yummy snickerdoodles for the s'more "bookends". The rest was kept simple and pure: marshmallows and good quality chocolate.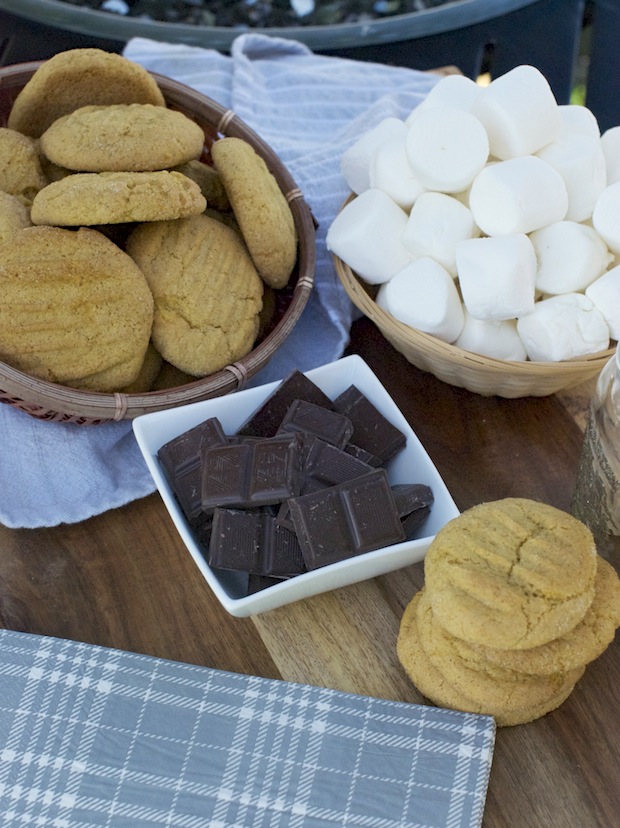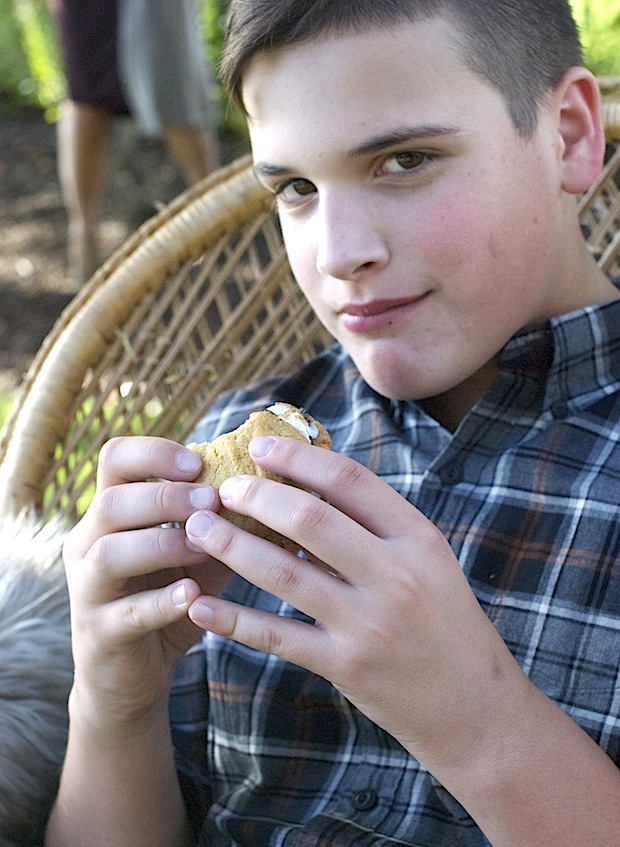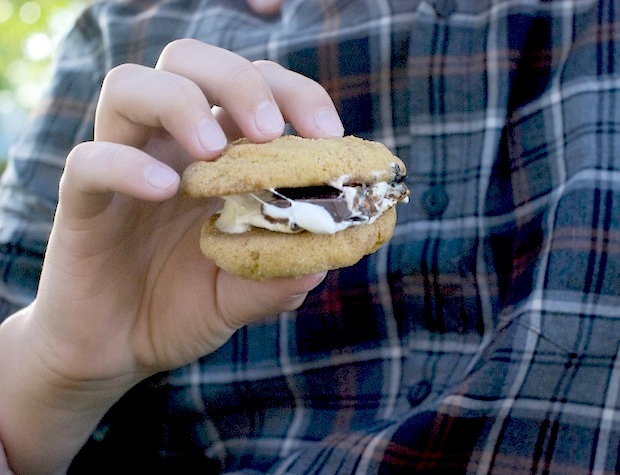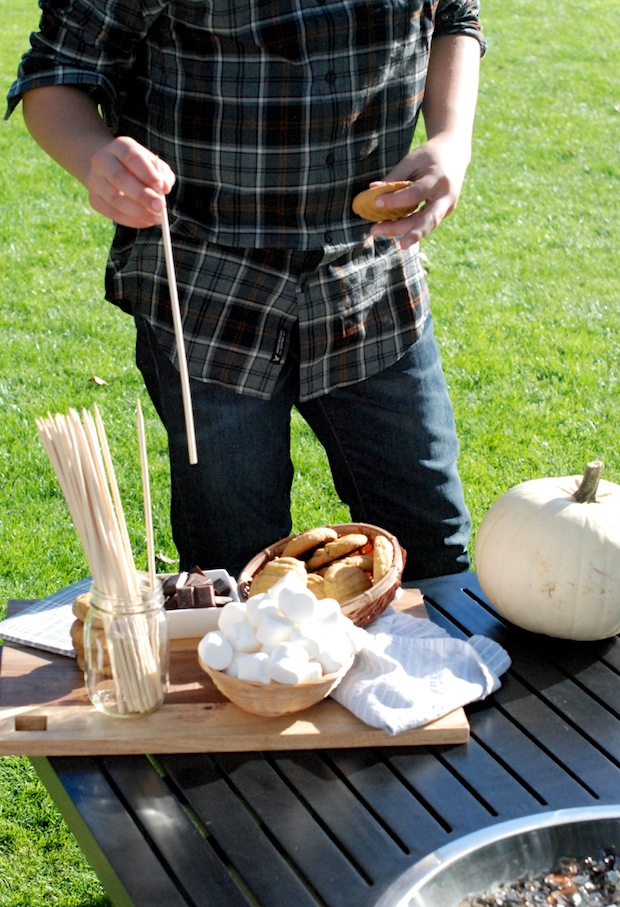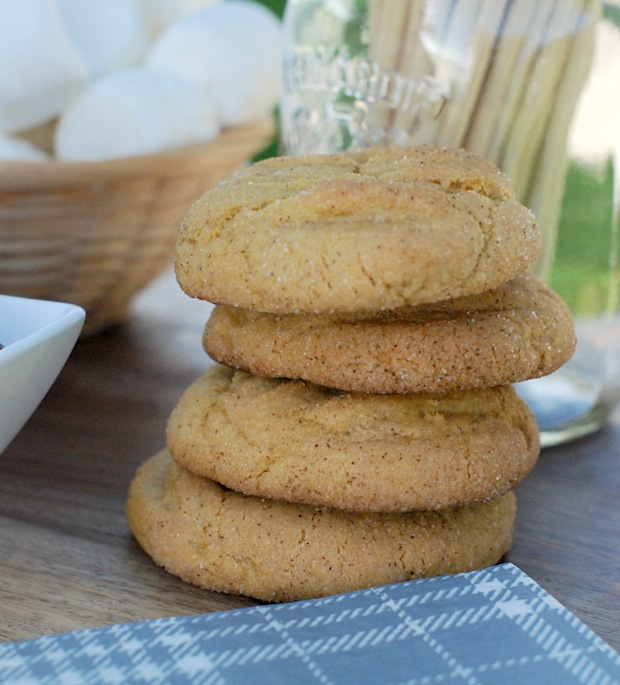 Once again, a huge thanks to Lepp Farm Market for supplying us with many of our ingredients to experiment with. It gave us the chance to cook up A LOT of food…and share it all with you! Well, the recipes, not the food…you knew I meant that right?!? Would love to hear if any of these sweets makes their way to your Thanksgiving table.
Oh and here's that pumpkin pie recipe…just a note: it makes 2 pies (1 is never enough!)

Pumpkin Pie
Ingredients
1 tin (796 ml) pumpkin puree
1½ tsp salt
2 tsp cinnamon
1 tsp mace
1½ tsp ginger
1 dash clove
1½ cup brown sugar
4 eggs, beaten
1 cup evaporated milk or cream
1½ cup scalded milk
Pastry * I used the pre-made dough avail at Lepp Farm Market
Instructions
Mix all ingredients together.
Pour into a pasty lined pie dish.
Bat at 425 degrees for 15 minutes, then lower temperature to 350 degrees and bake for approx 60 min longer (if pie crust starts to brown, cover with foil).
Insert knife to check pie for doneness
Prep
Pie can be frozen and then thawed before serving.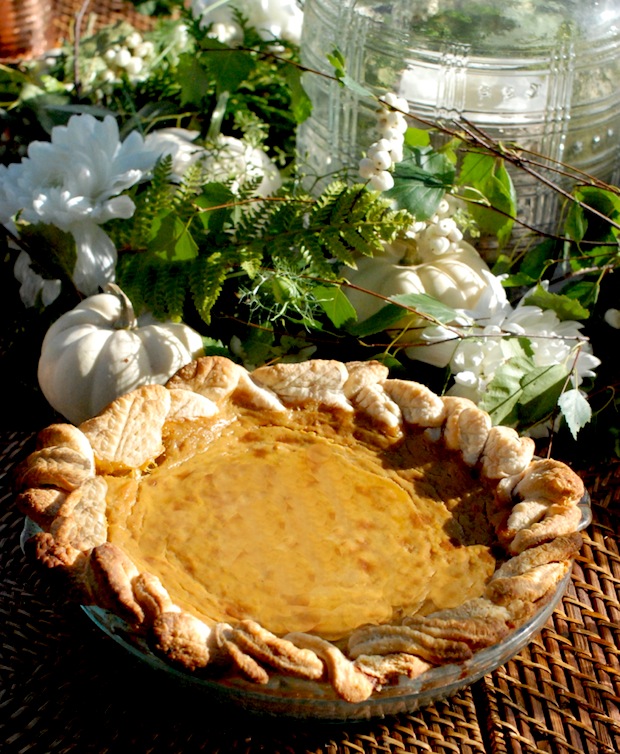 Thanksgiving | Dessert Recipe
By Laurel Published: October 6, 2016
Are you in Thanksgiving planning mode yet? It's right around the corner and if you haven't checked in with us lately, we've been …
Ingredients
Instructions


WordPress Recipe Plugin by ReciPress