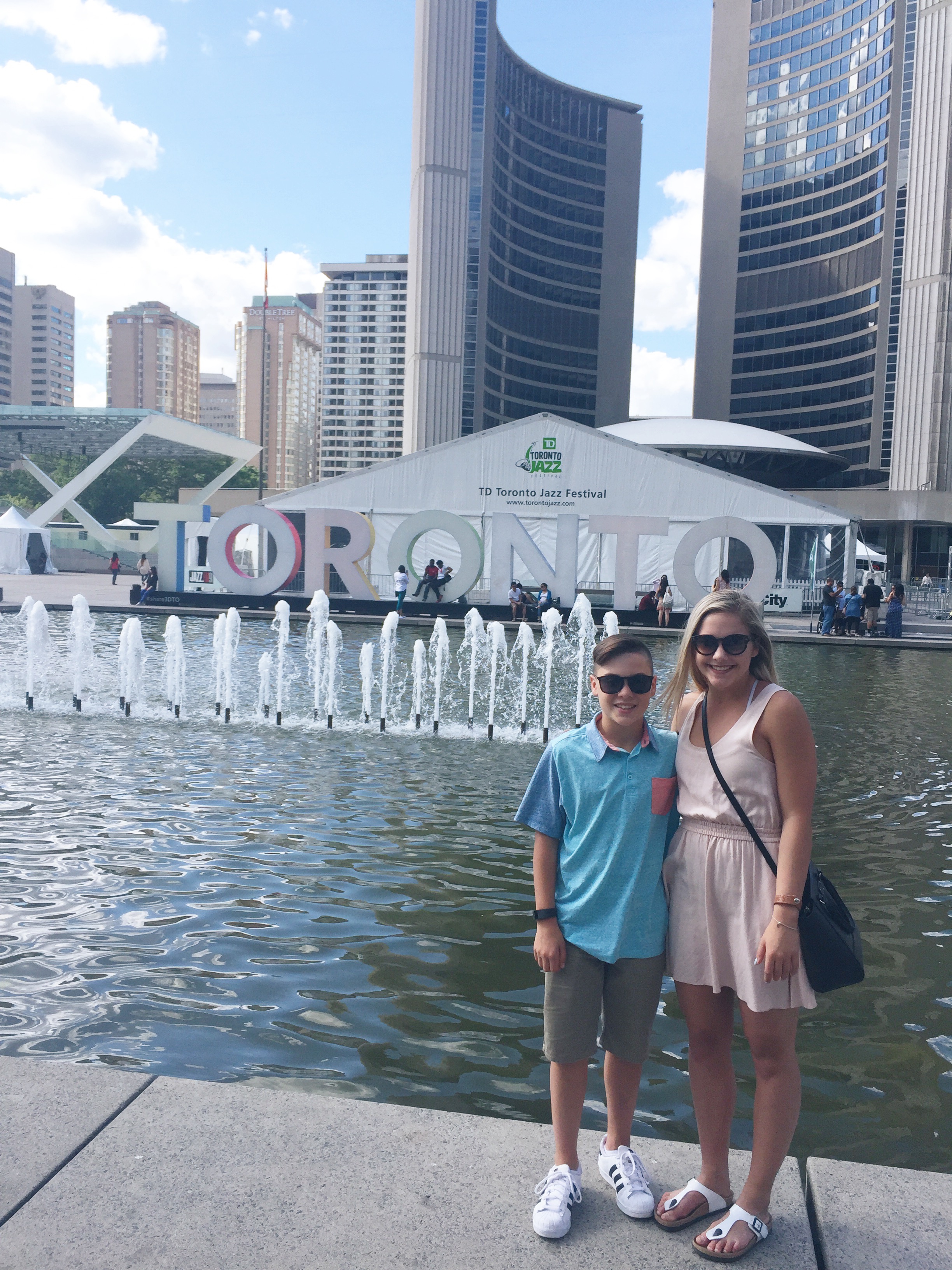 Toronto is sometimes referred to as Canada's New York as it's the country's largest city with the population of the greater area exceeding 6 million.  I've found that the city is alive in the summer..there is always some sort of festival going on!  And if you just have a weekend to spend with your family in Toronto you will might just run out of time for all sights that you can experience just within the city core.  Dylan and I have been in Toronto for two months and our favourite time was when the rest of the family came out and we were tourists in the city as a family.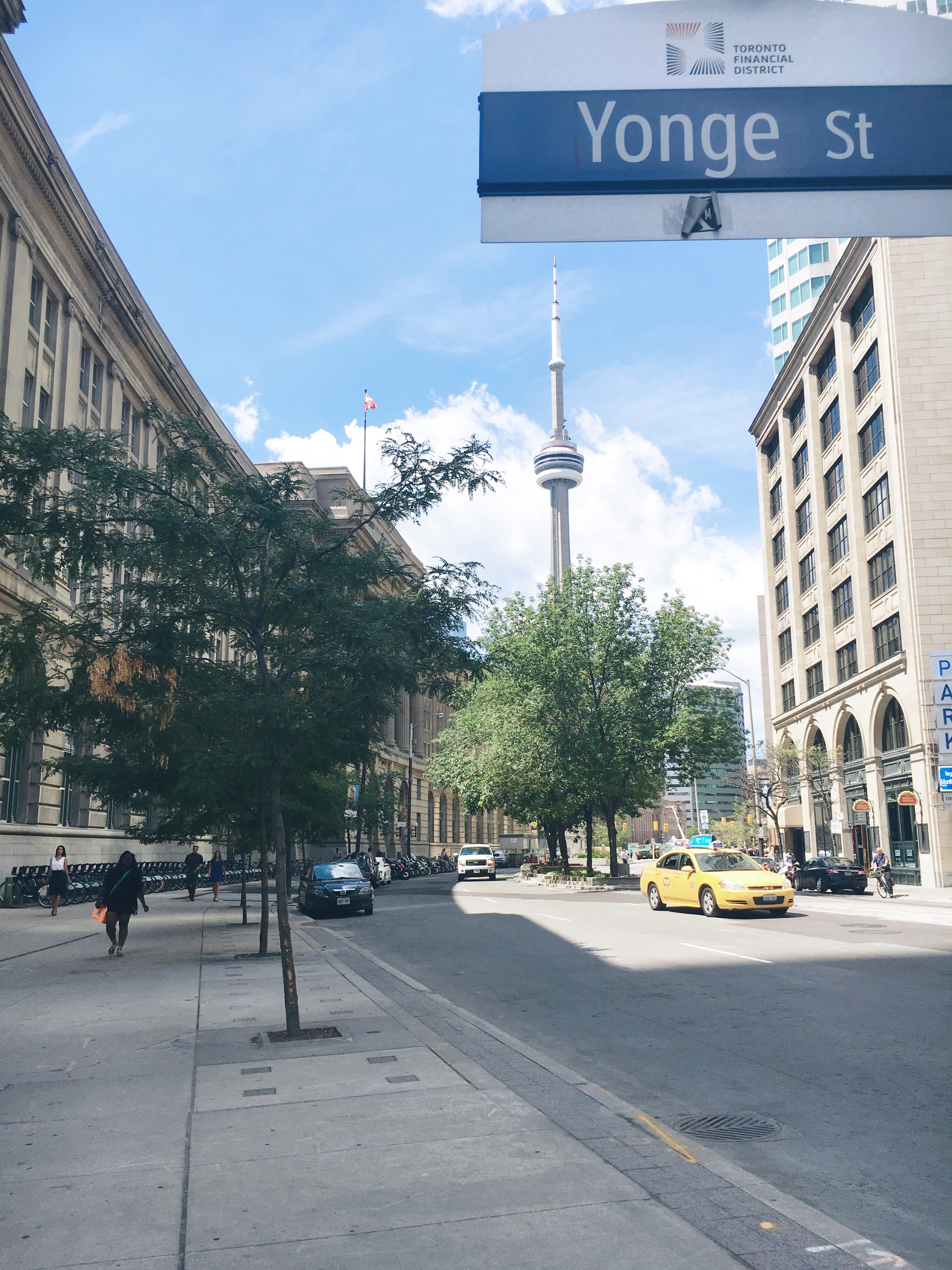 For a summer weekend trip with the fam, I'd recommend staying in a hotel downtown and forgoing renting a car.  Driving and parking downtown Toronto are a bit crazy and getting around by street cars is easy, inexpensive and nostalgic too.  You can get pretty much anywhere in the city via transit for $3.25 for adults, $2 for students, and kids 12 and under ride free.  And Uber is amazing in Toronto…you rarely wait longer than five minutes for a car.  And the city is very walkable as well.
Expedia.ca has a 36-hour weekend guide to Toronto but they asked me for my top picks for family must sees and dos…
1.  CN Tower – You must visit Toronto's most recognizable landmark.  It was the world's tallest free standing structure for 34 years until 2010 and is now currently the 7th tallest.  I would recommend purchasing tickets online in advance to avoid the first line up (online tickets MUST be purchased at least 24 hours prior to your visit). Depending on when you go, be prepared to wait in line for the one minute elevator ride to the Lookout Level 1, 136 feet up.  There are indoor and outdoor observation decks and you can walk across the famous Glass Floor.  That totally freaked me out, but the kids LOVED it!!   For an additional fee, you can go up another 300 feet to the SkyPod, however, we felt we got a great view without paying the additional cost.  Adrenaline junkies..that's not me…will want to check out the EdgeWalk, a hands free walk around a ledge encircling the top of the tower's main pod!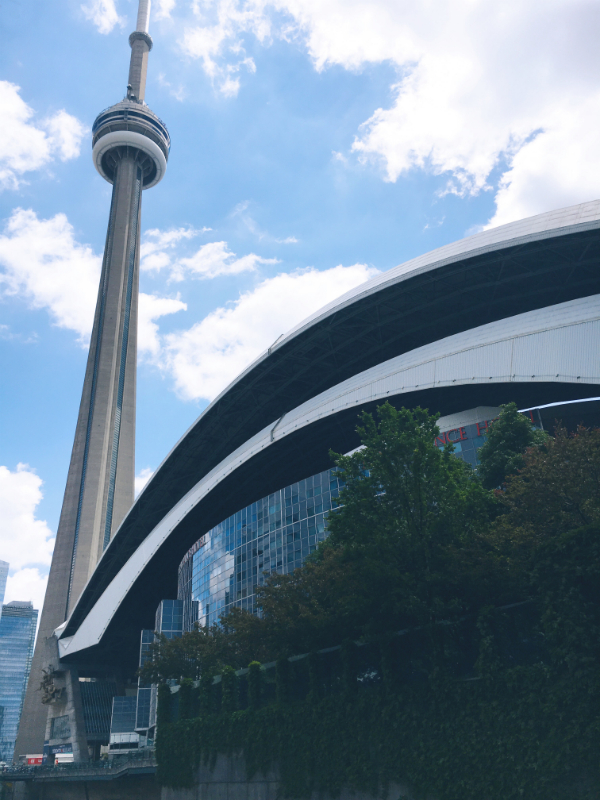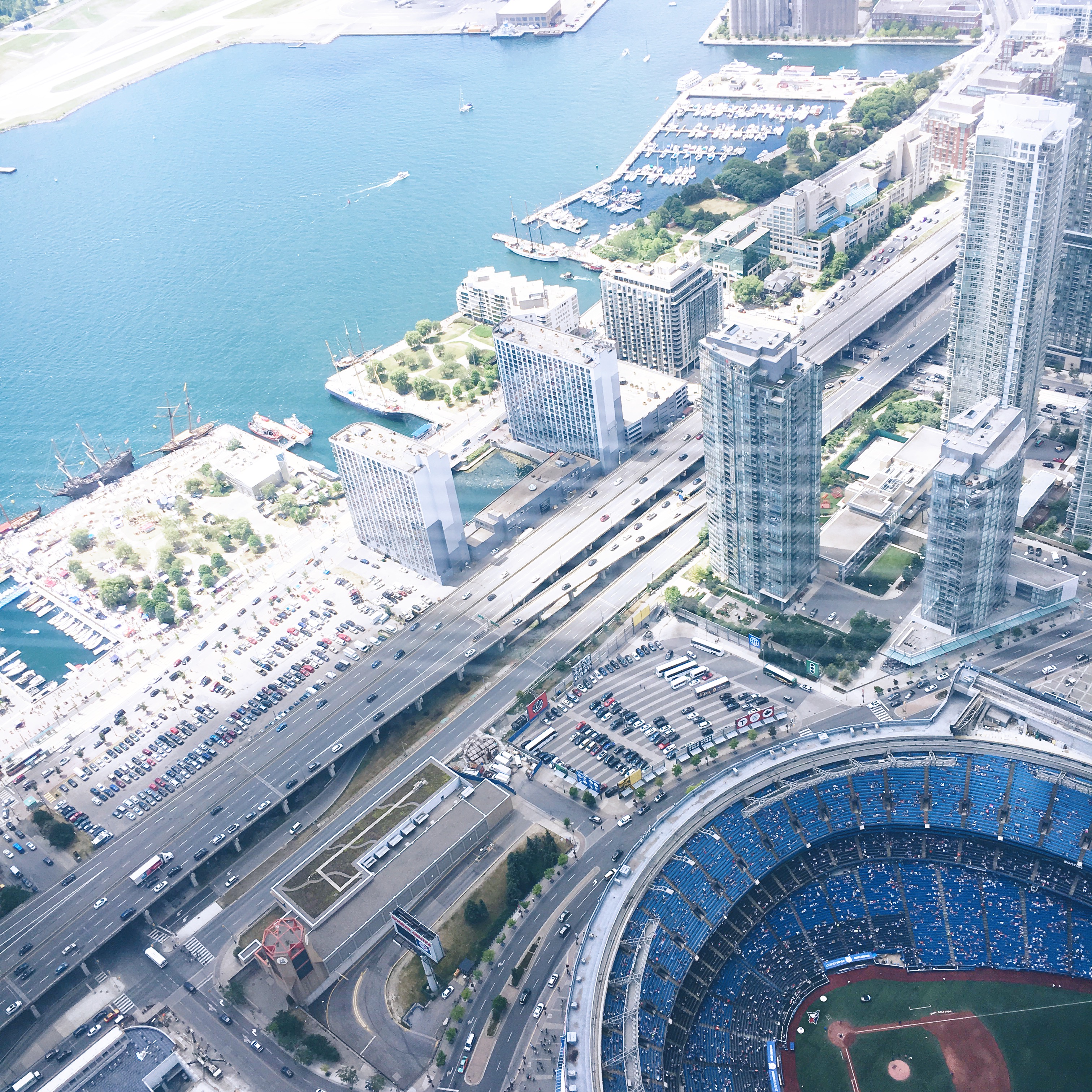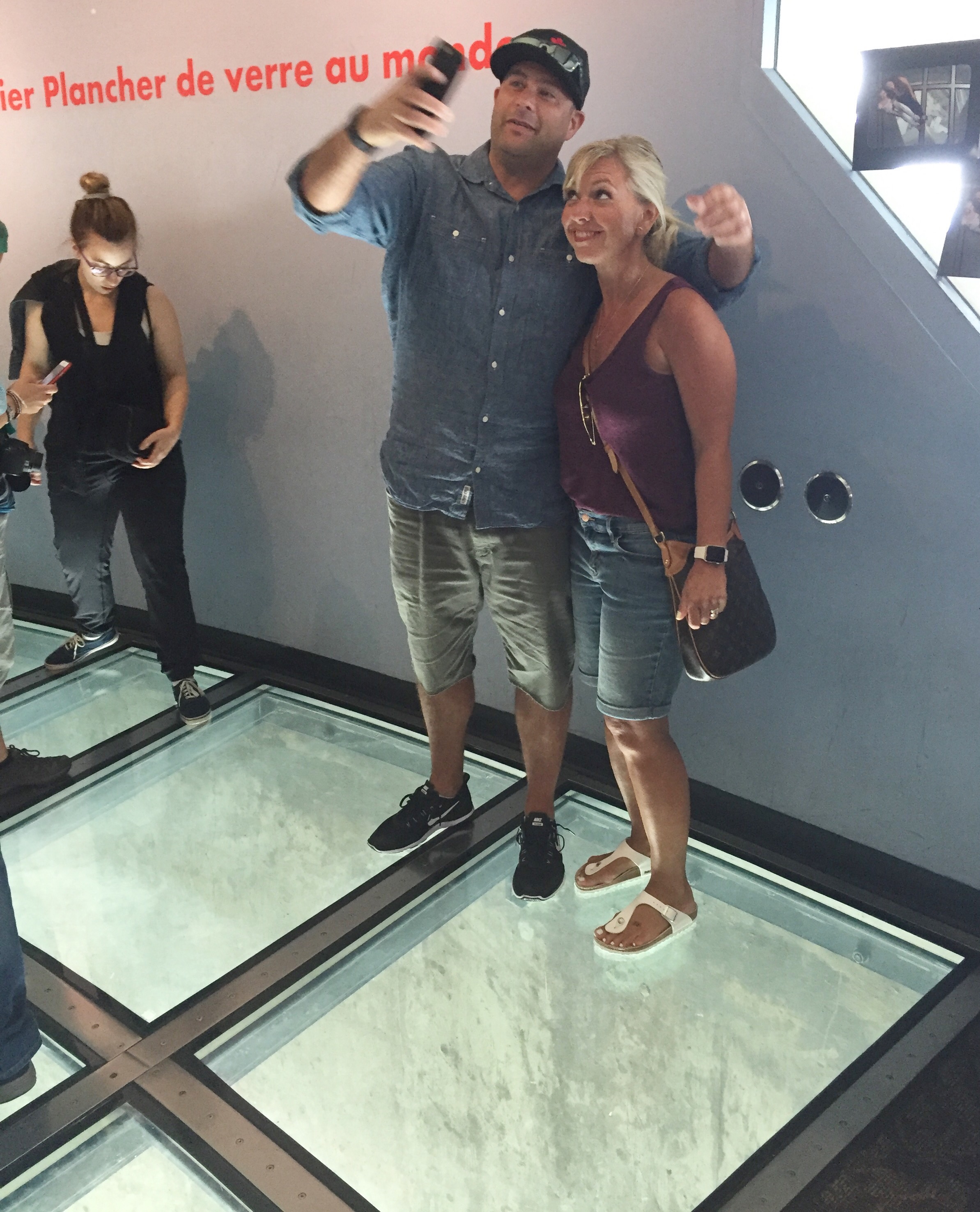 2.  Blue Jays Game – The Jays play at Rogers Centre, right downtown.    On warm summer days, the roof is open with amazing views of the CN Tower.  Tickets are very reasonable starting around $20 making it an affordable family outing.  If you are going to a daytime game, I would recommend seats in the outfield so that you are in the shade as it can get extremely hot.  Outside food is allowed so feel free to bring in some snacks or go for the classics..hot dogs and peanuts. The stadium seats over 53,000 people..the population of a small town, so the energy is amazing!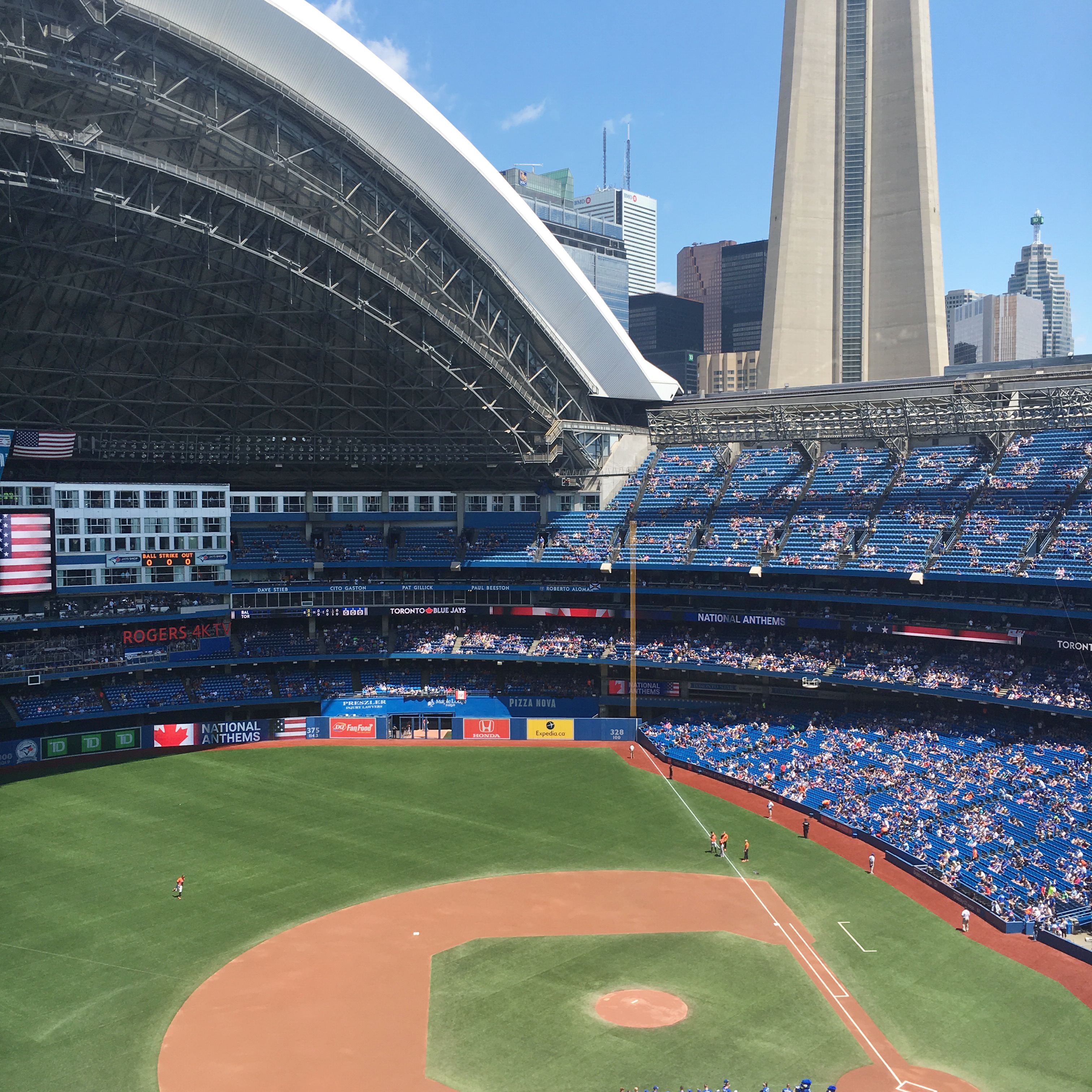 3.  Ripley's Aquarium – I am not usually an aquarium fan, but we loved Ripley's.  It's located right downtown as well next to the CN Tower and Roger's Centre.  There are several galleries with impressive and beautiful displays of aquatic life.  The massive jellyfish wall with changing colours wasstunning.  The underwater tunnel with sharks swimming above us was incredible!  They were so close that you could see their multiple rows of razor sharp teeth.  You can purchase tickets online to avoid the line and receive a bit of a discount.  The aquarium is open most days until 11pm making it a great night activity if you are running out of time to fit everything in.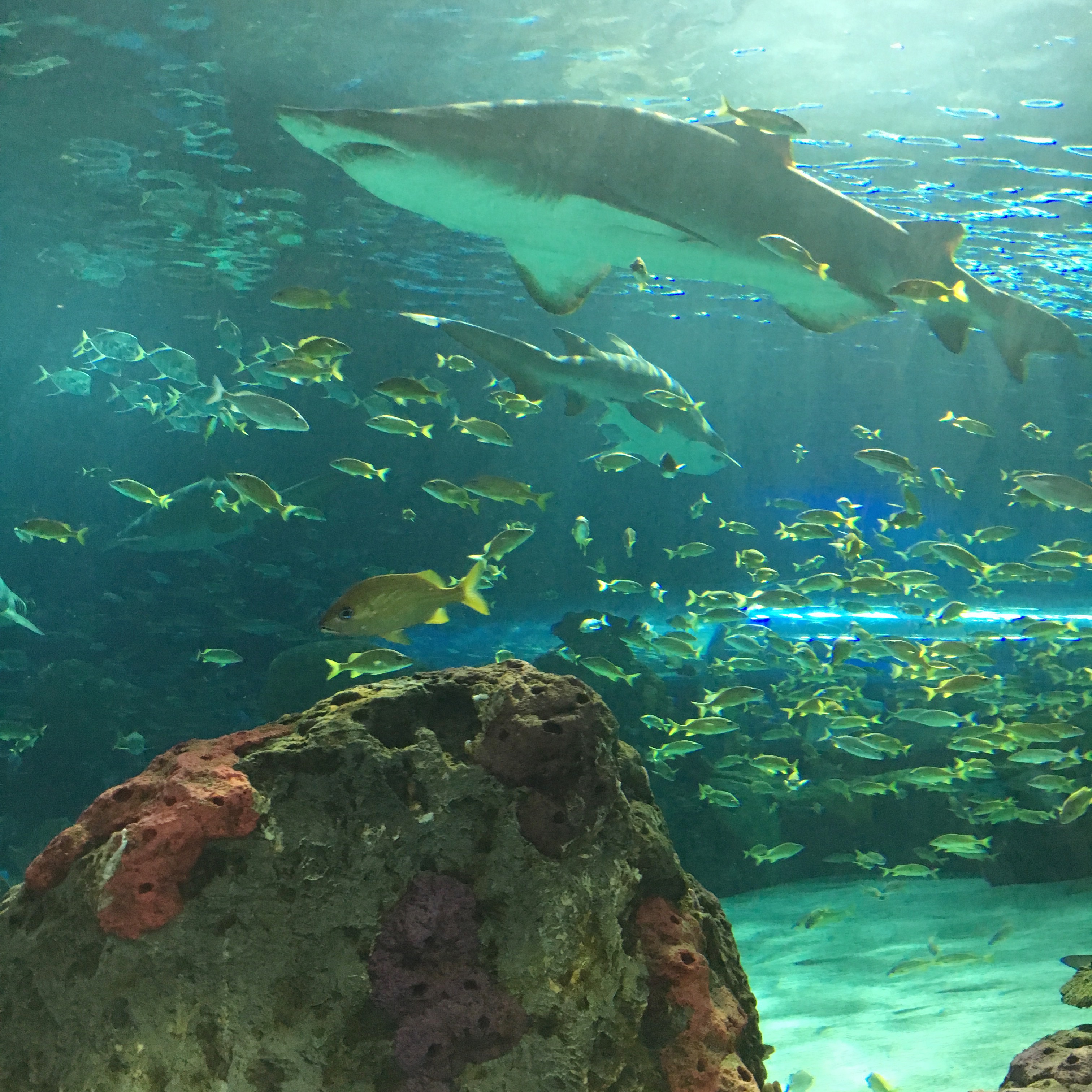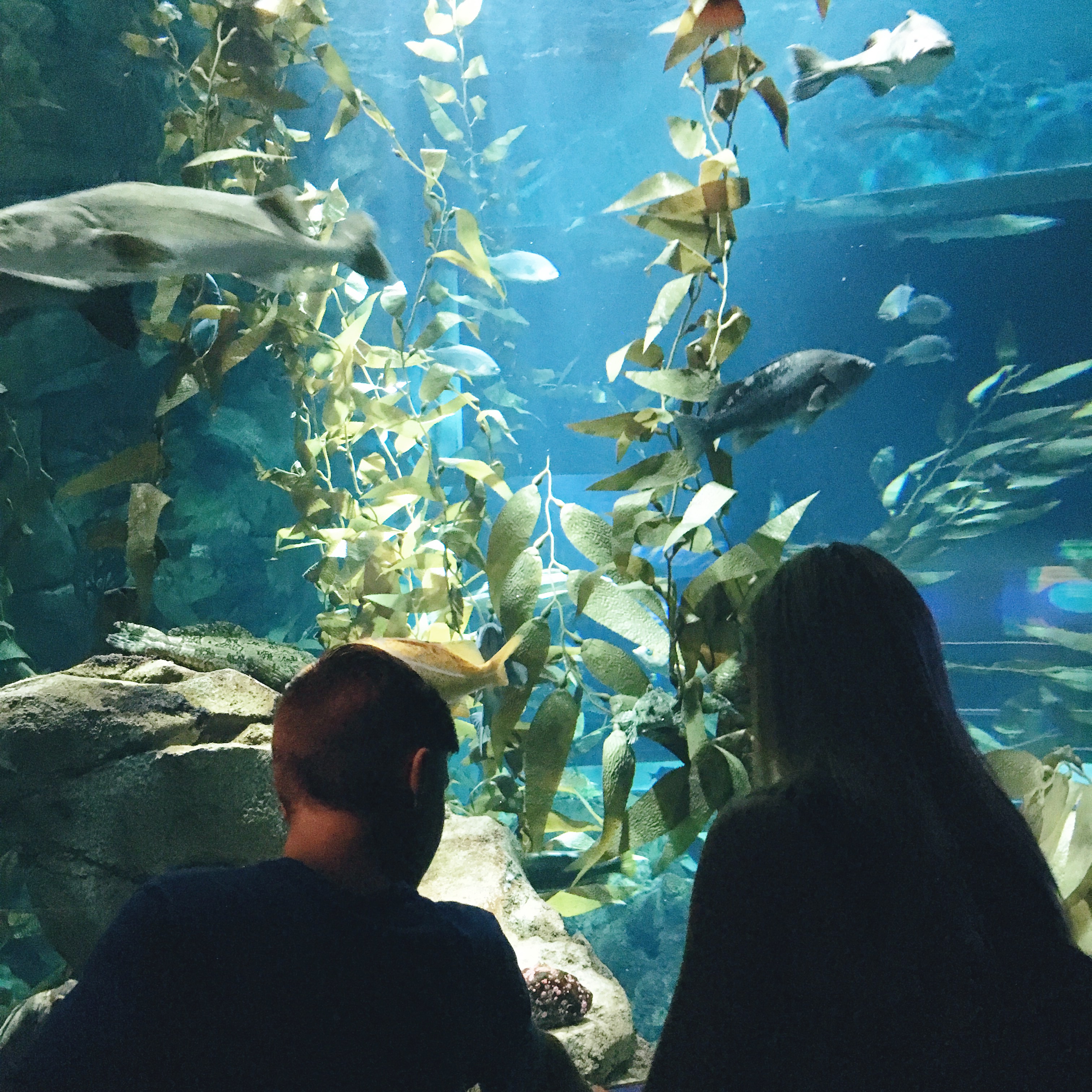 4.  Toronto Islands – There are a chain of islands making up Toronto's largest parkland just a short 15 minute ferry ride from the Jack Layton Ferry Terminal downtown.  Ferries leave and return every 15-30 minutes and all fares are return, children $3.65 and adults $7.50.  We visited Centre Island and it reminded us of a fusion of the natural beauty of Stanley Park in Vancouver and the fun vibe of Huntington Beach in California.  The open green space and sandy beaches make it the perfect place to have a relaxing picnic and get the best pics of the city skyline.  Younger kids would enjoy the rides at the Centreville Theme Park.  You can also rent bikes to ride around the islands as they are connected by bridges.  The islands are so chill that you feel far from the hubbub of the city yet in reality you're so close by.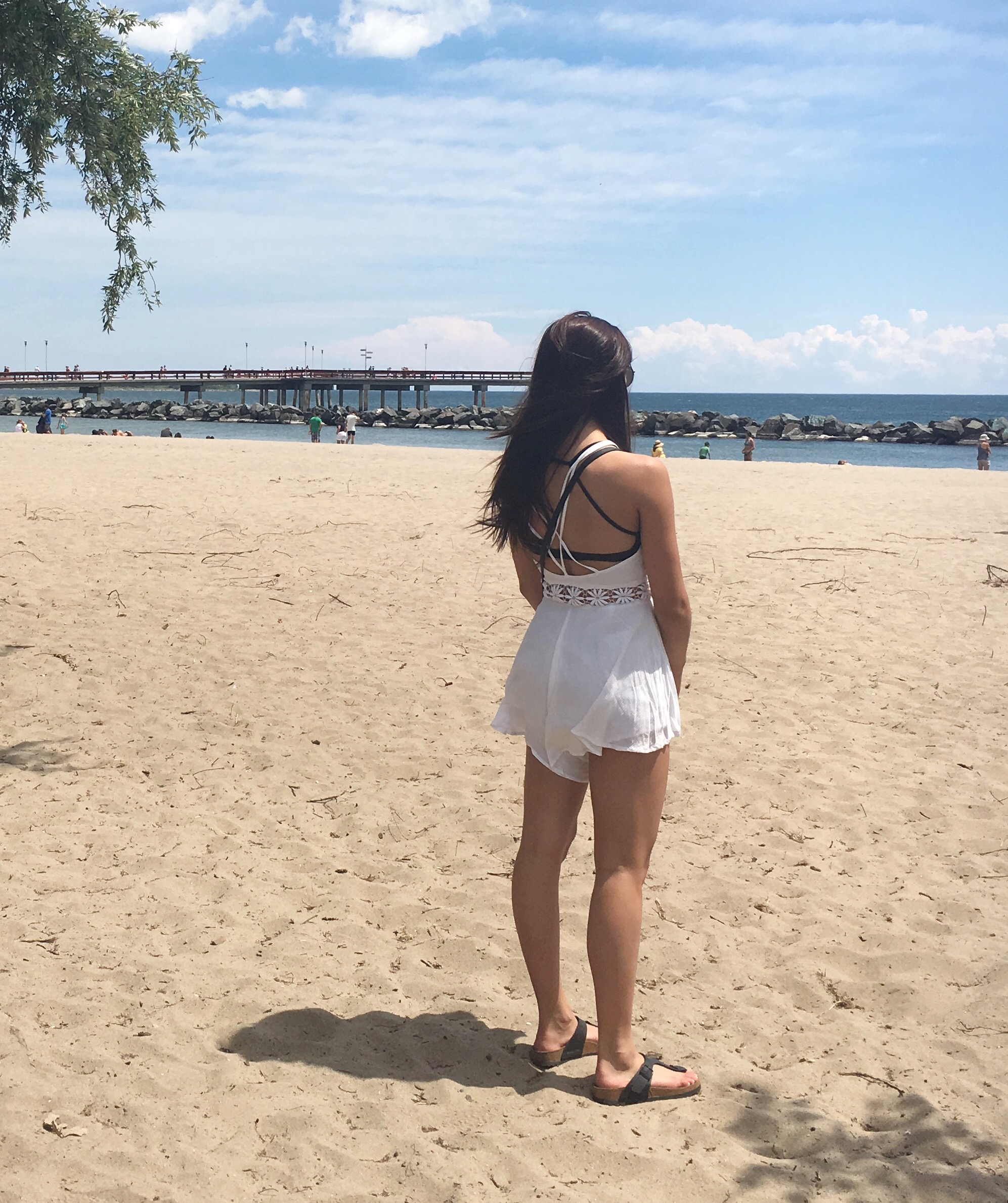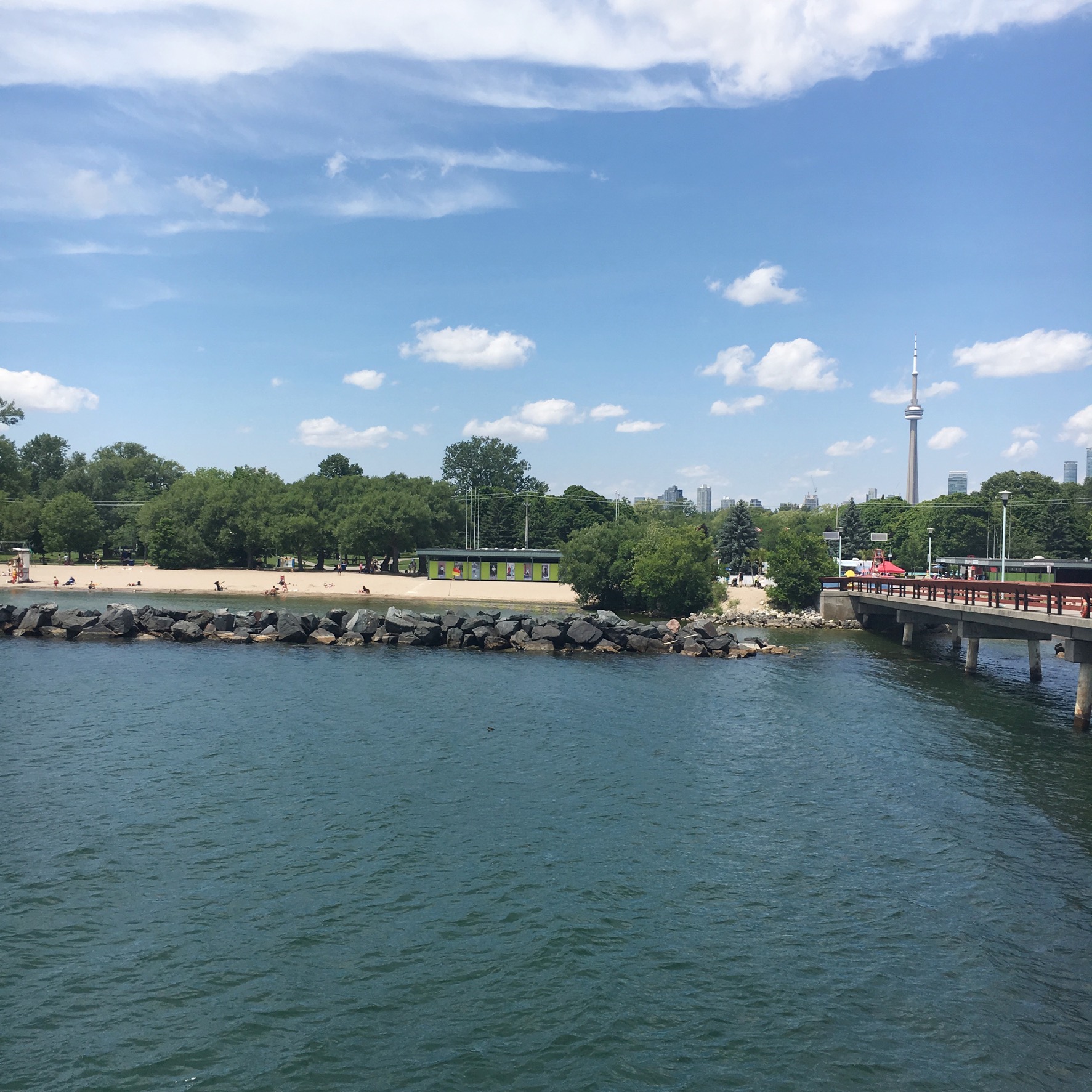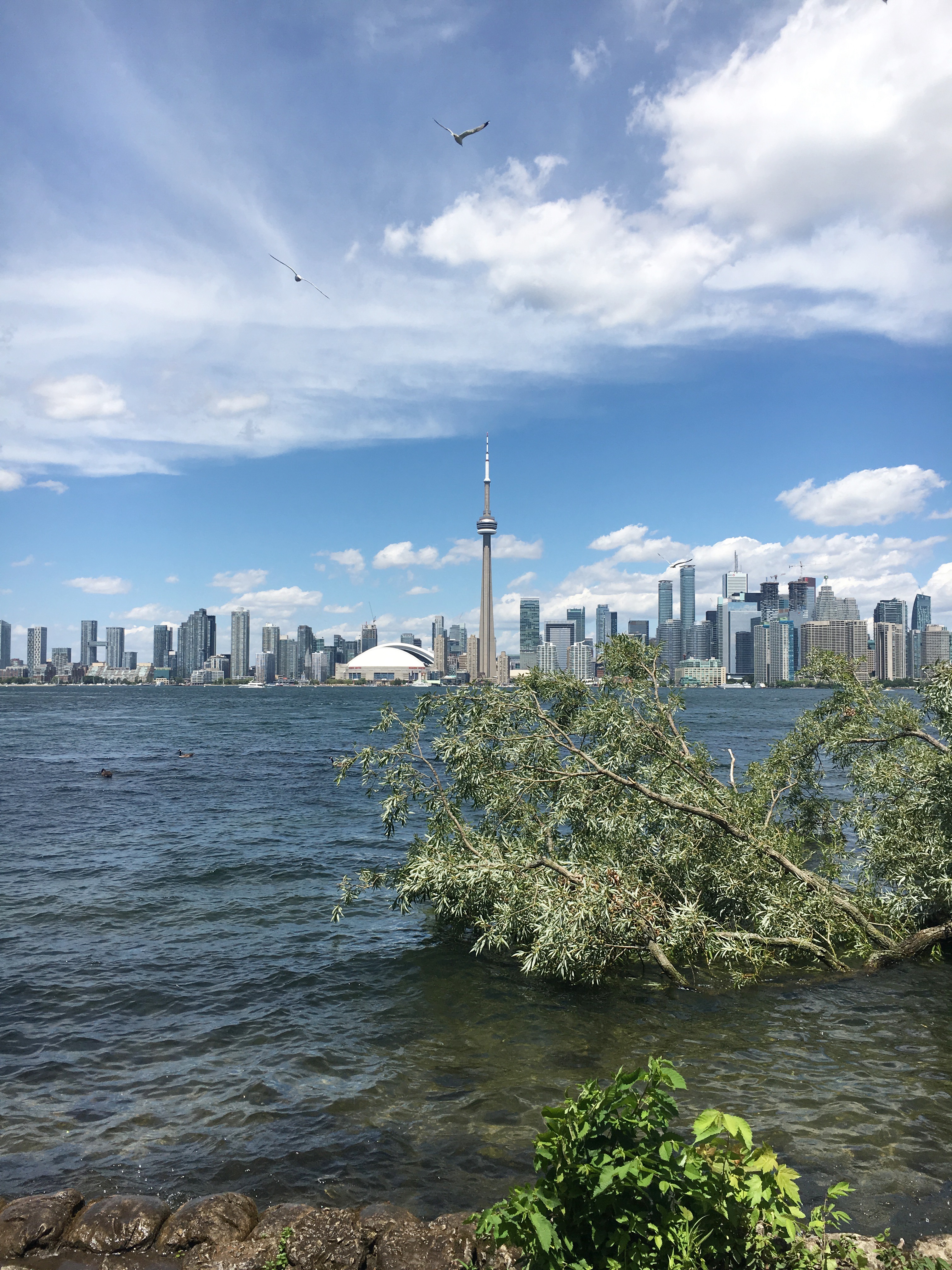 5.  Hockey Hall of Fame – If you have even one hockey fan in your family, this is a must do.  This was on Mac's bucket list and he actually visited it twice the week he was here.  You won't believe the amount of hockey memorabilia, the largest collection in the world, from equipment from the very early days of hockey to gear from countries you wouldn't even know had teams.  Highlights are the original Stanley Cup in the Esso Great Hall along with portraits of the inductees.  Mac had a lot of fun playing the interactive shooting and goalie games.  The Hockey Hall of Fame is only open until 6pm, so plan a visit for earlier on in the day.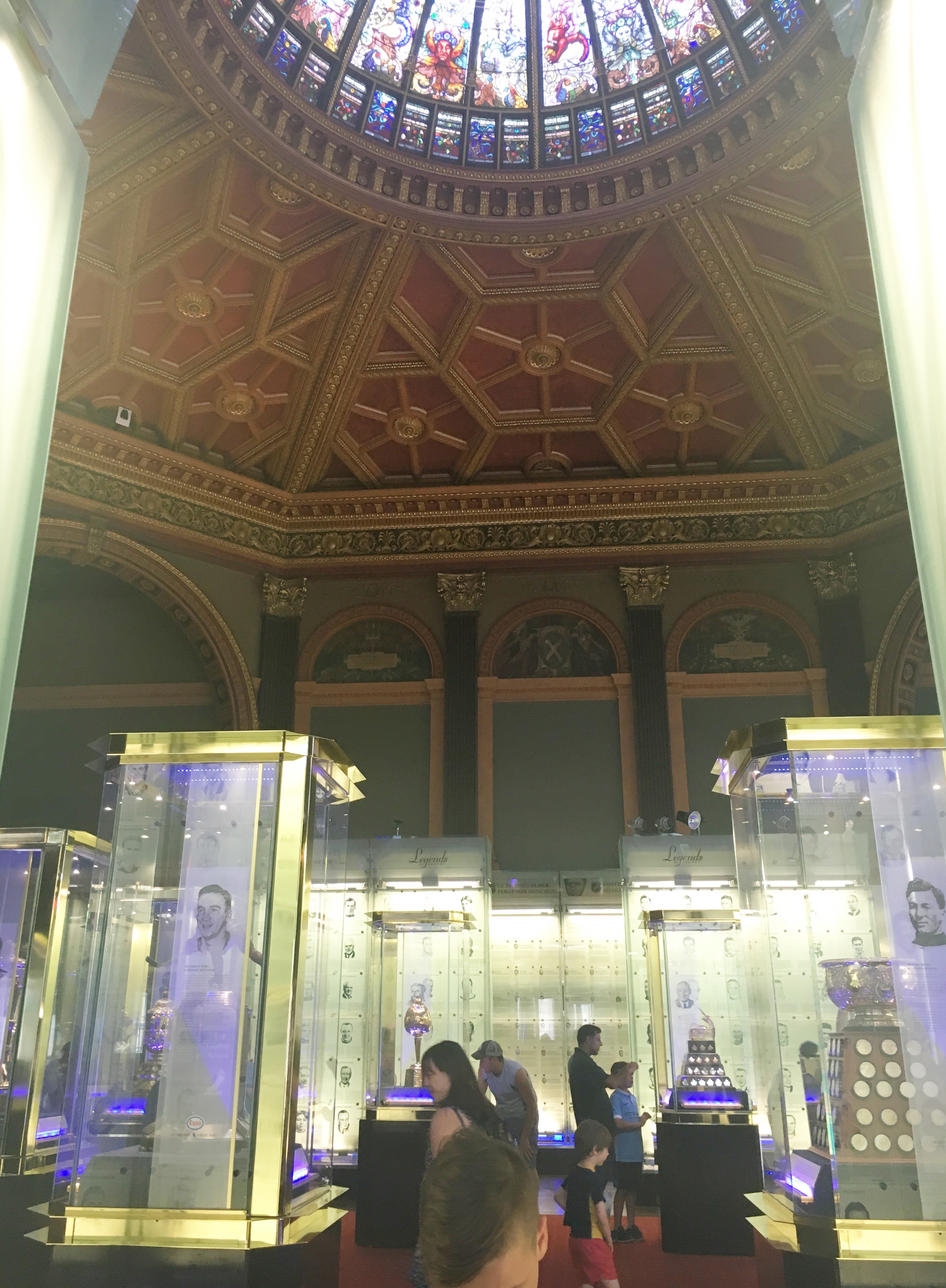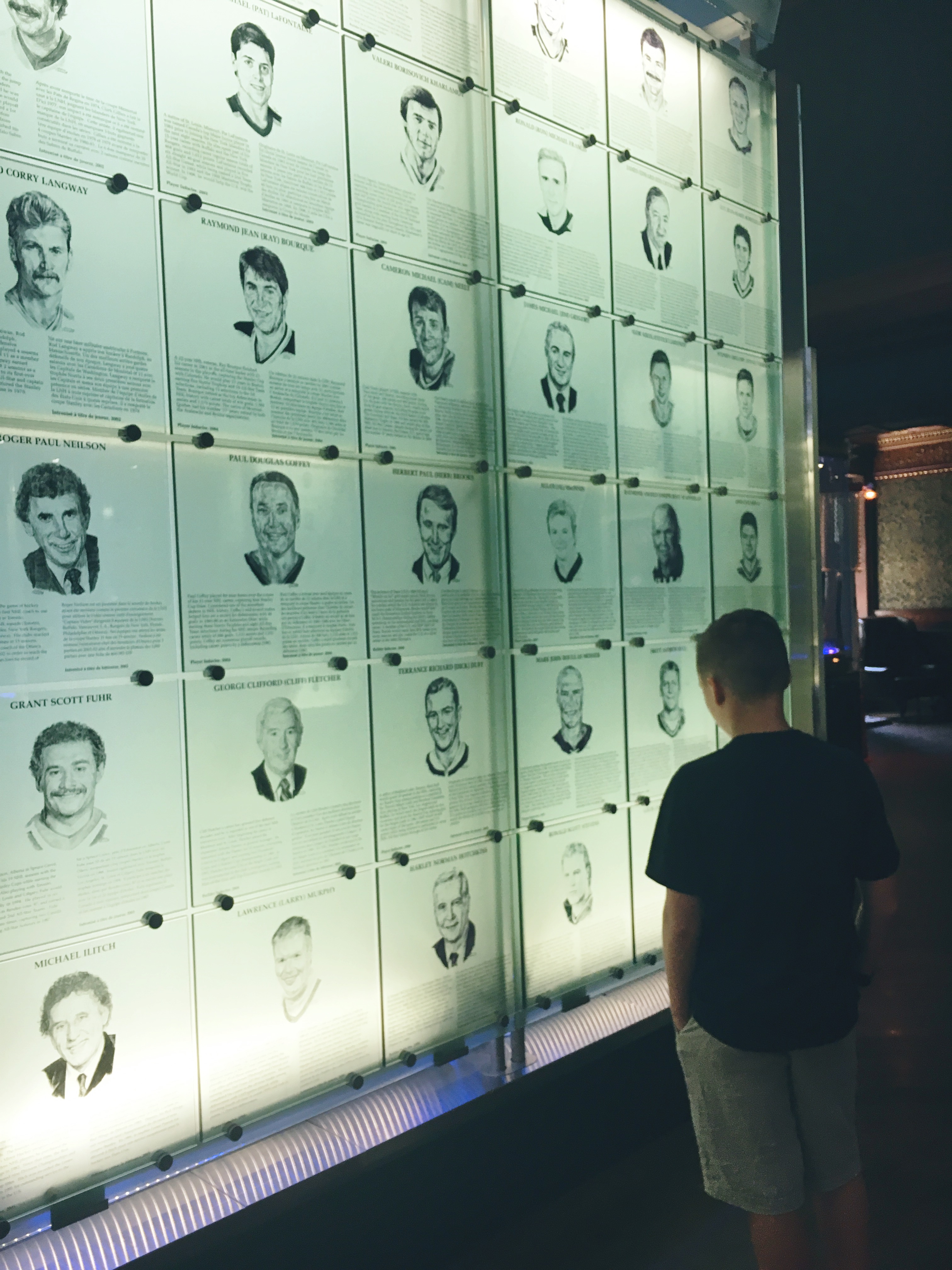 6. Kensington Market – This is a super fun and quirky area with shops, fresh food markets and multicultural eateries…think food truck festival but with little restaurants.  There is something for everyone from tacos to gourmet grilled cheese to pad Thai and….the best… ice cream!  During the summer, they close the streets down the last Sunday of each month for "Pedestrian Sundy".  If you are debating between Kensington Market and St. Lawrence Market, Kensington would be my pick for the family.
7. Dundas Square – You don't need to spend a ton of time here, but you do need to walk by and have a look.  Dundas Square would be Toronto's Times Square.  It's on a much smaller scale, but do be prepared for crowds.  There is almost always something going on with free concerts, free films, free events and free wifi.  Check out their event calendar here.  And Toronto Eaton Centre is right across the street if you want to do some shopping.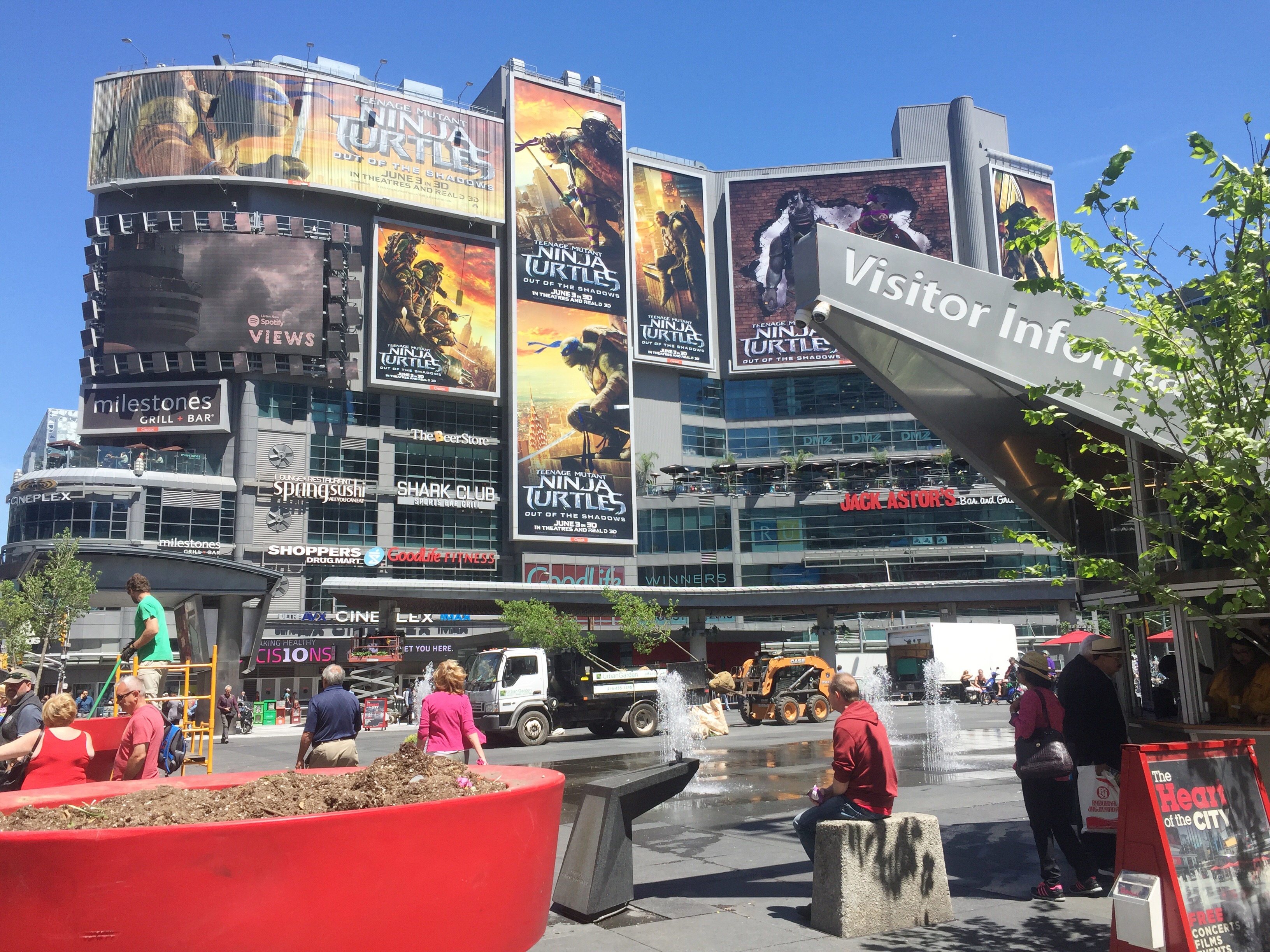 And summer is synonymous with ice cream and the choices abound in Toronto.  Check out my post here for my TO faves.
This post was in collaboration with Expedia.ca. All opinions are our own and I highly recommend Toronto as a family destination as we had a great time!