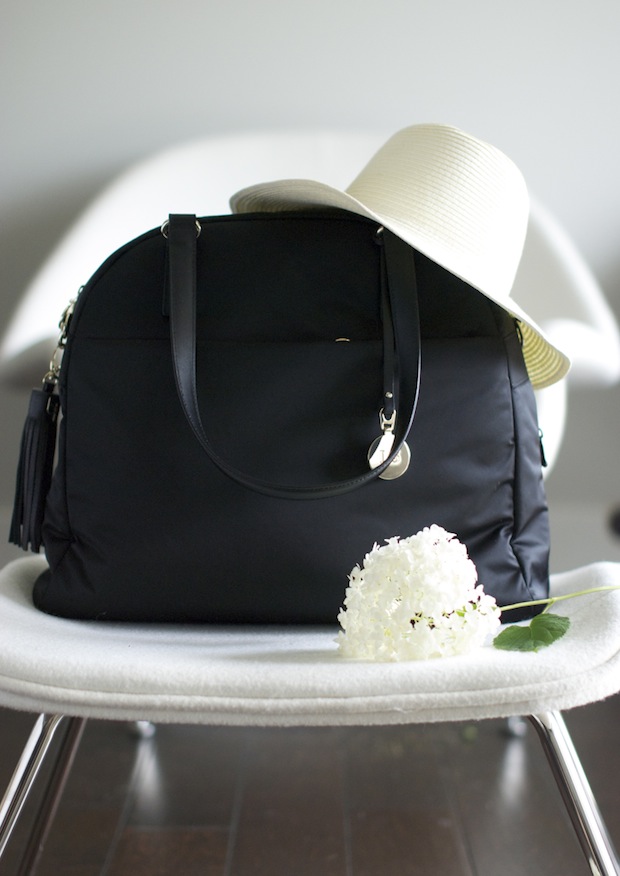 Let's just start by saying that other than the title of this post, I hope there's no similarity between our family trip abroad and to Chevy Chase's version of crossing the pond and travelling. Ok well we are renting a car and making a road trip out of it…oh please let us fare better than the Griswold family!
Today we are exploring London…so many things we want to see! I wanted to share how I tackled packing for this trip. I spent a lot of time figuring out how to pack everything that was essential in a "light" fashion. I am, after all, going to be lugging it with me for 3 weeks.
Let's break it down:
What to pack in your carry-on: Let's back it up for one second. The carry-on itself. I have had my eye on this bag for a number of years (that's not an exaggeration). What I was attracted to was it's sleek shape and the attention to detail that went into its design: there is a place for everything! My usual carry-on became a cavernous hole where I couldn't find anything easily. It didn't zip up and there were no compartments.  This bag combats each of those problems. Scott gifted me with this for my birthday and I know that it will be my go-to for years to come.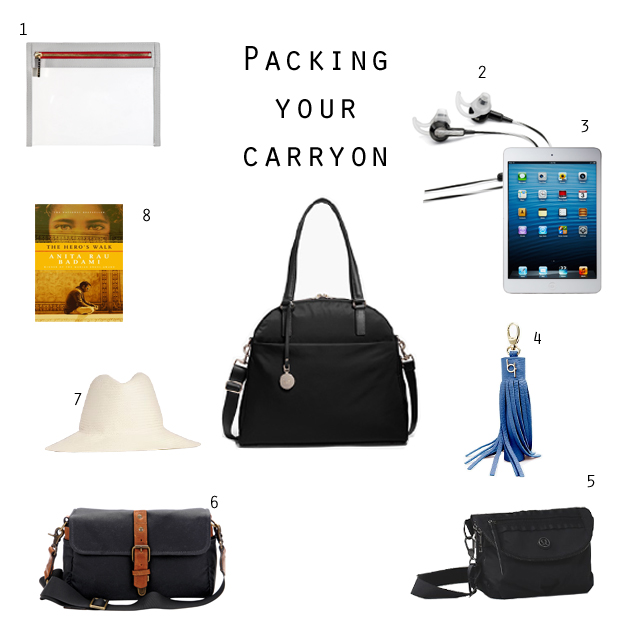 Here's what else I packed for easy access in-flight:
Center: This carry-on bag is quite simply amazing.
1.This clear pouch holds my skin/face essentials, such as lotion, hand sanitizer, lip balm, lipstick and essential oil spray. No more digging for that ever elusive tube of lipstick.
2. Ear buds – I decided to forgo the big headphones in order to save space. These are super comfortable & have great sound quality as well.
3. Ipad mini – the mini relative to the regular iPad is brilliant for travel. Ultra thin and light, the room it occupies is negligible.
4. Portable Charger – this one is not only practical but aesthetically attractive…it's hanging on the side of my carry-on above and will be switched to my purse for daily use once we've landed.
5. Day Bag – a bag /purse to fit all the little things you want to carry with you during the day, with zippers for extra safety. The wide strap seriously helps eliminate any back strain…
6. Camera Bag – pretty thrilled with this new bag. Without screaming "I'm a camera bag", this cross body can be carried all day. There's even room for some essentials if you don't want to carry a purse..lipstick, phone, money as well as your camera and lens. Best of all, it fits in my carryon.
7. Straw Hat – Shade is cool, ok? I know it's hard to re-train our brains, but keeping the sun off your face is really the only way to keep those sun spots, wrinkles, etc from wreaking their havoc on you. ps this one pictured is on sale for $9.99..
8. A good book is standard fare on a vacation..this is the one I'm packing.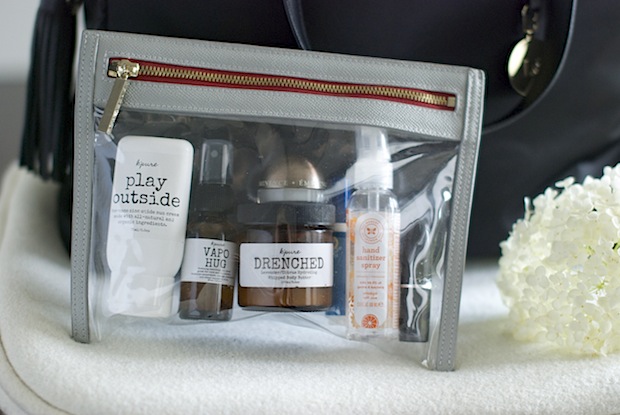 What to pack in the suitcase: I really had to pare back here…I didn't want to be weighed down…literally. Here is the list of the basic pieces that I've packed. You'll notice a colour theme but I've set out to be able to mix and match and leave the colour and hits of sparkle to my accessories.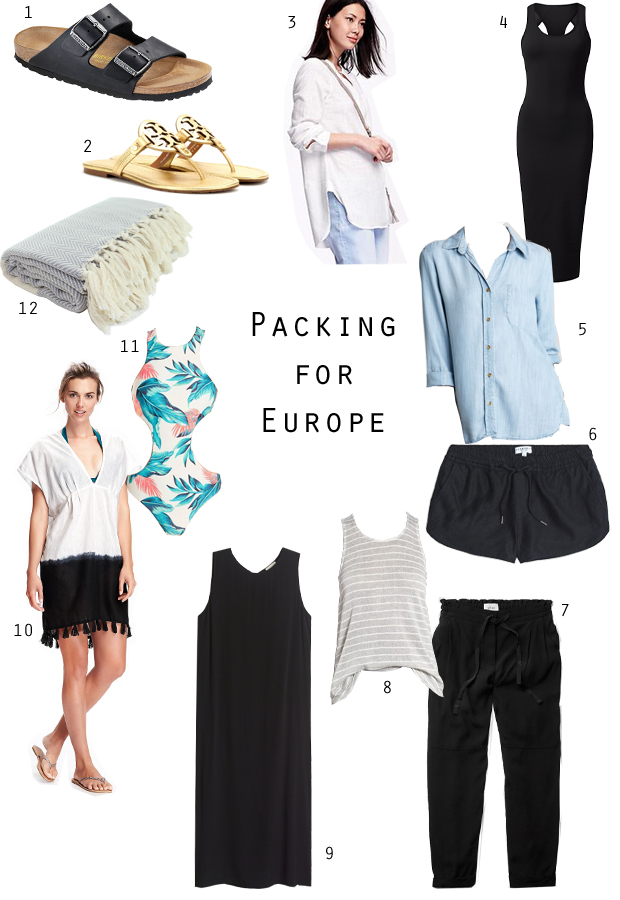 1. Birkenstocks – I just gave in..and I loved them well before we left. We plan on walking as much as we can (you really do see more when you're on foot!) and so there's is no time for blisters and achy breaky feet!
2. Sandals – a flat pair of sandals to navigate the often uneven cobblestone paths, but still dressy enough for an evening dinner.
3. Lightweight Tunic– a perfect piece that provides a bit more coverage while still keeping things cool and breathable.
4. A comfortable black day dress – My mom-in-law sourced this out for me thinking it would be perfect for our trip… I couldn't agree more. Super comfortable, this dress holds its shape, has a built-in bra and even has a little pocket to throw your phone in.
5. Chambray Shirt – for those cool mornings or evenings. Or when you require your shoulders to be covered at various sites, such as museums. Can easily be tied around your waist when not needed. Pictured, similar here
6. Basic Shorts for when the heat is on!
7. Lightweight Pant that will work for both travel and for cooler days. This one is super relaxed with no real structure…perfect for throwing on with a tank during the day and adding the chambray shirt in the eve.
8. Day to Evening Dress – it's wise to pack one dress that can take you from day to evening…slip on some accessories to add polish for a more upscale dinner.
9. Tank tops to continually rotate. I've kept mine pretty basic to allow me to mix and match… This one's a great deal right now!
10. Beach Coverup and 11. Swim Suit. We've made an effort to plan 4 days in the middle of our trip to just chill beachside…
12. Turkish towel – This is my scarf for evenings, towel for impromptu beach stops, or blanket for drafty flights. These towels are known for their ability to be super absorbent and dry quickly. They are also lightweight as opposed to a packing a regular bulky towel.
Extra Add-Ins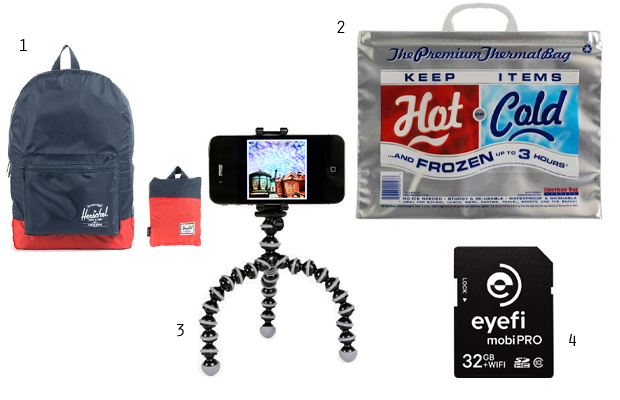 1. We threw in a couple of these Herschel packable daypacks…for any hikes that we do..or any extra goodies we want to bring home!
2. A cooler bag…genius little thing. We will be road tripping for part of our vacation, and this will allow us to pack our baguettes and cheese to enjoy on the road. When not in use, it takes up virtually no space in our luggage. ps..I found this bag locally at Krause Farms.
3. Gorilla pod for your iPhone. This ingenious little tripod for your smart phone has flexible legs that can wrap around tree legs or poles or balance on uneven surfaces. It's already been in heavy rotation this summer…
4. This might be the greatest invention in the last while! This WiFi SD Card will allow me to transfer all my iPhone photos to my iPad wirelessly. Can you say FIST PUMP?
Happy Holiday'ing friends!! xo Laurel