Summer weather has definitely arrived early on the West Coast and I couldn't be happier!  Laurel recently shared some of her faves that are helping her to get summer ready here.  So, I thought I'd add some things that I'm seriously loving right now!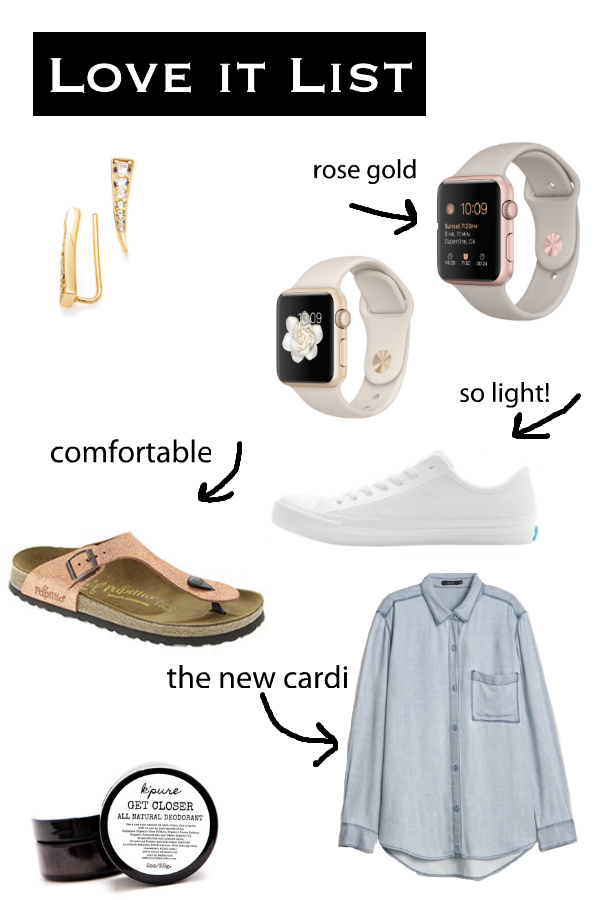 These Melanie Auld Ear Climbers add just a touch of edge and sparkle to my everyday wear.  They are 18k gold plated and don't irritate my ears.  I love that Melanie Auld is a Vancouver based designer and has a Canadian website so we Canucks can avoid duties and exchange (she has a US one too).
A few weeks ago, I got an Apple Watch and I'm loving it!  They have recently come down in price and the sport models in gold and rose gold are a bit more fashion forward versus just athletic-looking.  I am addicted to the step counter and the voice dictation for texts.  I have to admit that when the Apple Watch first came out, I didn't get the point of it….but it really is a genius and super useful piece of technology.  It's definitely making me move more!
Because I'm trying to get in more steps, comfortable shoes are key.  I got a pair of Birkenstocks back in February on HauteLook.  Ok, I can't even say what Jason calls these, but whatevs…they are amazing for walking!  The Gizeh style is super comfortable, especially in suede and…you had me at rose gold.  They are no longer on HauteLook, but select sizes are available here and here.  The same style is available in gold here.
These white sneakers from People Footwear are light as air.  I'm serious that when you pick them up, you won't believe it..they weigh like nothing!  Perfect for packing on a trip as most airlines have super tight luggage weight restrictions.  I love the white on white, but they do come in a ton of colors.  What I love is that they are breathable and super affordable at $65 a pair.  People Footwear is based in Vancouver and you can shop online here (US peeps here) or in store here.  Sugar Plum bros…they have men's footwear as well!
I've been wearing this chambray shirt from Aritzia over EVERYTHING!  The fabric is soft, light, and drapey, making it just right to be your summer take along when the temps dip a bit a night.  The light blue color works well to pair with darker denim without looking too jean-y.  Think of it as the new cardi.
I've tried several natural deodorants, and none have worked well.  Laurel told me that the "Get Closer" natural deodorant from K'Pure Naturals was the bomb….and she's right!  I've been using it for about two weeks now and it is amazing…and it smells so good!  Don't let the gray color scare you…that's the charcoal in it that absorbs wetness and once it dries, it's clear.  It now comes in a cute little travel size too!  You can purchase online here or in store here.
I hope that you all have a fabulous Victoria Day long weekend….it really feels like the kick off to summer! Yes!!!!