May has arrived in a fanfare of warm temps and summer feeling vibes . I'll take that any day of the week. Ok I'm not totally packing away my rain gear, but I'm slowly moving it further to the back of the closet..and that's a step in the right direction.
Today I thought I'd share some of my favourites that are helping me get summer ready…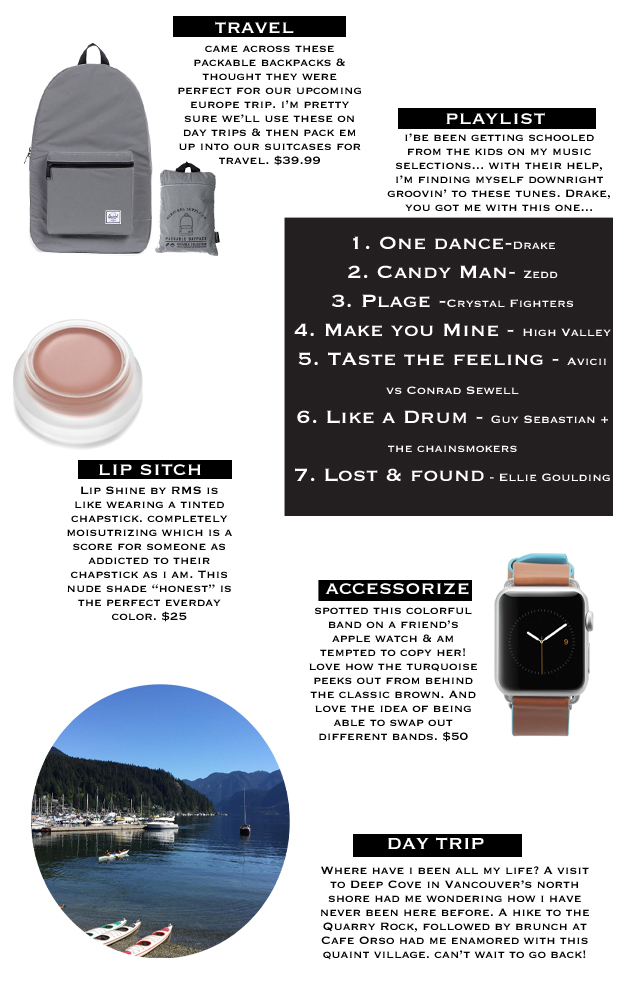 Playlist | Backpack, Herschel here & here| RMS lip gloss instore & here | Apple Watch bands |
A little note about Deep Cove: I've lived in BC my entire life and yet this week, I made my first visit to Deep Cove. What a gem this place is. What got me right away was the sight of moms with their little ones playing at the beach. That would have so been my ultimate type of  "moms group" back in the day when my kids were little. Can we turn back the clock so I could set a routine something like: Beach, coffee, hike, nap, repeat? Hike to the Quarry Rock or rent kayaks to take in the beautiful scenery. And once you're done, visit Cafe Orso for brunch, notably my go-to choice of avo and toast is good. Real good. Have you tried Nelson and the Seagull's sourdough? Find it here.  I've also heard that Honey's Doughnuts is a must-stop. We were full up after brunch but next time I'm not so sure I'll resist. The main road is filled with cute boutiques and eateries which we had fun exploring so give yourself time. Bottom line, this "Beautiful BC" thing is for real.
Have a great day…thanks so much for reading xo Laurel