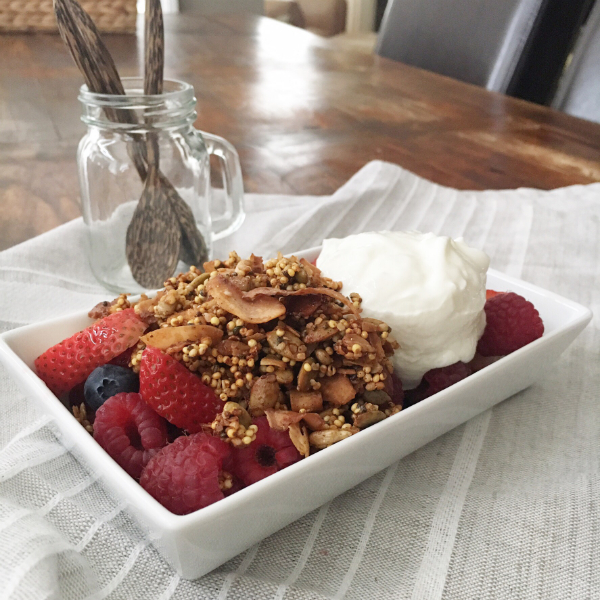 I really love granola…especially with berries and yogurt.  I'm not a morning person, but I do look forward to my morning breaky!  I was cruising Pinterest the other day for healthy muffin recipes and came across this recipe for millet muffins, which I have not yet made, and it made me think of trying to make granola with millet.
Why millet?  It may make you think of bird seed.  But, once it's toasted, it's super crunchy and filling.  It's gluten-free, full of fibre, low in simple sugars, and high in protein.  It is thought to help prevent breast cancer, protect the heart, prevent type 2 diabetes, detoxify the body, reduce blood pressure, and more.* So, I say why not millet?
I came up with this recipe and I've been making it at the beginning of the week and by the end of the week it's gone!  As I said, I love this granola with yogurt and berries.  Dylan prefers it just with berries.  It's really yummy on acai bowls or berry bowls and also adds a nice crunch to oatmeal or steel cut oats.  Or just enjoy some in a bowl with almond milk or whatever milk you prefer.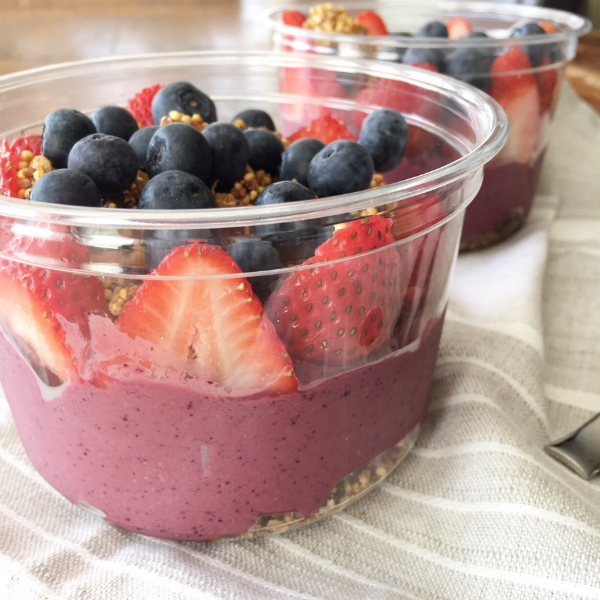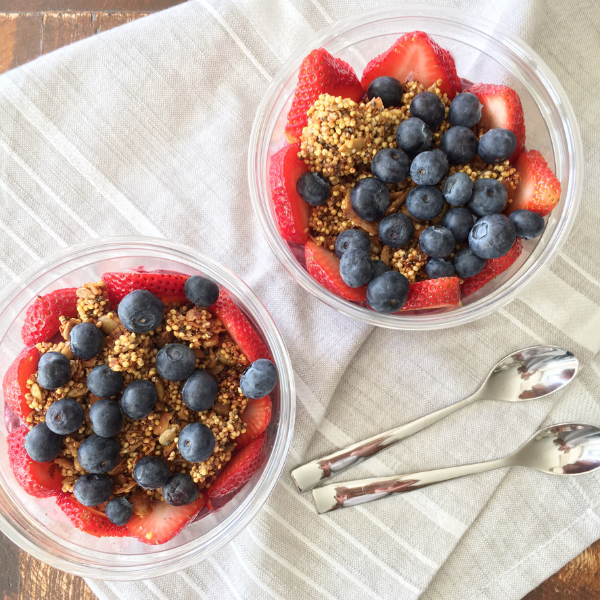 Millet and Hemp Granola
Ingredients
2 cups millet
1 cup hemp hearts
½ cup pumpkin seeds
½ cup sunflower seeds
1 cup ribbon coconut
2 Tablespoons chia seeds
1 teaspoon cinnamon
1 teaspoon vanilla powder
½ teaspoon sea salt
⅓ cup raw organic agave
⅓ cup pure maple syrup
Instructions
Preheat oven to 300 degrees F.
Combine all dry ingredients in a large mixing bowl.
Stir in agave and maple syrup until well combined.
Spread onto parchment lined cookie sheet.
Bake for 20-25 minutes, stirring two or three times.
Turn oven off and let dry out another 5-10 min.
Cool completely and then store in an airtight container.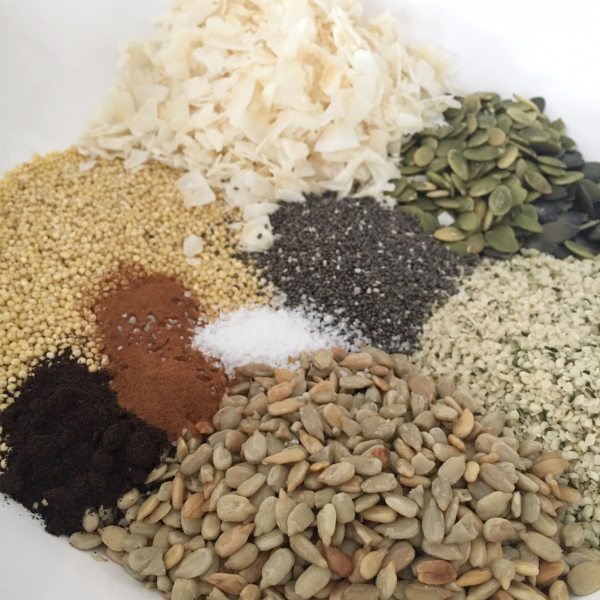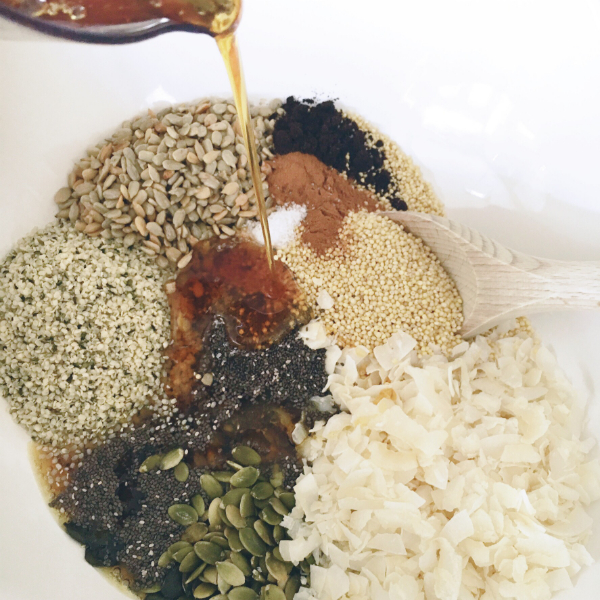 Once you have the ingredients, this only takes a few minutes to put together.  I found all the ingredients at my local health food store.  They sell almost everything in bulk.  Whole Foods sells millet in their bulk food section.  If your grocery store carries Bob's Red Mill, they may carry that brand of millet. If you are having a hard time finding vanilla powder, you can use 3/4 teaspoon of pure vanilla extract.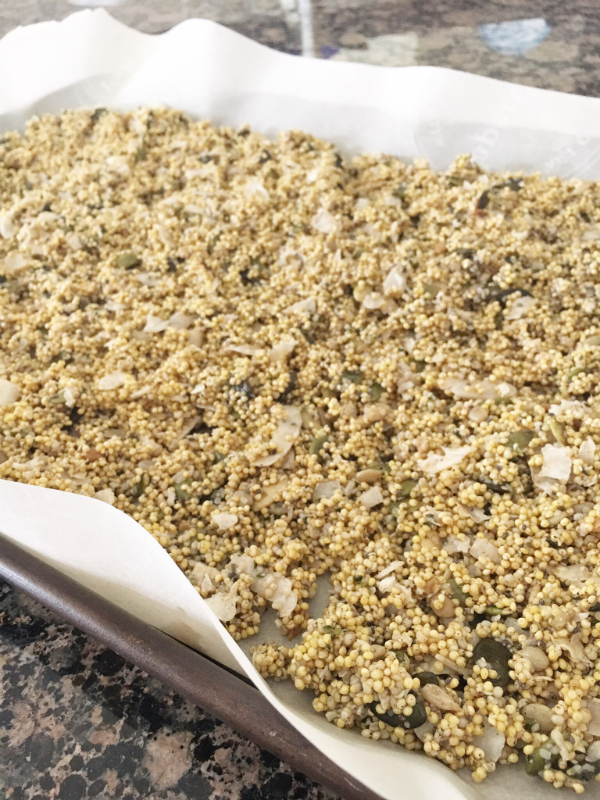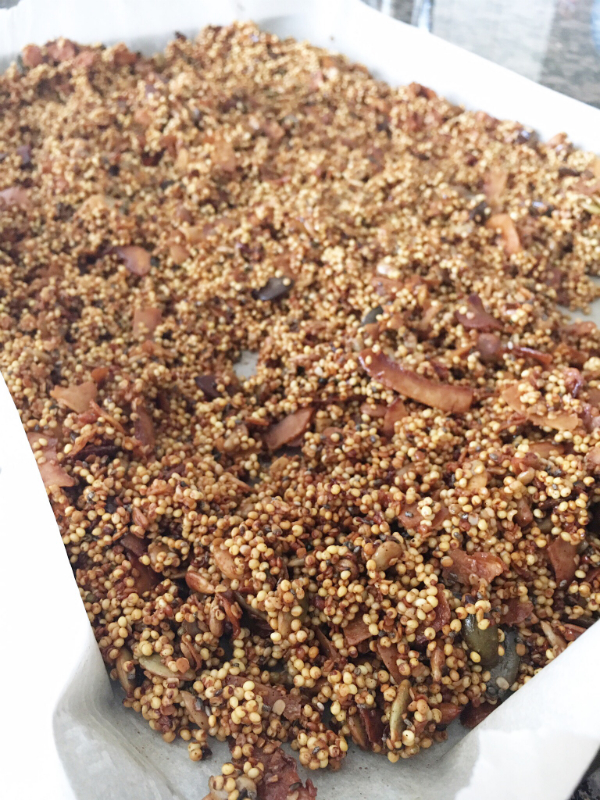 This granola is completely nut and peanut-free so it's perfect to pack for lunches and kids' activities when allergies are an issue.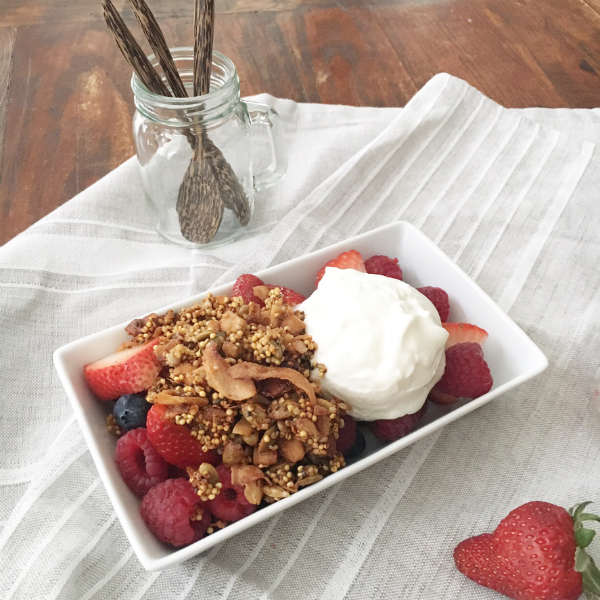 *Always do you own research.