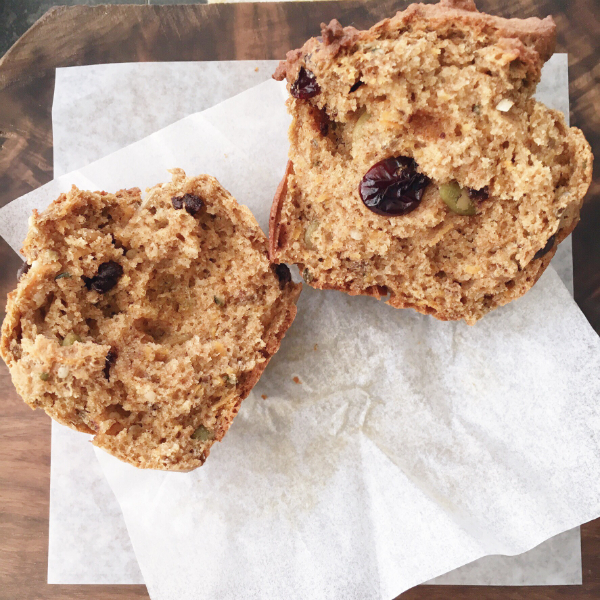 I love trail mix, granola…really anything nutty, seedy and hearty.  I've been on the hunt for a good trail mix muffin recipe.  I found this this recipe and tried it with a few changes.  The big one is that I used spelt flour.
Why spelt?  That's a good question.  I heard it was healthy so I thought it was a good idea.  But I thought I should actually do some research as I was writing this post.  Spelt is considered one of the world's ancient grains.  It was one of the first grains used to make bread dating back to Old Testament times in the Bible. Spelt is one of the few grains today that doesn't require pesticides. Although spelt has been cultivated since 5000 B.C. there has been very little breeding of the grain. It is a distant cousin to wheat and does contain a moderate amount of gluten, so this is not a gluten-free recipe.  But, spelt contains more protein, fats and crude fibre than wheat, so there are a ton of nutritional benefits to using it. Spelt also gives baking a nutty flavor.  So….it is a good idea!
On round one, I substituted spelt one to one for all purpose flour and the muffins turned out like hockey pucks.  Yet, the family still ate them all, so I knew I was on to something.
I have since read that when using spelt, you are to decrease the liquids, but that just didn't make sense to me.  Round two I added more applesauce and they turned out MUCH better.  Now, if you are looking for a light and airy muffin, these aren't for you.  These are definitely dense, nutty in flavor and really do have holding power.  My kids like these for breakfast on the go and I like them with an Americano.  And almost every ingredient is really good for you…yes, there is some brown sugar, but if you break it down, each muffin has just under 1 tablespoon.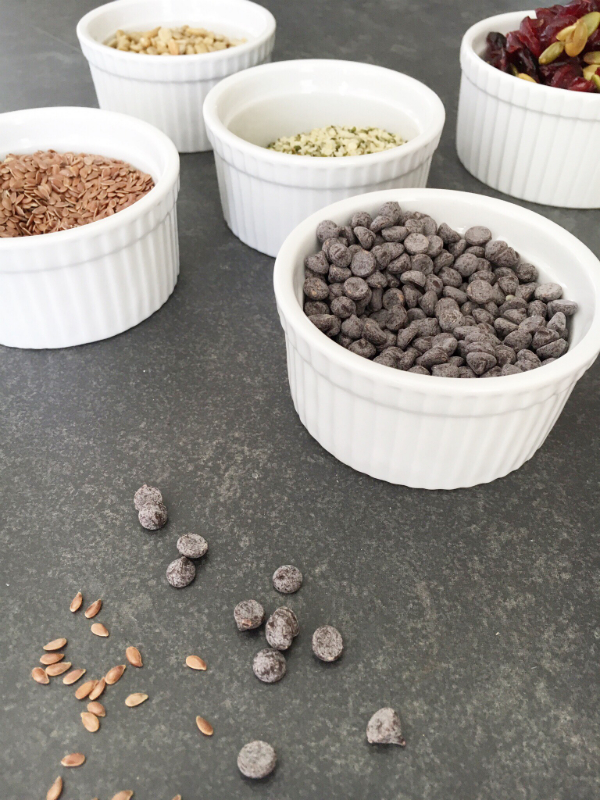 Trail Mix Muffins
Ingredients
3 cups spelt flour
1 cup whole wheat flour
2 teaspoons cinnamon
1 teaspoon baking soda
1 teaspoon baking powder
½ teaspoon salt
4 large eggs
1 cup packed brown sugar
½ cup olive oil
1½ cups unsweetened apple sauce
2 medium carrots, shredded
½ cup craisins
½ cup pumpkin seeds (or chopped nuts)
¼ cup hemp hearts
¼ cup flax seeds
¼ cup unsalted sunflower seeds
¼ cup mini chocolate chips
Instructions
Preheat oven to 375 degrees Fahrenheit.
Line muffins tins with parchment.
Combine first 6 ingredients together in a large bowl and set aside.
In a separate bowl, whisk together the eggs, sugar, oil, and applesauce until combined.
Fold the shredded carrots, craisins, pumpkin seeds, hemp hearts, flax seeds, sunflower seeds and chocolate chips into the wet ingredients.
Add dry ingredients to the wet ingredients and fold until just combined.
Fill muffin tins and bake for 25-30 minutes.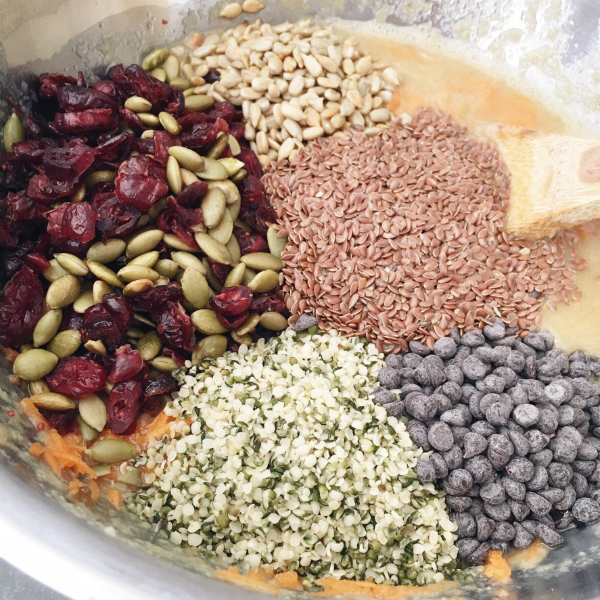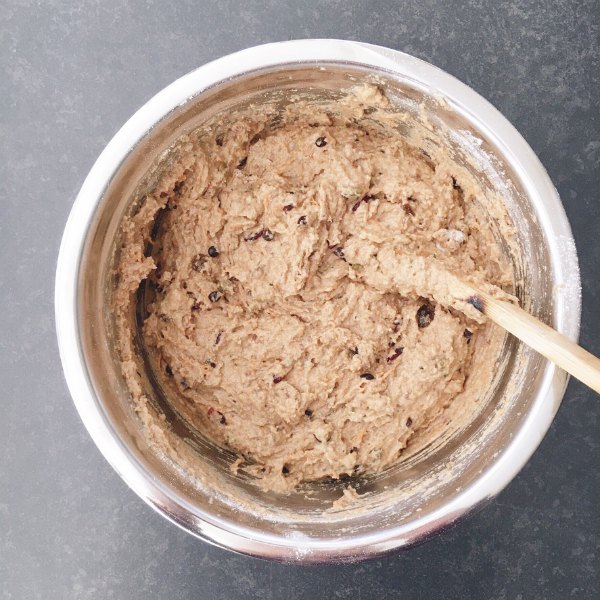 Here's a tip…I've always liked the look of parchment liners and have looked in stores for them, not realizing how easy it is to make them yourself!  Just follow a few easy steps in this tutorial.  And they are even easier to make if you get parchment sheets (I bought mine from Dollarama).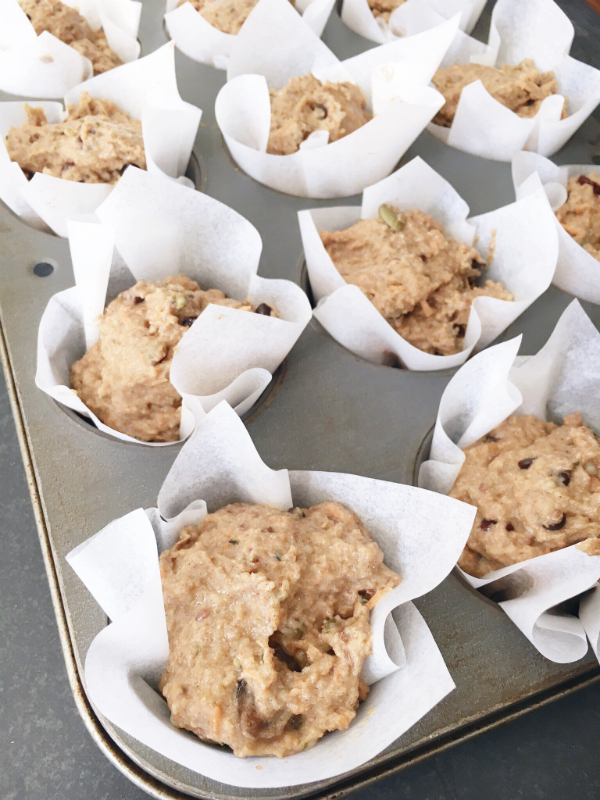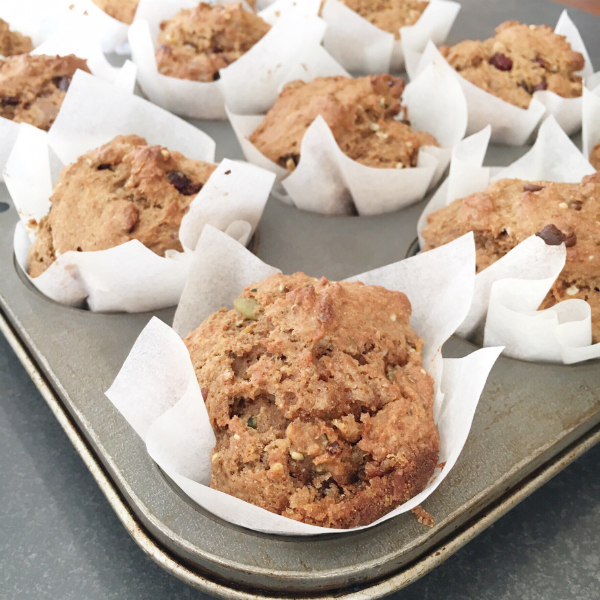 I chose not to put nuts in these muffins so that the kids could take them to school and dance.  But feel free to replace the pumpkin seeds with chopped pecans or any other nut.  Also, if you prefer not to use spelt flour, substitute all purpose flour and cut back the applesauce to 1 cup (instead of 1 1/2 cups).
I think these babies were a hit with the fam…half were gone in less than a day!  You can totally customize this recipe and swap out the craisins for chopped dates or raisins.  You could also use coconut instead of the pumpkin seeds.  Don't be afraid to experiment, just keep the measurements the same for what you are substituting.