Trail Mix Muffins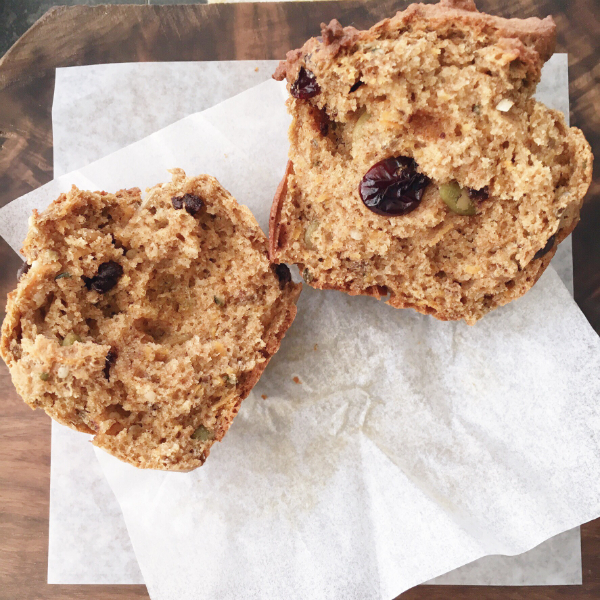 3 cups spelt flour
1 cup whole wheat flour
2 teaspoons cinnamon
1 teaspoon baking soda
1 teaspoon baking powder
½ teaspoon salt
4 large eggs
1 cup packed brown sugar
½ cup olive oil
1½ cups unsweetened apple sauce
2 medium carrots, shredded
½ cup craisins
½ cup pumpkin seeds (or chopped nuts)
¼ cup hemp hearts
¼ cup flax seeds
¼ cup unsalted sunflower seeds
¼ cup mini chocolate chips
Preheat oven to 375 degrees Fahrenheit.
Line muffins tins with parchment.
Combine first 6 ingredients together in a large bowl and set aside.
In a separate bowl, whisk together the eggs, sugar, oil, and applesauce until combined.
Fold the shredded carrots, craisins, pumpkin seeds, hemp hearts, flax seeds, sunflower seeds and chocolate chips into the wet ingredients.
Add dry ingredients to the wet ingredients and fold until just combined.
Fill muffin tins and bake for 25-30 minutes.