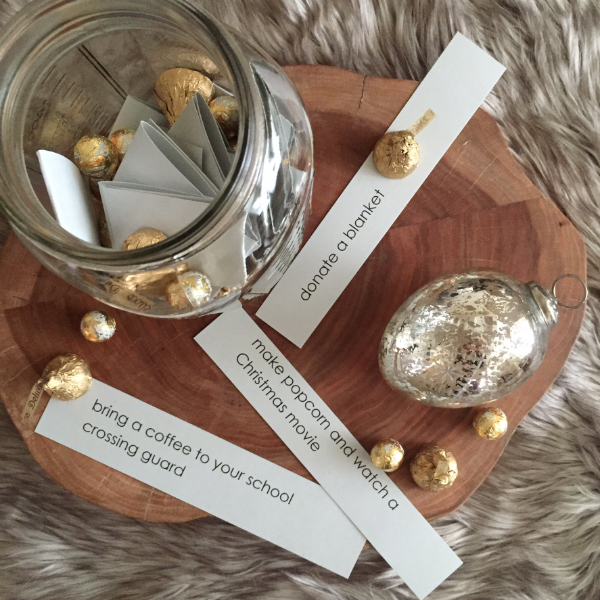 What??  It's December!  Where did November go??  And now the countdown to Christmas is on….ok, I'm not trying to freak you out.  In fact, I'm trying to just be a bit chill about it and really enjoy each moment!  Christmas is really a special time of year…so many amazing moments to be soaked in…if I just take the time.
The last few years I've put together a small gift for my family to kick off the Christmas season on December 1st.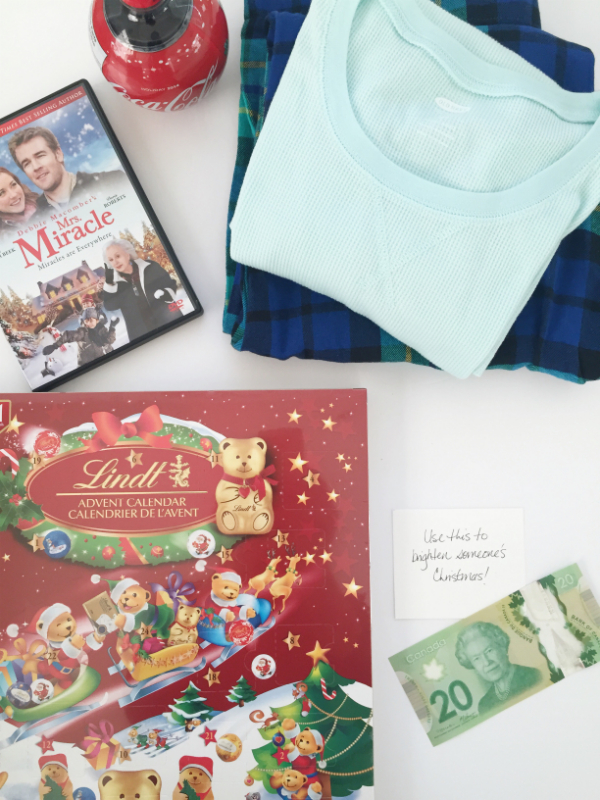 It usually involves an advent calendar of some sort…yes, the cheesy chocolate ones.  New PJ's are a must.  My girls of course want these from our new shop (ok, I'll give Dyl creds…she came up with this idea!).  I always buy a Christmas movie that we can watch together.  And this year, I'm adding an advent mason jar.  In the past, I've made a much more elaborate calendar (see here), but this year I just ran out of time.  But I still like the idea of a calendar that encourages the kids to look beyond themselves at Christmas.  On Pinterest, I've seen a lot of RACK advent calendars…random acts of Christmas kindness!  How cool is this? And it really just takes a few minutes to put together…
All you need is a jar, some paper and some wrapped Christmas treats if you like.  Print out some random acts of kindness for you and your kids to do…each day one child can pick out a paper and everyone in the family has to do it!  Hey it's only December 2, so you can still do this!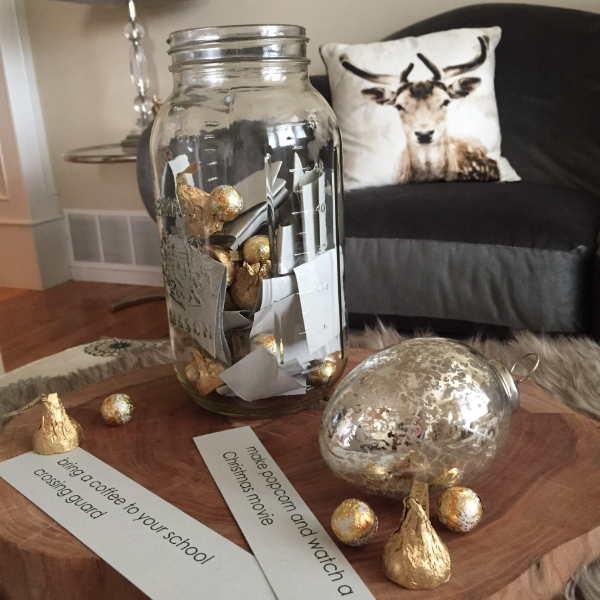 Here are some ideas of random acts of Christmas kindness…
give someone a hug
bring your teacher or coworker a coffee
put money in a Salvation army kettle
send someone a text that might be lonely
give up your spot in line
offer to do a job or chore for someone else
donate food to your local food bank
smile at as many people as you can today
donate a blanket
leave a generous tip
hand out $5 Starbucks or Tim Hortons cards
buy a coffee or soup for a homeless person
hold the door open for someone
bring a coffee to your school crossing guard
use $20 to brighten someone's Christmas
say hello to 3 people you've never talked to before
donate to a toy drive
write a thank-you card to someone you are grateful for
make someone laugh
give a compliment
I've added in some fun, traditional (or not-so-traditional) Christmas things that we can do as a family…
make popcorn and watch a Christmas movie
go to Starbucks and then drive around looking at Christmas lights
pick out a new Christmas ornament
make peppermint hot chocolate
bake Christmas cookies
read the Christmas story from Luke in the Bible
play a family game
run around the yard singing a Christmas carol
I used some treats to pretty up the jar a bit, and I'm sure that the kids won't mind them!  I found gold wrapped Lindor white chocolate and Hershey's Deluxe Kisses.  You can pick treats that might go with your Christmas decor colors.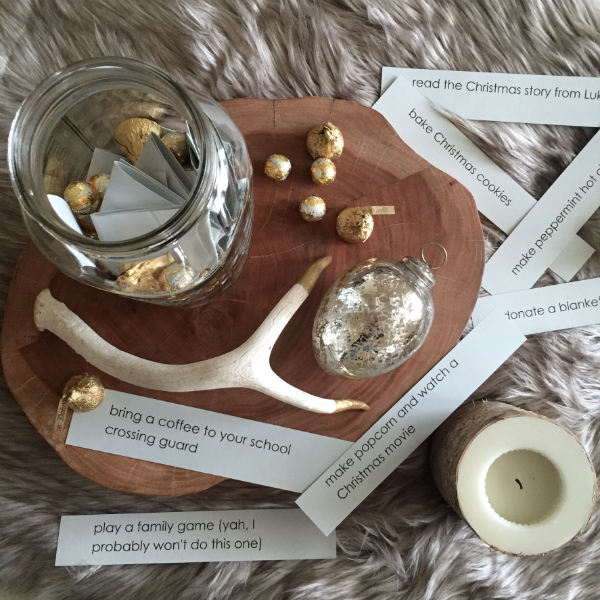 Ok, so I just don't play board games…but I can watch, right?  Have a little fun with the activities you pop into the jar.  And, the countdown is on…23 sleeps!