A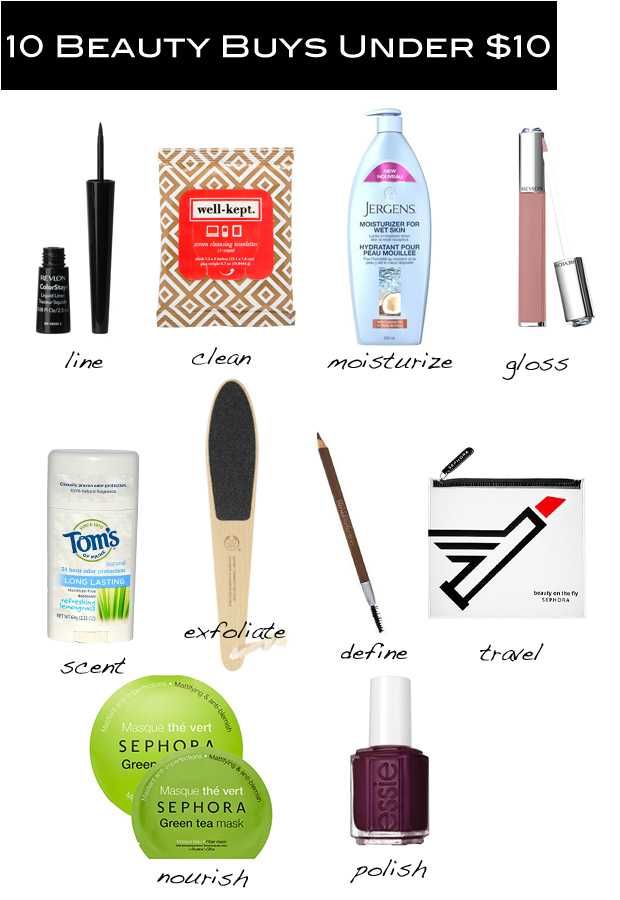 Liner | Wipes | Skin Moisturizer | Lip Gloss | Deodorant | Foot File | Brow Definer | Mini Travel Bag | Face Mask | Nail Lacquer |
"I'm going to use up all of my old makeup before i buy new makeup…said no woman ever". Do you think there's truth to that? Goodness knows i have a bathroom full of products. A self-admitted junkie for pretty packaging i am often lured into making impulsive purchases. Equating a beautiful aesthetic or high price with good quality is sometimes a good call. Other times, it isn't. There are a ton of products out there that don't have to squeeze your wallet dry. Products that work their magic just as well as ones that are sold in high end beauty boutiques. It's all a matter of trying different ones and seeing which work for you.
These beauty buys are all under $10. They are also products that i have found to work well. It's all about results! Here are the coles notes….
A good liquid liner is a great find. Subpar ones make lining difficult and the results usually reflect that. This tip is the perfect shape for making a slight wing tip. And you can't beat the price of $7.98.
Have you ever really looked at your cell phone screen? Simply, both makeup and bacteria collect on your screen and as you keep bringing the phone to your ear, you're rubbing that onto your skin. Not a great thought. Functional wipes in super cute packages keep your screens clean. And make great gifts!
Applying lotion after a shower is the best time to but, let's be honest, it can be anything but convenient. I was skeptical about a wet moisturizer but the results proved this product. Before towelling off, lotion up your wet skin and lightly towel dry. Once out of the shower, my skin feels incredibly soft and stays that way for hours.
The choices of lip gloss are endless. But the good ones stand out. Fully moisturing, non-drying, with great shine are what i look for. This Revlon lip lacquer delivers…and the Smoky Quartz hue is a perfect nude shade to wear this fall.
Aluminum-free deodorants became a must after my breast cancer diagnosis. I can't bring myself to not care. The challenge is finding a natural one that works well. Trust me, i've tried a bunch! This Toms one smells exceptionally good and works…with one caveat. The challenge with natural deodorants is to get long lasting wear. On a longer day, i do tend to apply it twice…that's a price i'm more than willing to pay to keep harsh chemicals away from my body.
A good foot file should be in daily rotation year round. My post on foot care details how i use mine. Daily. i'm not letting the allure of boot season kill my foot care routine.
Brow Definer. This is the year of the brow. And wouldn't you know it? It is the year i lost most of my brows. Go figure. Thankfully, there are a ton of brow defining products for me to choose from. This one, from London Drugs, is a favourite because of it's marbleized colour. Two colours are combined with a marbling effect to make your brush strokes look like real hair.
Travel easier with FDA approved, clear bags. Stash your must-haves in this pouch and breeze through security.
Sephora face masks are wildy popular for a few reasons: the single use size makes these masks easy to pack for travel. The different types of masks, smoothing/toning/moisturizing/brightening,  also allow you to target specific issues with your skin as they arise.
Transition to fall with richly colored nails like Essie's "In the Lobby". Think exotic deep plum.
I hope some of these products will work well for you. I'm all for simplifying and using what works for you, individually! If you have some favorites that are note-worthy, i would love for you to share them with me xo