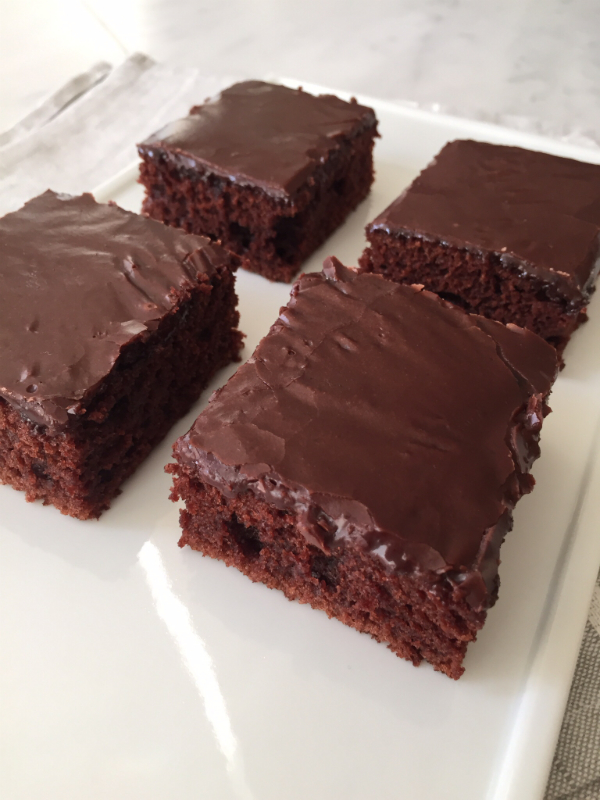 Sometimes you just can't beat a classic.  This last weekend, we were hanging out at Scott and Lo's by the fire outside and Lo brought out some Texas Sheet Cake.  My mom used to make it regularly when we were growing up.  She used to bake every Saturday so there was always some sort of cake or square on the counter and Texas Sheet Cake was a regular part of the rotation.  I'll be honest, I had kinda forgotten about this recipe.  Mac, my 11 year old son who almost never eats sweets or chocolate, kept coming back to the fire and I think he ended up consuming 4 generous sized pieces of this quasi chocolate brownie-cake.  Ok, I needed to make this again!
The next day, I found the recipe in my trusty family recipe binder…creds to my mom-in-law for compiling all of the family faves in one spot!  That's gold right there!
I changed out a few ingredients to make this a wee bit healthier and the fam didn't notice…whew!!!  The original recipe called for margarine, which I swapped out for butter.  I used Camino Dutch-Processed Organic Cocoa Powder and Wholesome Sweeteners Organic Sugar and Organic Icing Sugar.  I also substituted Krema 0% Plain Greek Yogurt instead of sour cream.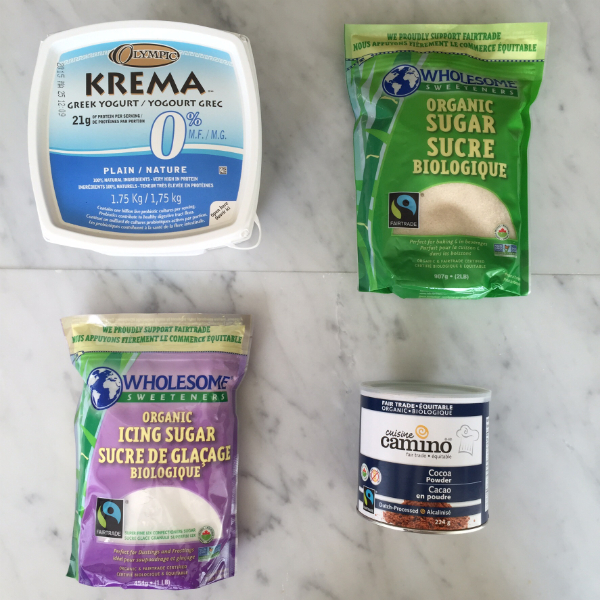 Texas Sheet Cake
Author:
Adapted by Pam Ratzlaff
Ingredients
1 cup butter
1 cup water
⅓ cup cocoa powder
2 cups flour
2 cups sugar
½ teaspoon salt
2 large eggs
1 cup 0% plain Greek yogurt
1 teaspoon baking soda
FROSTING
½ cup butter
⅓ cup cocoa powder
⅓ cup milk
4 cups icing sugar
1 teaspoon pure vanilla extract
1 cup chopped pecans (optional)
Instructions
Preheat over to 375 degrees.
Combine butter, water and cocoa powder in saucepan and bring to a boil.
Reduce heat and simmer for 2 minutes.
Add flour, sugar and salt and blend well.
Remove from heat and add eggs, yogurt and baking soda. Beat with hand mixer until smooth.
Pour into greased 13" x 18" cookie sheet.
Bake for 20-25 minutes, turning the pan half way through the baking time.
For the frosting, using the same, unwashed pan, combine butter, cocoa and milk. Bring just to a boil; reduce heat and simmer one minute.
Remove from heat and add icing sugar, vanilla and nuts (if using).
Beat with hand mixer until smooth and pour immediately over warm cake.
Smooth frosting to edges of pan.
Let cool and cut into squares.
I greased the cookie sheet with coconut oil spray instead of canola oil spray…another healthier choice.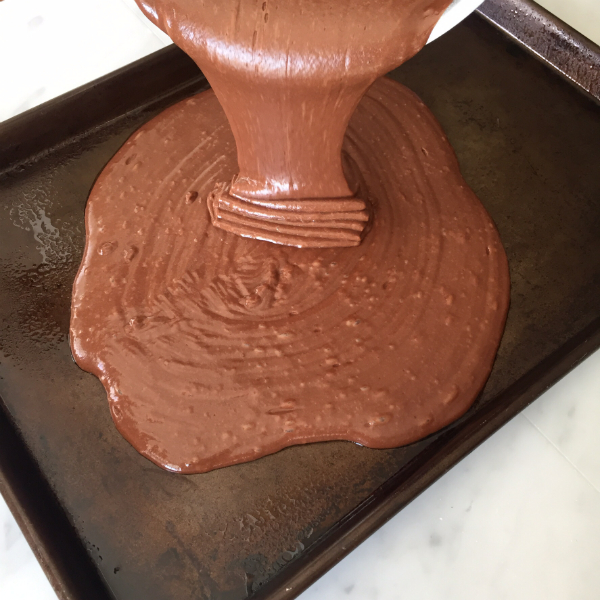 There are a few pretty awesome things about this recipe…you use one fair sized saucepan for the cake part and the frosting, so there's minimal mess.  It's super quick to make…and don't let it cool before you ice it. The heat from the cake causes the frosting to almost melt over the entire pan creating a beautiful shiny finish.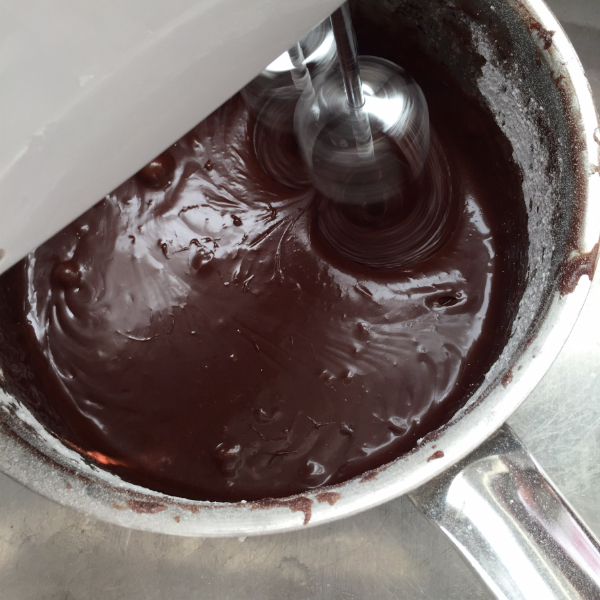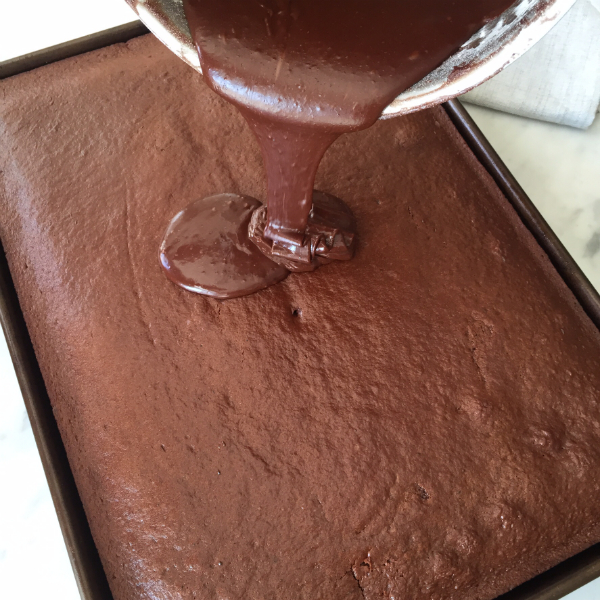 This recipe makes a huge batch.  And, here I go with the "M" word….yes, it's super moist!  You will probably want to freeze half of it right away.  And then pull it out of the freezer for last minute entertaining. It's also the perfect base for brownie sundaes….that's some easy summer dessert right there!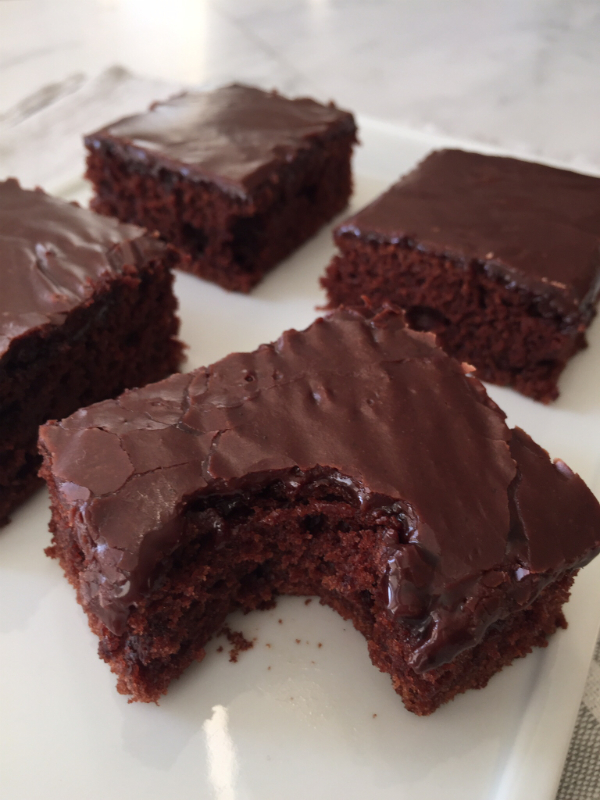 A few small changes makes this classic a wee bit healthier and it's still equally as delicious!