Texas Sheet Cake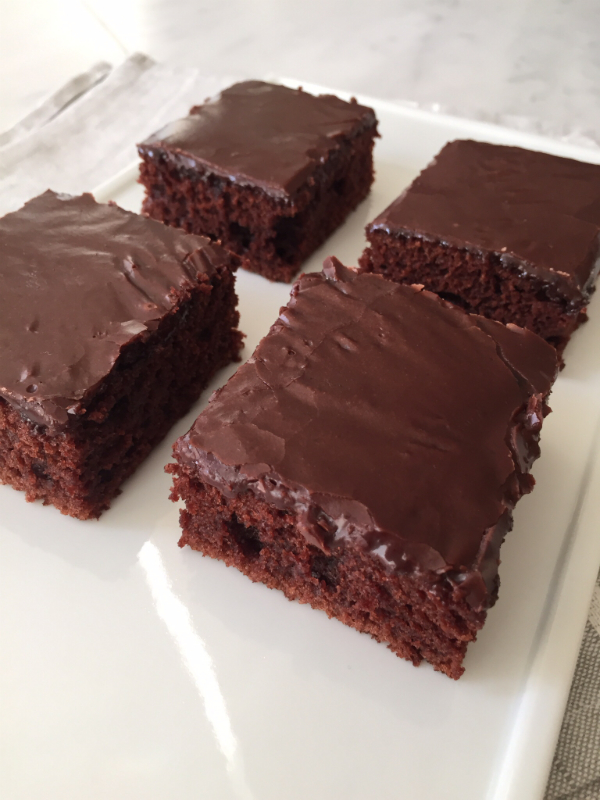 Author:
Adapted by Pam Ratzlaff
1 cup butter
1 cup water
⅓ cup cocoa powder
2 cups flour
2 cups sugar
½ teaspoon salt
2 large eggs
1 cup 0% plain Greek yogurt
1 teaspoon baking soda
FROSTING
½ cup butter
⅓ cup cocoa powder
⅓ cup milk
4 cups icing sugar
1 teaspoon pure vanilla extract
1 cup chopped pecans (optional)
Preheat over to 375 degrees.
Combine butter, water and cocoa powder in saucepan and bring to a boil.
Reduce heat and simmer for 2 minutes.
Add flour, sugar and salt and blend well.
Remove from heat and add eggs, yogurt and baking soda. Beat with hand mixer until smooth.
Pour into greased 13" x 18" cookie sheet.
Bake for 20-25 minutes, turning the pan half way through the baking time.
For the frosting, using the same, unwashed pan, combine butter, cocoa and milk. Bring just to a boil; reduce heat and simmer one minute.
Remove from heat and add icing sugar, vanilla and nuts (if using).
Beat with hand mixer until smooth and pour immediately over warm cake.
Smooth frosting to edges of pan.
Let cool and cut into squares.