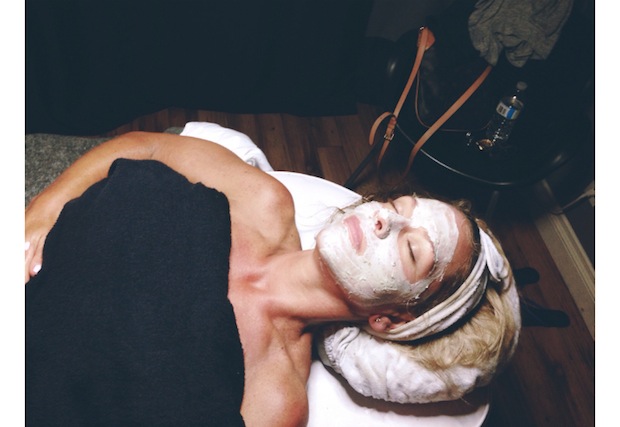 Gift-giving can be incredibly fun..and sometimes frustrating all at once! I seem to be full of ideas year round and then come Christmas shopping i get so caught in trying to buy the "perfect" gift that i experience commitment phobia…i can't seem to make a decision! So this post is as much for me as it is for you!
This week, Pam and i were treated to some time at the Loft in Abbotsford. We are huge fans of theirs…and we've raved about them before.  I can say that the best facial i have ever experienced has been at, none other than, the Loft. And what makes it pretty special is that i've experienced the facial more than once and it was just as good the second time…that's a solid recommend i'm giving you!
The Loft is hosting 12 Days of Giveaways…and each day has a fabulous special. Not like those specials you get all excited for and then are disappointed when you read the fine print! Women often find taking care of themselves can be viewed as an "extra"…not really necessary when we have bills to pay, activities for kids, etc. What better way to spoil a woman in your life and let her know that she deserves a little pampering than by gifting some "her" time??
12 Days is kicking off on December 6th with my favourite… Buy one Eminence Organics facial ($80), get one for only $25!  Men, this is what your wife/girlfriend, mother would love…trust me! I'm taking advantage of this deal myself…and i think i'll have some pretty happy recipients this Christmas…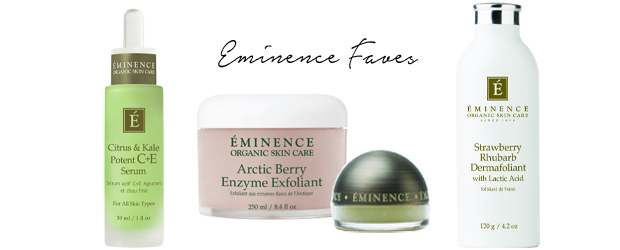 Some of my favourite Eminence products include: The Citrus and Kale Vitamin C + E serum (add 3 drops to your moisturizer every night) | The Arctic Berry Scrub|  the Citrus Lip Balm |the Strawberry Rhubarb Exfoliant
What makes the Eminence Facial so fabulous?
The list is long, but let's start by saying that Eminence is an incredible skin care line from Hungary. The handmade (yes, handmade) products are completely natural and free of harsh chemicals.  And your face gets treated to the best of their products in this facial.  Above are a couple of my favourites, all used in my facial this week.  Second, the facial itself is different than any of the others i have experienced. The treatment is 100% custom to you…Vanessa will treat you specifically for what your skin is needing. Whether you require nourishment, renewal, refreshing, or prepping for an upcoming season of sun or cold, she tailors it to YOU.  Have you ever been to a spa where they tell you everything that's wrong with your skin? How damaged, how dry, how dull, how oily???  Ummm thanks, i'm quite aware!  I'm eternally grateful that Vanessa skips the lecture! Instead, she is a wealth of knowledge and gives me little tips that i can incorporate easily into the everyday…little tips that can make a big difference.  Did i also mention that she adds a hand, and arm massage during the treatment? It really is a little slice of heaven…
Now that i've got you all excited for the facial, here are the deets:
Follow the Loft on Facebook or instagram to get each of the 12 days of giveaway details! The first being the Eminence facial special this Saturday, December 6th! See below for perfect gift-giving specials: pedicures, massages, waxing and hair products and treatments all in the next 12 days.
Here's a little video they took of Pam and me..one caveat: you must look past the hair…hey, i just had a facial!
12 Days of Christmas Deals
December 6, Day 1
Buy one Eminence Organics facial, and get the second 67% off!
December 9, Day 2
Get $10 off all Eminence Organics gift sets.
December 10, Day 3
Buy one Kevin Murphy product, get the second 50% off!
December 11, Day 4
Enjoy $10 off a relaxing 60 minute pedicure or 30 minute express pedicure!
December 12, Day 5
Mirabella Makeup: Buy one, get the second 50% off!
December 13, Day 6
Get 50% off a haircut and style when you book a hair colour service!
December 15, Day 7
Get a FREE express pedicure or facial when you buy a 60 or 90 minute massage!
December 16, Day 8
Enjoy a Luxio gel polish with $10 off!
December 17, Day 9
Buy one waxing service and get your second for 50% off!
December 18, Day 10
Get a half or full head of highlights for 20% off!
December 19, Day 11
Buy one IPL treatment session, get the second 50% off!
December 20, Day 12
Buy a $50 gift card, get a surprise holiday gift!
Happy Friday, or shall i say FRIYAY?? xo