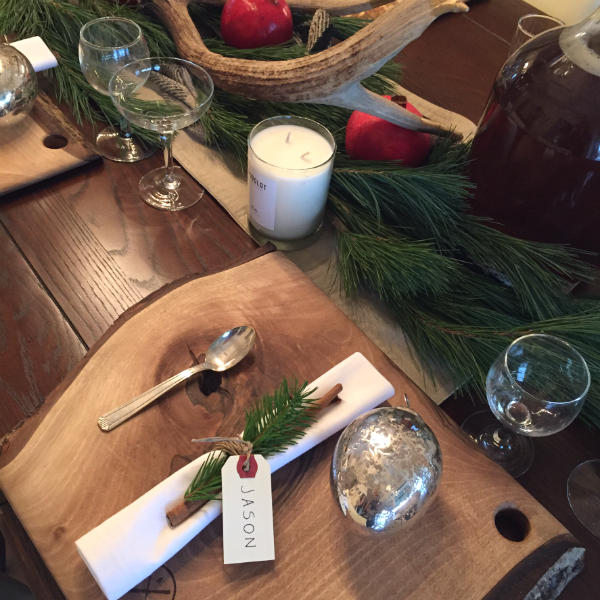 We are heading south for Christmas this year so I'm not going overboard on decorating the house.  Jason and I are a little bit particular….or maybe a lot…and one of our pet peeves is coming home to Christmas decorations after the holidays are over.  So, I know that whatever I put up, I'm going to be taking down before we leave. Minimal would describe our Christmas decor this year. But , we are having some friends over for our annual Christmas get together and I really wanted my table to look festival and special.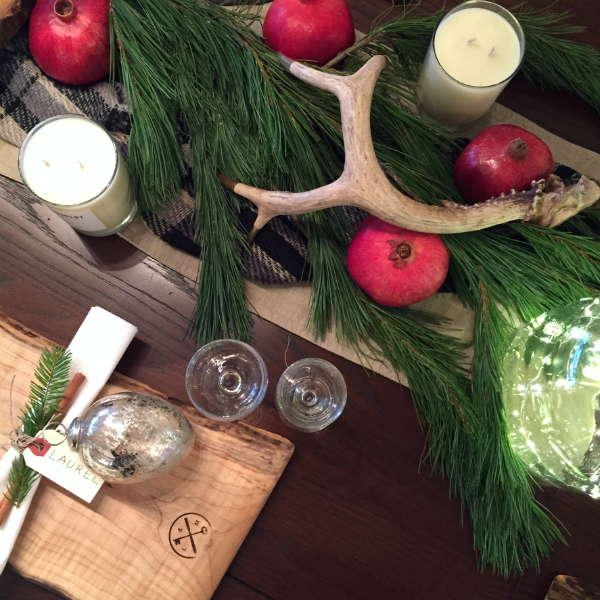 I SOOO fell  in love with Lock & Mortice's live edge wood boards at our Paris Pop-Up Shop..that was the jumping off point for me.  I knew that I wanted to include rustic, organic elements and a bit of sparkle. I also wanted to use elements that I already had in my Christmas tickle trunk and that I could repurpose.  I looked to Pinterest for inspiration and loved the idea of a basic cloth napkin with a cinnamon stick and evergreen sprig wrapped with jute string and I added a simple shipping tag as a place card.  A mercury ornament at each place setting added just a touch of shine along with a vintage silver spoon.  I used random sized champagne glasses…thrift shop finds that we bought for the Paris Pop-Up party.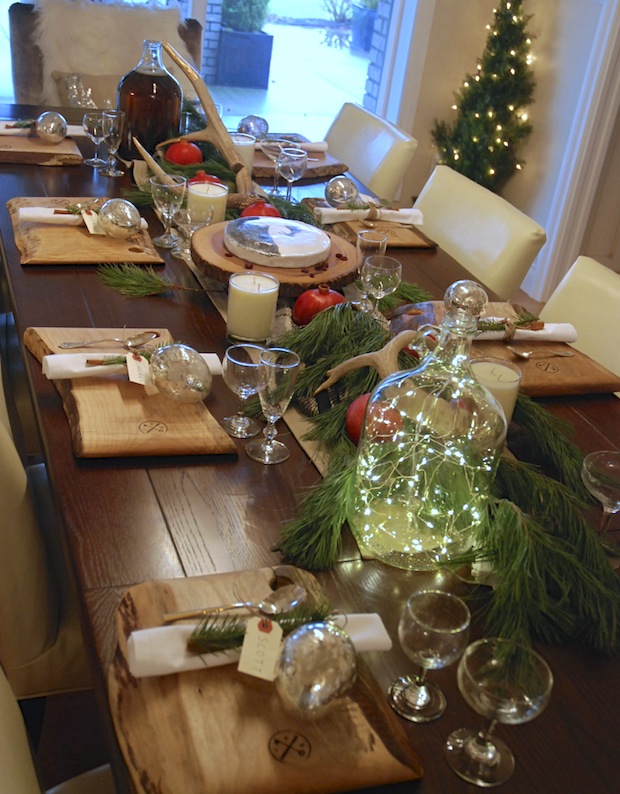 I ran a basic tan runner down the centre of the table and bunched up a tan and black plaid scarf.  After the dinner party, I'm planning on washing it and wearing it.  Double duty!  I added a thick layer of evergreen boughs.  It had been so wet and rainy the whole week before I set the table, so when I saw bunches of evergreens at Superstore, it was a no brainer.  But feel free to clip from your trees or bushes!  I added some pomegranates for a pop of red and Woodlot candles…they smell amazing!  Laurel brought over some gold tipped antlers that she had…creating another layer of rustic texture.  I also attached evergreen boughs with floral wire to our linear crystal chandelier..it really added a warm and organic touch to such a modern fixture.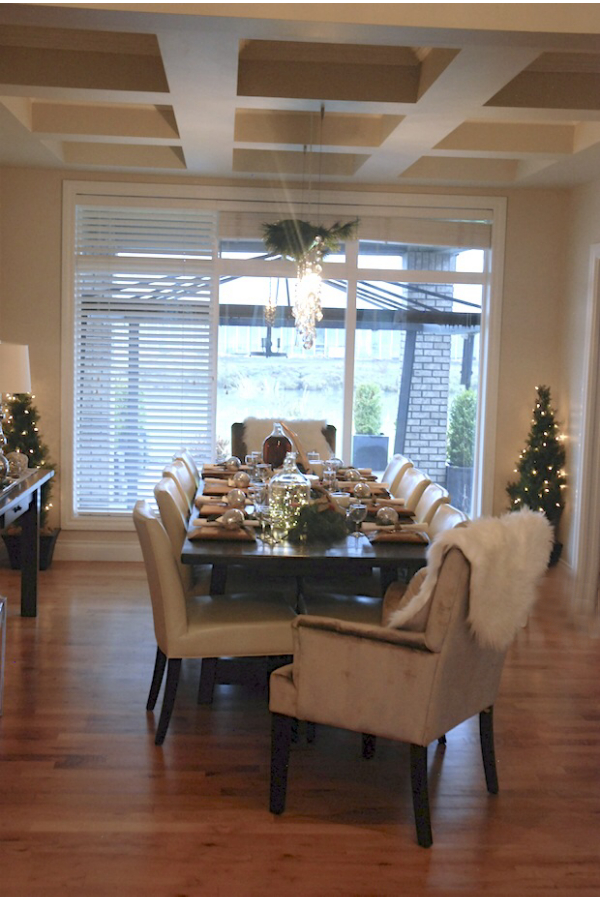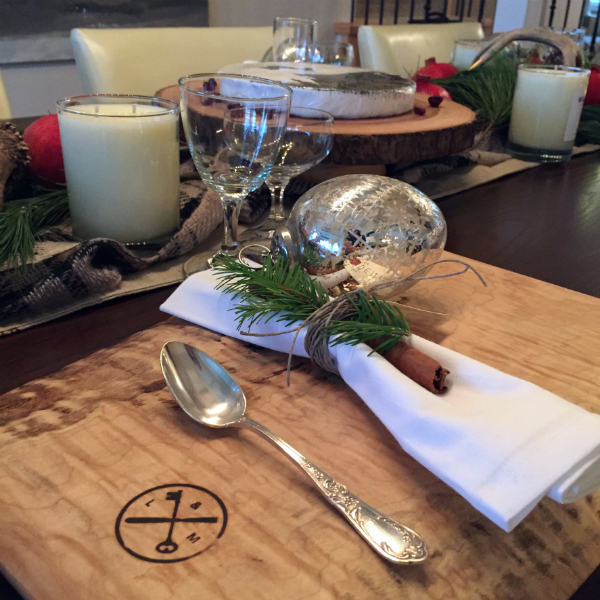 Lights and Christmas just go together and these battery operated light strings add a festive touch.  I found a growler at a thrift store and stuffed it with a string of lights.  Lepp Farm Market sells apple cider in growlers.  I bought one more for the container than the cider! These containers would also look so great with some natural branches and a few sparse ornaments.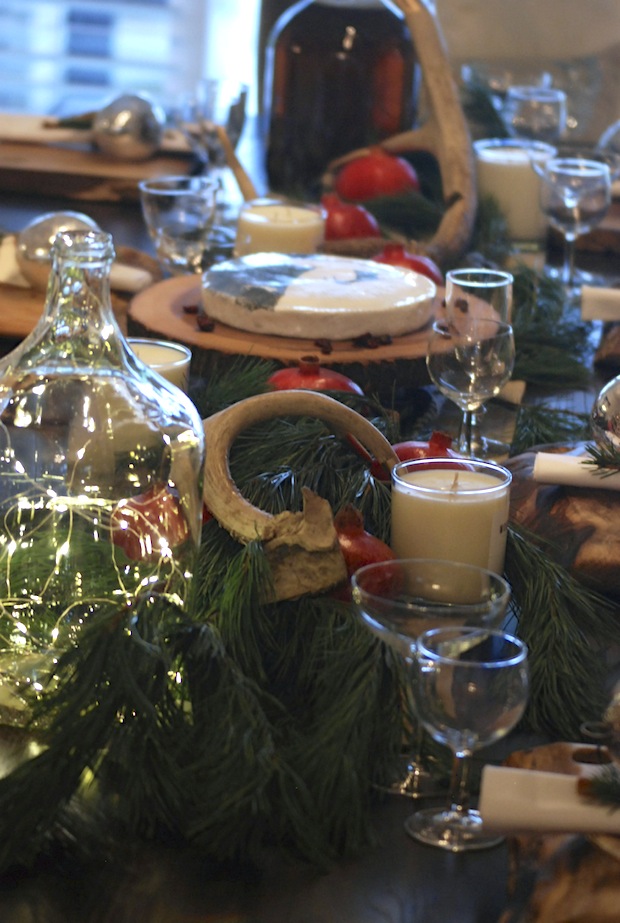 I placed an acacia wood pedestal on the centre of the table with a large wheel of frisky ash from Mt. Lehman Cheese Co.  This cheese is so creamy…very similar to brie and the ash design on top really is stunning.  It's such a beauty that you don't even notice that we skipped the florals.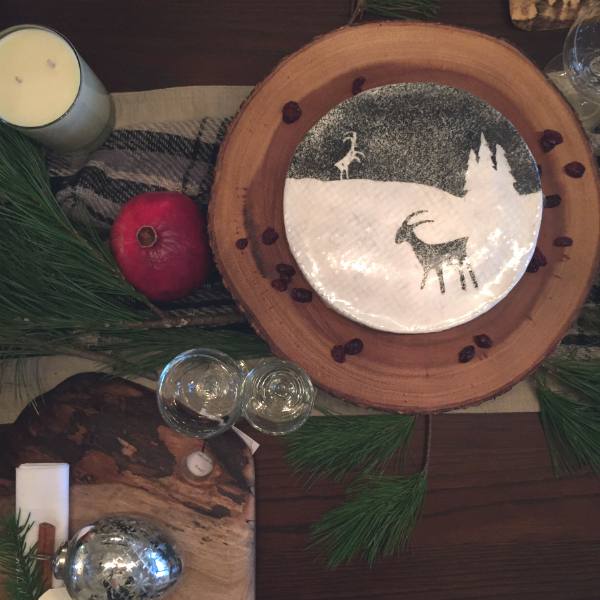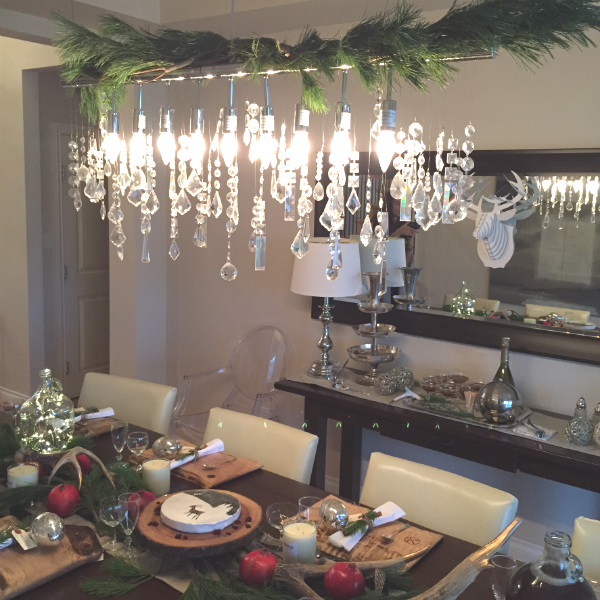 I really didn't take long for Laurel and I to put together this Christmas table…we used a lot of things we had and pulled in some natural elements.  It has a cozy, festive feel and makes me happy every time I walk past it!
Organic Christmas Table Sources
Live edge cutting boards from Lock & Mortice Build Co.
Mercury glass ornaments from HomeSense
Champagne glasses from various thrift stores
White cloth napkins, package of 12 from HomeSense
Plaid scarf from Joe Fresh
Live boughs from Real Canadian Superstore
Vintage spoons from Paris markets (look at thrift stores)
Candles from Woodlot
Light strings from HomeSense
Apple Cider Growler from Lepp Farm Market
Acacia Wood Pedestal from Chapters Indigo
Cheese from Mt. Lehman Cheese Co.