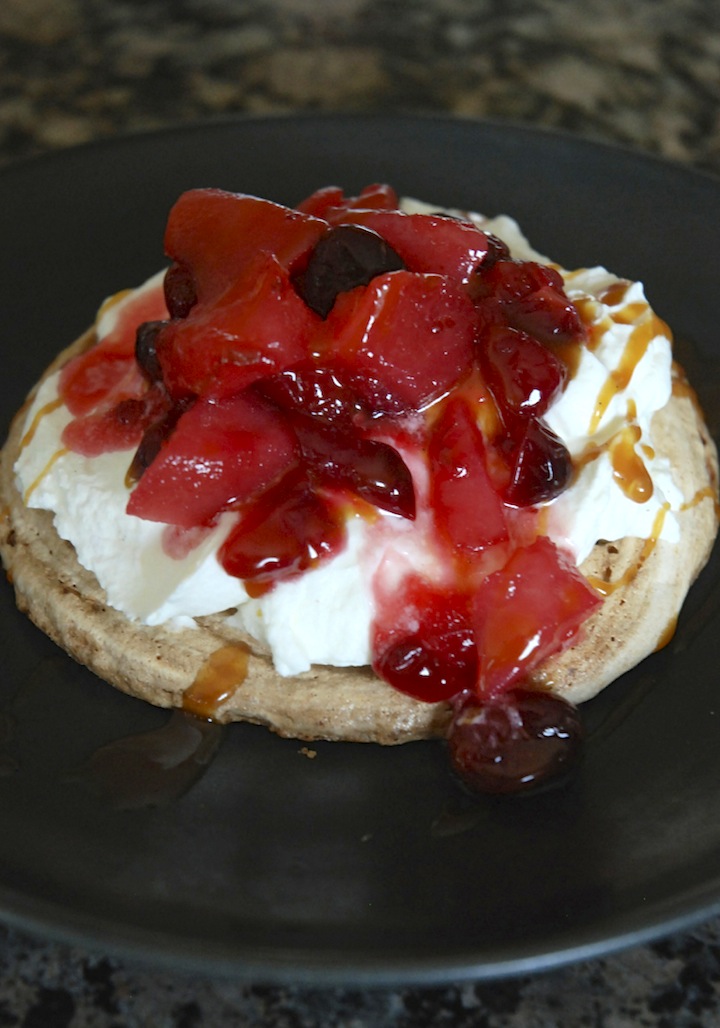 For us Canadians, Thanksgiving is upon us! Don't you feel like it has arrived quickly this year? I usually associate crisp temperatures and cozy sweaters with this holiday but this year we really have been treated to a summer-like start to fall and it's possible we could be celebrating in shorts and tees! Well that's definitely something to be thankful for!
Have you started to plan your Thanksgiving meal? I wanted to come up with something beyond the traditional pumpkin pie. Not because i don't like pumpkin pie…but i've been on a mission to create something that meets the old with the new…taking the pumpkin flavour and putting it into something unexpected. Some of you pie purists may wince, but stay with me here. Because you might just want to reconsider…. A huge family favourite around here is pavlova…a light meringue base topped with whipped cream and fresh fruit. Playing off of that, i decided to create a more seasonal version, incorporating pumpkin, spices and the fall fruits. Both colourful and flavourful. Right now my kids are happy that Thanksgiving arrived early in this household!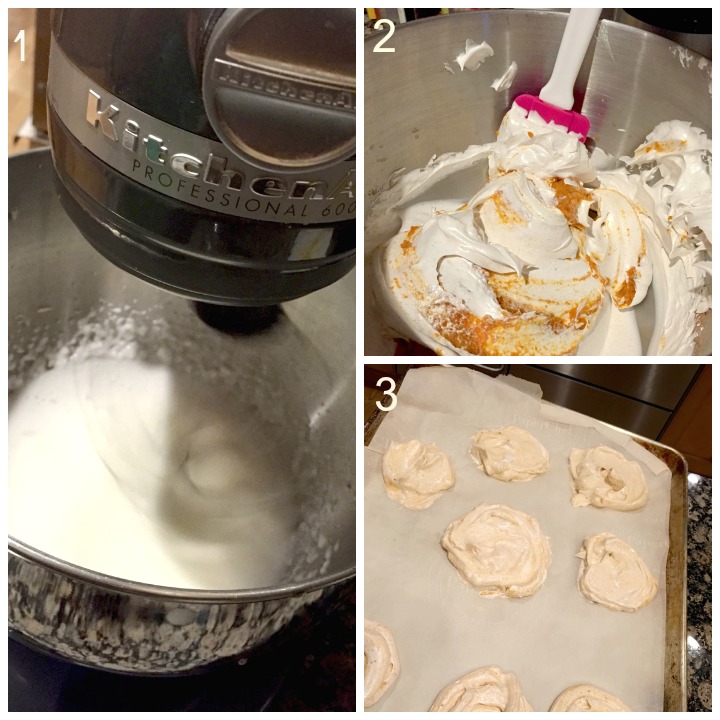 1. Prep the pavlova base or meringue by firstly using fresh egg whites (i say this from experiencing failure!)… don't use the egg whites that come in the containers…use fresh eggs!
2. After the meringue is finished the beating process, gently fold in the pumpkin puree and pumpkin spice being careful to not collapse the mixture.
3. I like to keep my meringues rustic and "imperfect". Make circles with the meringue mixture giving them a bit of space to expand while baking.
While the meringues are baking, you can prepare the Cranberry Pear compote. What i like about this recipe is that you can prep both the meringue and fruit compote the day before. In fact, i always make my pavlova the evening before and then let it sit and continue to dry in the oven until the next evening when i serve the dessert. The compote can be made ahead and then stored in the refrigerator overnight. Before serving, just re-heat over medium heat…it literally takes 2 minutes!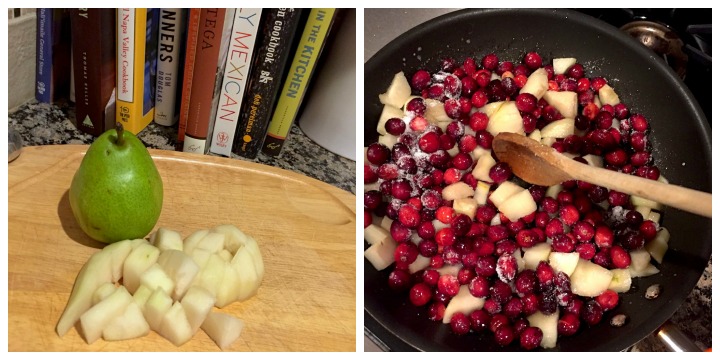 I used pears, but apples would be another option…  The tart combination offsets the sweetness of the meringues and marscapone whipped cream.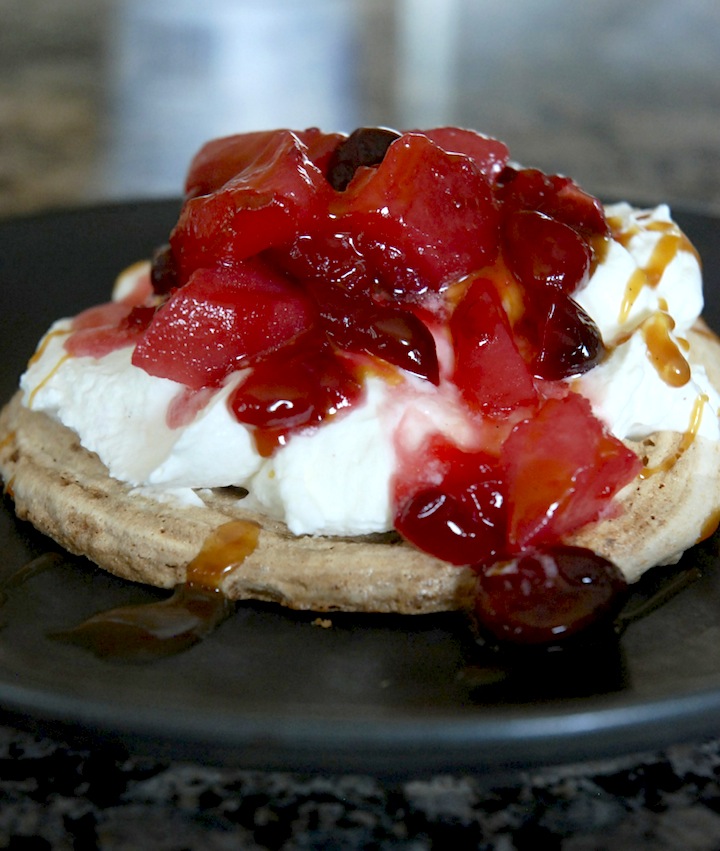 I love the vibrant colour…and while it's a dessert that's not traditional…that's sometimes what's called for…being non-traditional! You might even find yourself sneaking leftover meringues…i've heard that dipping the leftovers in the the mascarpone whipped cream is pretty satisfying…at least that's the word around here!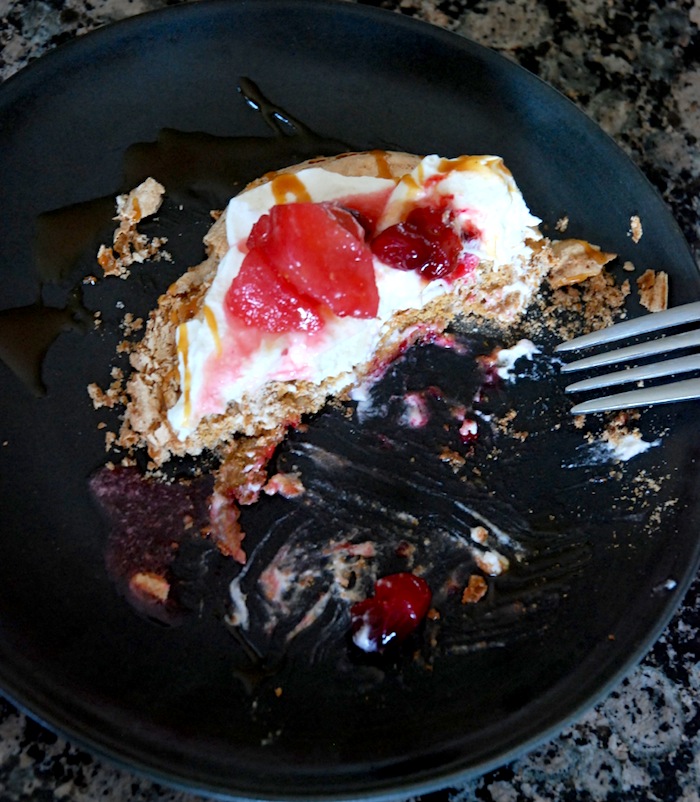 Pumpkin Pavlova
Ingredients
Meringue
4 egg whites
1 cup white sugar
½ tsp vanilla
1½ tsp pumpkin spice
1 tsp vinegar
½ cup pumpkin
Whipped cream
750 ml whipping cream
¼ cup sugar
1 tsp vanilla
½ cup mascarpone cheese
Pear Cranberry Compote:
1½ cups Apple Cider Vinegar
8 tbsp Butter
3 tbsp brown sugar
3 Peeled, Chopped and Cored Pears
2 cups fresh cranberries
½ cup sugar
Caramel Sauce
Instructions
Meringue
Beat egg whites until soft peaks form.
Continue beating while adding sugar slowly, 1 tbsp at a time.
Add vanilla, pumpkin spice and vinegar.
Beat until very stiff.
Fold in pumpkin puree…very gently as to not collapse the meringue mixture.
Place parchment paper on a cookie sheet and spread mixture in individual circles, slightly smaller than desired size.
Bake 45 minutes at 275F.
Turn oven off and leave meringues in oven overnight to dry.
Peel off paper. Top with whipped cream, cranberry pear compote and caramel sauce
Whipped Cream:
Whip the cream, adding sugar and vanilla
Fold ½ cup mascarpone cheese into the whipped cream
Cranberry Pear Compote
In a heavy saucepan, whisk together 4 tbsp butter, apple cider vinegar and brown sugar.
Boil until reduced by half…about 10-15 minutes.
Remove from heat.
In a fry pan, melt remaining 4 tbsp butter.
Add chopped pear and cook for 3 minutes
Add cranberries and sugar and cook an additional 3 minutes until cranberries begin to pop.
Add reduced apple cider vinegar sauce and cook for approx 6 minutes.
Add more sugar if desired and cook to dissolve …i added 3 tbsp brown sugar
**This sauce can be made a day in advance. Store in refrigerator and reheat over med high heat to warm before serving.
Drizzle warmed caramel sauce overtop.