This tee shirt came at a very apropos time. It has been crazy town around here…i know i know, we're all busy right? Having said that, i have felt that there are a lot of great things happening right now in both our family and our blogging world. And i don't want to downplay any of them. But…and this is something that my mom has wisely advised countless times…even positive things can having you feeling stressed…accomplishing, preparing and taking on new opportunities is a good, actually great thing. But for every action, there's a reaction, right?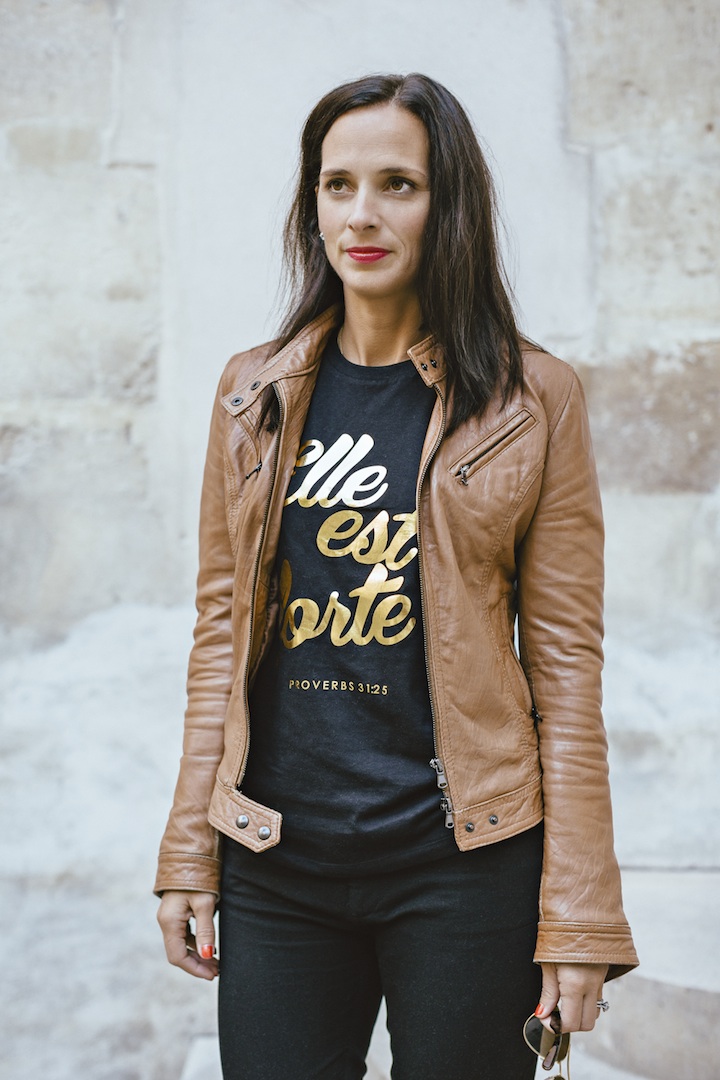 The first night in Paris was a bit of a wakeup call to me on that. The week leading up to our trip, i had let my guard down on a couple of key things that hold major weight when it comes to my emotional well-being: sleep, downtime and exercise. I didn't get to bed before 3am for 7 days straight. I thought it wasn't a big deal…my plan was to catch up on my zzzz on the flight there. I neglected working out because i just didn't have "time" for it. And i pretty much just skipped from one thing to the next with no regard for myself or my family. Let's just say that when i left, i think my kids might have had tears….of joy!!
I awoke my first night in Paris to a full blown panic attack. Crazy. There i was at 2:30am texting Scott like a madwoman that i needed to come home. Scott in his "steady eddy" awesomeness, talked  texted me through it and calmed my worry by plainly laying out the facts as to why my body was reacting like this. Sleep. Downtime. Exercise. Quite simply i had lost focus.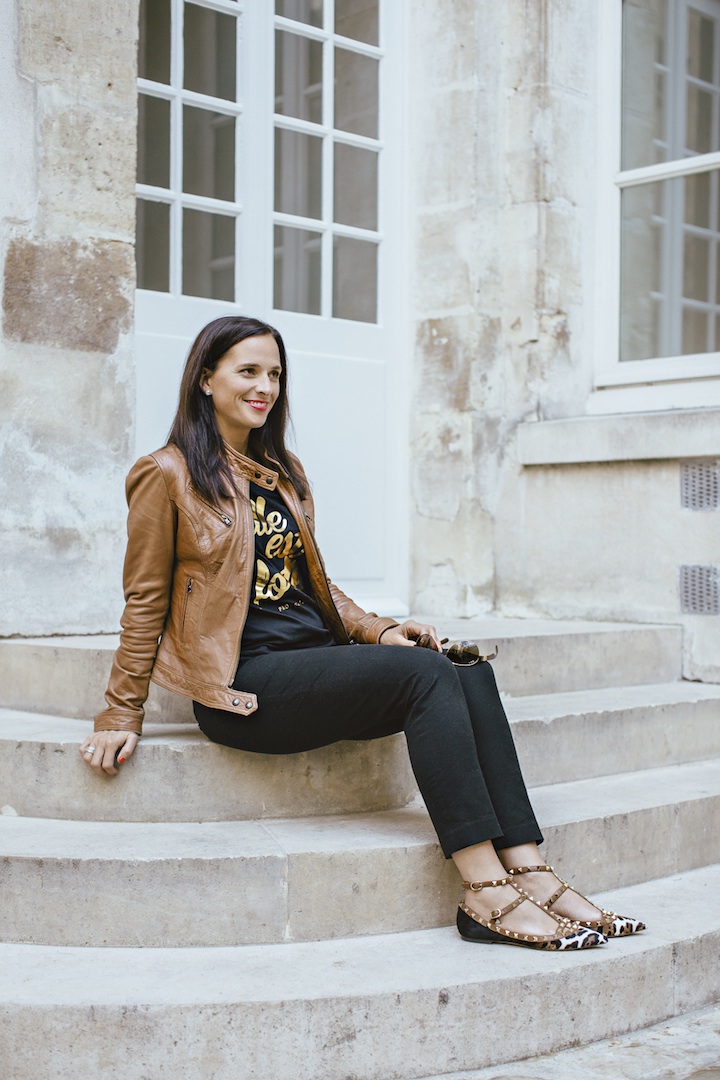 A reminder. In the midst of "busy", not to forget about me. May sound selfish, but in light of being a mom and wife and business partner, maybe just the opposite. Selfish to get so self-absorbed that i forget how important it is to be aware of my limits. This tee is more than just sporting a cool graphic look….it's a message that i am strong…through God's grace. Strong enough to admit i'm human and get my priorities all mixed up sometimes. This Thanksgiving week, i am so grateful that my faith allows me to be strong, even when i'm feeling quite the opposite. It's what keeps me keepin on. I quite simply, love this message!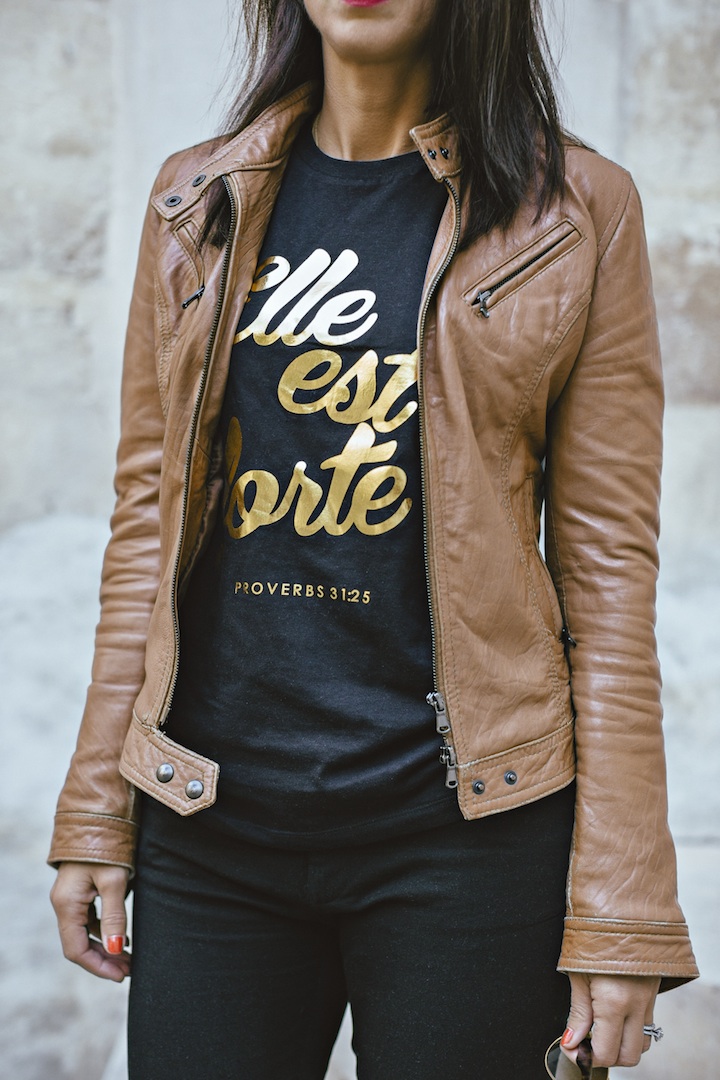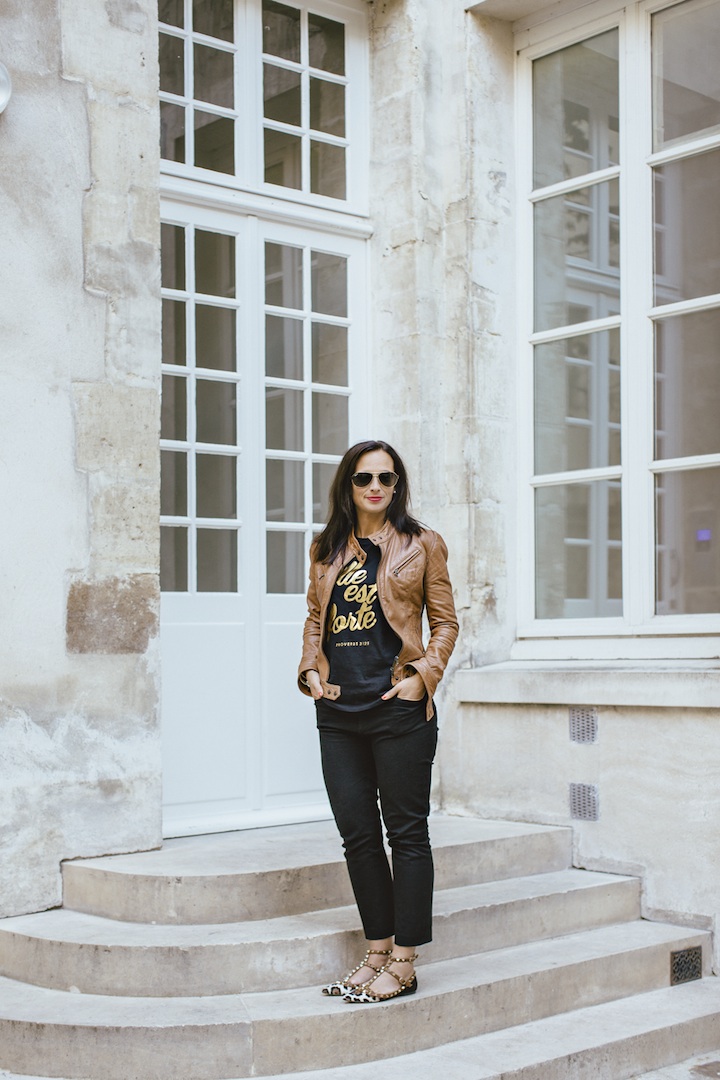 We are thrilled that Elle Est Forte tees will be available at our Paris Pop-Up Shop… the words are simple. And hold an awesome promise
Photos by Tanya Goehring of Post Photography
Outfit Details:
Tee: She Is Clothing "Elle Est Forte"
Pants: Gap
Leather Jacket: Old, similar here or faux option here
Sunnies: Ray Ban