Admittedly, i love desserts…and because dessert usually follows dinner, i confess it has nothing to do with satisfying hunger. But, oh yes, it does perfectly finish a dinner and emotionally makes my heart sing, so sometimes the calories are worth it! What else do i love? Fresh fruit…i feel like i need to do a little happy dance now that the produce section is sporting more color with spring in full bloom….berries are a favorite, so put the 2 together, and you'll know why we love pavlova!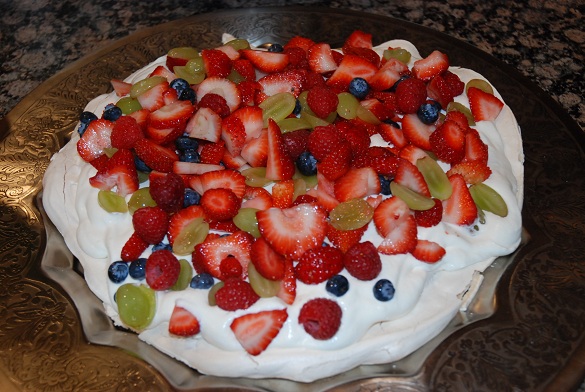 The no-fail recipe i use is from the Best of Bridge 
4 egg whites
1 cup white sugar
1/2 tsp vanilla
1 tsp vinegar
2 cups whipping cream
Fresh fruit: Blueberries, strawberries, blackberries, raspberries, kiwis, grapes..you get the idea!
1/2 cup toasted slivered almonds (optional)
Beat egg whites until soft peaks form. Continue beating while adding sugar slowly, 1 tbsp at a time. Add vanilla and vinegar. Beat until very stiff. Place parchment paper on a cookie sheet and spread mixture in a circle, slightly smaller than desired size. Bake 1 hour at 275F. Turn oven off and leave meringue in oven overnight to dry. Peel off paper. Top with whipped cream, fresh fruit and toasted almonds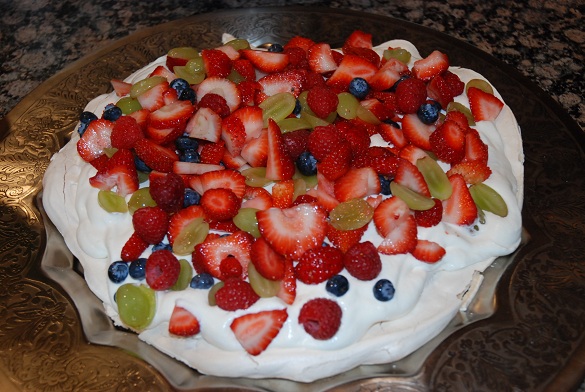 The Kiwis/Aussies definitely got this one right!