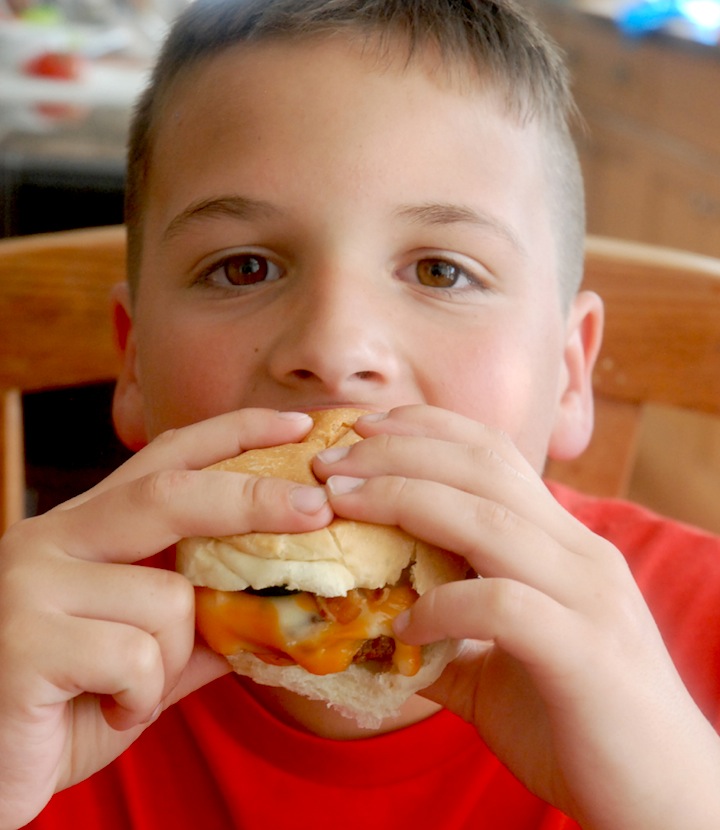 Grilling is as synonomous to summer as sunshine and flip flops. Truth be told, we grill pretty much year round but it sure is more enjoyable when you're not holding up an umbrella! I tend to keep our dinner meals as healthy as possible ( i prefer to cheat at about midnight..umm that's a habit that needs to be broken!), but these burgers are ones that Scott goes a little crazy for. The recipe for these is an oldie but a goodie..it comes from a cookbook i received as a wedding shower gift over 17 years ago. I'd say it's stood the test of time! I've made a couple of changes over the years and yet the original is a delicious one, albeit not the healthiest. Hey, sometimes you just need a burger!
This recipe is so good because most of the burger fixins actually go right into the burger patty before it's grilled. Oh and then you put more of the fixins on top. Double the flavour..it's all good. Bacon, caesar dressing, parm cheese…all in the patty.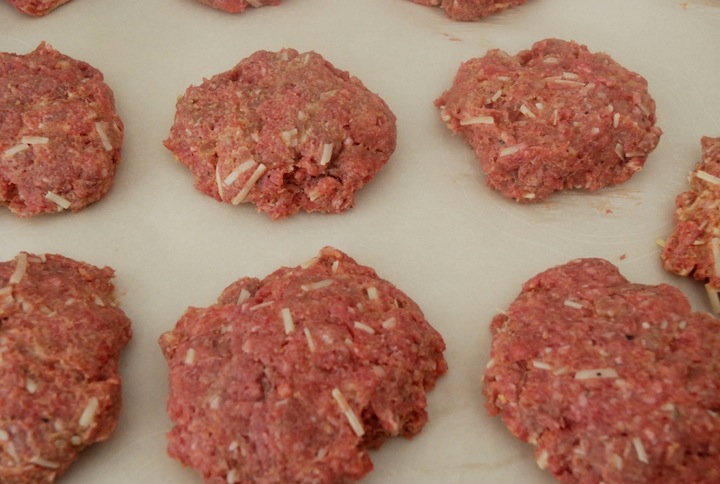 I like to make the burgers quite large as they always shrink on the bbq…not too thick but a good circumference. There's nothing more annoying than sinking into a big burger bun with a piddly patty. I should trademark that. Piddley patty. Ha!
Fire up the grill and watch those cross-hatch grill marks appear…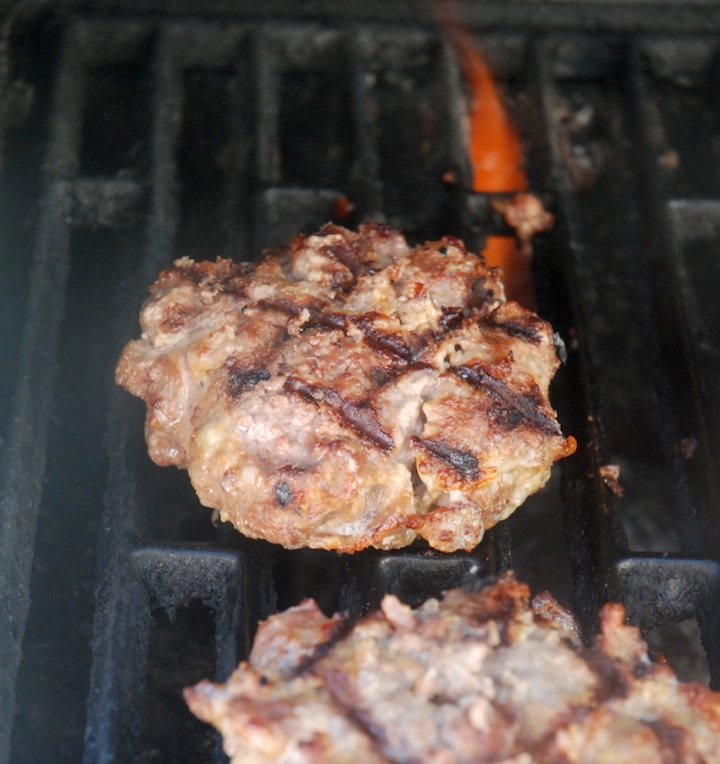 The toppings complete the burger…bacon, caesar dressing, tomatoes and cucumbers. Think cucumbers on a burger are weird? Try it, you'll like it!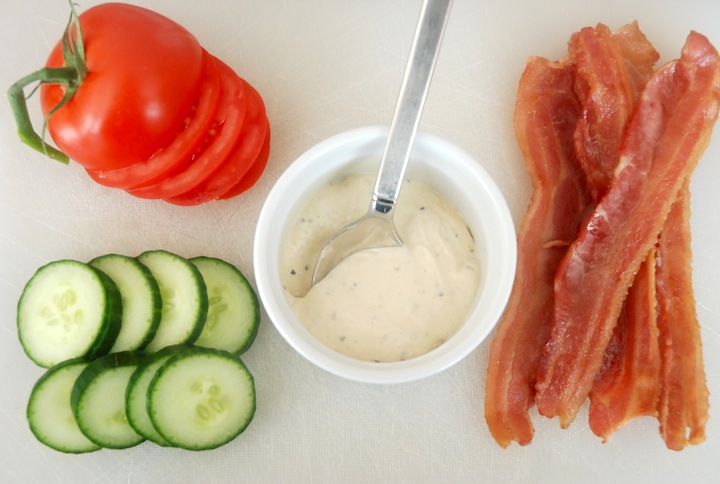 Scott has a habit of sneaking cheese out to barbie…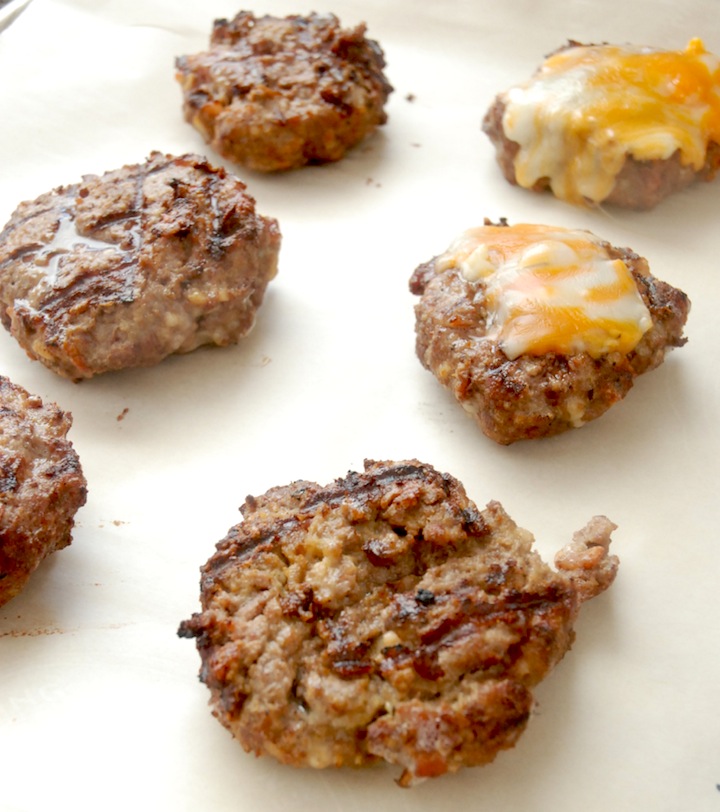 All loaded up and ready for the eatin!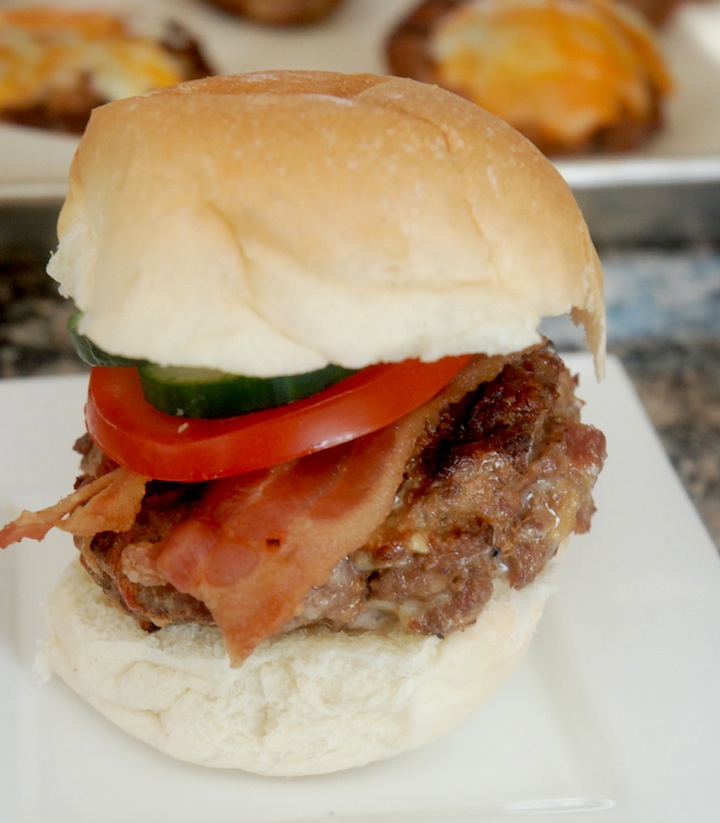 Caesar Burgers
Author:
adapted from Monda Rosenberg
Ingredients
1 egg
¼ cup creamy Caesar dressing
¼ cup grated Parmesan cheese
½ cup breadcrumbs or cauliflower run through the food processor
1 tbsp crumbled bacon
1 large crushed garlic clove
½ tsp freshly ground black pepper
1½ lb (750g) ground beef
Instructions
In a large bowl, whisk together the egg and Caesar dressing
Stir in parmesan cheese,bread crumbs, bacon, garlic and pepper.
Add ground beef, working in with your hands until just blended (overmixing toughens meat)
Shape into patties, about ½ - ¾ inch thick.
Grill on preheated bbq for about 6-8 minutes per side.
Serve on rolls with bacon, tomatoes, cucumbers and an extra dollop of Caesar dressing.
Prep
In a time pinch, Renees Mighty Caesar dressing, located in the refrigerated section of produce department, is our dressing of choice. There is a light version as well.