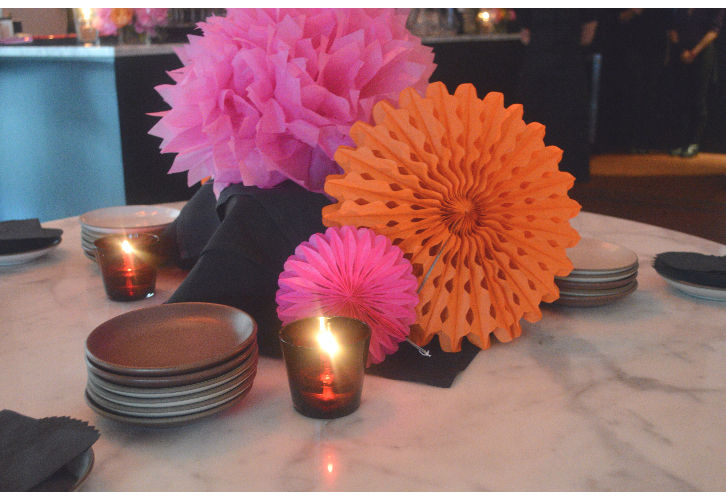 Last weekend we surprised Laurel for her 40th birthday.  The theme was… Oh No, Lo's is Turning the Big 4-Oh!  I posted about some of the elements of the party here last week.  Today I'm sharing some pics from the venue CIBO Trattoria in Vancouver.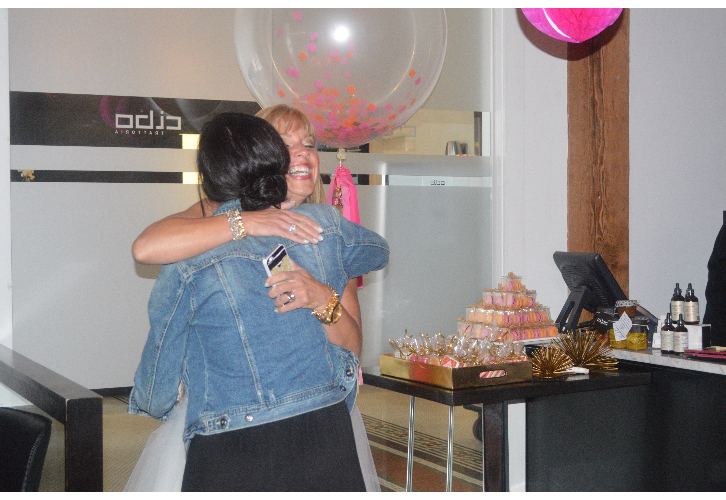 I was so relieved once Laurel arrived…I could stop with all the little white lies.  It's a bit silly that I had my phone in my hand but I was getting text updates about her arrival time.  The clear balloon with confetti and tissue tail, also known as a fancy frill, was from Confetti & Co.  Amy was amazing….she delivered the balloons to the venue, and it was a Sunday, and she trimmed up the frills and ensured I was pleased…and I was!!  Can you say balloon couture?!?!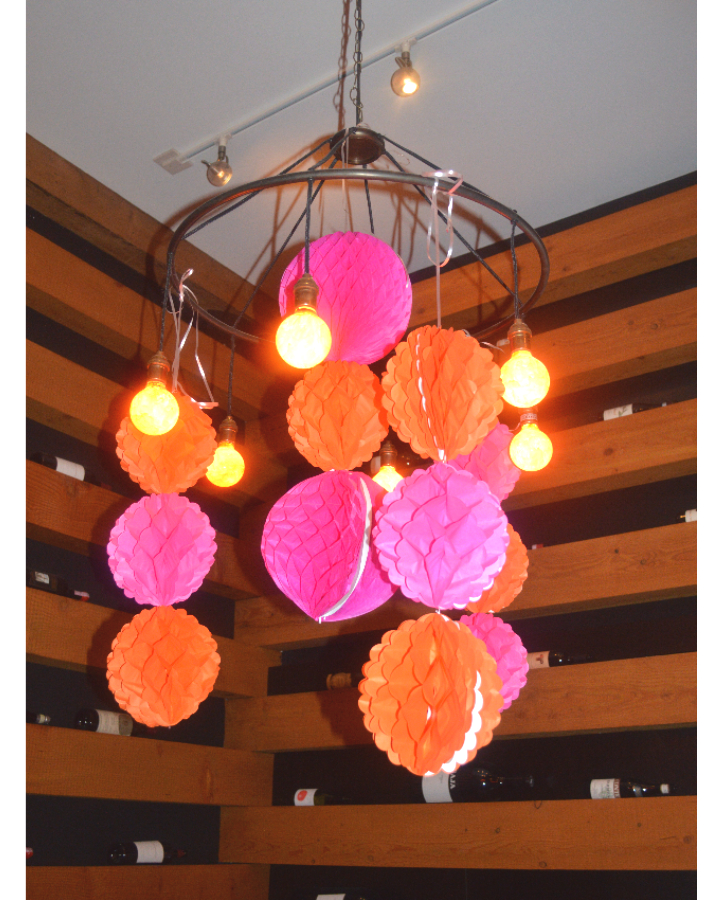 CIBO had two of these amazing light fixtures….perfect for hanging tissue balls that I ordered from Oriental Trading.  The night before, Jason was stapling them to ribbon so they would be ready to be hung.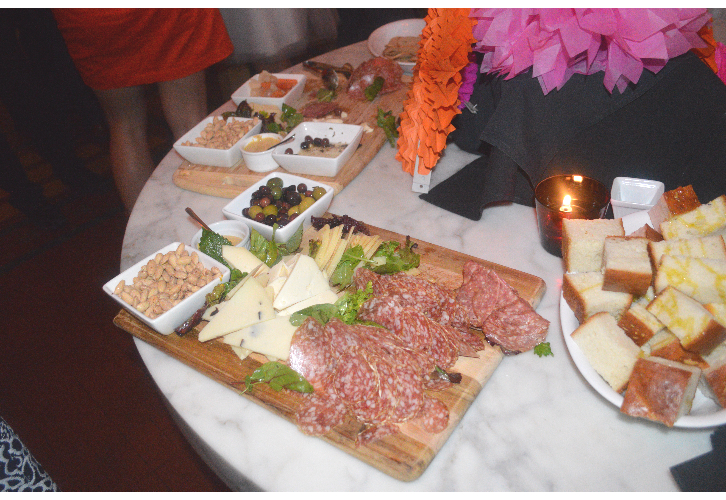 Robert, the general manager at CIBO, set us up the perfect menu!  He knows us too well.  A large table in the centre of the room had antipasti platters that the guests could enjoy all evening.  My fave…the house made almonds…slightly sweet with a tiny kick at the end.  And the cheese with truffles!   Burrata boards were also on the table…hello!  They fly in the burrata, a fresh Italian cheese made out of mozzarella and cream, three times a week from Italy, and it was served with shaved truffles and grilled sourdough.  Robert and his staff were extremely attentive making sure all of the guests were looked after…no one's glass was ever empty  The service was impeccable!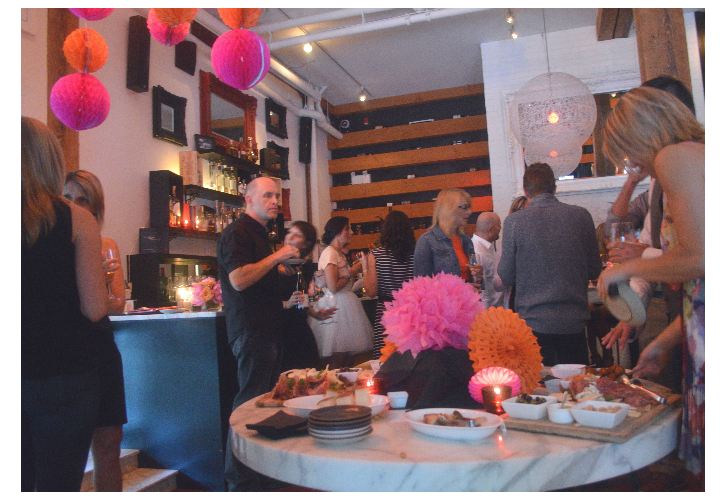 Other food faves from the party….crispy chickpeas with lemon, chili and mint..I didn't know what to expect but these little bites were so tasty…served warm.  The one bite gnocchi with pancetta infused butter were like a little taste of heaven…I'm still dreaming about them.  And the arrancini…crispy risotto balls with orange, chili, and marjoram were a more sophisticated version of mac and cheese balls.  Servers came out with the warm appies throughout the evening.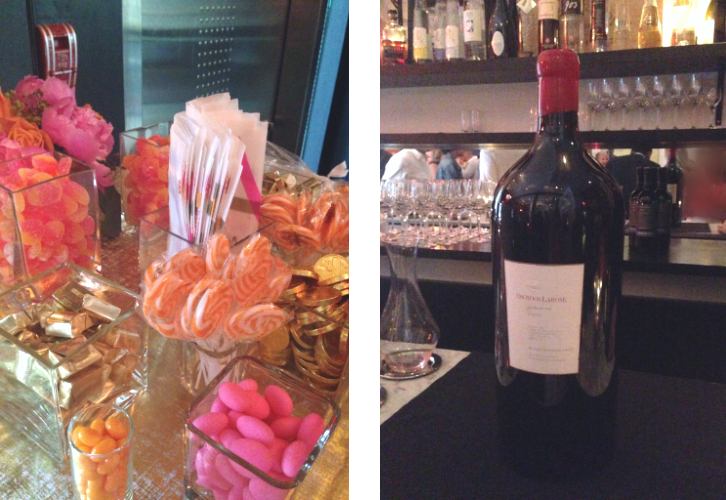 We had a candy bar that guests could enjoy there and also fill take away bags for the ride home.  Berkeley stamped them with "Yum-Oh" and decorated them with pink, orange and gold washi tape.  The candies were all in the color theme…fuzzy peaches (Lo's fave), candied almonds, gold coins, Jelly Belly's, candy sticks, lollipops and Hershey's milk chocolate and almond nuggets.
Robert recommended an imperial bottle of Osoyoos Larose 2007…it was quite impressive…equivalent to 8 bottles of wine.   Guests signed the bottle with silver Sharpies with one word they would use to describe Laurel…a pretty cool keepsake.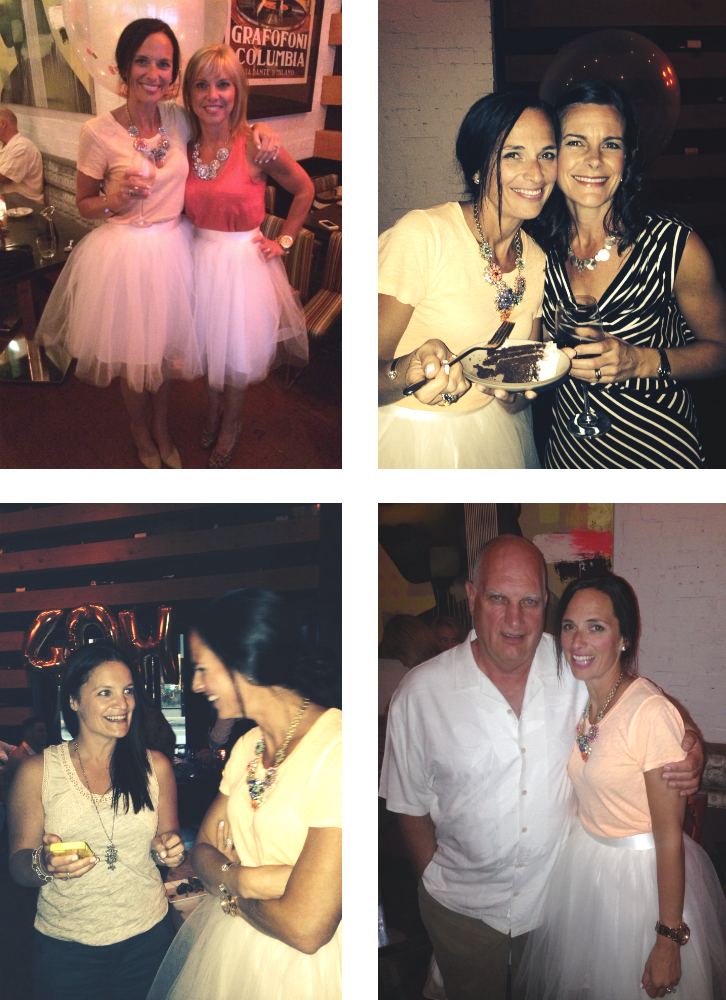 I was SOOOO excited to surprise Lo with a tulle skirt from Beautulleful Inc.  She's been obsessing over them and I had to break it to her that they were sold out…but I had already ordered each of us one!!  Nice!  The skirts are truly exquisite…so well made, and they arrived at my door in tulle wrapped boxes.   They even included a glittery card in the birthday girl's package!   And yes, I did do a twirl or two in my skirt that night…how could I not?
My fave thing about the party with celebrating my sis with people that I know love and care for her!!  Lo, you are kind, loyal, fun and compassionate!  I can't say how fortunate I am that you are not only my sister, but my best friend.  Yes, we have fights…sometimes nasty ones….but I love that we both are committed to working things out.   You encourage me to be a better person, to push outside my comfort zone, and sometimes to just chill out!!  Love you always and wishing God's most amazing blessings for you for many, many years to come!  Here's to you!