I began a new skin care program just before Christmas. For years i was pretty chill about my skin and easily satisfied with the products i was using. And then, over the span of months, it changed. I can't believe i'm admitting this, but i do believe it's an age thing. I become more and more aware that my skin was morphing…Thin and dull were the two words that entered my skin vocab..not ideal.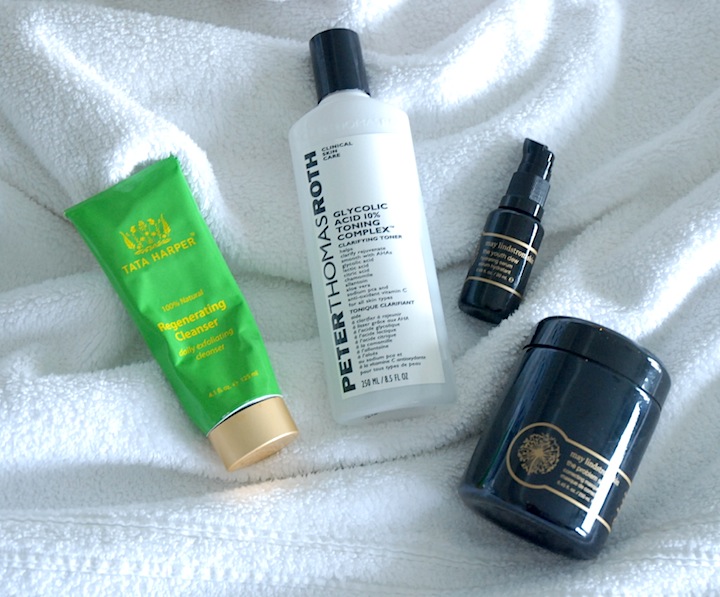 Suddenly i began to pour over the beauty sections of my favorite mags. While i used to flip through those pages at breakneck speed, those pages were now treated as if they held the key to life!
Decision made. I needed to care a bit a lot more…ladies, the one thing we wear EVERY day is our skin…isn't it worth taking care of??? The first step was a visit Pam and i had with beauty editor and skin guru Erin Gerlach of the Sparkle. She was extremely knowledgeable with what ingredients needed to be incorporated into my skin care routine, such as Vitamin C and AHA (alpha hydroxy acid).
Armed with these specifics, i contacted Garcy Fry of Eco Diva, home to a very carefully curated selection of luxury beauty products. Eco Diva has a brilliant offering of products that are completely natural, free of any parabens or synthetic colors/fragrances, eco friendly and gentle on the environment.  Garcy was able to recommend specific products for me based on both the ingredients i was looking for and the results i was hoping to achieve.
My idea was to stay on the program religiously for at least 6 weeks before i would make a judgement, good or bad, on my new routine. It has now been 8 weeks and i am seeing results. I'm super happy. So is my skin.
Here is the program i'm on…also note that i needed a routine that was manageable…not scads of different products. A cleanser, toner and moisturizer with a twice weekly mask is completely do-able.
1. Tata Harper Regenerating Cleanser– this daily cleanser freshens the skin's appearance as it cleanses without drying or damaging the skin's natural hydration. Pomegranate, a powerful antioxidant, and apricot seed powder which cleanses pores and removes dead skin cells leaves your face glowing.  What do i like about it? Exfoliating without over-scrubbing or scraping (as many traditional exfoliates do) allows you to keep the natural oils your skin needs as a barrier. This cleanser delivers.
2. Peter Thomas Roth Glycolic Toning Complex– Erin put me on to this one…and both my teenage girls and i are using it. After cleansing, i use this clarifying tone to help remove any excess oil or dirt. It is known to help restore the skin to its natural pH, decrease the look of pore size and help specifically with acne spots. What do i like about it?  This is great to not only clean any residual oil from your face but also continues the gentle exfoliation of your skin** if you have sensitive skin, start by using this only once every day or two.
3. May Lindstrom Problem Solver Mask – Twice a week, after toning, i apply this mask. Comprised of all natural ingredients (to name a few: red moroccan clay, raw cacao, lavender, frankincense, cinnamon, turmeric) it is at once powerful and rejuvenating. The exotic blend of warming spices literally heat up your face so expect some tingling. What do i like about it? First off, the fragrance…rich and exotic. But more than that, the mask rejuvenates dull congested skin and leaves it feeling fresh and smooth. I use this 2 times a week.
4. May Lindstrom Youth Dew – After rinsing off the Problem Solver Mask, i apply this serum which is all the hydration your skin will ever need. It plumps, hydrates heals AND…contains CoenzymeQ10-an anti-aging SUPERSTAR! What do i like about it? Hands down my favorite skin care product ever. Really. Ever. I have always shied away from oils as i assumed they would cause breakouts. The Youth Dew, on the other hand, feels completely nourishing and fresh. My skin feels light, clean and honestly smells like i've just buried my nose into the most fragrant bouquet of flowers.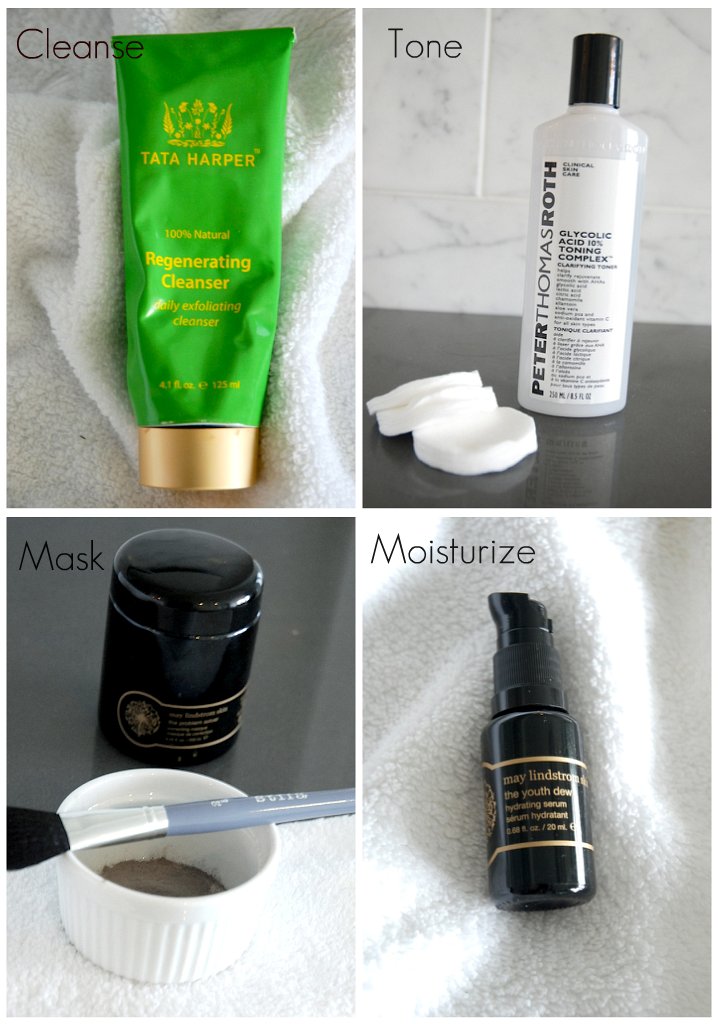 I realize that these are splurge items..i would lying if i said i jumped on board without a second thought. I seriously contemplated this investment.  But again, i came back to how lackluster and dull my complexion was and i wanted change…..and i'll just be honest, i am willing to age but i'd like to do it as gracefully as possible. If you're not sure where to start, let me suggest you begin with one product…give yourself a number of weeks to see results. Once you like what you see and feel, you can add products to help other areas you see needing attention.
And one last note: Sunscreen! Don't forget sunscreen!
**I have bought and used all of the products on my own. All opinions are my own and I have not been paid to promote any of these products.