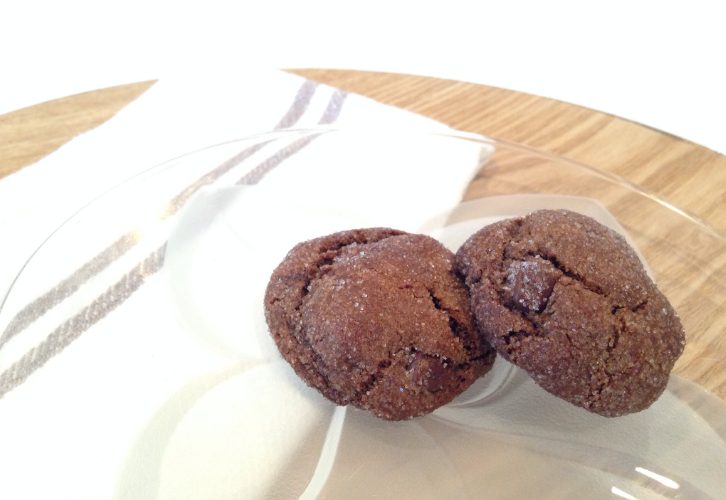 When I think of Christmas memories, one of the best is of my mom doing a TON of Christmas baking.  She would bake for weeks and fill up our freezer….but we knew better than to touch it!  Every Christmas event we would go to she would fill a huge platter with cookies, squares and tarts she had made…oh, and her famous Christmas cake!!
I also enjoy doing some Christmas baking and like to have it on hand during the holidays to take to parties and family gatherings or for drop in guests.  But my family doesn't have the sweet tooth that I have so I've often had tupperware containers full of treats still in February.  So, I'm going with less is more!  A few super yummy treats, but not overboard.
I experimented last week and combined a few recipes to come up with these Chocolate Ginger Cookies.  I served them on the weekend at a family get together and they were a huge hit!!!  I'm going to make another batch and freeze them. Chocolate and ginger together tastes like Christmas to me!  Oh, and they are ridiculous with a cup of coffee!!!
This recipe is huge..it will fill up your freezer nicely!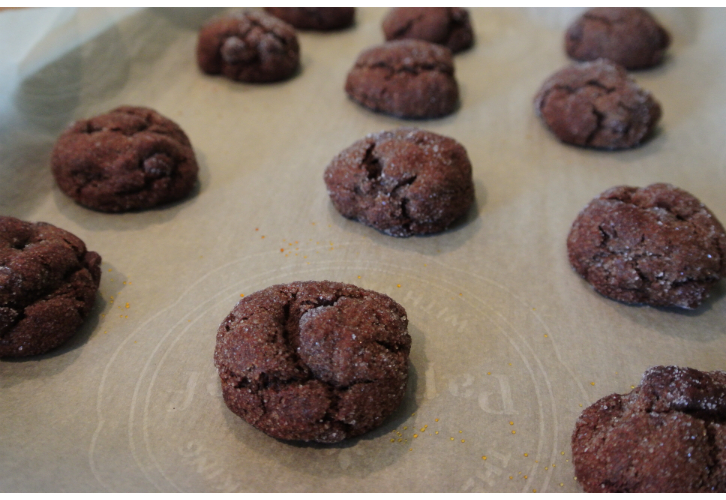 Chocolate Ginger Cookies
Ingredients
4 1/2 cups flour
5 Tablespoons cocoa
3 teaspoons ground ginger
2 teaspoons baking soda
1 1/2 teaspoons cinnamon
1 teaspoon cloves
1/4 teaspoon salt
1 1/2 cups butter
2 cups sugar
2 eggs
3 Tablespoons minced or grated ginger
1/2 cup molasses
2 1/2 cups chocolate chips or chocolate chunks
3/4 cup sugar (regular or coarse)
Method
Preheat oven to 350 degrees.
Mix the dry ingredients together and set aside. Beat the butter and add the sugar, eggs, fresh ginger and molasses.  Beat well.  Add half the dry ingredients and beat.  Mix the remaining dry ingredients with a spoon or spatula.  Add chocolate chips or chunks and mix.  Roll heaping teaspoons of batter into balls and roll in 3/4 cup sugar.  Bake on parchment lined baking sheet for 6 minutes, turning hour pan half way through.  Let sit on pan for about 2 minutes before moving to cooling rack.  Makes approximately 6 dozen cookies.
Note that you can make larger cookies and increase the total baking time to about 10 minutes.
Inspiration for this recipe came from Kitchening & Co.'s Ginger Chocolate Cookies.  You can buy them here baked or in puck form.  They are seriously good and there is also a gluten-free version that is amazing!   So you are in luck even if you are not a baker!  We baked the pucks and sandwiched them with Cinnamon Brown Sugar Buttercream (recipe) for the dessert platters for Scott's 40th Birthday here.  They were ah-mazing!!!