Summer isn't summer to me without s'mores!!  There's nothing like roasting marshmallows over a fire….friendly banter and good  laughs always seem to ensue!  And about a year ago I was introduced to Tina from The Pink Spatula and her handcrafted marshmallows seriously blew my taste buds away!  Once you have had one of her marshmallows, you'll NEVER go back to the overprocessed grocery store ones.  Tina had us for a s'mores tasting and she really brought the whole experience to a new level (check it out here).  She recommends a good quality chocolate (I concur!) and add-ins such as sliced bananas and strawberries and fresh mint leaves that pair well with the different marshmallow flavors.  S'mores are no longer just kids' play…they are a gourmet, fun,  interactive dessert perfect for your adult dinner party!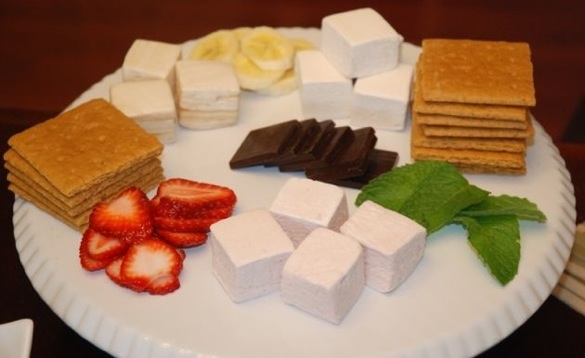 Each season, The Pink Spatula creates a new collection of marshmallow flavors.  Tina has just released her Summer Collection and she has our mouths watering!
Toasted Coconut – this a a throw back to last summer and I'm so glad it's back!  This was a fave over our campfires.  The coconut gets really crunchy when you roast it (careful not to burn it!).  Coconut and chocolate together is ALWAYS a very good idea!

Peanut Butter Ripple – we love the layers of peanut butter throughout these marshmallows!  A delish s'more with sliced bananas and milk chocolate!
Passion Fruit – these sweet-tart tropical marshmallows burst with flavor.  Yummy as a s'more with dark chocolate and add some coconut ribbons….or just eat them on their own!
Vanilla Bean – made with pure vanilla extract and vanilla bean paste, this takes the classic to a whole new level. Perfect for "pure" s'mores, or pair with sliced strawberries, mint and dark chocolate!
We LOVE that Tina always uses fresh, local ingredients in her products!!!  And you truly can tell!
You can see a list of retailers here and you can also order online at Foodie Pages for shipping across Canada!
Please make sure to visit The Pink Spatula on Facebook and "Like" them to get updates on future collections!
Next week, we will post on how to incorporate The Pink Spatula's marshmallows into a cute, yummy teacher gift!
One lucky Sugar Plum Sister will win a basket full of one package of each of the new Summer Flavors from Tina at The Pink Spatula. To enter, please post a comment here about which marshmallow flavor you most want to try (comments on our Facebook page will not be entered..sorry!). Winner will be announced on Friday, June 14, 2013.