This week we decided to skip the Friday Find to focus on Christmas decor since Christmas is only a month and 2 days away!  Our friends to the south are hitting all of the sales today for Black Friday, hopefully filling their baskets with great deals on Christmas gifts.  One of the biggest trends in Christmas decor this year is something we've coined "Rustic Glam".  I'm loving this style combining natural elements such as wood, branches, bark, paper and natural fibers with sparkle from glass, mirror, crystal or glitter!
We saw many stunning Christmas displays in New York that epitomized Rustic Glam….
I loved this display in the ABC Carpet & Home in Chelsea…
These birdhouse ornaments at ABC Carpet & Home were too cute..love the subtle shimmer!
Bloomingdales on the Upper East Side had some awesome Rustic Glam ornaments…they called this look "Nature's Jingle"!
You don't have to go shopping in New York to achieve this look, although that sounds like a pretty good idea to me!!!
Laurel included this ornament from West Elm in her post on ornaments (click here) last week.  This owl is a perfect example of rustic glam!
Here's Restoration Hardware's take on "Rustic Glam"…
I found a similar tree at HomeSense for $59.99.  Jason sprayed it for me with Krylon Glitter Spray from Michael's (yes, Jason did it for me as most DIY's I try don't end well…Jason refers to me as "craft impaired").   He used both silver and gold to give the tree a subtle champagne shimmer…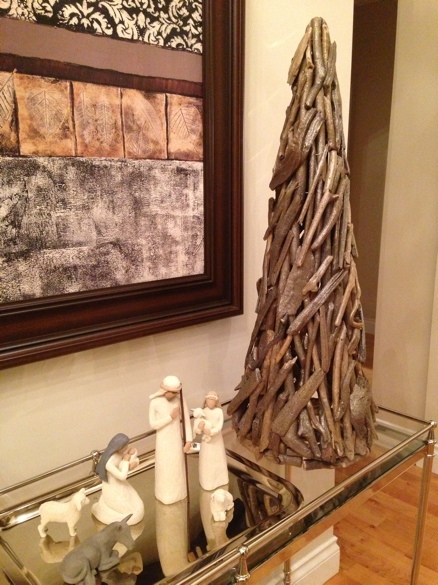 On our family room tree this year I added shimmery brown owls that look like they are made out of bark from Hudson Madison.  The green sparkly bird with feather tail was a dollar store find…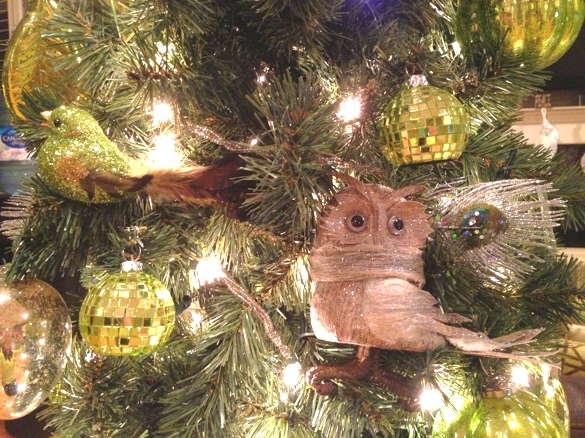 This look works in most interiors as it combines both formal and informal styles!  Another great thing about "Rustic Glam" is that you can achieve this look by adding to what you already may have for Christmas decorations.  Have a lot of sparkle already?  Add some rustic elements.  Have a more natural look, add a few shiny ornaments.   Go on..try it…you'll like it!