Summer and some warm weather are hopefully just around the corner and nothing says a summer evening like s'mores!!  S'mores not only ooze melted marshmallows, but they ooze sentiments of childhood and great summer memories!  Laurel and I love taking old favorites and modernizing them and kicking them up a notch with the best ingredients.  So when we thought of s'mores, we knew that we had to go and meet with Tina Bacon from The Pink Spatula.
Tina started the Pink Spatula about 4 years ago after battling breast cancer.  It was time to go back to work and she wanted to do something that she loved and was passionate about.  Since she was young, Tina has enjoyed baking and found it be a creative outlet for her as well as relaxing!!!  Even after being at her commercial kitchen all day, she still loves to go home and bake!  During her treatment, a few chefs from a food forum that Tina was a part of threw a fundraiser for her.  As a thank-you gift, Tina brought them pink, wooden handled spatulas and had them engraved for them.  Throughout Tina's treatment, many friends, family and people from the community rallied around her and blessed her and her family using their gifts, such as cooking, cleaning, construction and more!  For Tina, the pink spatula represents thankfulness, community and friendship and now is the name of her growing company.  And we can say that after spending even a short amount of time with Tina, she herself exudes thankfulness, joy and a love for life! She's truly an inspirational woman!
Tina started making handcrafted marshmallows somewhat by surprise.  She teaches baking classes at Well Seasoned and the owner asked if she might make marshmallows that they could sell in their gourmet food shop.  So Tina jumped at the challenge.  In 2010, she made 6,000 marshmallows on her own and last year with only one staff member, she made 35,000!!!  She now has two employees to help her.  She carries a new collection of flavors each season.  This year's summer collection includes Toasted Coconut, Peanut Butter Ripple, Berry Blush and Vanilla Bean.  We have tried all four and they are just SO good!  You can buy The Pink Spatula's marshmallows at Well Seasoned, Lepp Farm Market, and some Save On Foods.  They last for about 8 weeks, so stock up for the summer!
We met with Tina this morning to talk gourmet s'mores because you can't have a gourmet s'more without a handcrafted marshmallow.  Tina showed us how to set up a fire bowl so you can have s'mores year round, indoor or out for under $10.
Here's what you'll need….
bowl – this white bowl was from Dollarama $2
Ecoflame Warming Gel – from Canadian Tire $3.99 (Do not use just any brand!  Ecoflame is non-toxic, lasts 4 hours and does not make the marshmallows taste of fuel or chemicals)
rocks – these are from HomeSense for $2.50
double pronged skewers (they hold the marshmallows much more securely than a regular skewer!).  You can get them at http://www.pickonus.com/doubleprongskewers-6or7.aspx $3 for 100!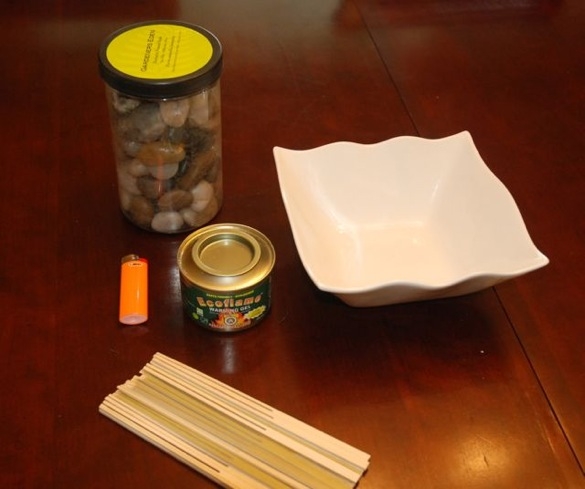 Using a simple white serving piece, Tina arranged the ingredients for our s'mores….
graham crackers
dark chocolate wafers from ChocolaTas (Tina custom ordered this size, perfect fit and thickness for melting, about 40 cents a piece)
3 flavors of marshmallows – Peanut Butter Ripple, Vanilla Bean and Berry Blush
thinly sliced bananas and strawberries
fresh mint leaves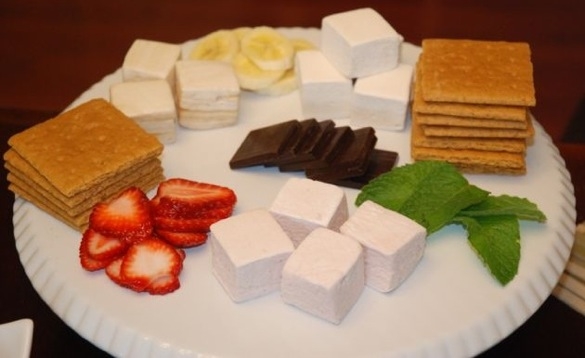 So elegant and appealing!
Here are the combinations that Tina suggested…
Peanut Butter Ripple marshmallow with milk chocolate and banana slices
Berry Blush marshmallow with dark chocolate and strawberry slices
Vanilla Bean marshmallow with dark chocolate and fresh mint leaves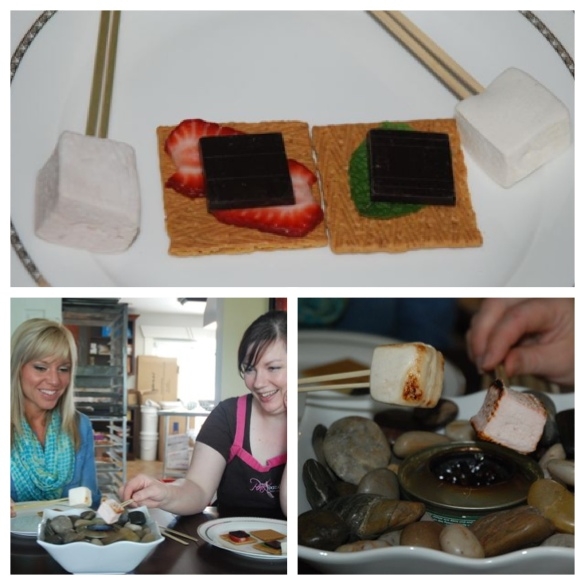 We tried all three and I honestly can't tell you what was my favorite!!  Our tastebuds were having a serious party!  At one point, Laurel and Tina were laughing at me as I had melted marshmallow all over my face…just like a little kid!
Laurel and I both agree that this would be the perfect summer dessert, perfect to cap off the most elegant dinner party or  just a casual BBQ.  How fun is an interactive dessert with high quality ingredients and not much effort required?? I'm in!!!