Easter and chocolate are synonymous.  Laurel and I both love chocolate, but in the last number of years, we've discovered that we really love GOOD, high quality chocolate.  A few days ago, we popped in at ChocolaTas in Abbotsford…our favorite place for divinely handcrafted Belgian chocolate.  We visited with Veve Tas who owns and runs the business with her husband Wim, chocolatier extrordinaire! Veve showed us what they have created for Easter and both Laurel and I left with all our chocolates for our Easter tables!  (er….and maybe a couple of treats for ourselves too, if you must know..)
Wim and Veve came to Canada from Belgium about 10 years ago.  They create beautiful chocolates, each a work of art, out of the finest ingredients.  They are a small operation with about 11 employees between their Abbotsford and Granville Island locations.  This allows them to maintain a very high standard. Wim carefully watches over production and creates chocolate masterpieces while Veve comes up with creative ideas for the business.  We absolutely love their packaging, pretty ribbons and the fact that you can totally customize a gift you are giving someone!
All of their chocolates are peanut free and most are also gluten free.  They don't use any preservatives. They also have a special vegan selection.  We so enjoyed chatting with Veve…not only is she passionate about chocolate, but she's passionate about life.  We loved her positivity and we could have visited with her all day! She's one of those people that just emits joy….and when you're around her, you feel like it rubs off on you! Hmmm..chocolate and joy? Sounds like a pretty perfect pairing!
Here are some of our favorites for Easter….
Wim Tas made this giant egg as a labour of love.  What child, or adult for that matter, wouldn't love to sink his teeth into this amazing Easter egg.  This egg is decorated with metallic paint and edible diamonds. Wim created this egg with the idea that it would bring huge smiles to his "little" customers eyes…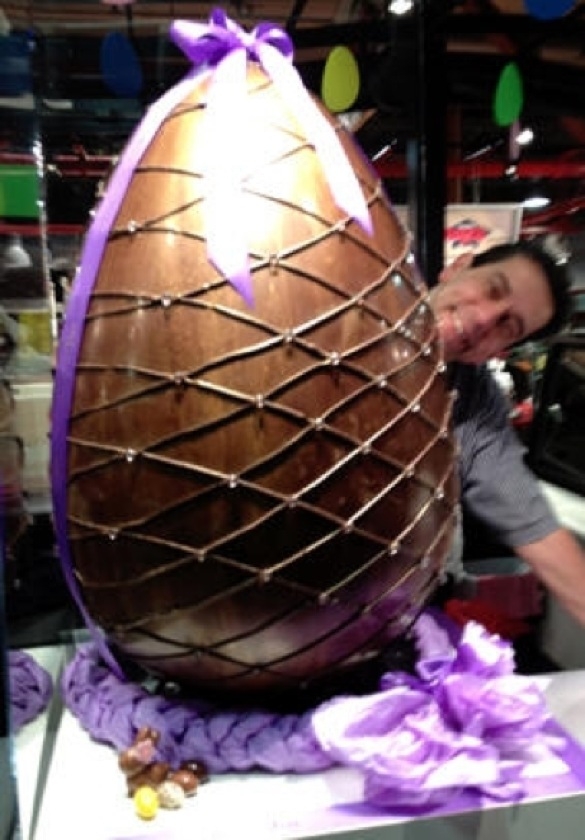 We love these adorable nests with Easter egg filled bonbons.  These are going to look amazing on my Easter table!  Veve kindly tied them with yellow ribbon to match my Easter decor.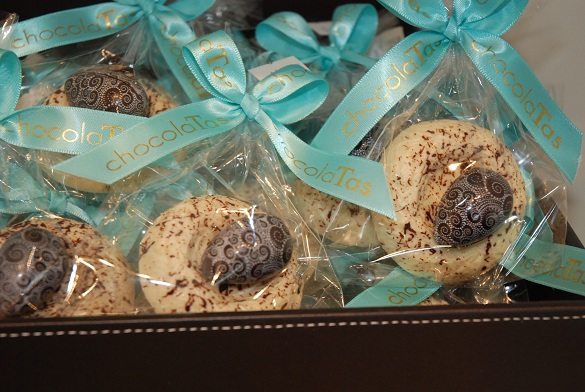 Laurel and I both sampled some of the  filled Easter egg bonbons.  Laurel sampled the egg filled with hazelnut salty caramel and I tasted the hazelnut with cinnamon.  Delish!
We also seized the opportunity to ask Veve some questions about chocolate…
How long do the chocolates last, as they don't have preservatives?
The more sugar in the chocolate, the longer the shelf life.  Sugar acts as a natural preservative.  The solid chocolates last about 2 months and the filled bonbons (which contain cream) can last in a Ziploc bag in the fridge for about 3 weeks.  Veve said it's always best to store chocolate in a dark, dry, and cool place.
You and your kids must eat a lot of chocolate!
Veve  and her family embrace the philosophy of quality over quantity when it comes to chocolate.  Her kids have one chocolate a day.  "A chocolate a day, keeps the…" Veve herself favors 70% cocoa Valrhona chocolate.  She likes to have just a few pieces a day.
Wine and chocolate…thoughts?
Veve likes to have her chocolate with wine.  She prefers merlot but says it's really up to your individual likes and dislikes.  Not everyone likes the same chocolate and not everyone will like the same wine pairing.  She suggests trying a few and see what works for your palate.  As a very general rule of thumb, merlots tend to work well with dark chocolate, and dark chocolate ganache with pepper or salt (try their Himalayan Salt and Rosemary Caramel or their Pepe Rose, dark chocolate ganache with Szechuan, pink and black pepper).
ChocolaTas currently has a fantastic selection of Easter chocolates for your Easter table and for your kids!  They are two locations that you can visit…
Abbotsford 101- 31060 Peardonville Road., Abbotsford, B.C.
Granville Island In the public market 151 – 1689 Johnston St.,Vancouver, B.C.
Or you can order from their website .
We are promising you…once you try their exquisite chocolate, you'll be hooked!